A few years ago, when I was a brand new, baby blogger, I learned about an event called FinCon. If you've never heard of FinCon, it's basically a gathering of personal finance bloggers and podcasters (with the occasional YouTuber thrown in). Yes, it's as nerdy as it sounds. But if you're deep in this personal finance/blogging world, then man – it's the coolest thing in the world.
My blog was only a few months old at the time, and with just a sprinkling of posts and not that much traffic, I felt that I hadn't "earned" my right to go to FinCon just yet. As soon as FinCon 2016 came to an end, I purchased my ticket for the next FinCon that was going to be held in Dallas.
Buying the ticket last year not only allowed me to get the ticket at a substantially reduced price, but was also a nice little challenge to myself. With my FinCon ticket in hand and the money already spent, I had some extra motivation to keep posting regularly lest my money go to waste. It was a powerful motivator, and I think it's something that helped me to keep pushing out consistent content (albeit, not as consistently as I'd like).
FinCon itself was more amazing than I imagined it. Even though I'd only met a handful of people in real life, there was no awkwardness at the conference. You spend so much time online with this community that you can't help but feel like you're hanging out with friends, even if you've never met in person.
After five days, I came back from the conference pumped to implement the new things I learned and make this blog even better in its second year. And like a true personal finance dork, as soon as I got home, I sat down and began calculating exactly how much I had spent for the five-day trip. After all, this is a personal finance blog.
Quick FinCon Recap
So, a little-known fact – Financial Panther is actually a two-man operation. I do all the writing and my best friend does all the web development stuff for me behind the scenes. A lot of people were confused by this since we showed up at FinCon with two people wearing Financial Panther badges – one of whom looked nothing like the picture that graces the front page of this site.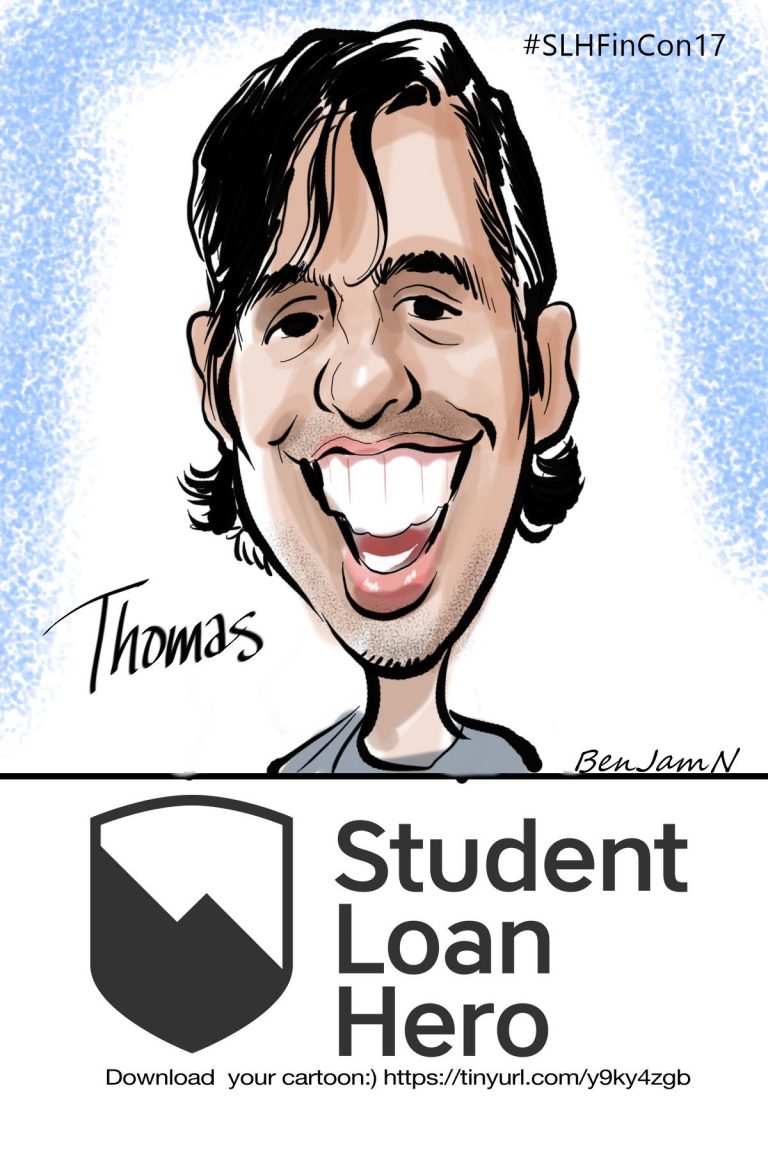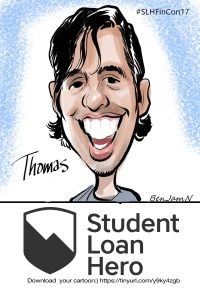 So yep, the cat's out of the bag there. There are two people working on this blog. Speaking of which, here's the picture that the Student Loan Hero booth drew of me: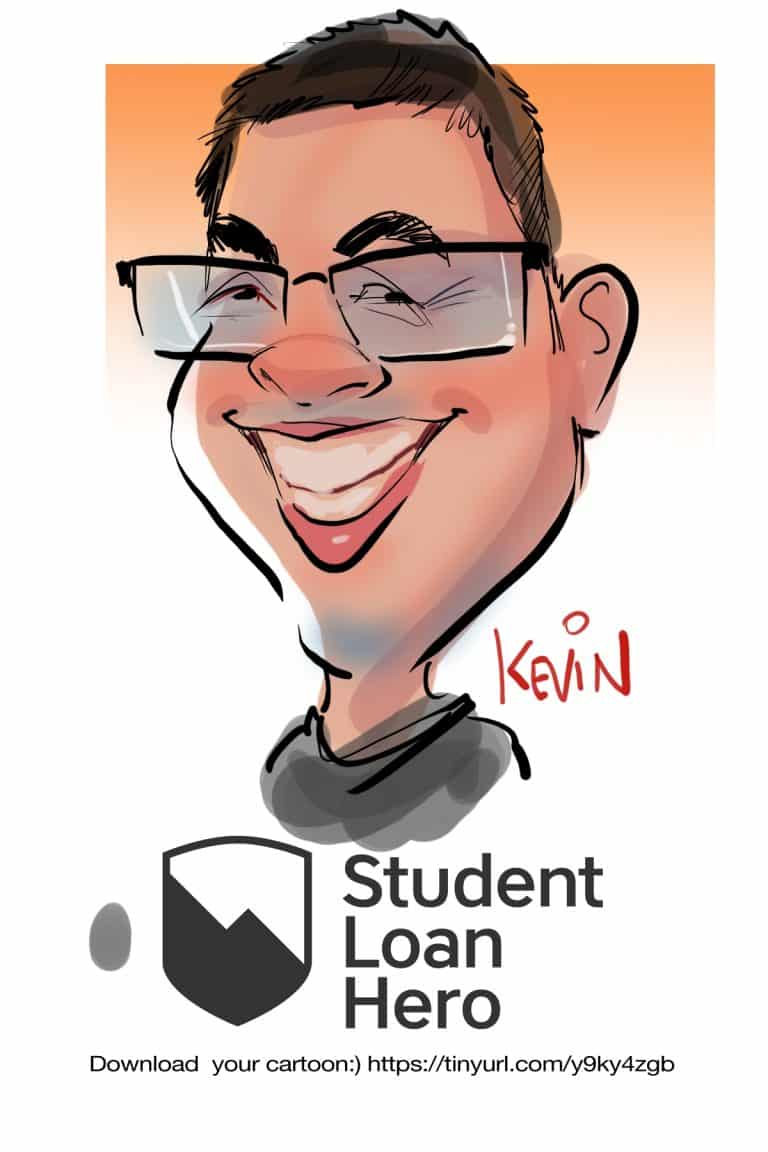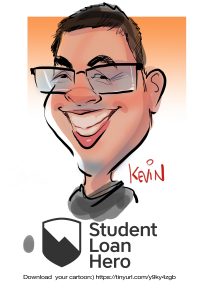 I went to FinCon with the goal of doing two things. First, learning was obviously something that I wanted to do. There's so much information out there and there's really no better way to improve your own skills than by learning from people who are farther along than you are. If you're looking to learn from the very best, FinCon is the place to go. There's absolutely no shortage of learning you can do there.
The second – and more important goal – was to connect with people. This blog got its first big boost last year when I met up with some dude named Physician On Fire, who at the time, had been blogging for less than a year. He was kind enough to write about meeting up with me in his Sunday Best series and it was essentially the first big exposure I received as a new blogger. Since then, I've made it a point to make sure that, if anyone wants to meet up, I'm there. You never know who might help you along the way. And there were plenty of people to meet and connect with at FinCon.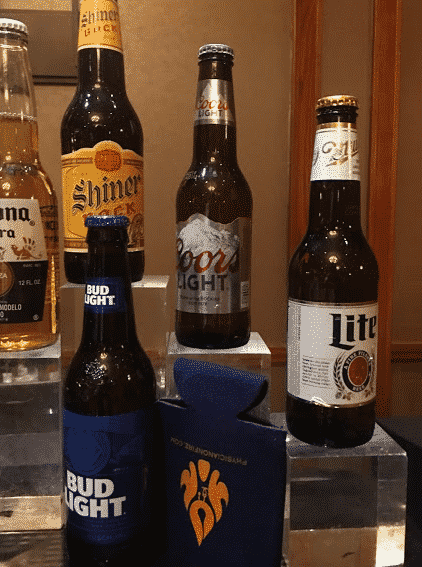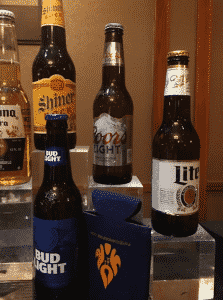 As for some of the things I did, I figured it'd be easiest just to throw it down in list form:
Attended CardCon – This was a conference about credit cards that was held on the Wednesday before the official start of FinCon. Ultimately, while somewhat interesting, CardCon probably wasn't the best fit for me. I thought it'd be more a conference about travel hacking with credit cards and how to write about it, but a lot of the info seemed much more industry related – things like how to market credit card products or the latest trends in credit card products. I ended up buying two tickets to go to CardCon, but in retrospect, I probably should have just bought one and had one of us attend.
Listened To Some Great Keynote Speeches – There were a ton of great keynote speeches there from some heavy hitters, including Paula Pant and Darren Rowse. David Bach gave away copies of his updated version of The Automatic Millionaire, which I loved. That was seriously the first book I read about personal finance back when I was 17 years old.
Did A Quick Live Podcast With Popcorn Finance – I've done a few podcasts before, but this was my first live podcast, which I think is way less awkward since you can see who you're talking to. Even better, Chris, who hosts Popcorn Finance, is also a dude who delivers on Postmates in his spare time. He knows the side hustle game and we had fun chatting about our delivery experiences.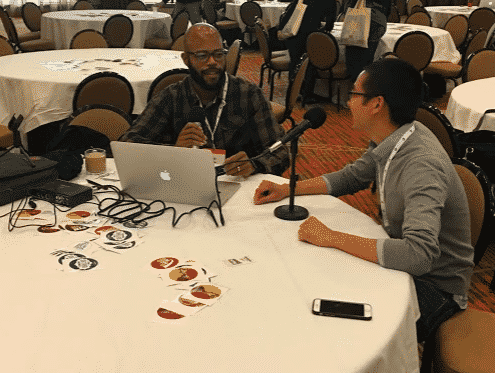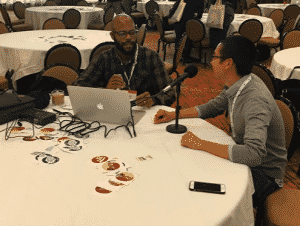 Won An Amazon Echo Dot – Experian was giving away Amazon Echo Dots and I was lucky enough to win one. For the last three days, I've been constantly asking Alexa for the weather forecast and to turn on and off my lights. My wife is not amused.
Got Tons Of Free Shirts – Anyone who knows me knows that I love free swag. I've been on a mission for the last two years to get as many startup company shirts as I can, and FinCon helped me add to that collection. I'm close to 100 startup shirts now.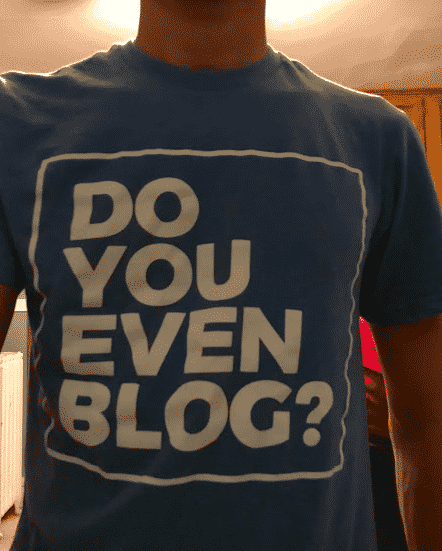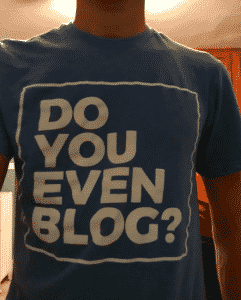 Attended The Plutus Awards – This is an award show for all of the best bloggers out there and was a ton of fun. Congrats to everyone that was nominated and that took home a Plutus. Hopefully, Financial Panther can get there one day!
Learned Some Great Stuff – I came back from FinCon with some great ideas to help improve this blog. The big news is that after talking to folks, I decided to go ahead and purchase www.financialpanther.com, which was a parked domain that I couldn't afford before. It'll be a huge undertaking to move the site over to that domain name, but I think it'll really help make it easier for people to find the blog and develop the brand.
Meeting New and Old Friends At FinCon
FinCon is a big place. I'm not an introvert by any means, but I can definitely feel uncomfortable when I'm in a room full of strangers. The amazing thing about FinCon, though, was just how comfortable I felt there. It was like hanging out with old friends.
Since there's so much going on, it's hard to hang out with everyone, so I just want to thank all of the folks that let me hang around them while I was there, including:
Erica from Rize
Karl from Kinfo
The Mint Road
And anyone else I might have missed – I seriously didn't forget you. I'm just super disorganized!
Partying At FinCon
Any discussion about FinCon wouldn't be complete without talking about the partying aspect of it. And yes, you will party at FinCon.
When I worked in biglaw, I was famous for mooching free food wherever I could find it, and FinCon was no different. I specifically went around looking for where I could get free stuff. The night before the official start of FinCon, I had dinner with some blogger friends, then attended a pub crawl hosted by MediaVine. Free drinks galore!
The first official night of FinCon was even better, with a huge event hosted by Ally at a place called the Rustic. This was literally every blogger out there hanging out, drinking, and eating in a huge restaurant.
While I was chatting with some folks, I received a ping on my phone notifying me that there was a dog a few blocks away that I could walk on Wag. In order to show off my side hustling prowess, I decided to accept the offer, went to the apartment that was just down the street, and walked the dog around the neighborhood. I got paid $18 to do it and was able to show a few folks exactly how the side hustling game works. The hustle never stops for me!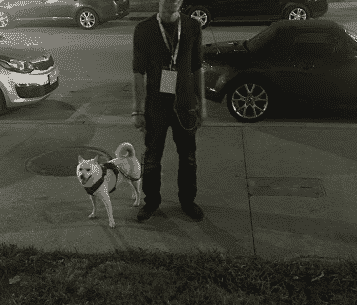 The second night of FinCon, I ended up following some folks to a gathering at a restaurant downtown. I have no idea if this was an official event or not, but eventually, it was packed to the brim with personal finance bloggers and people were just bringing out free drinks for everyone. Another score!
The last night was the final FinCon party held right after the Plutus Awards. Again, every blogger was around partying and dancing up a storm. It was super fun – although beers there cost $9 a piece. Ouch! I managed to snag myself two free drink tickets though.
How Much Does It Cost To Go To FinCon?
Since this is a personal finance blog, the thing you're probably wondering is how much going to FinCon will cost you. When I got back, I gathered up all of my receipts and added up exactly how much I spent for my five days there.
| Expense | Cost | Breakdown |
| --- | --- | --- |
| FinCon Tickets | $378 | $189 per person |
| Airfare | $334.80 | $167.40 per person |
| Hotel | $478.68 | 5 nights ($95 per night) |
| CardCon Tickets | $274.16 | $137.09 per person |
| Transportation | $68.08 | Cost of trains, buses, and Ubers |
| Food/Drinks | $196.90 | Cost of going out to eat and partying |
| Total | $1,730.62 | $865.31 per person |
Here's a more detailed explanation so you can understand why this cost what it did. Remember, these were expenses for two people to attend, so if you're just one person, you can pretty much cut these costs in half.
FinCon Tickets: My friend and I bought our FinCon tickets the day they went on sale last year. FinCon tickets cost less the earlier you purchase them, which is why we were able to get them at $189 (we already went ahead and bought our ticket for next year too). If you're a newer blogger, you can also apply for the FinCon Scholarship that's offered later in the year. If you win that, you get a free ticket to FinCon. It seems like they pick a lot of winners, which means I think you have a good shot if you just apply.
Airfare: We started tracking flights about six months beforehand using my favorite travel app, Hopper. Once a good deal popped up, we snagged the flight. Thankfully, it was an affordable, non-stop flight at reasonable hours.
Hotel: We got five nights at a Crowne Plaza hotel using Hotwire. The hotel wasn't amazing, but at just $95 per night, it was worth it. And it was only a short walk to the Sheraton, where FinCon was being held.
CardCon Tickets: I thought this would be worth checking out, so we ended up buying two tickets for CardCon. If you're not writing about credit cards, you can pretty much ignore this expense.
Transportation: This category accounts for our costs to get to and from the airport and costs of Ubers to get around town. Getting to and from the airport cost us pretty much nothing – we ended up taking the bus and train to get to and from MSP, and then took the DART to get between DFW and downtown. Our most expensive cost was taking a few Ubers to get to different places to eat.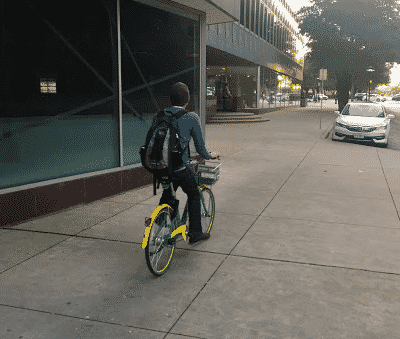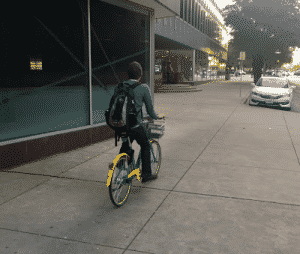 Food/Drink: This was the cost of all of our meals and drinks. Thankfully, there are tons of events going on where you can get free food and drinks, so you can really reduce this category if necessary. I also have the Chase Sapphire Reserve card, so I was able to snag some free food at the lounge in MSP and the lounge in DFW. Also, remember that this is the cost for two of us to eat and drink. If you're just one person, you can cut this cost in half.
Takeaways
In the end, FinCon was well worth it, both on a personal level and on a professional level. I came back from it energized, with a ton of knowledge, some great connections, and hopefully, what I think are some new friends.
For most of you, your costs won't be as high as what I listed. Remember, everything I listed was the cost for two people, which essentially means costs were doubled. If you divide the costs I listed per person, we managed to do five days at FinCon for about $865 per person. The actual cost is even less than that if you consider that this entire trip was a business expense, and thus, we're using tax-free business income in order to do this trip.
So what's your goal in terms of money if you're looking to get to FinCon? I'd say figure out a way to budget $1,000 for the trip and you'll be in great shape. If you start a year in advance, you're looking at saving just $100 or so per month. That's nothing! I've already got my FinCon ticket for next year, so hopefully, if I didn't get to catch you in 2017, I'll see you at the next one! 
FinCon tickets tend to go up in price as the year goes on, so if you are really thinking about going, it's best to purchase your ticket as soon as possible. If you feel like supporting this site, please use my FinCon referral link to buy your ticket for the next FinCon.