Table of Contents
One of the things I've noticed about the FIRE (Financial Independence, Retire Early) community is that we all tend to be naturally environmentally friendly – it seems to be a byproduct of the lifestyle choices that we make. Take me as an example. I bike to work, keep my heat turned down fairly low during the winter, and when I do drive, I drive a Prius.
I don't necessarily do these things for the environmental benefits – it's mainly because these things save me money and help me avoid getting soft and weak. But the fact that they tend to have a positive environmental impact isn't a bad byproduct either.
Some time ago, I saw an ad on Facebook for a company called Arcadia Power, which promised me that if I signed up for their service, I could get 50% of my home's electricity sourced from wind power at no additional cost and without having to switch my electricity company. This piqued my interest – I'm all for doing something free and that gives me an advantage in some way. But was Arcadia Power legit or was Arcadia Power a scam?
Note: Unfortunately, as of November 2020, Arcadia Power has removed the free option, which means the only option is the paid option that sources 100% of your energy from renewable resources. I'll go into more detail about the pricing later in this post.
I've been an Arcadia Power customer now for over a year and after using it for so long without any issues, I definitely think it's legit and something worth using, hence why I'm writing up this Arcadia Power review. If you have any interest at all in supporting renewable energy sources, signing up for Arcadia Power is an easy way to do just that.
For a limited time, if you sign up for Arcadia Power through my link, you'll get $25 towards your first utility bill after you link your electricity company to Arcadia.
How Electricity Works In The US
To understand what Arcadia Power is, you have to first understand a little bit about how electricity works in the United States. We get our electricity from a lot of different sources here – coal, nuclear, solar, wind, hydroelectric, etc. Once electricity gets generated, it gets sent to the national power grid, which then sends the electricity to our homes via power lines.
What this means is that once electricity is made, there's no real way to differentiate different types of electricity – it all looks the same once it enters the power grid, sort of like how a cup of water looks the same as any other water once you dump it into a river. Unless you're generating your own electricity (such as via solar panels on your house), there's no way to actually know or say where your electricity came from.
That's where Renewable Energy Certificates (RECs) come into play. Every time one megawatt-hour of renewable electricity is generated, a REC is also created. RECs basically serve as a way to "prove" that the power in your home is coming from a renewable energy source. So, you end up buying two things when you buy electricity from a renewable energy source – the electricity that was generated from it and the REC that gets created with it.
For more info about RECs, check out this short primer here from the EPA. Below is also a great video that I think really breaks down the whole REC system:
To be fair, RECs aren't all sunshine and rainbows. There are some legitimate criticisms about RECs as a way to promote renewable energy, mainly around the argument that they cost too little to actually encourage companies to build renewable energy projects. REC supporters, on the other hand, point out that there aren't really any other systems that can work based on how we currently get our electricity from the power grid.
That debate is way beyond the subject of this post, but if you're looking for further reading about RECs, feel free to check out the below links:
The main thing to consider, I think, is that by getting RECs, you can at least support renewable energy in some way. I'd say, at a minimum, that's better than sitting around doing nothing.
How Does Arcadia Power Work?
With that background out of the way, let's talk about how Arcadia Power works. Here's an explainer video that comes directly from Arcadia Power: 
In short, when you become an Arcadia Power customer, Arcadia Power will buy RECs on your behalf, which means that your electricity will be attributable to renewable energy sources.
If you're worried that this sounds like work, just know that it's not. When you sign up with Arcadia Power, you do not change your current electricity provider. Whatever electricity company you have now is the electricity company you will continue to have. You don't have to do anything beyond setting up your Arcadia Power account.
Instead, Arcadia Power works on top of your current electricity company. They used to offer two plans, a free one and a paid one. As of November 2020, Arcadia Power has removed the free option and now only offers a paid option that sources 100% of your energy from renewable energy sources for a flat $5 per month. Depending on how much your electricity bill is, this can actually be cheaper than the typical way of paying for RECs, which are paid for via the amount of electricity you use.
There are no contracts to worry about, so you're not on the hook for anything if you sign up for Arcadia Power and decide later that it's not for you.
Once you sign up, you'll be directed to link your current electric utility account with Arcadia Power and you'll also get to choose how you want to pay your bill – either by credit card or with a bank withdrawal. Paying with your credit card is free, so I highly recommend using a credit card so that you can get some rewards points.
After those steps are completed, every time you receive your bill from your electricity company, Arcadia Power will get your bill from them, charge your card or bank account, and then pay your electricity company on your behalf.
You're essentially setting up a new autopay with Arcadia Power. Think of it as looking like this:
Bank Account –> Arcadia Power –> Your Electric Company
I checked my bill when I first signed up just to make sure there wasn't an upcharge and my bill was the same as the bill I received from my electricity company. All that happened is that my autopay is now going to Arcadia Power, instead of my regular electric company. And as a benefit, I get the satisfaction of knowing that I'm supporting renewable energy sources. It's also easier to have my electricity bill get charged to my credit card.
The Arcadia Power Dashboard
Beyond just the environmental benefits, another benefit of signing up for Arcadia Power is access to a much better online dashboard. I've probably looked at my utility company's online dashboard a handful of times in my life, but the Arcadia Power dashboard has so much info in it that I keep coming back to look at it.
Remember though that you can still go and look at your normal dashboard with your electricity company, so it's not like you lose access to what you already have. By signing up for Arcadia Power, you're basically just adding a new dashboard that has a lot more useful info.
One feature I like on my online dashboard is this energy usage chart: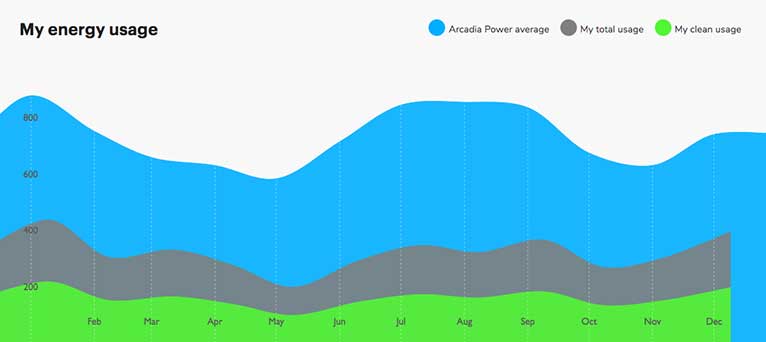 There's also a very cool section where I can see what percentage of my power came from different energy sources: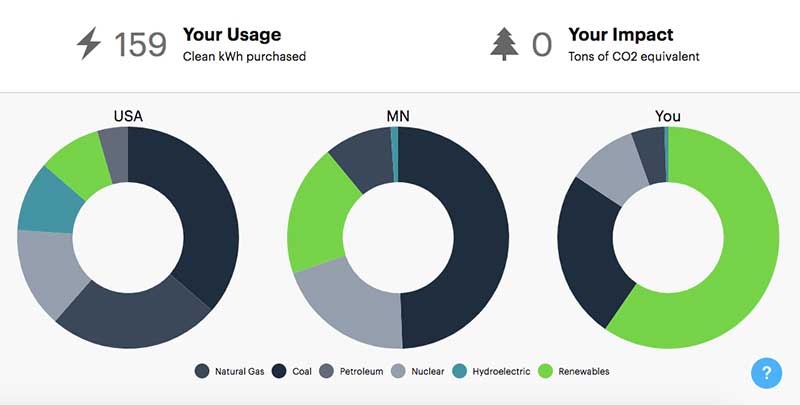 As you can see in the above screenshot, a little over half of my energy can be attributed to renewable energy sources. I'm not quite sure how Arcadia Power knows where the other sources of my energy came from – I'm guessing they use averages or something – but I can at least be confident that half of my energy came from renewable sources.
The reason I know that is because, in addition to my power bill, I also received the below REC, which certifies that 159 kWh of my electricity in the past month came from renewable energy sources. That's half of my electricity consumption for the month. (Note: This was back when I was on the free plan, which gave me 50% of my energy from renewable energy sources at no cost to me).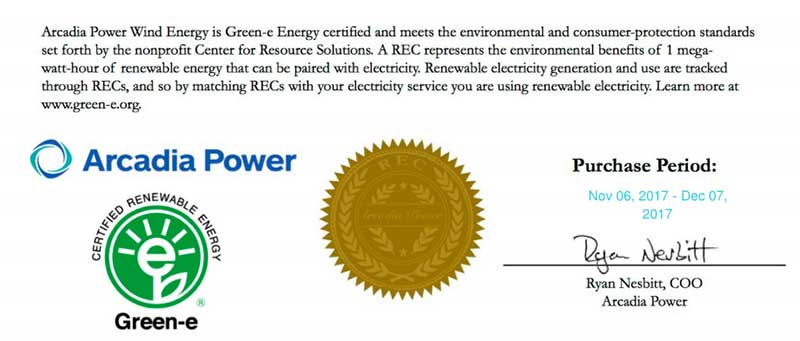 Finally, Arcadia Power also has a great app where you can see your electricity bills and check out your energy usage. What's most helpful is just being able to easily look at my past statements so I can see how my electricity usage has been trending.
Takeaways
If you are interested in supporting renewable energy, signing up for Arcadia Power can make a lot of sense. Arcadia Power made a lot of sense when they had their free plan that cost nothing to use. At $5 per month, you'll have to decide if this is something that makes sense for you. (When I first wrote this post, I predicted that the free plan probably wouldn't last forever – it looks like I was right)
One thing to consider (that isn't really a problem, in my opinion) is that Arcadia Power pays your electricity bill as soon as it receives it. That means that some people will be paying their electricity bills a little earlier than they're used to. This isn't a big problem for most of us, but it's something to consider if you're the type that likes to pay your bill on a specific day of the month. If you're using a credit card to pay your bill (which you should since it's free to use your credit card), then this actually won't matter at all, since if you're like most people, you probably just pay your credit card bill on the same day each month anyway. I think Arcadia Power was also looking at this issue because they added a "delay payment" button which allows you to delay your payment date to a later date. I haven't used this feature since I don't have much reason to use it, but it's nice to know that it's there.
Arcadia Power also might not be available everywhere, so you'll have to see if your zip code is supported. They do say that they're available in all 50 states, but there may be certain zip codes that aren't able to access Arcadia Power, for whatever reason.
If you're interested in signing up for Arcadia Power, be sure to use this referral link and you'll get $25 towards your first utility bill.
Let me know how Arcadia Power works for you or if you're considering any other ways to support renewable energy sources!