One of the things I enjoy about the current state of the side hustling world is just how easy it is to fit various side hustles into your day-to-day life. We live in a really unique time in history where it's actually possible to piecemeal a few bucks here and there whenever you want.
When you think about it, even just 10 years ago, things were vastly different. All of these gig economy and sharing economy apps didn't exist yet and if you wanted to make extra money, you basically had to find a part-time job or create your own side hustle. A part-time job meant that you had to work shifts with no flexibility or ability to incorporate whatever you were doing into your day-to-day life. And creating a side hustle often required capital and time to actually build it up so that it earned income.
The big thing was that you couldn't just go out and make 5 or 10 bucks randomly when you felt like it. Contrast that with today's world, where I can literally turn on my phone, step out of my front door, and make 5 or 10 bucks with a few minutes of work using any of the sharing or gig apps I have on my phone.
There's a lot of power in being able to earn income in small, piecemeal chunks like this. Not all of us have the time to go out and work several hours a day on some side project in the hopes that it generates an income eventually. But I bet most of us can spare thirty minutes or an hour each day doing something from one of the many sharing economy and gig economy apps out there. In fact, many of us can probably fit these different gigs into the things we're already doing. 
And if you're willing to do this, you can literally become a millionaire and financially independent without doing anything else. You just have to take advantage of something you could call, the Reverse Latte Factor.
The Latte Factor Versus The Reverse Latte Factor 
The Latte Factor is something that many of us in the personal finance community have heard about. Initially coined by David Bach in his book The Automatic Millionaire, it basically tells you to cut out small, frivolous expenses in your day-to-day life, invest the savings, and over time, you'll have a lot more money simply due to the power of compound interest. 
Bach has a calculator on his website that shows you just how powerful saving small amounts on a daily basis can be. For example, according to his Latte Factor Calculator, saving $5 per day at an annual return of 7% adds up to over $180,000 over the course of 30 years.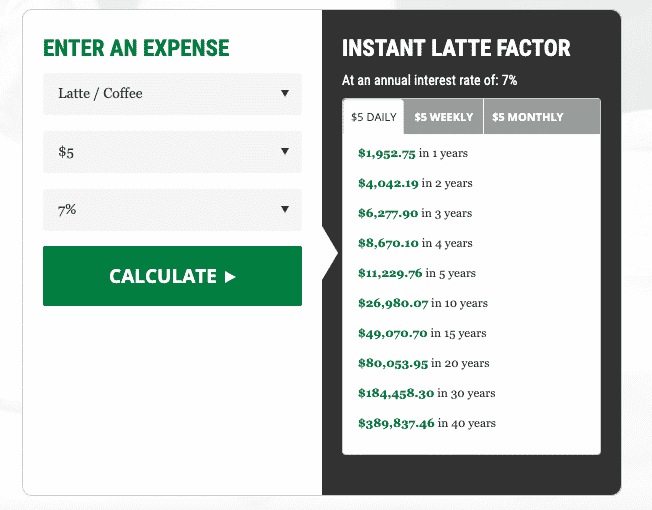 Double that to just $10 per day and naturally, you double what you'll have in 30 years – to over $360,000.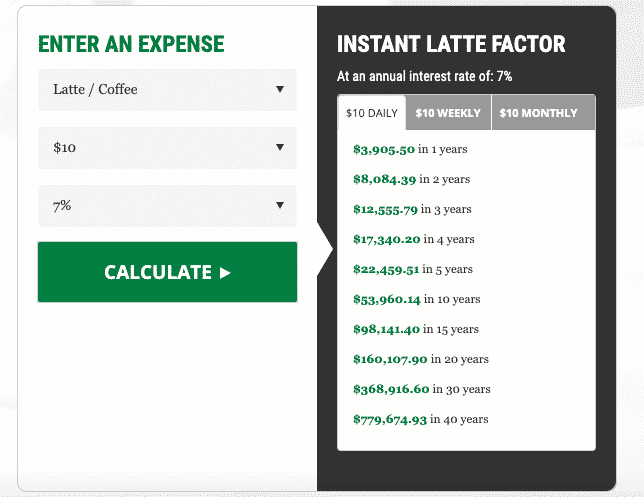 The latte factor is a bit of a contentious topic because, for many, it's not these small expenses that are hindering financial progress, but rather larger issues, such as stagnant wages and the high costs of education, housing, and healthcare.
I totally agree with that assessment, but I think a lot of the latte factor hate misses the point that it's really making – that consistency matters. Small things by themselves don't mean much. But small things, done consistently over time, well, that means something. 
The thing that always confused me about the latte factor was how it emphasized all of the lost opportunity that comes with daily frivolous spending, but never seemed to consider the opposite – that is, the lost opportunity that comes with not going out and earning extra income on a consistent, daily basis.
This is a much more interesting way to think about the latte factor. Because if saving small amounts of money each day adds up over time, what happens if we go out and earn small amounts of money each day?
There's an opportunity cost with not going out and earning extra income on a consistent basis. And all of us have the ability to do this. When we choose not to, we're really missing out on something.
We can call this the Reverse Latte Factor. And here's how impactful it really is.
The Reverse Latte Factor And What It Means  
Below is a chart showing what you could have in 30 years if you consistently make an extra couple of bucks every single day and invest all of it (the chart assumes a 7% average annual rate of return, which I think is a reasonable assumption).
| Amount Earned Per Day | Total in 30 Years |
| --- | --- |
| $5 | $184,458.30 |
| $10 | $368,916.60 |
| $15 | $553,374.90 |
| $20 | $737,833.20 |
| $25 | $922,291.50 |
| $30 | $1,106,749.80 |
The math is pretty amazing because if I'm looking at this right, what it means is that a mere $10 per day of extra income comes out to over $300,000 over a 30-year period. If you double that to $20 per day, you're looking at over $700,000. Triple it to $30 per day, and you'll be a millionaire literally from doing random, low-level gigs that most people will think are pretty stupid. 
This is pretty incredible to think about. Depending on where you live and what's around you, an extra $30 per day is completely possible. Most people, with a little bit of practice, can make that in an hour or a little over an hour just by taking advantage of gig economy apps.
Just looking at how I typically make an extra $30 or more per day: 
Earn $16-$25 by grabbing four to six Lime scooters in the evening, charging them up overnight, then dropping them off in the morning on my way to work. This is easy for me to do because there are usually dozens of scooters all around my neighborhood at the end of the day.
Earn $10-$20 delivering food on my bike on my way home from work. And since I'm doing my deliveries on a bike, I'm getting the added benefit of exercising too – which is something I have to do anyway.
Earn $11 to $16 walking some dogs with Wag during lunch. This isn't difficult for me to do since my coworking space is downtown and there are a lot of apartments within blocks of me. And like with biking, it gives me exercise, which I have to do anyway.
To understand what an extra $30 per day means, that equals just $913 of extra income per month. This is totally doable for most people given the current landscape of the sharing and gig economy. Indeed, over the past three years, I've regularly earned between $1,000 and $3,000 per month just by doing these different, sometimes silly sounding, gigs. 
Heck, even just an extra $10 per day adds up to a significant sum over time – and I don't think it's unreasonable to think that anyone can do that with 30 minutes or less of work each day. If we believe that our daily latte can cost us hundreds of thousands of dollars over our lifetime, the same is true for those of us simply unwilling to go figure out ways to earn a few extra bucks each day. In other words, the Reverse Latte Factor really means something.
Takeaways 
The Reverse Latte Factor is an important thought experiment about how impactful small amounts of extra money added up consistently over time can be to your finances. And the beauty of the Reverse Latte Factor is that it doesn't require you to give up all of the little pleasures in your life. 
I have so much fun doing all of these different gigs. And my guess is most of you reading this can probably find something that makes you money that you also find fun to do. Cutting stuff from our budget though, where's the fun in that?
To sum it all up, earning an extra $5 each day might not seem like a big deal. But keep doing that every single day, and suddenly, it means something. It costs us much more than we think to sit around and not take advantage of all of the ways to earn extra income each day.
If you understand this, it might make the Reverse Latte Factor something that you really need to think about more.