Foldable ebikes are some of my favorite types of ebikes due to their versatility and ability to fit most spaces. For urban living, I think a foldable ebike is a perfect bike to have. 
Over the past few months, I've had the pleasure to ride the KBO Flip, a foldable ebike that's perfect for getting around town. I've been using it mainly for quick trips and have also been using it to do food delivery with apps like DoorDash, Uber Eats, and Grubhub. After using it for a bit, I thought it'd be perfect to share more about this bike.
In this KBO Flip review, we'll look at the specs behind the KBO Flip, what my experience with it has been like, and how I've been using the KBO Flip to do food delivery and gig work.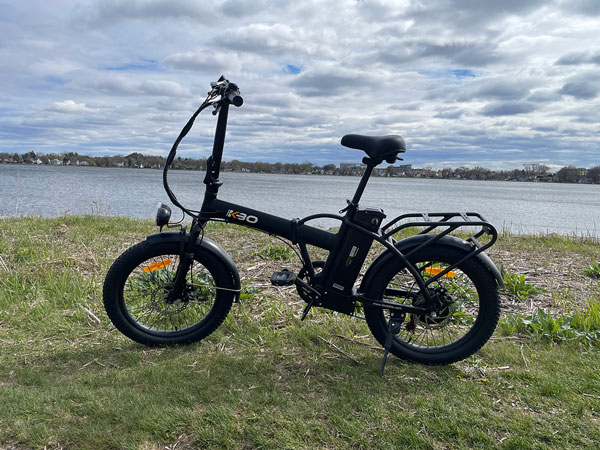 KBO Flip: Brief Overview
Before we get started, here's a brief overview of the KBO Flip:
KBO is an ebike company that offers many different models of ebikes. This post is about their folding ebike – the KBO Flip.
The KBO Flip is a class 2 ebike with a 500W Brushless Geared Hub Motor. 
Uses a removable 15.6Ah Lithium-ion Battery. KBO claims an estimated range of 55+ miles.
Uses 20″ x 3″ CHAOYANG Tires.
Comes with an integrated rear rack.
Overall, the KBO Flip is a good option for someone in the market for an affordable, folding ebike.
Pros: 
Very smooth ride thanks to the larger-than-average tires. 
Compact and easy to fold.
The integrated rear rack is great for holding bags/panniers.
Has a large headlight, which makes it great for riding at night.
Has a nice, clean look.
Easy to assemble – it's probably one of the easiest ebikes I've put together. 
Includes front and rear fenders.
Good customer service.
Cons: 
This bike is a compact bike, which could make it more difficult to ride if you're bigger. The recommended rider height is 5'1"-6'2" with a payload capacity of 275 lbs, so if you're bigger than that, this is not the right bike for you.
The bike only has three speed levels and maxes out at around 18-19 mph.
Doesn't come with a bell.
KBO Flip Specs 
At the outset, I have to say – the KBO Flip is a great-looking bike. The frame is a sleek black and it has a nice compact design. It's not a step-thru bike, but the bike is low enough to the ground that anyone should be able to get on and off the bike without issue.
In terms of power, the KBO Flip features a 500w sustained brushless geared motor. This gives the bike plenty of power. In my riding, I was able to handle every hill I encountered without issue. 
For the battery, the KBO Flip uses a 15.6Ah removal battery. The battery is a bit different from the other ebikes I have. To install it, you flip the seat up, then slide the battery into the battery slot that's under the seat. It's a smart design, as it keeps the battery out of the way while maintaining the bike's compact form. To remove the battery, simply flip the seat up, unlock the battery with the key, then pull the battery out.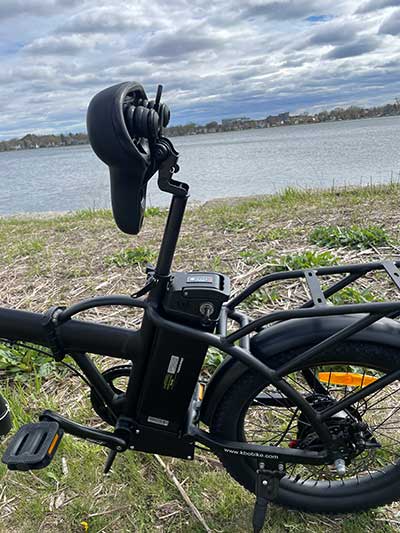 KBO advertises up to 55 miles of range on a full charge. In a real-world setting, you'll likely get fewer miles depending on your terrain and how you're riding it. I typically ride the KBO Flip on the highest power setting and find I get closer to 25 miles with my style of riding. 
In terms of assist, the KBO Flip is considered a class 2 ebike, offering both pedal assist and a twist throttle so you can move without having to pedal. There are three different pedal assist power levels. If you don't want to pedal, there is also a twist throttle. I'm a fan of twist throttles versus thumb throttles, as I find twist throttles are more natural to me (but that's a personal preference). 
For tires, the KBO Flip uses 20×3 CHAOYANG Tires. It's a brand I've never heard of, but the tires seem fine. I like the 20×3 tires since it makes the bike "sort of" a fat-tire ebike. It makes for a smooth ride and allows the KBO Flip to be used in many conditions.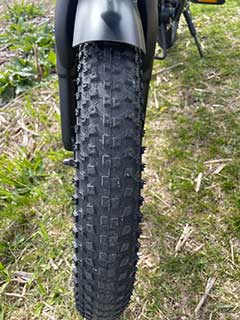 For stopping power, the KBO Flip uses standard mechanical disk brakes. These brakes are fine and are more than enough for a lightweight bike like this. Of course, hydraulic disk brakes are preferred, but considering the price point for this bike, it makes sense that they went with mechanical disk brakes.
In addition to the basic mechanicals of the KBO Flip, the bike also includes front and rear headlights, front suspension, front and rear fenders, and a rear rack. All of these make the bike more useful to ride and help to make it a good utility bike.
Unboxing And Assembling The KBO Flip
The KBO Flip arrives in a medium-sized box and comes mostly assembled on arrival. You'll still need to install the handlebars and attach the pedals, but because it's a folding bike, it's able to be packed into a box almost fully assembled.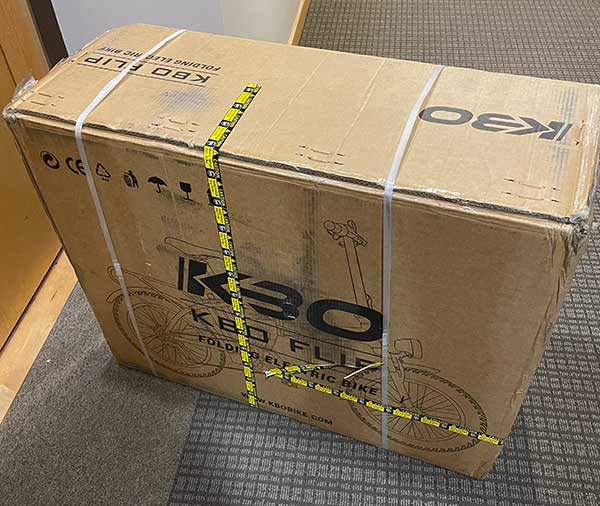 This is probably one of the easiest bikes I've ever assembled and I think most people should be able to set up the bike without needing help. KBO also put together an assembly video that walks you through how to assemble your KBO Flip. I watched this video when I was setting up my bike and I recommend you do the same too.
Of course, if you're not comfortable assembling the bike yourself, you can also take it to a local bike shop and get their help assembling the bike.
While the bike was easy to assemble, I did have one major issue when it arrived. Once I set it up, I discovered that I couldn't get the folding latch to lock, making it so the bike was unrideable. Whether this was an issue with manufacturing or something that happened during shipping, I don't know. The KBO customer service was very responsive and sent me a new latch with directions on how to replace the latch. Eventually, I was able to get the latch working and I haven't had any issues with the bike since. In any event, while I was able to get the bike fixed on my own, I was happy with the customer service that KBO provided.
Using The KBO Flip For Food Delivery And Gig Work
The main reason I wanted to use the KBO Flip was to see how well it worked as a food delivery bike when working for apps like DoorDash, Uber Eats, and Grubhub. For a food delivery bike, the KBO Flip is amazing. 
To begin, the price point is excellent. The price for this bike typically hovers around $1,000 or less, which means it's an affordable ebike. I can almost guarantee you'll make your money back if you get a bike like this for doing deliveries.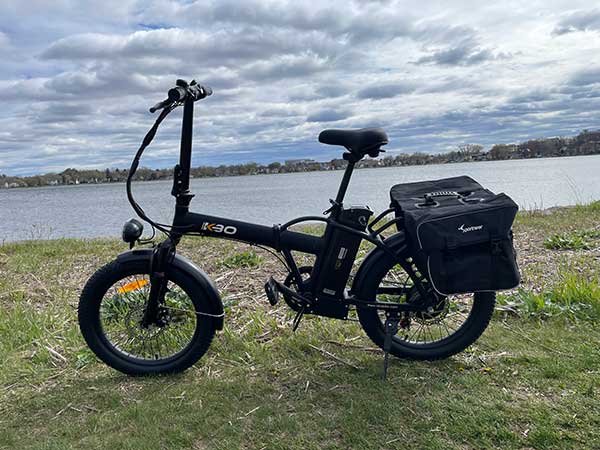 To really increase the utility of the bike, I recommend adding a few things as well. I added some panniers to the rear rack to hold my orders, but you could also use a basket if that's how you prefer to hold things. I also recommend adding a phone holder and a cup holder to your handlebars (I recommend the Quad Lock for a phone holder and the HandleStash for a cup holder). 
What makes the KBO Flip work out well for food delivery is its compact size. You can fold it up if you need to, but it's also compact enough that you can easily bring it inside buildings if needed. It's also low to the ground, which helps with getting on and off the bike easily. 
The 20×3 wheels also make for a smooth ride. The KBO Flip isn't a super fast bike, but I'm able to ride at between 15-20mph, which is plenty fast in an urban environment. 
The most important thing to consider when using an ebike for food delivery is battery range. The KBO Flip is great in this area, as the bike offers up to 55 miles of range. If you're conservative with your battery usage, you'll get close to that. But even if you're on max power, you should still be able to get 20-25 miles of range, which is still plenty of range to cover a lunch or dinner shift in an urban environment. 
In short, as an investment, the KBO Flip might be the perfect bike. At under $1,000, the KBO Flip is an affordable ebike that's able to cover plenty of distance, get you around quickly, and has the capability to carry plenty of cargo.
Storing And Folding The KBO Flip
The main feature of the KBO Flip that differentiates it from other ebikes is that it's a folding bike. This makes it extremely versatile for city living and for multi-modal transport (more on that later).
To fold the KBO Flip, you unhook the latch located in the center of the frame, then fold the front and rear wheels into each other. You then fold the handlebars down. It can be a bit tricky when you do it the first time, but once you get the hang of it, it'll take you seconds to do this. 
Below is a picture of what the KBO Flip looks like once you've folded it up. As you can see, it doesn't take up much space. If you live in an apartment, you could easily place the bike in a corner somewhere.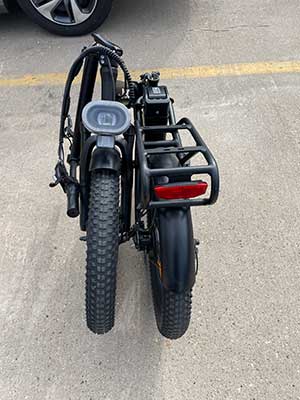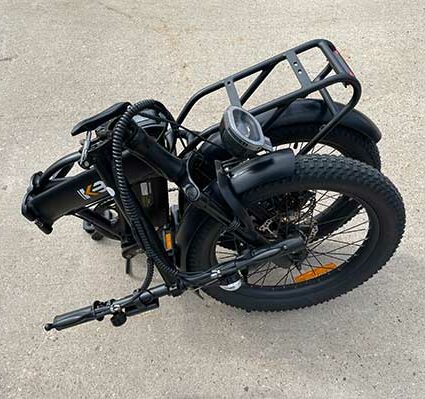 When folded up, the KBO Flip also fits into the trunk of a typical car, making it possible to take the bike with you on car trips. This is particularly useful if you want to do some trail riding somewhere. Another useful scenario is if you need to have some work done on your car. You can take the KBO Flip with you, drop your car off, then ride home with your bike.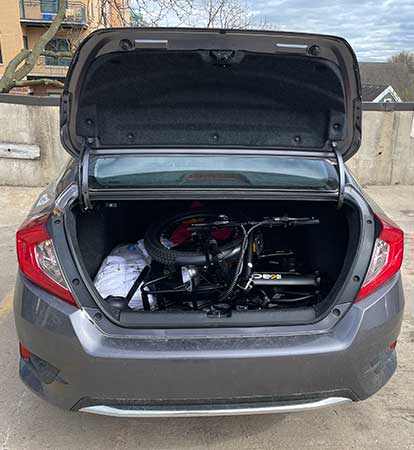 Some Things That Could Be Improved With The KBO Flip
In the interest of completeness, I also like to share some of the things I don't necessarily like about the bike. These are more nitpicky items, as overall, I think the KBO Flip is an excellent bike, especially considering how affordable it is. That being said, here are a few things worth mentioning:
The Bike Isn't That Fast. If you're someone that needs to really fly on an ebike, the KBO Flip might not be the best choice for you. I found when I was riding it that I typically could get to about 18mph. This is a bit slower than some of my other bikes, which clock in around 20mph or more. 
That being said, 18mph was plenty fast for me, but be aware that because this is a fairly small bike, it's not going to be as powerful as other bikes you could get that have larger, more powerful motors.
The Bike Might Not Be Good For Tall Riders. Because this is a small, compact, folding bike, it could be less comfortable if you're particularly heavy or tall. Bigger riders may want to consider heavier, more powerful bikes. 
That being said, I have a friend who is 6'3″ and was able to ride the KBO Flip without any issues. But still, it's something to think about.
Final Thoughts
Overall, the KBO Flip is an excellent bike. I've had a great time riding it and think it's a versatile bike that can be used for a lot of purposes and can fit a variety of lifestyles. It's worked out great for me as a general commuter bike and as a food delivery bike. 
Folding bikes are great bikes to get and if you're in the market for a good, entry-level folding ebike, I can highly recommend the KBO Flip. The specs for the bike are good, it's a durable bike, and it's a lot of fun to ride. 
I hope you found this review helpful. If you have any questions about the KBO Flip, feel free to leave a comment below or send me an email. You can also check out the KBO Flip on the KBO website.