Albert is a cash management and financial budgeting app that is offering new users a signup bonus of $100. To earn your Albert referral bonus, you have to open a free Albert Cash account using a referral link, complete a direct deposit of $200 or more within the first 30 days of opening your Albert Cash account, and spend $100 using your Albert debit card. Here's my Albert referral link if you're interested. 
I first wrote about Albert almost four years ago, before the app had even moved beyond its seed funding (you can read my Albert review post here). Back then, I was recommending Albert even though they didn't have any referral bonus – I literally never received anything from Albert for recommending them.
My experience with Albert over the years has been excellent. It's helped me keep better track of my finances, and importantly, helped me to save more money thanks to its smart savings feature. Recently, they launched a referral program where new users can get a signup bonus after opening an account using a referral link. That makes now a perfect time to sign up.
In this post, I'll walk you through the exact steps to earn your Albert referral bonus.
What Is Albert? 
Albert is a full-featured financial monitoring app. It's similar to Mint or Personal Capital. You link all of your accounts in the app and Albert will track your net worth and account balances. 
The best feature Albert offers – and the main reason I use it – is the Albert Smart Savings Feature. This is a feature where Albert will monitor your transactions, and using a special algorithm, Albert will then save small amounts of money for you each week. Apps like Digit have similar smart savings features, but Albert is better because it doesn't charge a monthly fee. 
The most recent addition to Albert is Albert Cash, which is a free checking account with no minimum balance requirement. All funds in your Albert Cash account are kept with an FDIC-insured partner bank, so your funds are safe and FDIC-insured (currently, Albert has a partnership with Sutton Bank, so all funds in your Albert Cash account are held with Sutton Bank). 
If I was looking for a new bank account, the Albert Cash account is one I would be completely comfortable using as my primary bank account. One interesting feature with Albert Cash is their cash-back promotions. These give you pretty significant cashback if you use your debit card at certain stores.
Finally, Albert has a feature called Albert Genius, which gives you access to some premium features and a financial advisor. Albert Genius is not free and instead works on a pay-what-you-want model. I've never used this feature and I don't plan to, but it is something that you may find useful depending on your situation. 
Albert $100 Referral Bonus: Step-By-Step Directions 
With that background out of the way, let's get into the referral bonus. Here are the step-by-step directions you can follow to earn your Albert referral bonus: 
1. Open a free Albert Cash account using a referral link. The first thing you'll need to do is open an Albert Cash account. This is a free bank account that you can open when you sign up for Albert. 
To open your account, first, download the Albert app using a referral link. Here's my Albert referral link. The referral link doesn't show the referral bonus at first, but once you start going through the signup process, you'll see several screens that confirm the referral bonus.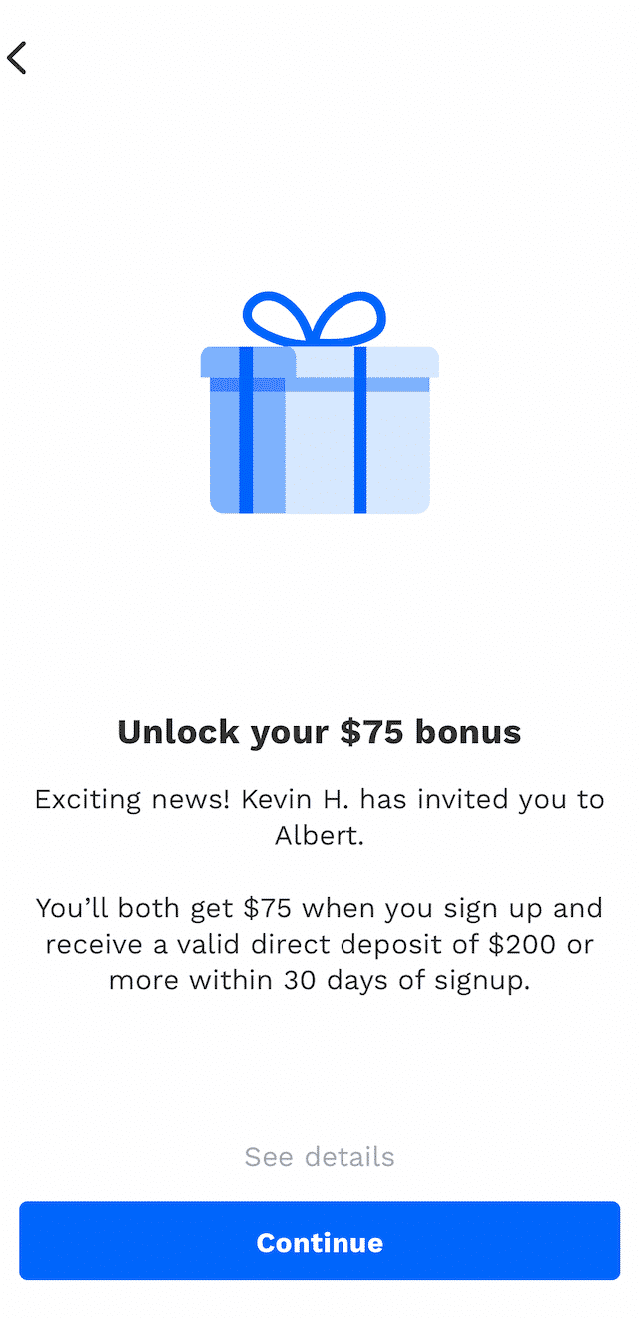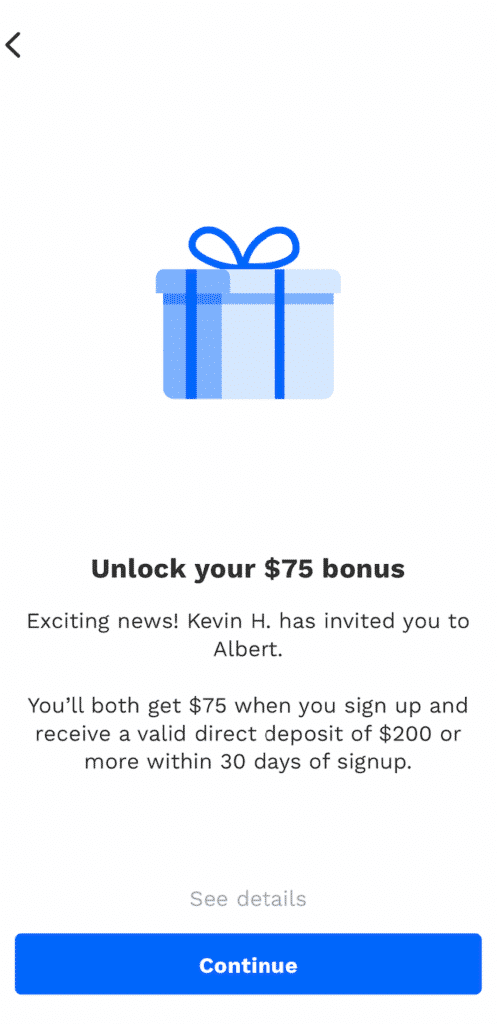 The signup process to open your Albert Cash account is very simple. You'll just follow all of the steps as they come up in the app. Just like with any bank account, you'll need to provide information such as your address, SSN, and all of the other things that are legally required to open a bank account. 
There are a few decisions you'll need to make during the signup process as well. First, you'll reach a screen that asks if you want to set up an investment account. I haven't signed up for the Albert investment account, so I can't speak to how good it is. You have to sign up for Albert Genius if you want to invest using Albert, so I recommend skipping this option by clicking "later."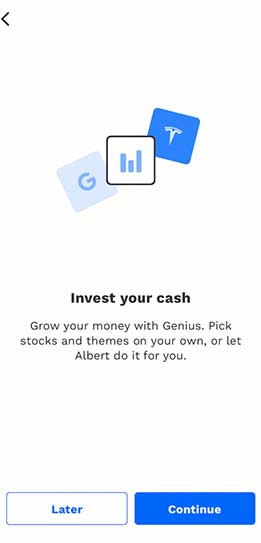 You'll also get to another screen that asks if you want to sign up for Albert Instant Cash. This is a service they offer that lets you get access to a $250 loan. I don't recommend using this service, so probably best to click "later" when you reach that screen as well.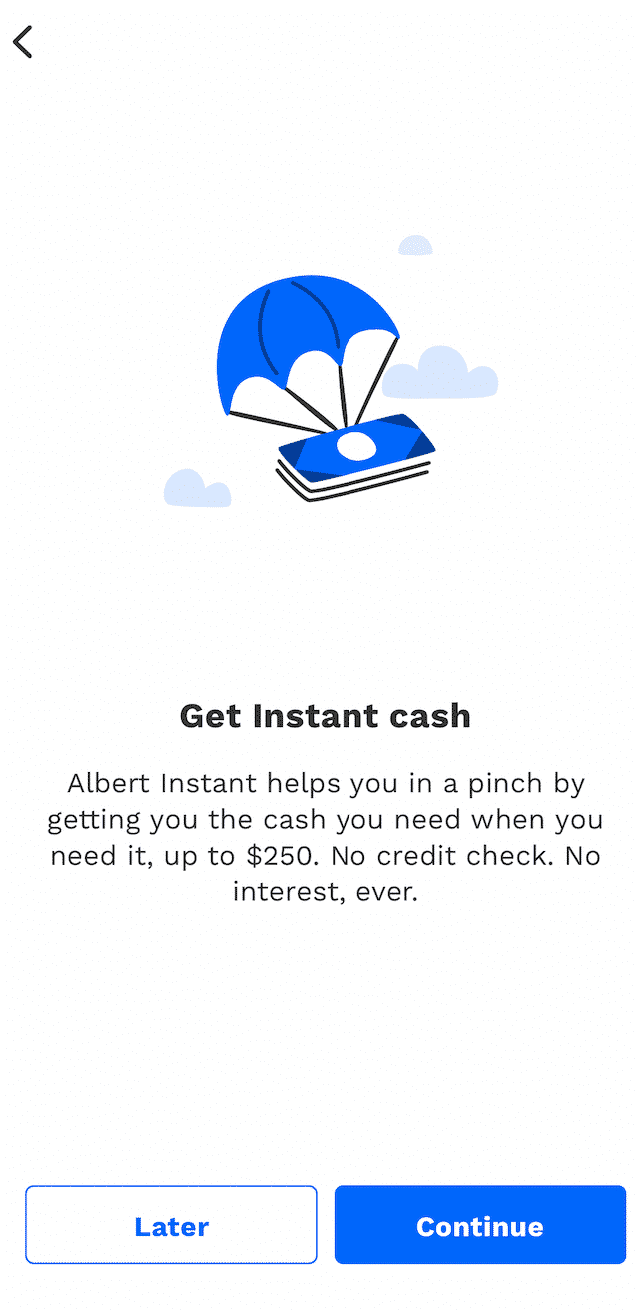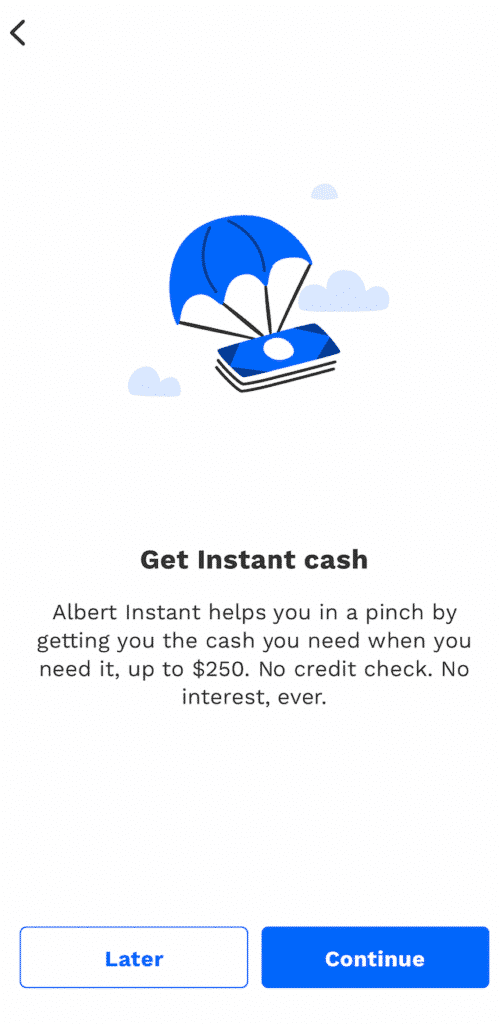 Next, you'll need to decide if you want to activate Albert's smart savings feature. This is a feature I actually use. You link your credit cards and bank account to the app. Albert will then monitor your transactions and using that data, Albert will withdraw money each week that it doesn't think you need and put it aside in a savings account.
It's a free feature and a nice way to increase your savings without really noticing. I personally use Albert's smart savings feature as part of my microsavings strategy (to learn more about my money system, check out The Financial Panther Money System). Apps like Digit and Dobot used to offer similar features, but either switched to a monthly subscription model or shut down.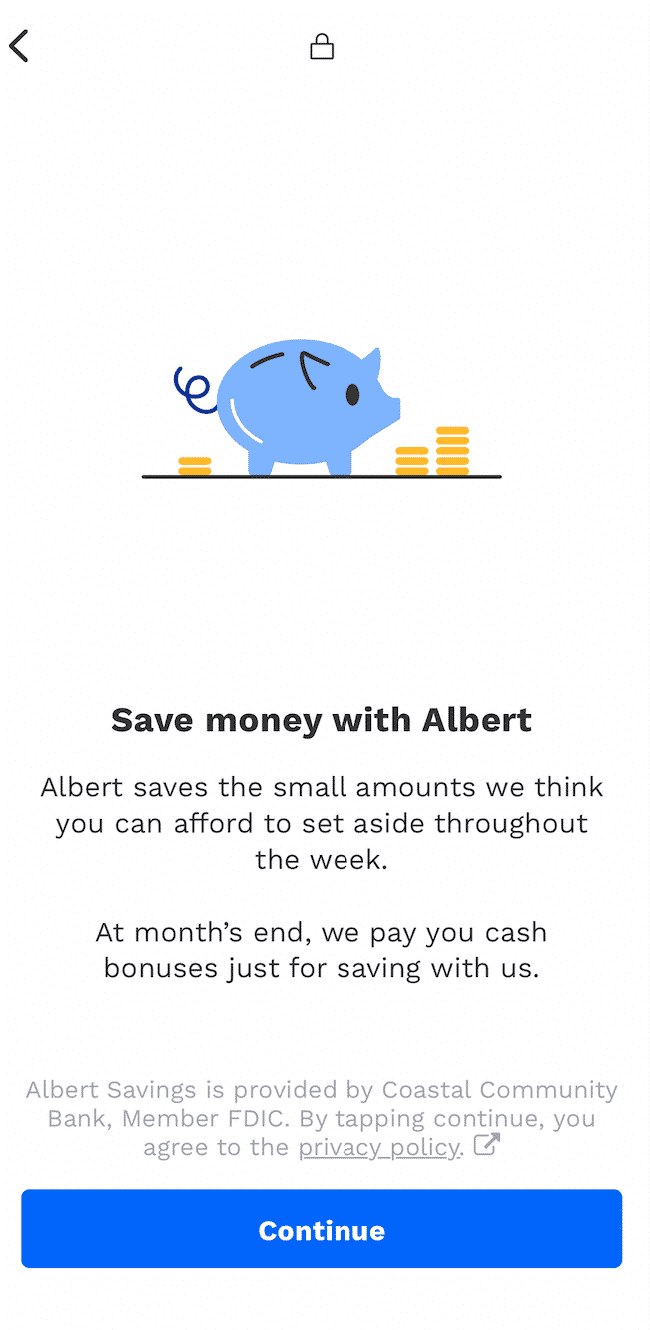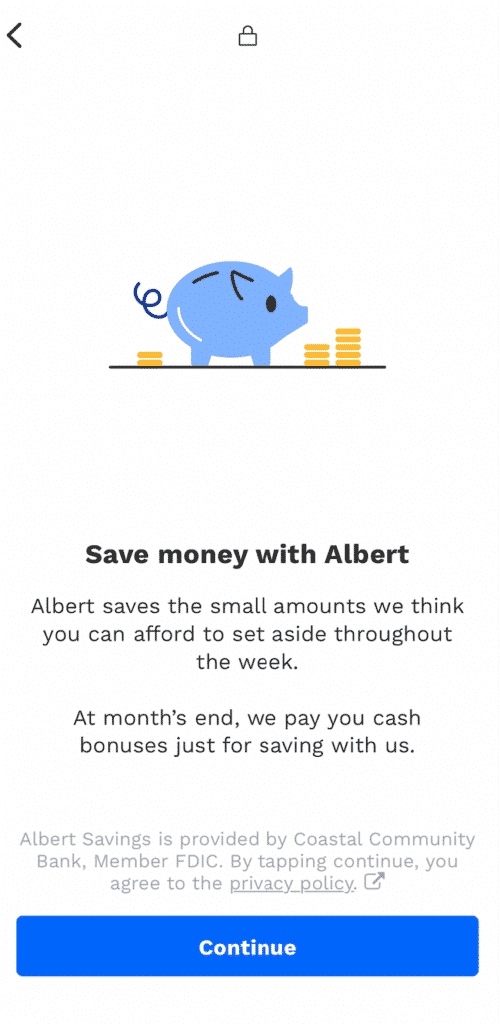 The last thing you need to do is decide whether you want to sign up for Albert Genius. This is a monthly subscription service that will help you create financial plans and give you access to a financial expert. The subscription works on a pay what you want model, but you have to pay something per month if you want to gain access to it. I personally do not use Albert Genius and don't understand the value it provides. When you get to the Albert Genius screen, set the monthly payment amount to $0 and the app won't activate Albert Genius.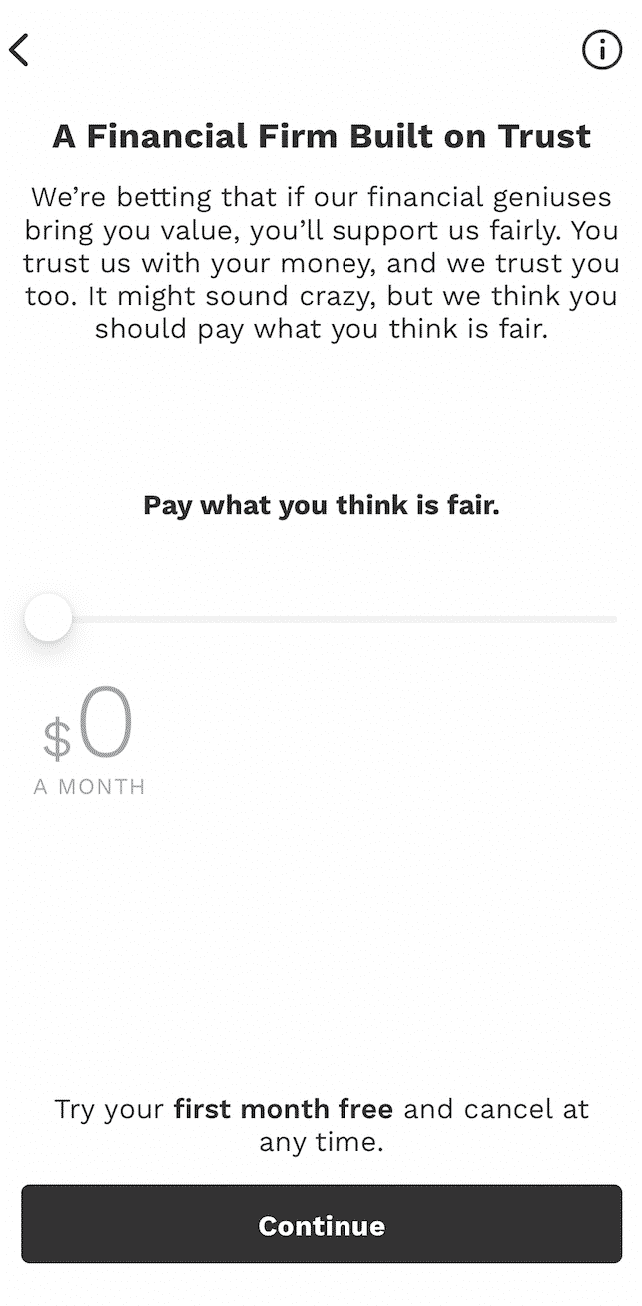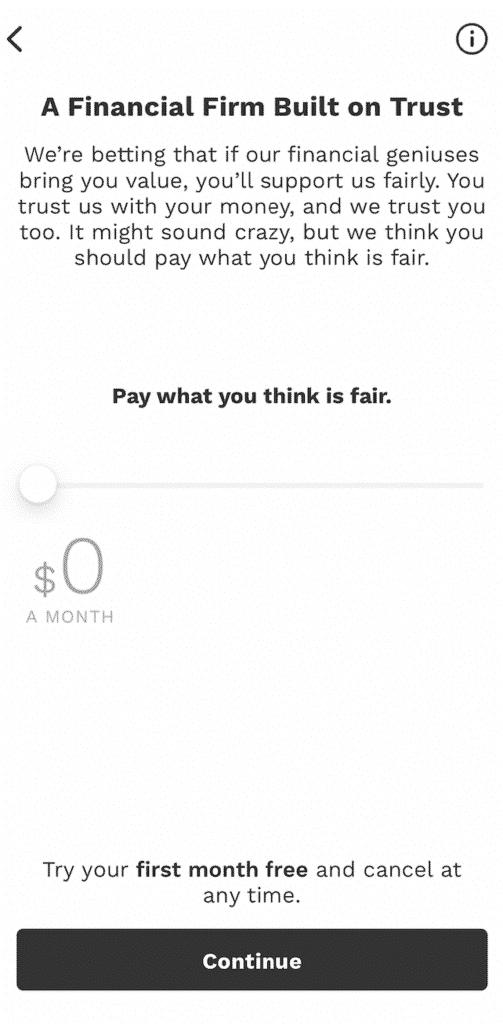 And that's it! Once you've gone through those steps, your Albert Cash account should be set up and ready to go. You also won't have to worry about any fees since you didn't activate Albert Genius.
2. Complete A Direct Deposit of $200 Or More Within 30 Days Of Opening Your Account. Once you've set up your Albert Cash account, the next step to earn your Albert referral bonus will be to complete a direct deposit of $200 or more within 30 days of opening your account. 
The terms have this to say as to what qualifies as a direct deposit:
The qualifying direct deposit must be made by the referred individual's employer, payroll provider, or benefits payer by Automated Clearing House (ACH deposit). Bank ACH transfers, federal, state, or local tax refunds or credits, federal or state unemployment or short-term disability benefits, mobile check deposits, peer-to-peer transfers from services like Cash App, Venmo, or PayPal, or other similar deposits are not qualifying direct deposits.
The plain language of the terms would suggest that you need to do a real direct deposit. I was able to easily meet the direct deposit requirement for my wife's Albert account because she uses Gusto for her payroll, which allows her to easily change her direct deposit information. Unfortunately, at this time, I'm not sure which other options trigger the direct deposit requirement. The initial data points seem to suggest that you'll need a real direct deposit to trigger the direct deposit requirement. This is a new referral program, so we'll likely have more data points in the future as people try different options and we see what works. Doctor of Credit has a good thread where people put data points in the comments, so you may want to check that out here.
To set up a direct deposit, you'll need to get your account number and routing number. To do that, click on one of the buttons in the Cash account to set up a direct deposit. Then when it asks how you want to set up your direct deposit, click "manual." It'll then take you to a screen that shows you your routing number and account number.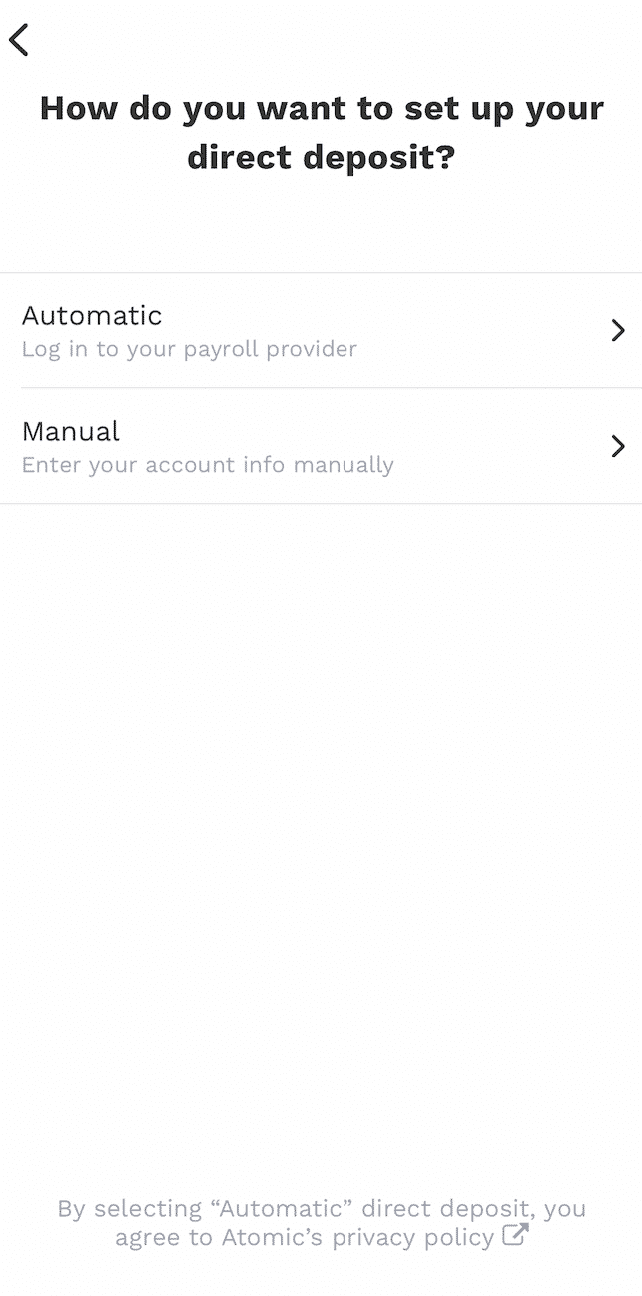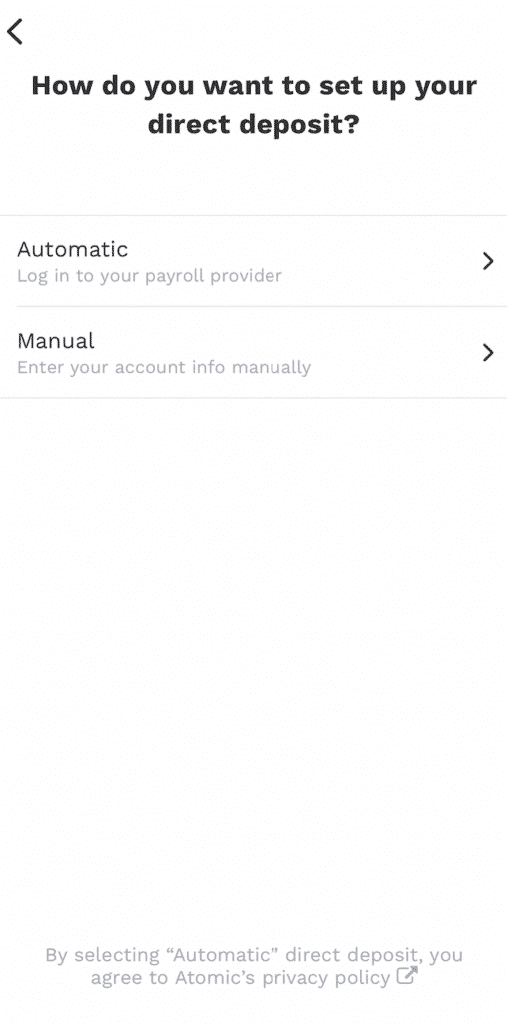 3. Spend $100 On Your Albert Debit Card. Previously, Albert did not require you to spend anything on the debit card, but they recently updated their terms to require you to spend $100 on the Albert debit card to earn your bonus. It's an annoying new requirement, but still not a big deal. Your best bet is to pay a bill using your debit card. Utilities or your phone bill are easy ways to meet this requirement.
4. Your Bonus Will Post Immediately Once You Meet The Direct Deposit And Spending Requirement. After you complete your direct deposit, your Albert referral bonus should post immediately. The good thing is that since the bonus posts quickly, you'll know whether your direct deposit worked. If your bonus doesn't post, then you'll need to try another direct deposit option.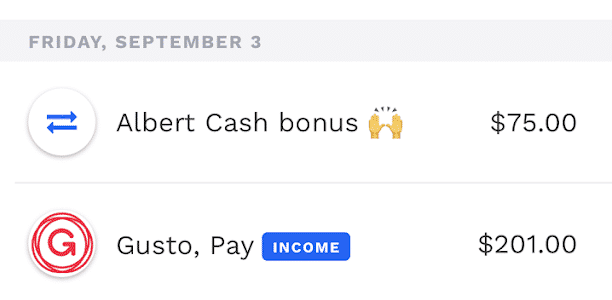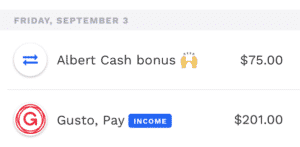 Refer Your Friends And Family
Albert has a referral program that allows you to refer people using your own referral link. The person you refer will earn a referral bonus once they meet the requirements and you'll earn a bonus for referring them once they meet the requirements. 
This gives you a lot of opportunities to increase your Albert referral bonus earnings. For example, if you're a 2-person household, you can sign up for an Albert Cash account using my referral link, then refer your spouse or partner. You'll earn $100 for signing up with my link, then your spouse or partner will earn $100 for using your link and you'll earn $100 for referring them. That's $300 for just a few minutes of work. 
The app makes it easy to track the status of your referrals also, so you won't have to wonder whether your referrals worked or not.
You can increase your earnings even more if you have additional friends and family members you can refer. Albert allows you to earn up to $1,500 in bonuses, so I recommend taking advantage of your referrals while this program exists.
Final Thoughts 
Albert is an excellent fintech app – it's one I personally use every day. Indeed, I've been using and recommending Albert for years, even before they offered any sort of referral bonus.
Assuming you can meet the direct deposit requirement, Albert is an easy way to make $100 with just a few minutes of work. If you're a two-person household, you can refer your spouse or partner and increase your earnings, making $100 in just a few minutes. 
If you're interested in learning more about how you can earn money from bank account bonuses, check out my post, The Ultimate Guide to Bank Account Bonuses. It's a huge, in-depth guide that will help you understand how bank account bonuses work and how you can earn money from them. 
I've also written an in-depth review about Albert and how I use it. Check it out here – Albert App Review: The Ultimate Review and Everything You Need to Know About This Savings App.
More Recommended Referral Bonuses 
In addition to Albert, there are also other easy referral bonuses that you may want to take advantage of. These bonuses are all easy to earn and have no fees or minimum balance requirements to worry about.
Here are some of the other referral bonuses I recommend.