Anyone who knows me knows that I'm a big FinTech geek. And there are some really awesome FinTech apps out there today. You've probably already read reviews about some of the big players in the fintech world- apps like Mint or Personal Capital. I thought it'd be helpful to share reviews about some of the lesser known fintech apps that I personally use and that I think might be useful to you. One such app that I use is a bill management app called Prism.
While I'm a big fan of automating your finances, I still like being able to look at my bills before I pay them. There's just something comforting to me about being able to make sure that my bill looks right before I pay it. It's something I've done my entire life and I guess I'm just stubborn.
At the same time, I don't want to spend a ton of time logging into every biller's website. I also don't want to ever forget to pay a bill. And I definitely don't want to get caught paying any late fees!
With that in mind, I was looking for a solution that would let me see all of my bills in one place and allow me to basically automate and manually pay my bills at the same time. Prism served as that solution.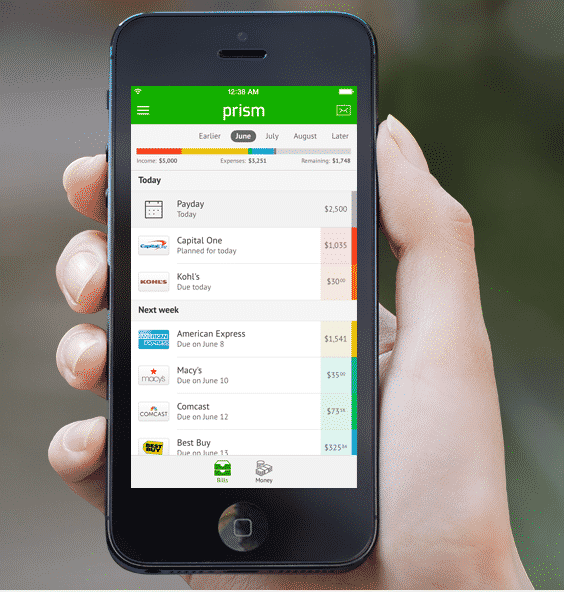 What is Prism?
The way Prism works is pretty simple. Basically, it's a bill management app that lets you see and pay all of your bills from a single app. I like to think of it as similar to Mint or Personal Capital, but dedicated solely to managing your bills. The app only works on your phone and there's no web app for it at the moment.
The steps to set up Prism are pretty straightforward. First, you link all of your bills with the app. When I signed up, I linked up my electricity, gas, cable/internet, water/trash, and credit card bills.
Next, you link your payment accounts – i.e. the accounts you use to pay your bills. I linked up my checking account and my credit card. I typically pay my bills with a credit card if possible in order to get rewards points, although not every biller allows you to pay in that way.
With your billers and payment accounts linked, Prism will now monitor all of your bills for you. When a new bill is available, Prism sends a push notification to your phone letting you know that you should schedule a bill payment. You then go into the app and either pay the bill immediately or schedule a payment for some time in the future. Since Prism doesn't use a third-party payment platform, you can pay any bill right away without any delay if you want. That's perfect if you suddenly realize a bill is due!
Most importantly, Prism is completely free.  If the payment method is free with your biller, then it's also free with Prism.
How Prism Works.
When a new bill comes in, it brings you to the bill pay screen. This is what it looks like for your typical bill: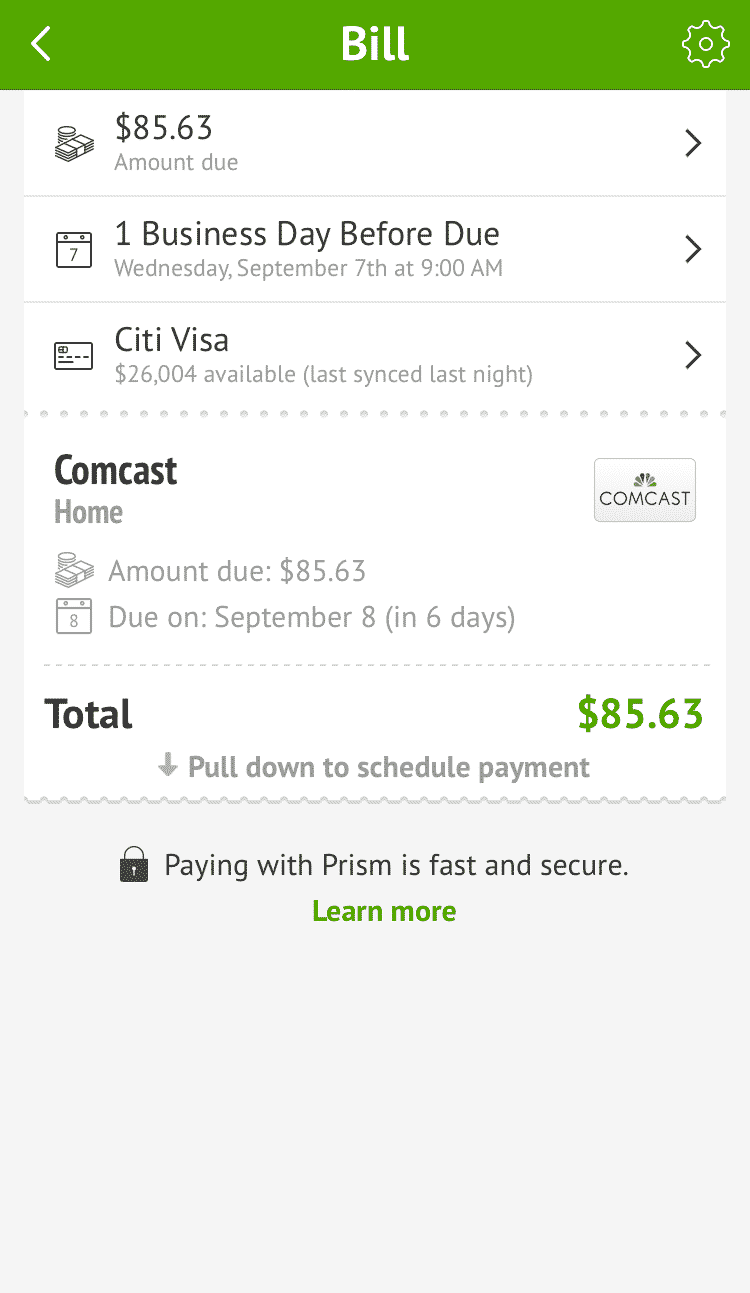 There are four parts to this screen. The top row shows you the amount of the bill. You can either pay the full amount, the minimum amount, or some other custom amount. I always recommend paying the full amount for any bill.
The second row allows you to pick the day you'd like to pay your bill. You can schedule the bill to be paid immediately or schedule it for any time in the future. I usually schedule the bill payment to occur one to three days before the due date.
The third row allows you to pick which payment account you'll use to pay your bill. You know how some billers charge a fee if you pay using a credit card or some other payment method? Prism warns you in advance if you use a payment method that has a fee. My tip – just pick the bill payment method that doesn't cost you anything.
Finally, when you're ready to pay, you simply swipe down on the screen to schedule your payment. That's it! Prism notifies you that your bill payment has been scheduled and it handles the rest from there.
You don't have to go through these steps each time. Once you've paid a bill once, Prism remembers how you paid it. So the next time you get that bill, all you have to do is give it a quick glance to make sure things look right and then swipe down to schedule the payment.
Security
The big concern for almost everyone when using a fintech app is security. After all, you're giving this company information and access to your private accounts. I don't think you need to worry about Prism though. The app maintains robust security features to avoid any unscrupulous people accessing your information. As explained on Prism's website:
"All communication is encrypted."
'Sensitive information is firewalled."
"No sensitive information is stored on your device."
In addition, I'm willing to bet that most people reading this already pay their bills online. (Does anyone write checks anymore?). If you're already paying your bills online, then using Prism is really no different in terms of security. In fact, Prism maintains that it's actually more secure to pay your bills using Prism when compared to a normal payment website. As explained by Prism:
"Prism runs as an app, which is inherently a much more secure environment than a desktop program or web site. All of the sensitive information exchanges with your services (i.e. transmission of account information and credentials) occur through our secure cloud service. We confirm the authenticity of every connection we make, and we take steps to ensure that your account information is never transmitted to the wrong party or via an insecure protocol."
The other good thing is that you're really only sharing access to your billers. I honestly don't really care if someone got a hold of the login credentials for my electricity or gas bill.
With respect to your payment accounts, you simply provide your checking and routing number of your bank. When paying by card, you provide your credit card information. Again, if you've ever paid a bill online, then other bill payment platforms already have this information. At least with Prism, you get the benefit of seeing it all in one spot.
Other Features
I like being able to see all of my expenses in one spot. Since I pay almost everything using credit cards, Prism gives me an accurate picture of my total monthly expenses. Here's what it looks like on my main screen: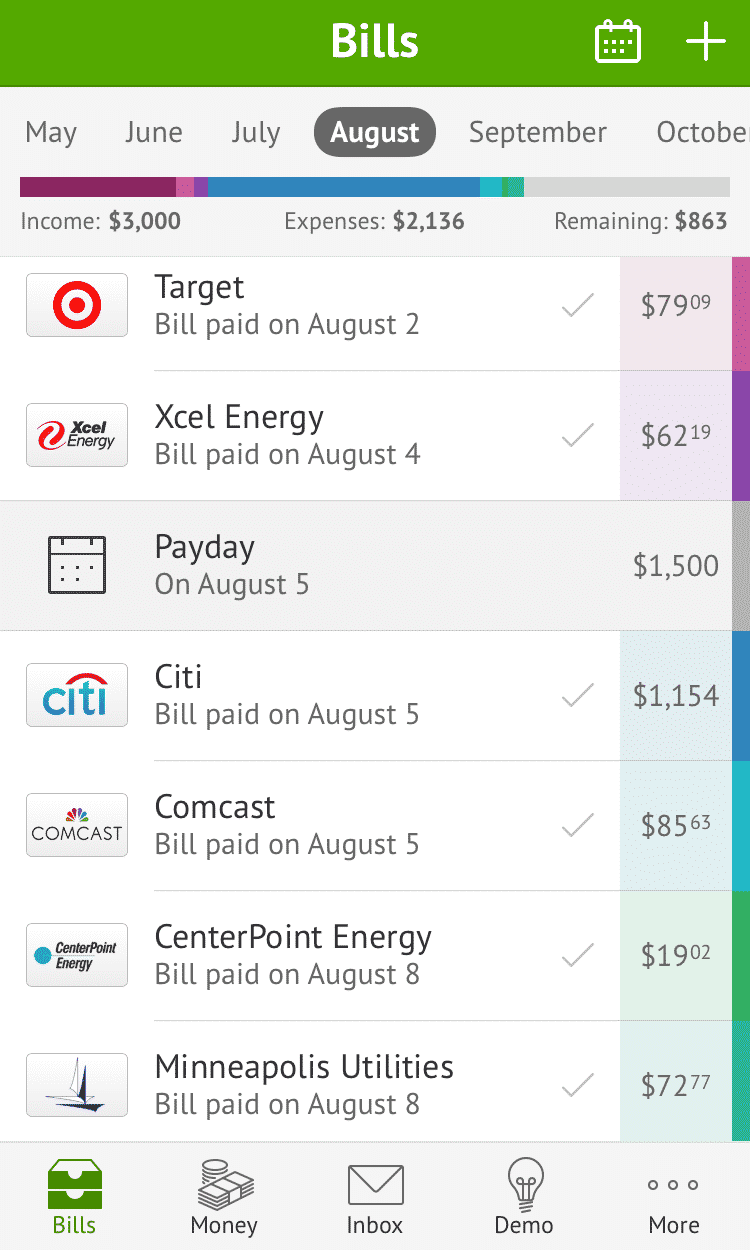 You can also input your paydays to track when you get paid in comparison to your bills. While not necessary, I find it does help you to make sure you are keeping enough money on hand to cover your bills.
Another nice feature – Prism notifies you if your bill looks out of the ordinary. For example, if your bill is suddenly much higher than it was in the previous month, Prism will let you know and recommend that you double check the bill. It's a good way to make sure, at a glance, that your bills are accurate.
Finally, Prism keeps a history of all your bills so you can easily look back and see what you've paid each month. Pretty helpful for most people.
My Experience With Prism
I've been using Prism now for over three years.  In all of that time, I haven't missed a single bill payment, even though I don't automate any of my bills. It's super useful for my own money management system to be able to see all my bills in one spot and easily pay them with a swipe of my finger.
The only issue I've ever had with Prism was a single incident when I paid a bill using my credit card and found out that I had been charged a credit card processing fee by the biller. Prism hadn't notified me of that fee in advance, so I had assumed that paying the bill with a credit card was free. When I contacted Prism about this fee, they immediately acknowledged the mistake, noting that the biller must have recently added this fee and that the app hadn't caught it yet. They then apologized and reimbursed me for the fee immediately.
The only other problem with Prism – for some people – is that it doesn't actually store copies of your bills.  It'd be great if they'd add this as a feature at some point. I'd love to be able to see the breakdown of each bill in one spot, instead of having to log into each website to see an actual copy of my bill.
Conclusion
If you're looking for a great bill management app, I highly recommend using Prism. It's without a doubt one of my most used fintech apps and one that I've been using for quite some time now without any problems. Seriously, give it a shot and see if it's for you.
Let me know if you try it out!  Prism doesn't offer any referral incentives, so you can be assured that I'm writing this post solely because I find the app useful.
If you're interested in other app reviews, be sure to check out some of my other fintech reviews below:
Qapital App Review: A Free App That Saves Your Spare Change
Jobspotter App Review: Earn Extra Money By Taking Pictures Of Hiring Signs
| | |
| --- | --- |
| App Type | Bill Pay |
| Cost | FREE |
| Available On | iOS (iPhone, iPad), Android |