Update: Unfortunately, Peak Money recently announced that it would be closing effective April 13, 2022, due to what it calls "unforeseen circumstances." Now that Peak Money is closing, there aren't any particularly good free alternatives for this type of microsavings app. I'm likely going to transition back to Qapital for my goals-based and round-up savings because I have a lifetime free membership to it since I was one of the first users (you can check out what Qapital is all about here). 
It's been a while since I've written about new fintech apps, so today, I thought I'd share a review of Peak Money, a fintech app that I've been using since early 2019.
If you're a regular reader of this blog, you know that one of the most important keys to a successful money system is automation – that is, you need to do everything you can to automate where your money goes. For me, every dollar I earn goes into my primary checking account. From there, I have various systems in place that automatically funnel my income into different savings and investment accounts. By making things automatic, I'm able to save money each month without having to think about it.
An additional layer I like to use in my money system is microsaving via microsavings apps. These are fintech apps that monitor your bank accounts and credit cards and automatically pull out small sums of money that you likely won't notice. It's microsavings, so by its very nature, the amount you save will be relatively small. But, it's still an important layer to my money system because it helps me squeeze just a little bit more savings out of my budget.
There are two types of microsaving apps that I use. These include the following:
Round-Up Apps. These are apps that monitor my credit card transactions and round up each transaction to the nearest dollar. They then take the spare change and put that money into a separate savings account. Think of these apps as an online piggy bank for your spare change.
Sweep Apps. Sweep apps are apps that monitor your checking account and analyze your daily and weekly income and spending. Using special algorithms, these apps will then pull small amounts out of your checking account that they think you won't notice and set them aside for you in a separate savings account. I call these "sweep" apps because they're essentially sweeping excess money out of your checking account and setting it aside for you. 
When combined, these two types of microsaving apps can help you increase your savings, all without noticing that you're setting aside money for the future.
In the past, there were two apps that I used for these functions. Digit worked as my sweep app and Qapital worked as my round-up app, Unfortunately, both of these apps started charging monthly fees, so I stopped using them in favor of free alternatives. Out of principle, I don't believe that you should have to pay any fees in order to save your own money. 
It didn't take me long to find a free, sweep app alternative. I currently use Albert, a free savings app that does exactly the same thing that Digit does. You can read more about Albert in my post: Albert App Review: The Ultimate Review and Everything You Need to Know About This Savings App. 
Finding a free round-up app took more time, but ultimately, I discovered Peak. I've now been using it for over a year and have been very happy with it.
In this post, I'll be taking a look at Peak Money, diving into how Peak works, and explaining why I think Peak is a good app to add to your money system.
What Is Peak Money?
When it comes to microsavings apps, I have basically one criterion that has to be met – the app has to be 100% free. For a long time, Qapital worked perfectly for my microsaving system. I could create different savings goals and it monitored my spending and rounded up my transactions to the nearest dollar, saving the spare change for me in a separate savings account. It did all of this in a gorgeously designed app. Unfortunately, Qapital, after promising to never charge a monthly fee, ended up doing exactly that, which meant that I had to find a new app that could do what Qapital did.
That's when I stumbled onto Peak. I'd actually known about Peak from earlier research, but when I first discovered Peak, they charged a monthly subscription fee. To my surprise though, when I found Peak the second time around, I discovered that they opted to remove the monthly subscription fee, making Peak a 100% free app. That was a game-changer.
So what is Peak Money? The short of it is that Peak is a savings app that you can use to save for different long-term or short-term goals. Peak isn't a bank itself, but all of your money is stored in an FDIC-insured bank account. It's easiest to think of Peak as a savings app built on top of a bank. 
Here's an explainer video from Peak so you can get a sense of what Peak is and what it's all about: 
How Peak Money Works
Peak's primary feature is the ability to automate savings for various goals, which the app naturally calls "Peaks." Each peak is essentially a new savings bucket for whatever it is you're saving up for. For example, if you are looking to take a vacation in a year, you can figure out how much you need to save and automate weekly or monthly savings towards that goal.
Even better is if you use an app like Peak for recurring annual expenses that you know come due every year. For example, if you have an insurance bill that you know you have to pay each year, simply set a goal for that amount and automatically save for it each year. When it comes time to pay your bill, you'll have the money set aside specifically for that purpose.
Creating a new peak is simple enough. First, you create a new peak and give it a name. Then you enter how much you need to save and how long you have to save for it. Finally, you set up automatic transfers into your new peak. It should only take a few seconds to do this.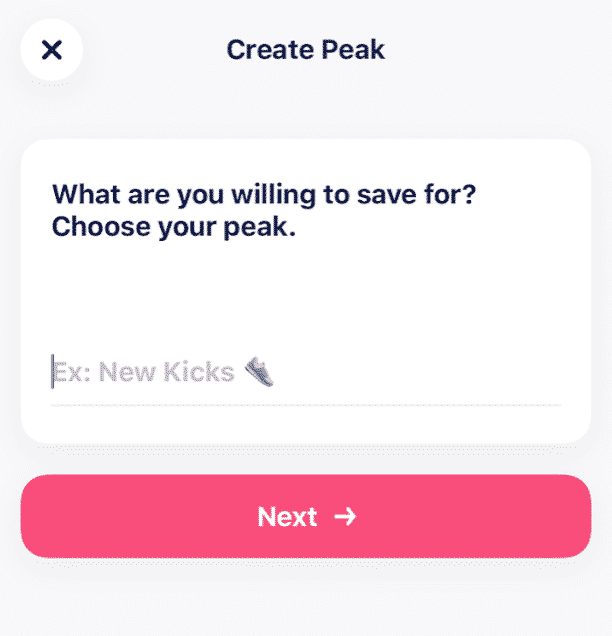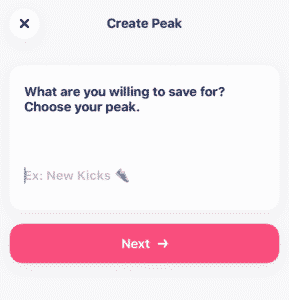 Your peaks can all be seen on the main screen, with each peak represented by a different picture of a mountain. You can customize how this looks by changing the color and size to whatever preference you have. If I have a criticism here, it's that I would prefer to be able to set my own picture, rather than using the mountain picture, since I like being able to see my goals visually.
Here's an example of some of the peaks I have created in my own account: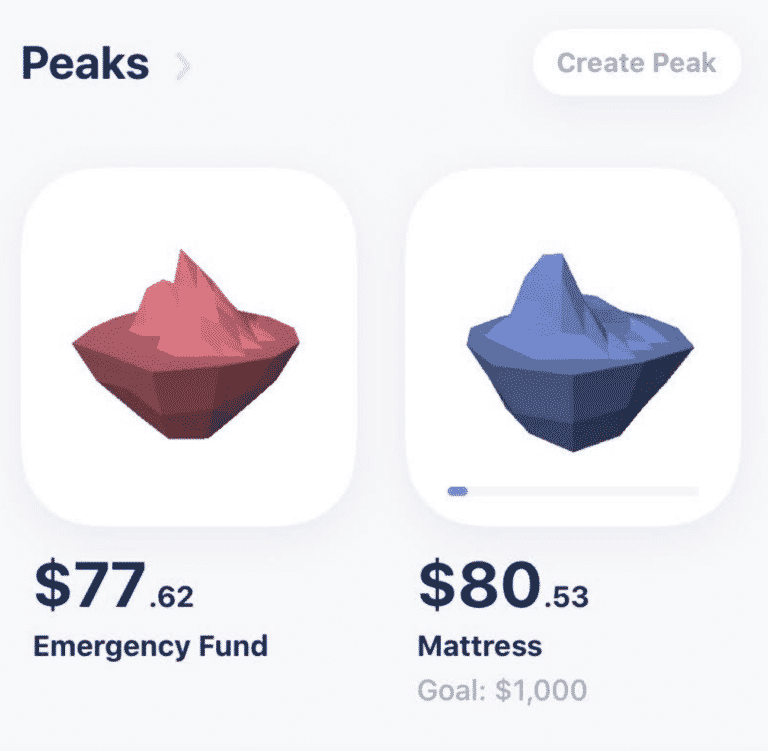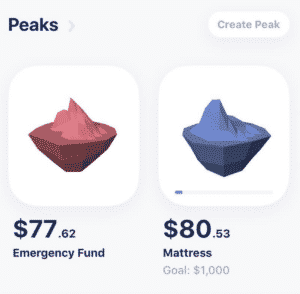 The money in your Peak account earns "Peak Rewards," which is basically the same thing as interest. As long as you have at least $1 in your Peak account, you'll earn Peak Rewards of 0.5% per year, distributed quarterly. This obviously isn't a lot of interest, but since I use my Peak account for short-term savings goals and I'm not keeping huge amounts of cash in it, the interest I earn on my Peak savings is basically insignificant (just as an example, if I had $1,000 earning 1% interest, I'd make $10 per year; if I have $1,000 earnings 0.5% interest, that's $5 per year or a difference of $5 in an entire year).
How I Use Peak Money As Part Of My Money System – The Round-Up Feature
The most important feature for me – and the reason Peak is an integral part of my money system – is the round-up feature. When this feature is activated, Peak will monitor your credit cards, then round up every transaction you make to the nearest dollar. Peak will then save that spare change into your Peak account.
An example will help explain how round-ups work. Let's say you buy a soda for $1.75. Peak will automatically monitor this transaction and round up the transaction to $2. Peak will then withdraw the remaining 25 cents from your bank account and set it aside for you in your Peak account. I like to think of it as the digital equivalent of a piggy bank or spare change jar that you might have in your room. As anyone who has kept this spare change jar knows, it's always surprising how much money makes it into that jar without you even realizing it.
To set up the Peak feature, you simply tap the Peak logo in the top right corner of the app, activate the round-up feature, choose which accounts you want Peak to monitor for round-ups, and then allocate which Peak savings goal you'd like Peak to save your round-ups into. I have all of my Peak round-ups go into a Peak that I've labeled as "Emergency Fund." 
One thing to note is that Peak will monitor your round-ups until you've hit $5 of total round-ups. Once you hit $5 or more in round-ups, Peak will initiate a withdrawal from your bank account and set that money aside into your Peak account.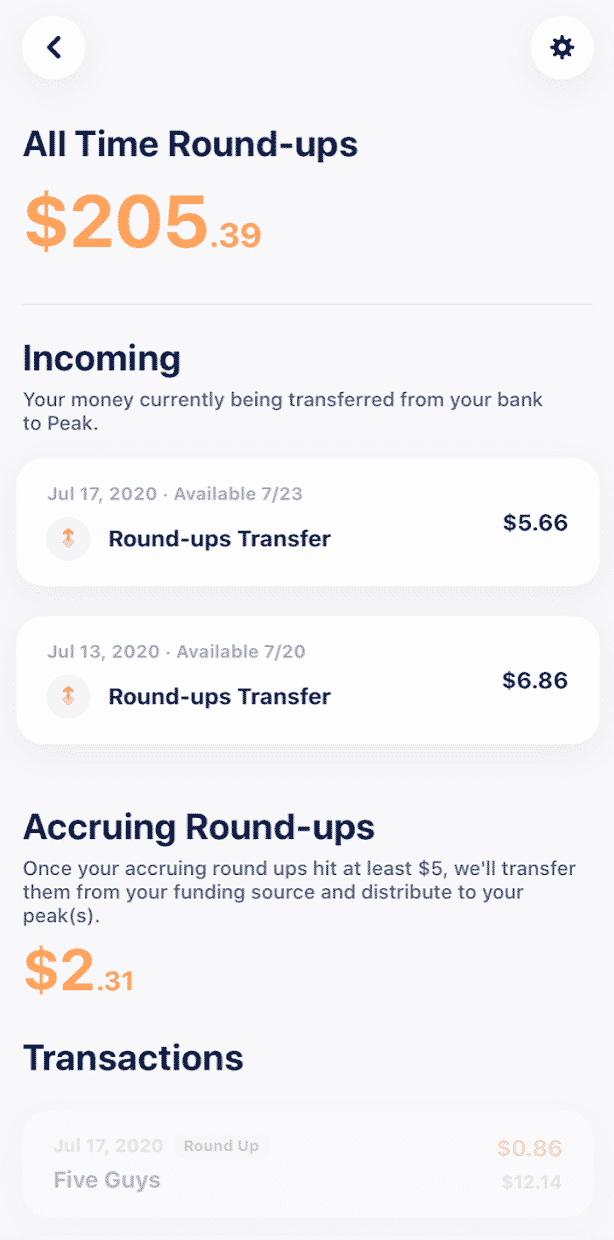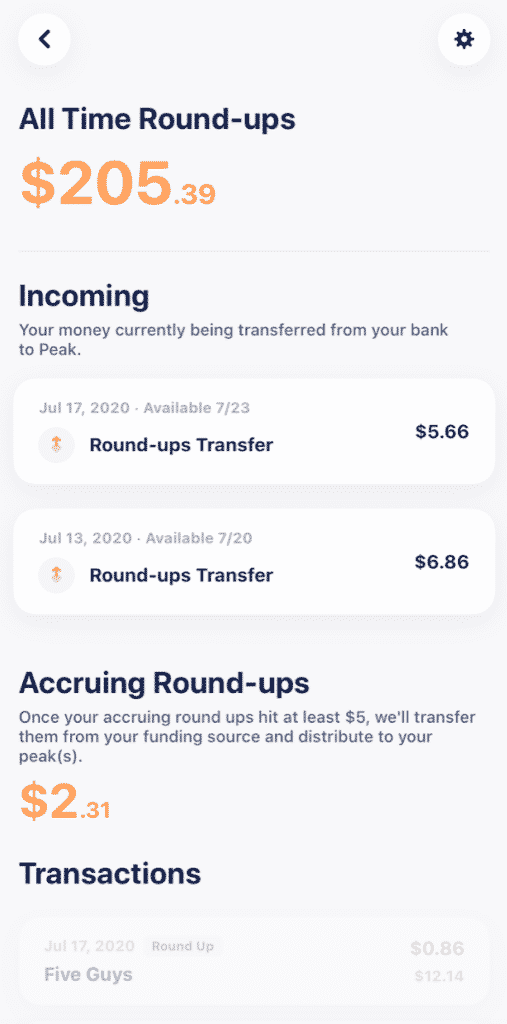 The Important Reason I Recommend Peak – It's 100% Free 
I think it bears repeating, but the reason I find Peak superior to any other similar app is due to the fact that it's totally free. Peak doesn't charge any monthly fees and they don't try to sell you on anything either.
There are a few other apps with a similar round-up feature to Peak, but I think they're all inferior compared to what Peak offers. Qapital, as discussed before, was a great app that worked perfectly for goal-based savings and microsavings, but they now charge anywhere from $3 to $12 per month to use their app. That's untenable for me. 
Another app with a round-up feature is Acorns, which is a pretty popular app in the fintech world. Unlike Peak, Acorns takes your spare change and invests it for you in a diversified, low-cost portfolio. The problem is that Acorns charges $1 per month or $12 per year to use their app. That might not seem like much, but it's a huge amount when you think about how much spare change you'll save over the course of a year. For most people, charging $1 per month will basically amount to a 6-10% annual fee. That's way too high. 
Instead, if you want to replicate what Acorns does, you can do it for free by combining Peak with a free investing app such as M1 Finance. Simply have Peak round up your transactions, then every month, transfer all your spare change into M1 Finance. You'll get the exact same thing Acorns does but at no cost. (Related: How To Make Your Own Free Version Of Acorns)
Personally, I don't think it's particularly meaningful to invest your spare change. Instead, I prefer saving it and adding it towards various short-term goals or at least using that spare change as a way to bolster my emergency fund. 
Final Thoughts 
In conclusion, I think Peak is a great app that's definitely worth including in your money system. I'd recommend using Peak for short-term savings goals where you want to create a new savings bucket quickly and easily on your phone. For longer-term goals, I'd recommend creating sub-savings accounts in a high-yield savings account (so things like a house fund or really large savings goals should go in a traditional high-yield savings account). 
The main reason to use Peak, however, is for the round-up feature. Add Peak into your money system and round up all of your daily transactions. You'll find that it's an easy way to increase your savings without even noticing it. If you combine Peak with a free app like Albert, you'll have a nice microsaving system in place. You can check out Peak Money on their website. 
Update: Previously, Peak was only available on iOS, but it's now available on iOS, Android, and can be accessed on your computer as well.