IVueIt is a gig economy app that pays you to take photos for property owners/managers looking to check on the condition of their properties. It's not an app that will replace your day job, but it can easily fit into your day-to-day life and help you make a little bit of extra income. And it can be pretty fun to use too. In this IVueIt review, we're going to take a look at how IVueIt works and discuss how you can use IVueIt as part of your side hustle strategy.
If you're looking for additional gig economy apps that you can use to earn extra income, be sure to check out my post, The Ultimate List Of Gig Economy Apps, where I list nearly a hundred different gig economy apps that you can use.
What is IVueIt?
IVueIt is what I typically call a picture-taking app or an auditing app. Businesses use apps like IVueIt to gather information about certain products or locations. To get this information, businesses contract with apps like IVueIt to find independent contractors who can go to certain locations and take photos and record any other information they need. 
In this case, property managers use IVueIt to find independent contractors to take photos of their buildings. The photos are typically exterior photos, generally of the landscaping or the parking lot of a building. Some IVueIt gigs also consist of interior photos where you might have to take photos of certain areas inside a building. 
IVueIt uses "Vuers" to take these photos. As a Vuer, you are an independent contractor and can accept any assignments that you see in the IVueIt app. Assignments are on a first-come, first-serve basis, which means whoever accepts the assignment first can complete it.
How Does IVueIt Work?
Now that we know what IVueIt is, let's get into some of the logistics of how this app works. Naturally, the first thing you have to do is sign up to be a Vuer. Signing up to be a Vuer takes a few seconds – you only have to provide your phone number and enter your PayPal email so that IVueIt can pay you for the Vues you complete.
After you've signed up as a Vuer, you'll be able to open the app and take a look at the available Vues in your area, which will show up as green dots in the app. You can then click on the gig and claim it. Once claimed, you'll be able to see the instructions for the gig, as well as when you can complete the gig.
The instructions for the gigs are generally straightforward and as long as you read them carefully, you shouldn't have any problems.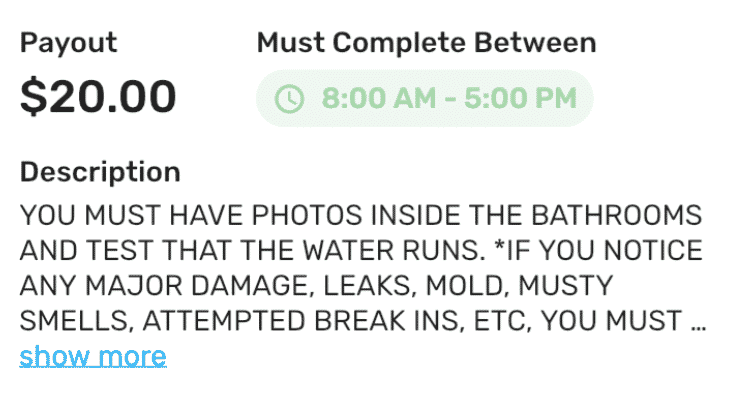 Once you've completed your Vue, you simply submit it and wait for it to be approved. I've found that IVueIt approves my assignments fairly quickly, often within a few hours. At the most, it takes a day. 
What Sort Of Vues Are There?
I've done several different types of Vues over the time that I've used this app. I can't share the exact names of the businesses that I've completed Vues at due to confidentiality reasons, but I can say that these are all large chain stores that you likely have in your area. 
Here are examples of the types of Vues I've completed with the IVueIt app: 
Exterior Landscape Photos. The most common gigs I do are exterior landscape photos. These are Vues where you take photos of the exterior of a business. The app tells you the type of photos that you need to take. You'll take photos of the entire exterior of the building. In total, you have to take 15-20 photos. These gigs typically take me about 10 minutes to complete. 
Parking Lot Photos: I've done a few gigs where I had to take photos of the parking lot at certain businesses. These gigs are similar to the exterior landscape gigs. It's about 15-20 photos and takes me 5-10 minutes to complete.
Interior Photos of a Closed Store ("Dark Store" Gigs). The interior, closed store gigs are the ones I find most interesting. These are also called "dark store" gigs. With these gigs, IVueIt sends me a lockbox code to a store or restaurant that's currently closed. The purpose of these gigs is to make sure that everything in the building is still in working order and that nothing has been damaged during the time that the store has been vacant. These gigs require you to take multiple photos of the interior of the store. I find these fun – it's interesting to be inside a closed store that used to be a coffee shop or something similar.
Special Things To Know About IVueIt
IVueIt isn't a difficult app to use. I have, however, discovered a few quirks that are worth knowing about. This section will hopefully help you so you don't make the same mistakes that I've made.
The first has to do with your rating. IVueIt gives you a rating based on your Vue completion rate. If your completion rate is 80% or higher, you are considered a Prefered Vuer. If it's below 80%, you are classified as a Standard Vuer. The difference between these two levels is that if you're a Preferred Vuer, you're able to grab new assignments 10 minutes earlier than Standard Vuers. This can be very important depending on how fast Vues get snagged in your area. If you can, it's best to try to keep your completion rate above 80% so you can grab Vues before other people can.
The second thing to know about IVueIt has to do with canceling tasks. When you grab a Vue, you can unclaim it and the app says that it won't impact your rating. Even though the app says this, I don't think it's true. I've had Vues that I've canceled that have impacted my completion rating. Other times, I've canceled a Vue without it impacting anything. So it seems random whether canceling a Vue harms your completion rating. My general advice is that if you grab a Vue, try your best to complete it so that you can keep your Preferred Vuer status.  
Update: I recently claimed a Vue, then canceled it immediately. This time, it didn't impact my completion rating. So, I guess I still don't know if canceling a Vue after claiming it impacts your completion rating.
Finally, the last thing to know was pointed out by a reader. You have to take your photos in the IVueIt app. You can't take photos using any other app since IVueIt doesn't let you upload photos that are on your phone. So, make sure you're using the IVueIt app to take your photos.
How Much Does IVueIt Pay?
IVueIt gigs typically pay between $7 and $20, with most of the gigs I've seen in the $7-$10 range. This doesn't sound like much, but each assignment only takes 5 to 15 minutes to complete, so the amount you're paid is good for the time it takes to complete each assignment. Of course, this is only worth it if you're not going out of the way to complete Vues. If you're traveling to complete Vues, it's probably not worth it.
As for how your payments are made, when you complete an assignment, it gets sent to IVueIt, which then needs to approve the assignment. Once approved, IVueIt sends your payment to your IVueIt wallet. You can then cash out your earnings to your PayPal account. Payouts are quick and get sent to your PayPal account as soon as you cash out.
How I Recommend Using IVueIt
IVueIt is not an app that you can expect to make a ton of money with. There simply aren't enough IVueIt gigs to make this a consistent income stream. 
I also wouldn't recommend going out of your way to complete IVueIt gigs. Instead, it's best to either stick to Vues that are close to where you live or work. 
The best way to use IVueIt is to try to combine it with the tasks you're already completing or the side hustles you're already doing. For example, I combine IVueIt with my other gig economy apps. I do a lot of food delivery via apps like DoorDash, Uber Eats, and Grubhub. Whenever I see a Vue that's nearby, I'll grab it and complete the Vue while I'm doing deliveries. Since the Vues are quick, I'm usually able to complete my assignment and then continue earning money with my food delivery apps.
Final Thoughts
IVueIt is an interesting way to earn a little bit of extra income, although this is not an app that you'll make a lot of money with. What you can do is use it sporadically to earn some extra income whenever you find a Vue that's convenient for your situation. So long as you aren't going out of your way to do these IVueIt gigs, then it can be worthwhile.
I hope that this IVueIt review was helpful to you and gives you a general sense of what this app is all about. This is an app I've had fun using and it's one I'll continue using. Download this app and have it as part of your side hustle repertoire. Even if you don't plan to use IVueIt, it's still worth signing up and having it on your phone.