A few years ago, I bought my first ebike and it completely changed the way I thought about bikes and their use as a primary mode of transportation. I'm a year-round bike commuter and have always felt like a bike can take me anywhere. But when I got my first ebike, it felt like there were no limits on where I could go with it. I even wrote a post declaring that the best thing I've ever bought is an ebike. 
I've been using the RadCity as my primary ebike for the past few years, but recently got my hands on the Himiway Escape. It's served as one of my modes of transportation and I've also been using it as a food delivery vehicle for when I do deliveries with apps like DoorDash, Uber Eats, and Grubhub.
In this Himiway Escape bike review, I'm going to go over my experience with this bike and my thoughts on it. The short of it is, this is a fun ebike with some unique characteristics that you may find appealing.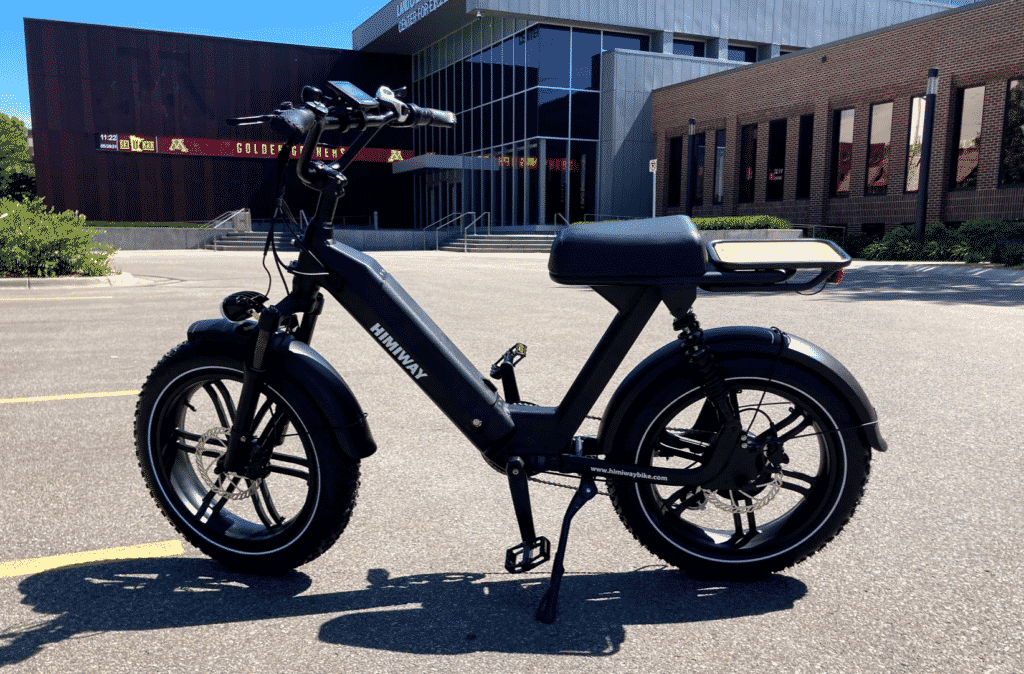 Before we get started, I want to give a full disclosure that Himiway sent me this bike to review. Everything in this review reflects my thoughts and experience with the bike and Himiway did not have any editorial say in this post. Indeed, they did not review this post in any way.
With that said, let's take a closer look at the Himiway Escape.
Himiway Escape Bike Specs
The Himiway Escape is a moped-style electric bike that features a 750w motor and a 48v removable battery. The bike has five levels of pedal assist, which provides more power depending on which level you set it at, as well as a throttle that allows you to move without pedaling. It also includes an LCD screen that gives you your mileage and speed.
Out of the box, the default max speed is about 22mph, although you can modify the settings so that it moves slightly faster than that (I've personally left it at the default settings).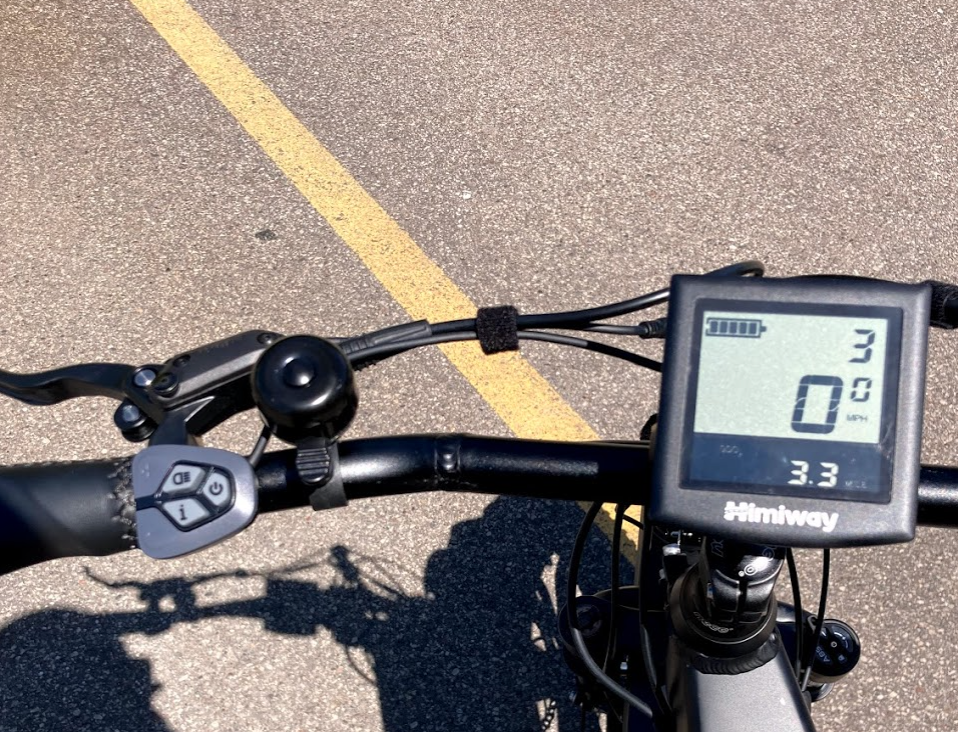 Himiway advertises a range of 45 miles per charge, but this isn't really possible unless you're on the lowest level of pedal-assist and are pedaling on smooth, flat ground. For the most part, you'll likely find your range closer to 25 miles. Because it's a moped-style electric bike, I've found that I tend to use the throttle more than I would on other ebikes because of the way I'm positioned on the bike. The seat isn't adjustable, so pedaling for extended periods isn't great because I'm too low on the bike. This is in contrast to a bike like the RadCity, which is more of a traditional bike that allows you to pedal normally. 
Other features of the Himiway Escape include two big Kenda wheels, front and rear suspension, and a small rear rack. The big wheels and the suspension make this a very smooth ride. I barely notice most bumps when I'm riding around.
The seat is wide and comfortable. It's fixed to the bike, however, so you can't raise or lower the seat. As previously mentioned, this puts you in a position where pedaling can be uncomfortable. The seat and the overall build design make this bike act much more like a moped. The low seat would seem to be a disadvantage at first glance, but I think there are some interesting advantages with the low seat that I'll elaborate on later in this post.
In terms of looks, it's a gorgeous-looking bike. The battery fits directly into the frame, which gives it a very clean look compared to some other ebikes where the battery is attached to the frame. I've definitely turned a lot of heads riding past on this bike. 
Finally, this is a heavy bike, weighing in at about 92 pounds. I used to live in a house with steps, which made it a real pain to carry up and down (I've since moved to a house with a garage, which has made life much easier). Since it's a moped-style bike, there's not really a good space to grab the bike to lift it either. 
Unboxing The Himiway Escape 
The Himiway Escape comes in a big box delivered straight to your door. This box is super heavy, so if you can, get someone to help you carry it into your house.
Assembly is straightforward, with just two things you'll need to assemble – the front wheel and the handlebars. You can find assembly instructions in this video from Himiway and most people should be able to do it themselves. Himiway makes it easy by also including an assembly tool (like how Ikea includes the tools when you buy a piece of furniture).
I'm admittedly not the handiest person when it comes to bike maintenance or assembly, but I was able to get everything set up within an hour. The annoying thing I've found with every bike I've assembled is that I always get a little bit of brake rubbing on the front wheel. I ended up taking the bike to my local bike shop and they were able to adjust the wheel for me. Once assembled, I was ready to roll!
My Experience With The Himiway Escape 
First things first. This is a fun ebike. I've had a blast riding it around the city, especially since the big wheels and suspension make for a really smooth ride on otherwise bumpy streets. 
Since it's a moped-style ebike, it's not really made for pedaling, so I find myself using the throttle most of the time. I still try to pedal so that I can preserve battery life, but I find that I have to keep it at pedal assist level 4 to stay in the 20mph range. When I'm at pedal assist level 3, I find I hover around 17-18mph. 
The acceleration on this bike is really powerful – far more powerful than my Rad Power bikes. It's actually powerful enough that it takes some getting used to, especially if you're more used to the gentle acceleration of your more traditional ebike. You definitely feel like you're riding something different compared to a regular ebike when you're on the Himiway Escape.
On a less important note, I've also had fun with the head-turning capability of this ebike. Since it looks different from a regular bike, I've had a lot of people comment on it as I ride past. This probably shouldn't influence your purchase decision, but it's just something I noticed that I enjoy – I like looking sort of weird or different as I ride around.
Using The Himiway Escape As A Food Delivery Bike With DoorDash, Uber Eats, And Grubhub
I'm big on using bikes as a primary mode of transportation and ebikes are even better since they allow you to cover huge distances without breaking a sweat. My wife and I only have one car, so by necessity, I have to get around using other means. In the end, it's more cost-effective, more convenient, and ultimately more fun to get around using these sorts of electric micromobility vehicles. 
The other main reason I use ebikes is to do food deliveries on them using apps like DoorDash, Uber Eats, and Grubhub. Most people don't realize it, but it can be very lucrative to do deliveries using a bike, assuming you're working in a dense neighborhood. You'll end up with more profit in the end too because your maintenance costs will be far lower (at least that's been my experience).
For the past two years, I've primarily delivered food using my RadCity and I occasionally do deliveries using a Lime scooter (I signed up to be a scooter charger, and with some strategy, you can ride these scooters around for free). But I've had a lot more fun using the Himiway Escape. And as a food delivery bike, it's actually very useful.
Specifically, here's what I've noticed that makes the Himiway Escape well suited as a food delivery vehicle.  
The Low Seat Makes It Easy to Hop-On and Off. The low seat on the Himiway Escape would generally be a disadvantage because it puts you in a weird position where you can't really pedal comfortably. For food deliveries, though, the low seat is actually a bit of an advantage. One issue I didn't realize before I started using the Himiway Escape is that it can be a pain to constantly hop on and off a regular bike. The Himiway Escape, on the other hand, is low enough that jumping on and off the bike is super easy. This can be a big advantage in the delivery game when you're constantly getting on and off the bike to pick up and drop off orders. 
The Suspension and Big Wheels Make for a Less Bumpy Ride. Normally I don't care too much about whether my ride is bumpy, but when you're carrying food, having a smooth ride can be advantageous. One thing I've noticed with the Himiway Escape is that the big wheels combined with the front and rear suspension means that bumps are much less noticeable. I've definitely had fewer spills using the Himiway Escape compared to when I use other ebikes.
You Can Use the Rear Rack to Carry Food. I haven't personally done this because I use a delivery backpack, but you could attach a small food carrier to the back to hold orders. The rear rack isn't huge, so you're not going to be holding a ton of stuff in the back, but it can be used for this purpose. 
Most ebikes are seen as recreational items, but they don't have to be. If you opt to get the Himiway Escape as a food delivery vehicle, it's possible to think of it as an investment. It's not a cheap investment by any means – the Himiway Escape currently sells for $1,699. Still, it's very possible to make your money back on this purchase fairly quickly if you're using it as a delivery vehicle over your car.
Downsides Of The Himiway Escape 
The Himiway Escape is a good bike, but it's not without its flaws. Here's what I've noticed after using this bike for an extended period. 
The Fixed Seat Can Make Pedaling Uncomfortable. There are advantages of the fixed seat, mainly that it's sturdy and makes it easy to get on and off of it. The downside is that you can't adjust it and if you're a person of average height, you'll find that pedaling isn't very comfortable. I'm 5'10" and can pedal the bike, but I'm definitely in an awkward position. As a result, I find myself using the throttle most of the time when I'm riding.
It's a Heavy Bike. The Himiway Escape has a low, sleek profile, but it's also super heavy. It weighs 92 pounds, so it's the heaviest bike I own. Picking it up is also a pain because the design of the bike makes it so there isn't really a good spot to lift the bike with. I used to live in a house with 4 steps leading into my house and it was a massive pain for me to carry it up and down those steps. If you have to carry your bike up steps, think carefully about whether this bike makes sense for you. (I have a new house with a garage, so that'll make things much easier for me going forward)
This is An Expensive Bike. The Himiway Escape is priced at $1,699, which can seem expensive for people who aren't used to buying an ebike. I will say that, in my opinion, most ebikes are good investments if you're using them as a car replacement, rather than as just a recreational vehicle. If you think about it, your cheapest car will cost more than most ebikes and will cost much more to maintain. Most people only need to travel short distances, so an ebike can accomplish that feat without the high upfront cost or continuing maintenance costs. 
Himiway Vs. Rad 
One question you might have is how the Himiway Escape compares to a bike from Rad Power. First, it's worth noting that Rad Power does not have a bike that is exactly comparable to the Himiway Escape. The closest would be the RadRunner, which is sort of a moped-style bike. It's also a much cheaper bike – the RadRunner comes in at $1,299 compared to the Himiway Escape's $1,699 price tag (the RadRunner Plus, however, comes in at a slightly more expensive $1,799). 
I haven't personally used the RadRunner, so I can't say how these two bikes compare. My current Rad Power bike is the RadCity, which is more of a traditional bike. If the battery dies on the Himiway Escape, you're going to have difficulty pedaling it long distances. In contrast, the RadCity is enough of a normal bike that you can pedal it with about the same level of efficiency as a bikeshare bike. 
Here's my thought. If you're looking for a versatile city commuting bike, then you'd probably want to take a look at the Rad Power Bikes. If you're more interested in a specialized type of bike with bigger wheels that can perhaps handle more weather conditions, consider taking a look at the Himiway Escape (I haven't gone through a winter season yet with the Himiway Escape, but we'll see how it handles when we get there). 
Using The Himiway Escape As A Winter Ebike
I originally got this bike in the summer and it proved to be an excellent bike for getting around the city. It's also proved to be an excellent bike for winter riding. I ride my son to daycare every single day, including in the winter. Most of our winter riding has been with the Himiway Escape. To get around, I attached a Burley Bee trailer to the Himiway Escape, then upgraded the Burley with the 16-inch fat tires.
It's worked out well. The large tires on the Himiway Escape, combined with the upgraded tires on the Burley Bee means I can get through snow and ice without any issues.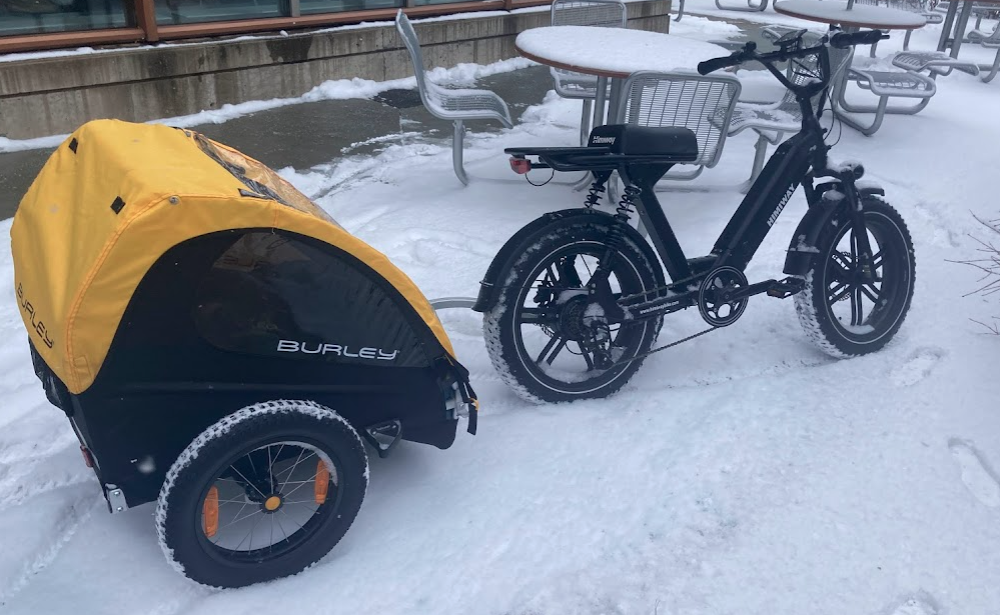 Beyond the fat tires, the Himiway Escape works out well as a winter bike because it's low to the ground. This makes it easy to regain your balance if you do happen to hit a patch of ice. 
I'll continue to use the Himiway Escape as my primary winter bike. It's been a lifesaver and is the main reason I'm able to continue riding with my son throughout the winter. 
Final Thoughts 
I've had a blast with the Himiway Escape and think it's an interesting bike for anyone looking for a moped-style ebike. If you're a gig economy worker, the Himiway Escape is particularly interesting and it's possible to think of it as an investment, especially if you can opt to do deliveries with the Himiway versus using a car. It's not cheap, but you can definitely make your money back when you compare the mileage you'll put on your car versus using an ebike.  
That's my experience using the Himiway Escape. As I continue to use this bike more, I'll update this post with some additional thoughts.
If you're interested in getting the Himiway Escape, I do have a link that'll give you $50 off your purchase. And if you have the Himiway Escape already, please let us know about your experience in the comments.