An ebike is probably the best thing I've ever bought (I've said as much here). It's been my primary mode of transportation for the past several years and I've clocked in thousands of miles on ebikes since I got my first one several years ago. I'm always interested in trying out new bikes and recently got my hands on an ebike from a California-based company called Espin. In this Espin Bikes review, I'm going to go over my experience riding the Espin Sport. I'll also go over some of the features of this ebike and detail some of the ways I've been using it in my life. 
I do want to note that Espin sent me the Espin Sport to review and write about. All opinions, however, are my own, and Espin did not review this post or have any editorial say over the content of this post. 
With that said, let's take a closer look at the Espin Sport. 
Espin Sport: Brief Overview
Espin is an ebike company based out of California. At the time I'm writing this, they offer five different models of ebikes.
The Espin Sport is a Class 2 ebike with a 500 watt motor, removable battery, and 25 to 50 miles of range. 
Has both throttle and pedal assist.
This is a good bike for someone that wants to get around the city and also wants a bike that has a more traditional look and feel.
Pros: 
This is a gorgeous bike. The battery goes into the frame, which gives the bike a nice, streamlined look. If you aren't looking closely, you might not even realize this is an ebike.  
Has a great, color display. It's one of the best displays I've seen.
While it's not a lightweight bike, it's far lighter than most ebikes, which makes it easier to maneuver compared to other ebikes. 
Cons: 
Uses a thumb throttle, which isn't my preferred throttle (I prefer a twist throttle). 
The bike isn't as powerful as other bikes with a larger motor.  
There is a known issue with the battery coming loose during riding, but this is easily fixed. 
What Is Espin Bikes?
Espin is a direct-to-consumer electric bike company that produces 5 different models of ebikes. These include the following: 
Espin Aero
Espin Sport
Espin Nesta
Espin Nero
Espin Flow 
Each of these ebike models has different features, ranging from your traditional commuter road bike to a hybrid-style bike to a fat-tire bike.
I opted to go with the Espin Sport, which is a bit of a hybrid between a road bike and a mountain bike. That's to say, it has the look of a traditional road bike, but has tires that are wider than a road bike, but smaller than a mountain bike. It's definitely the lightest and sleekest-looking ebike I have.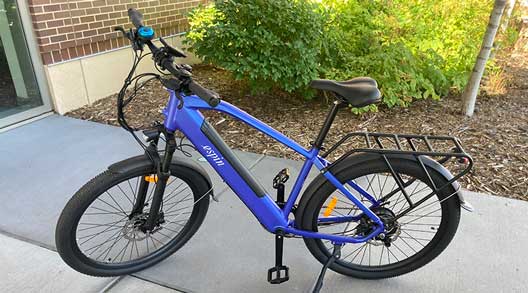 I did debate between going with another Espin bike but ultimately decided that the Espin Sport would work best for my purposes. I primarily use ebikes for two things – (1) commuting through the city and (2) as a delivery vehicle when I'm out doing gig economy work with apps like DoorDash, Uber Eats, and Grubhub. After putting a few hundred miles on the Espin Sport, I can say that it does a good job of serving these two purposes. 
Aside from the Espin Sport, I was also considering the Espin Nesta or the Espin Flow. I think both of these ebikes would also serve my purposes well. 
Espin Sport Features – A Closer Look
In this section, we'll take a look at the main features of the Espin Sport. 
Espin Sport – Motor, Battery, and Display
The Espin Sport features a 500 watt rear hub motor, with a peak output of 800 watts. This gives the Espin Sport plenty of power to get you through the city and up steep hills. It's a class 2 ebike, which gives it a max speed of 20 mph, although I believe you can adjust the max speed in the settings so that it can go faster than that (I might be wrong there though).
The battery is a 13.6 amp, 48-volt Samsung battery. It's a pretty sleek battery design compared to many other ebikes. Most ebikes go with an exposed battery, but the Espin Sport battery fits directly into the bike frame. This gives the Espin Sport a smooth look. Indeed, if you aren't paying careful attention, you might not even notice that it's an ebike.
Espin Bikes advertises that you can get 30-50 miles on a full charge, although I haven't personally seen that much range in my use. In the hundreds of miles I've ridden, I tend to get about 25 miles per charge. I'm typically using the throttle a lot and have the bike on a high power-assist level, so that makes sense that I'd get a shorter range. If you're using a lower pedal-assist level and relying on the throttle less, you'll probably get closer to the advertised range. 
Speaking of throttles and power assist, the ebike has two ways to get it moving. The first is a pedal-assist function which activates the motor as you pedal. The pedal assist comes in 5 power levels. The higher the power level, the more the motor will assist you as you pedal. I found that I had to be in pedal assist level 4 or 5 to really feel like I was flying. 
The throttle is a thumb throttle that you activate using your left thumb. This is different from many other ebikes I've used, which usually have a twist throttle on the right handlebar. I have mixed feelings about the thumb throttle. The twist throttle feels more natural to me, but that being said, it's really a personal preference.  
Finally, the Espin Sport has one of the better displays among ebikes, with a large color display that shows you your speed and battery level, along with your pedal assist power and mileage information. I'm definitely a fan of this screen and would probably say it's the best display of all the ebikes I've used.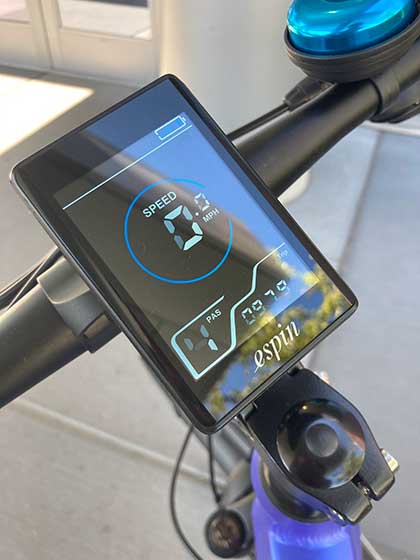 Espin Sport – Frame, Components, And Other Features 
The Espin Sport has what I'd call a traditional bike look. There are several color options you can choose from when you get this bike. I opted to go with the Cobalt Blue. I find it to be an interesting color, different from most bikes which tend to be plain black.
Other features of the Espin Sport include 27.5-inch tires, hydraulic disk brakes, front suspension, and 8 gears that you can operate with your thumb. Unfortunately, there's nothing that tells you what gear you're in, so you have to click the gears until you get to a comfortable level. If you're not a regular biker, it'll take a little bit of practice to figure out how the gears work. 
Beyond the above features, the Espin Sport also includes front and rear lights that you can turn on using the buttons on the handlebar. The lights are bright and do a good job of helping you bike at night. The bike also comes with a rear rack, which is a nice thing that not all bikes have, giving you more ways to use your bike. There's no included front rack, but there is space to install one if you want. 
The final thing worth pointing out is the Espin Sport's weight. Ebikes are notoriously heavy. I have one ebike that weighs approximately 70 pounds and another one that weighs in at nearly 100 pounds. The Espin Sport, by contrast, comes in at a svelte 55 pounds. It's still heavier than a regular mechanical bike, but the weight of this bike definitely seems more manageable compared to other ebikes I've used. I have a lot less trouble lifting this bike, so if you have to navigate stairs with your bike, the Espin Sport does have that advantage compared to other ebikes.
Assembling My Espin Sport
Assembling the Espin Sport isn't too difficult. They ship the bike to you in a large box.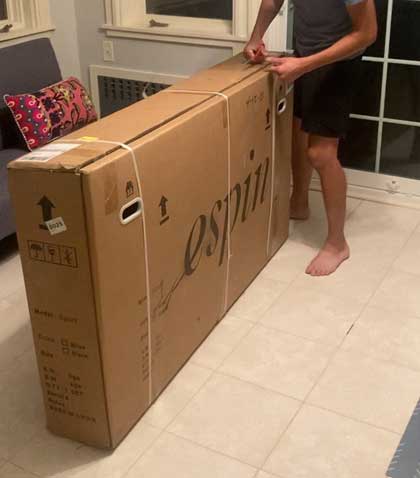 Espin touts that the bike comes 95% assembled, which I think is accurate. The only parts you have to install are the front wheel, handlebar, and front fender. 
Espin provides good directions on how to assemble your Espin bike, but you can also find countless assembly videos online. It's a straightforward process that even a non-savvy biker can figure out. If you do have trouble though, you could definitely bring it into a bike shop and have them put it together for you.
I've never been that good with assembling bikes, but I was eventually able to figure it out by watching a few YouTube videos. I also filmed myself assembling the bike and will upload that video soon if you're interested in seeing how it's done.
The bike itself came well packaged and none of the pieces were damaged during shipment. The only issue I had was after I assembled it and turned it on, I received an error message on the display. I contacted Espin customer service and they quickly got back to me and let me know that the error message I was seeing meant the throttle wasn't working. They sent me a new throttle within a few days and I had the bike up and riding soon after without any issues.
My Experience Riding The Espin Sport
I've now put in a few hundred miles on my Espin Sport as of the time I'm writing this, primarily using the bike for two purposes – transportation and as a vehicle for me to do food deliveries with apps like DoorDash, Uber Eats, and Grubhub. Here's what my experience has been like riding the Espin Sport over the past few hundred miles.
Using The Espin Sport As A Primary Mode Of Transportation 
The main thing I've been using the Espin Sport for is as a primary mode of transportation. I bike everywhere, including with my kid, so having a good bike that can get me around the city comfortably is crucial. The Espin Sport does a good job in this regard. 
The lighter weight of the bike compared to other ebikes makes it easy to control. I definitely felt more like I was on a bike compared to other ebikes, which can often feel like low-power mopeds. The lighter weight also makes it easier to lift up curbs or carry over obstacles (i.e. stairs). I haven't taken the Espin Sport on the bus or train yet, but it's small and lightweight enough that you could put it onto the front rack of a bus or bring it on the train. This makes the Espin Sport a useful multi-modal transit option.
Even though the Espin Sport handles much like a regular bike, it still has plenty of power to let you fly through city streets without breaking a sweat. The pedal assist works out well. I find that if I'm on level 3, I tend to stay around 15mph, so if I want to stick near 20mph, I have to push it up to pedal assist level 4 or 5.
If you're used to a twist throttle, it can take a bit of time to get used to the thumb throttle. Once I got used to it, I had no problem with using the throttle as needed. 
I have a kid also, so having a bike that can carry my kid around is really important. The Espin Sport does have a rear rack that lets you attach a child seat. I needed to buy an adapter to attach my seat to it, but that's going to be the case with most bikes.
It's also really easy to attach a trailer to the Espin Sport. I use a Burley trailer that my kid goes into or that I carry groceries or other cargo with. To attach the trailer hitch, all you have to do is unscrew the nut on the rear wheel, attach the trailer hitch, then re-screw the nut. Whenever I need to attach the trailer, it's a simple matter of hooking it into the hitch on the rear wheel.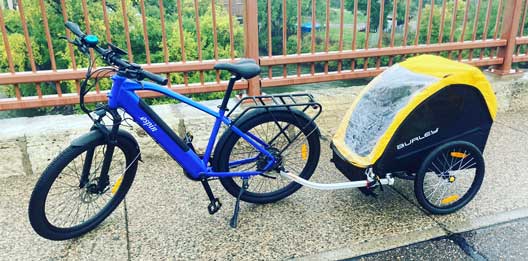 When you combine all of these various ways to carry things on your bike, it makes the Espin Sport a great city commuter and a real car replacement option.
Using The Espin Sport For Food Delivery 
I'm a fanatic side hustler, and one of my favorite side hustles is delivering food with apps like DoorDash, Uber Eats, and Grubhub. Before I got into ebikes, I used a regular bike to do my deliveries, but once I discovered the power of the ebike, there was no going back.
You get the best of all worlds when you're using an ebike to do these side hustles. You won't get tired. You get all of the advantages of a bike by not having to deal with parking or traffic. And if you're in a city, you'll likely move just as fast (or faster) than someone in a car since you can cut through traffic and use bike lanes. 
The Espin Sport works well as a food delivery vehicle. With the rear rack, you can attach a basket to the back, allowing you to hold food. I personally use a delivery backpack when I'm doing deliveries, but I may consider adding a rear basket at some point.  
The battery life is good also. With 25+ miles of range, you should be able to work for several hours without having to recharge the battery. I did find myself keeping the pedal assist power a bit lower and using the throttle less so as not to run the battery down too quickly, but that's going to be the case with any ebike. 
Since the bike is relatively lightweight, it's also easy to bring the Espin Sport into a building if needed. That's a factor that a lot of people forget about when they're looking for a food delivery bike. You can of course lock up your bike, but sometimes I find it easier to just bring the bike inside with me and save the hassle of pulling out my bike lock. 
Finally, the front and rear lights on this bike are good, which makes it a good option if you're doing deliveries at night. 
Overall, I've had a pleasant time using the Espin Sport as my food delivery vehicle. If you live in a city, I think it's crazy to do deliveries in your car. Buying an electric bike is, in my opinion, an easy investment to make (far cheaper than operating a car). That's one thing to think about with any ebike – it doesn't have to be a luxury purchase. If you're strategic, it can be a business investment too.
Some Things I've Noticed About Espin The Espin Sport  
The Espin Sport has worked out well for me after putting several hundred miles on it. But there are a few things I've noticed that are worth mentioning. 
The most troublesome thing I discovered was the battery popping out randomly when I hit bumps. The first time this happened, I was riding at night and had to stop to tinker with the bike before I realized that the battery was no longer plugged into the bike. I contacted Espin customer service to ask them about this issue and they recommended buying a small washer and putting it into the screw that holds the lock latch. Below is the photo they sent me explaining where to install the washer.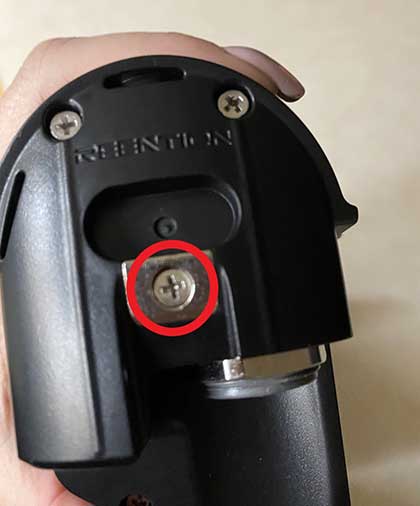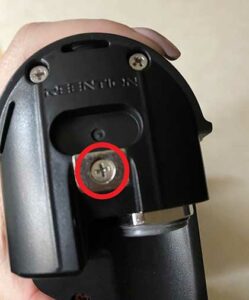 It seems like Espin should either install the washer beforehand or figure out how to fix this issue before shipment, as this battery popping out thing appears to be a common issue that they know about. Espin did say they'd reimburse me for my washer purchase, which is a nice gesture I didn't expect.
I do have to give a lot of props to their customer service team by the way. They've easily had the best customer service of any ebike company I've worked with. I've had two issues with my bike so far and each time, they responded almost immediately. I think this is important – I've had some large ebike companies never respond after I emailed asking for help. 
Some of the other things I've noticed with my Espin Sport are more minor. The bike does seem to rattle a lot. It doesn't affect the ride, but the rattling can be annoying and makes it feel flimsier than it should be.
The 500-watt motor is also noticeably less powerful than the 750-watt motors on some of my other ebikes. That's not to say the 500-watt motor is bad – it's definitely powerful enough to get you around the city and up any hills. I'm just more used to the 750-watt motor on many of my other ebikes. 
Finally – and this is a small point – the Espin Sport doesn't come with a bike bell. Not a huge issue, but with an ebike, I like having a bell since I'm usually riding past slower riders. I ended up buying a bell for a few bucks on Amazon.
Frequently Asked Questions
Below is a section of frequently asked questions. I'll try to keep adding to this section as I notice more things that people might have questions about.
Where are Espin Bikes Made? 
Espin Bikes is headquartered in California. It was founded by Josh and Yina Liu, who wanted to create electric bikes that were affordable, simple, and efficient. You can read their story on the Espin website.  
How Do You Fix The Issue Where The Espin Sport Battery Keeps Popping Out?
This appears to be a common issue where, at least on the Espin Sport, the battery can pop out when you hit a bump. Espin provides a simple solution. You need to install a washer under the plate where the latch is.
I have a photo above that shows you where you need to install the washer. Once you do that, it should fix this problem.
What Is Espin Customer Service Like? 
I've had good experiences with the Espin customer service team. As I mentioned in this post, they immediately sent me a replacement throttle when I had an issue with it during assembly. They also gave me an easy fix when I found the battery kept popping out during my rides. 
I also had an issue with the motor about a year after I got the bike. Espin quickly sent me a replacement wheel and got me back up and running. 
Final Thoughts On The Espin Sport
The Espin Sport is a good ebike for someone who is looking for an ebike that feels and rides more like a regular bike. There are many ebikes that are really only bikes in name. In reality, they're really more like electric mopeds. The Espin Sport, by contrast, is a bike you could probably ride without the battery and you'd feel like you're just riding a regular bike. 
I've had a good experience with the Espin Sport. It's an ebike that gets the job done, helping me get around the city and make more money side hustling. And the customer service has been outstanding, which gives me a lot of confidence that I'm not on my own if any issues come up.  
I hope this Espin Bikes review was helpful. There are a lot of choices out there when it comes to ebikes, so hopefully, this post gives you some more information to help you make your decision. If you're interested in purchasing any Espin Bike, feel free to use my Espin Bikes referral link, which will get you $50 off your purchase (the discount is applied at checkout).