One of the most popular posts I've written on this blog is a post I wrote some time ago about how I'm able to put away as much as $50,000 in FDIC insured savings accounts that earn a guaranteed 5% interest. It's far and away my most commented on post, garnering well over 500 comments over the past year. The reception to this post demonstrates to me that there are a lot of people out there looking for ways to get much more than the standard 1% or 1.5% that your typical high-yield savings accounts pay.
If you're unfamiliar with how these 5% interest accounts work, it's basically a little financial hack. There are two companies – Insight and Netspend – that offer prepaid debit cards that also come with FDIC insured savings accounts that earn 5% interest. They take some work to set up, but once you go through that process, the accounts run themselves. Over the last several years, I've stored pretty much all of my excess cash in these super high-yield savings accounts, allowing me to yield a reasonable rate of return on my cash savings. Hundreds of other people have done the same – at least based on the comments and emails I get about these accounts.
Unfortunately, as seems to be the case, all good things eventually must come to an end. By now, most of you have already received the news that Insight is officially shutting down its 5% interest savings accounts. Below is the email I received from Insight.

It's definitely a bummer that the 5% interest savings accounts with Insight are now dead. While there are other super high-yield savings accounts out there, none of them were as easy to manage as Insight. What made Insight particularly good was that it allowed each person to put up to $5,000 in each savings account. Most people could open up at least two and often as many as four total Insight accounts (I had three accounts for myself and three for my wife). By taking advantage of these Insight cards, it was possible for most households to put away between $20,000 and $50,000 earning 5% interest in FDIC insured savings accounts. 
With Insight officially gone, the question becomes, where should people go to next? The good news is that there are still ways to earn a good return on your cash. Here are some ideas I have.
Take Advantage of Netspend's 5% Interest Savings Accounts
The natural move for most people is to take advantage of the 5% interest savings accounts that are still available with Netspend. I've written about Netspend extensively in this post (Netspend Account: 5% Interest Savings and $20 Signup Bonus), so be sure to check that out if you want an in-depth guide on how to set up your 5% interest savings accounts with Netspend. In that post, I walk you through everything you need to know about Netspend in painstaking detail.
The short story is that Netspend works exactly the same as Insight. If you've already set up accounts with Insight, you'll have no problem setting up your Netspend cards. In fact, I've found that Netspend is easier to set up, since, for whatever reason, it seems to have an easier time linking to banks and I've rarely heard of anyone having issues getting the cards. In contrast, a common troubleshooting problem with Insight was that banks wouldn't link up properly with it or folks would randomly be unable to sign up for a card without calling in or going into a store location.
Another advantage is that Netspend actually has a functioning mobile app and website. Insight's app never worked and its website was horrible. It was kind of sketchy now that I think about it. Netspend's app and website are as good as any other bank's website, and I find there's some comfort in using a company that has a real, functioning online and mobile presence. 
Finally, the other advantage with Netspend is that they offer a $20 signup bonus when you first sign up -something that Insight didn't offer. It's not a huge deal, but it's $20 for free while also gaining access to a 5% interest account.
Really, there's only one downside to Netspend – each Netspend savings account is limited to earning 5% on the first $1,000. This isn't terrible though. You can open up five Netspend accounts per person, which means that each person can put away up to $5,000 earning 5% guaranteed interest. If you're a two-person household, that means you'll be able to put away $10,000 total. That's a solid emergency fund that will earn you $500 of guaranteed interest every year.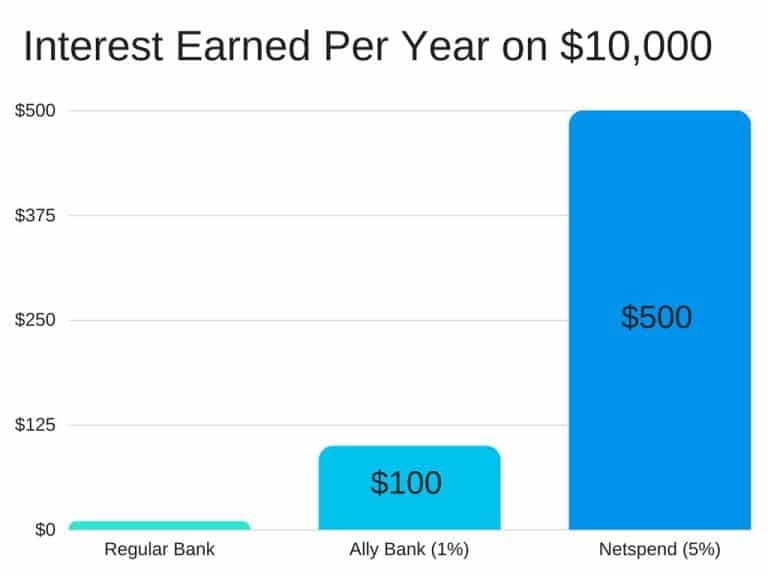 Don't be scared away by the $1,000 per account limit – I've honestly never understood why people were so concerned about it. Once you've set up one Netspend account and understand the process, it literally takes 10 minutes or less to set up the remaining accounts. Instead of thinking of each account as an individual account, just think of it as one big pool of money. These accounts are just for your cash to sit anyway, so it's not like you're going to have to look at multiple accounts all the time. Plus, once you've automated the accounts, you're not really doing anything with them anyway except collecting the interest. There's really no other super high-yield savings account that is this easy to manage. 
Anyway, if you're looking to keep getting 5% interest, Netspend is your best bet, so be sure to check out my step-by-step guide on how to set up your Netspend accounts. 
Maybe Look At Other Super High-Yield Savings Accounts
Besides Netspend, there are a few other options for super high-yield savings accounts. I personally haven't used these accounts yet, so I can't speak to how well they work, but here's a list of some that I would consider in no particular order (but again, I have not personally used these options, so I can't speak to how good they are):
Blue Federal Credit Union (5% interest on first $1,000). As I understand it, this account is a soft pull, but they are chex systems sensitive, which means that if you open up a lot of bank accounts (like I do), you might not be able to qualify for an account. I believe the requirements to earn the 5% interest are fairly minimal and can easily be automated.
DCU Savings Accounts (5% interest on first $1,000). Folks have mentioned this account, but I've held off due to some data points I saw which said that they do a hard pull in order to get the account. Other than that, this seems like a pretty good option.
Heritage Bank (3.33% interest on up to $25,000). A lot of people have mentioned this account as a potentially good option for your cash, especially with the high balance limit. I'm not really too into it because it requires 10 debit card transactions each month, which isn't something I like to deal with on a monthly basis.
Use Your Cash For Bank Account Bonuses 
One of the most underrated things you can do to get a better return on your cash is to use your excess cash to qualify for bank account bonuses. As a brief introduction, there are a ton of banks out there that will offer you signup bonuses if you open a bank account with them and meet certain requirements. These requirements typically include some sort of direct deposit requirement, a minimum balance requirement, and/or a debit card transaction requirement. It's work to do all of this stuff – but it's a great way to use your idle cash in a way that gets you way more than you can get from just keeping your money in a normal savings account. 
As an example of the kind of return you can make from bank account bonuses, in 2018, my wife and I made $4,100 from bank account bonuses. As a point of comparison, you'd need to put away about $205,000 in a normal high-yield savings accounts to earn a similar amount of interest.
It definitely takes some work to get bank account bonuses, but if you're the type of person that likes figuring things out, this is a good way to earn more money on your idle cash. 
I wrote a huge 5,000+ word guide on how bank account bonuses work. Make sure to check it out here: The Ultimate Guide to Bank Account Bonuses.
My Strategy Now That Insight Is Gone
I've pretty much explained my new strategy to get the maximum return on my cash but thought I'd recap it below for convenience sake.
Basically, I'll be doing a two-prong strategy when it comes to my idle cash.
Utilize Netspend for the 5% Interest Accounts. I'll continue to keep $10,000 in my Netspend accounts ($5,000 in my five Netspend accounts and $5,000 in my wife's five Netspend accounts). I've already been utilizing Netspend for over two years, and with Insight gone, I think Netspend becomes even more important to use since there's pretty much no other way to earn 5% interest without jumping through a million hoops. If you're willing to put in the upfront time to set up your Netspend accounts, they will pay dividends for you (and seriously, it's not as hard as it looks to set up). As mentioned above, be sure to read my guide to Netspend if you want to earn 5% interest in an FDIC insured savings account (and collect a free $20 signup bonus too).
Take Advantage of Bank Bonuses. I'll likely try to keep $20,000 or so in normal high-yield savings accounts, which I can then deploy for various bank account bonuses. Over the past three years, I've consistently been able to earn at least $1,000 from bank account bonuses. I'll keep the money in a normal high-yield savings account when it's not being used for bank account bonuses, and look to use the money whenever I find a good bonus somewhere. If you're looking for a list of current bank account bonuses, Doctor of Credit keeps the definitive list here. And make sure to read my Ultimate Guide to Bank Account Bonuses if you're new to this.
The landscape of super high-yield savings isn't as good as it was now that Insight is gone, but there are still ways to get a good return on a significant amount of cash. Just using Netspend alone is good for $5,000 per person, which is a solid beginner emergency fund for a lot of people. Combine that with bank account bonuses and you can still get several thousand dollars in interest each year from your cash savings. 
Do you have any ideas on how to get more return on your cash in a post-Insight world? Let me know – especially if you've used any of the super high-yield savings accounts options I mentioned above that I haven't personally used.