The Hiboy P7 Commuter Electric Bike is an ebike that I've been using for a bit now for commuting and doing food deliveries. I was fortunate enough to have Hiboy reach out to me to see if I'd like to try it out and I have to say, I've been having a blast using it. I think it's a solid entry-level ebike for most riders and it's worth checking out if you're in the market for an ebike to get you around town or to use for food delivery or side hustling.
In this post, we'll be taking a look at my experience with the Hiboy P7 and consider whether this ebike would work for you.
Hiboy P7 Commuter Electric Bike Specs
To get started, let's take a look at the specs for this bike. The Hiboy P7 is a commuter ebike with a removable battery that attaches inside the frame. It's a classically shaped bike and a lot of people might not even notice it's an ebike if they weren't looking carefully.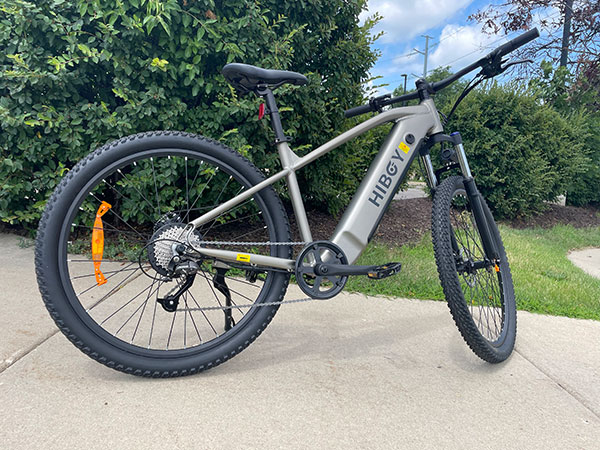 In terms of specs, here are the main things to know:
Max Speed – About 22-23 mph.
Range – Advertised as up to 60 miles
Battery – 48v/15ah removable battery  
Gears – 9 Speed Shimano Gears
Motor – 500-watt brushless rear-hub motor with 5 levels of pedal assist 
Other Features: Aluminum frame, puncture-resistant tires, mechanical disk brakes, integrated headlight.
Most of the parts seem to be unbranded or are brands I've never heard of, other than the Shimano gears, which is to be expected for a commuter ebike at this price point (Hiboy sells this bike for between $1,300 and $1,400 depending on if there is a sale). That being said, all of the parts seem to be solid quality and you could upgrade the components if you wanted to make it a more high-end ride. 
Below is a picture of the display that comes with the bike. It's not super fancy, but it gives you all the information you need and allows you to change the level of pedal assist you're getting. The controls also let you operate the front headlight, as well as a nifty electronic horn.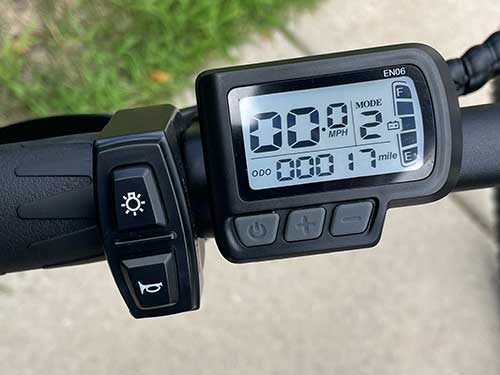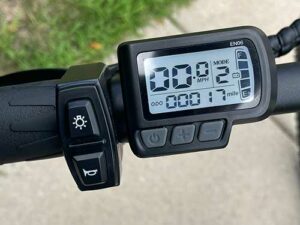 With an ebike like this, I think the main things you're looking for are speed and range. Fortunately, the Hiboy P7 is good in both of those areas. 
For speed, you can generally cruise at about 20 mph without breaking a sweat. I found the max speed for the Hiboy P7 was around 22-23 mph, but most of the time, I rode in the 20 mph range. At this speed, you can cover just about any distance in most cities without any problems. The bike has five levels of pedal assist, as well as a twist throttle, so you have plenty of options on how to use the motor. 
The next thing to consider is the range. The Hiboy P7 advertises 60 miles of range, which is the highest range of any ebike I own. I haven't done a full range test yet on this bike, but I rode 11 miles on pedal assist level 3 and my battery level remained at the full five bars. Whether I could get the full 60 miles is unclear, but I suspect that getting 30-40 miles on regular terrain at pedal assist 3 is reasonable (I'll update this when I get a better idea of how much range the Hiboy P7 has in a real-world setting). 
My Experience With The Hiboy P7 Commuter Electric Bike
Now that we've talked about the specs of the Hiboy P7, let's get into what my experience with the bike has been like. As I mentioned earlier, I've had a blast using this bike, both as a basic commuter ebike and for food delivery when I'm working with apps like DoorDash, Uber Eats, and Grubhub. 
The best part of it has to be the power. This is a surprisingly powerful bike. On pedal assist level 3, I was able to easily fly up any hill I encountered. And when I was pedaling normally, I was able to go 20 mph without a problem. For commuting and food delivery, this was perfect. I can get anywhere in the city with this bike.
The Hiboy P7 also offers a surprisingly smooth ride thanks to the front shocks and the slightly bigger than normal tires. I wouldn't recommend taking this bike off-road, but for riding in the city, the tires and the shocks do the job and absorb most of the uneven payment you'll encounter in a city. 
I'm also a fan of the twist throttle and the integrated horn. The twist throttle is just a personal preference – I prefer twisting the throttle as opposed to pushing a thumb throttle. And the horn is interesting. It's an electronic horn that's integrated into the bike (as opposed to a regular bell that you attach to the handlebars). It's a loud horn, which I appreciate when I want to warn people I'm approaching (or make cars aware I'm there).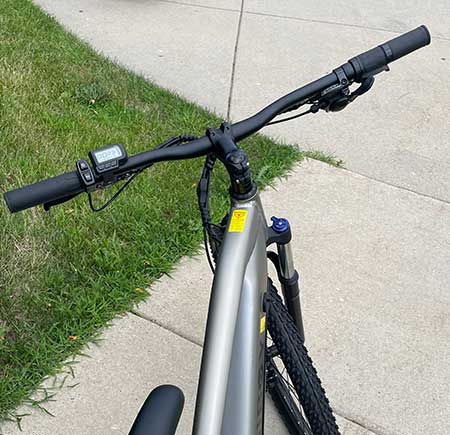 Now, onto some things you'll want to think about. One thing I did notice is that the bike seems smaller than some of the other ebikes I have. I'm an average height, so the Hiboy P7 is comfortable for me, but if you're taller, it could take some adjustment. It's not a clown bike or anything, but it's not a huge bike either. 
Another thing to think about is the brakes. The Hiboy P7 uses regular disc brakes, which is probably a bit underpowered considering how fast this bike can go. It doesn't mean the brakes don't work – it's just that they're not as good as hydraulic brakes, which offer better stopping power. That being said, regular disc brakes are a bit easier to maintain, so that could be a benefit. 
Finally, the seat for the Hiboy P7 is fairly uncomfortable. You can easily replace the seat with a more comfortable one, so it's not a dealbreaker by any means. 
Final Thoughts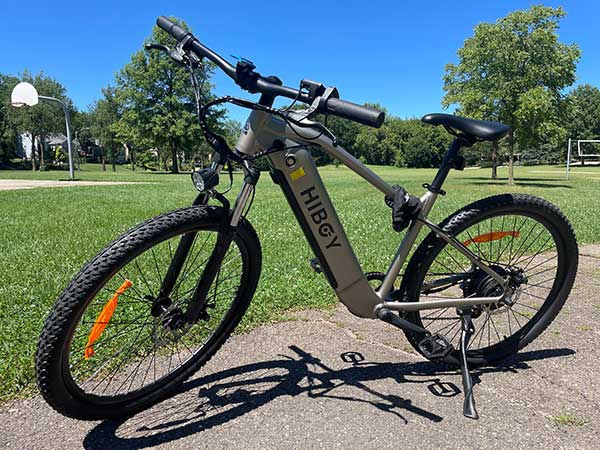 The Hiboy P7 is an excellent electric commuter bike that's offered at an affordable price point. The range and speed of this bike are both very good, so you won't have any trouble getting anywhere you need to go with it. As a food delivery vehicle, this is also good – with how much range it offers, you'll be able to work all day on a single charge.
So who is the Hiboy P7 best suited for? I think if you're looking for an affordable entry-level commuter ebike, the Hiboy P7 is a solid choice. If you can replace most of your car commuting trips with an ebike like the Hiboy P7, you'll always come out ahead.
I do plan to make some improvements to the bike, such as replacing the seat. The bike also doesn't have any cargo space, so I'll need to add a rear rack so I can hold panniers. I'll also add a simple front basket, which will be good for helping me hold more stuff. The bike also doesn't have any fenders, so I'll need to at least snag a rear fender to make it easier for me to ride in rain and muddy weather. 
I hope this review was helpful to you. If you're interested in checking out the Hiboy P7 or any of the other bikes and electric scooters they offer, feel free to check them out using my Hiboy affiliate link (Get an additional $80 off by using my coupon code: MY80). You can also get the Hiboy P7 on Amazon.