The Vanpowers Manidae is a fat tire ebike that I've been riding recently. I've been using it as my primary winter commuting bike and have also been using it to do food delivery with apps like DoorDash, Uber Eats, and Grubhub. After clocking in a decent number of miles with this ebike, I wanted to write a post sharing what my experience with the Vanpowers Manidae ebike has been like. 
In this Vanpowers Manidae review, we'll look at the specs behind the Vanpowers Manidae, what my experience with this bike has been like, and how I've used the Vanpowers Manidae as a winter commuting ebike and a vehicle for food delivery and gig work.
Overall, I've really enjoyed using this ebike. It looks sleek, has good power and range, and works well in all conditions, including in snow, ice, and other tough weather.
If you're interested in the video review I did on this bike, check it out here:
Also, as a quick disclaimer. Vanpowers did provide me with this ebike for review, but they did not have any editorial say in this review or its content. All opinions of the ebike are my own.
Vanpowers Manidae: Brief Overview
Here's a brief overview of the Vanpowers Manidae:
Vanpowers is an ebike company that offers four models of ebikes – this post is about their fat-tire ebike.
The Vanpowers Manidae is a class 2 ebike with a 750W rear hub motor. 
Uses a removable 48V 14Ah/650Wh LG Cell Lithium-Ion Battery. Vanpowers claims an estimated top range of 70 miles.
Uses 26″ x 4″ Kenda Juggernaut Sport MTB Fat Tires. This is the standard fat tire size, which makes it easy to get replacement tubes or repair the tires as needed.
In summary, the Vanpowers Manidae is a good option for someone in the market for a solid, fat-tire ebike.
Pros: 
This is a powerful ebike that can tackle any terrain or hills you may have to deal with.
The motor seems to work differently compared to some of the other ebikes I've tested. There are five different speed levels, with each speed level maxing you out at a set speed. Level 1 maxes out around 10 mph; Level 2 at 13 mph; Level 3 at 16 mph; Level 4 at 19 mph, and Level 5 at 24 mph. 
The battery is strong and gives you a lot of range. I haven't done an official range test yet, but I've been riding regularly and range hasn't been a problem. 
The ebike has great acceleration and makes it very easy to get going from a stopping position.
The bike works well in all weather conditions – I've used it in snow, rain, and cold weather and it's performed well in all of those conditions.
Cons: 
The bike doesn't come with fenders, which can be a pain if you're riding in muddy or rainy weather. Vanpowers does sell fenders for the Manidae. You can also buy your own fenders online if you want (I got some fenders from Portland Design Works).
This isn't a super-expensive bike, but it is a bit more expensive than some other brands of fat-tire ebikes you can get. The quality and power of the bike are good, however, so I think the price point is right, but there are cheaper fat-tire ebikes you can get if you're looking for an entry-level ebike.
The bike doesn't have an integrated rear tail light, which means you have to add a rear light and manually turn it on whenever you ride. It's not a huge deal, but it is something to be aware of.
Vanpowers Manidae Specs
The Vanpowers Manidae features a Bafang 750W Brushless rear Hub Motor. This gives the Vanpowers Manidae plenty of power to get you anywhere you need to go, including up large hills.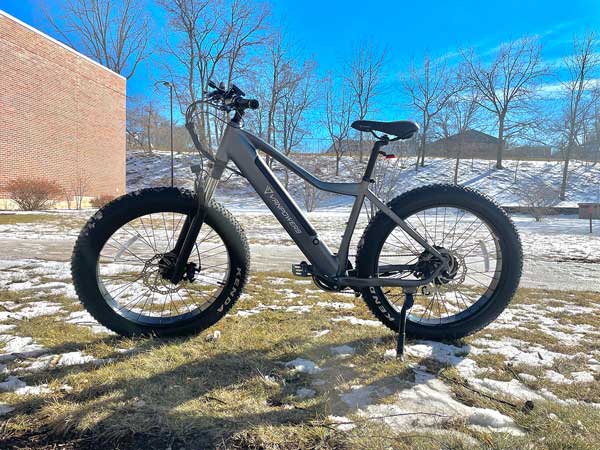 For the battery, the Vanpowers Manidae uses a 650wh removal battery. It slides into the frame when installed, which gives the bike a sleek appearance, with no noticeable battery sticking out of the frame. Vanpowers advertises up to 70 miles of range on a full charge, although in a real-world setting, you'll probably get far fewer miles on it depending on terrain and the amount of pedal assist and throttle you use. My guess is that in normal usage, you'll likely get closer to 30-35 miles, although I still need to test it some more to figure out exactly how much range you can expect with real-world usage. 
The Vanpowers Manidae is a class 2 ebike with both pedal assist and a thumb throttle. The pedal assist has five different power levels, giving you different max speeds depending on which power level you're set at. If you don't feel like pedaling, you can also use the thumb throttle, which will get you moving without having to pedal at all. 
The tires are 26″ x 4″ Kenda Juggernaut Sport MTB Fat Tires. As you can expect from a fat-tire bike, these are beefy tires that can withstand a lot of conditions. The efficiency that you would otherwise lose on a normal fat tire bike is counteracted by the fact that you're riding with a powerful motor. It makes for a smooth ride.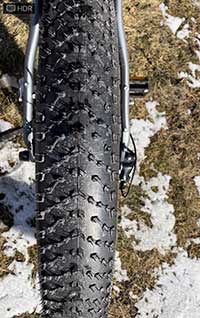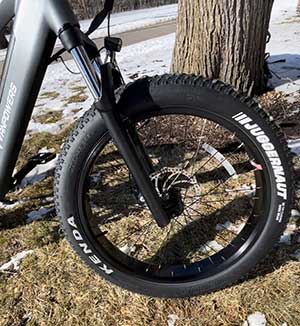 Finally, the brakes are standard mechanical disk brakes. For larger or faster bikes, hydraulic disc brakes are generally preferable for better-stopping power, but for the Vanpowers Manidae, having mechanical disk brakes is fine and gets the job done. 
Unboxing And Assembling The Vanpowers Manidae
The Vanpowers Manidae arrives in a large box and is mostly fully assembled upon arrival. There are just a few things you'll need to assemble yourself. These include installing the front wheel, installing the pedals, and attaching the throttle to the handlebars.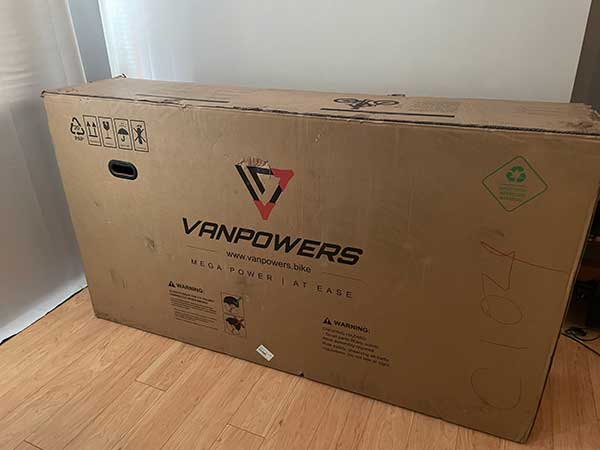 Assembly is fairly easy and most people should be able to do this themselves without needing help. Vanpowers also has an assembly video that walks you through the assembly process. I recommend watching that video as well when you assemble your bike.
Of course, if you're not comfortable assembling the bike yourself, you can take it to a local bike shop and have them assemble it for you. It shouldn't be too expensive to get a bike shop to put the bike together for you.
Using The Vanpowers Manidae For Winter Bike Commuting
For me, the main reason to get a fat tire bike is for winter riding. I live in Minneapolis, which, as you can expect, deals with snow and ice during the winter. While it's not a necessity to have a fat tire ebike to ride through the winter, having the wide tires gives added stability and makes it a lot easier to get through snow and ice. 
Winter riding is the main way I use the Vanpowers Manidae. I ride year-round, so having a good fat tire ebike makes things a lot easier for me. With the Vanpowers Manidae, I can get good traction and grip over snow and ice. If I were to add studded tires, it'd be even better for winter riding (but I've never gone with studded tires for the winter). 
Here's a look at my winter setup with the Vanpowers Manidae: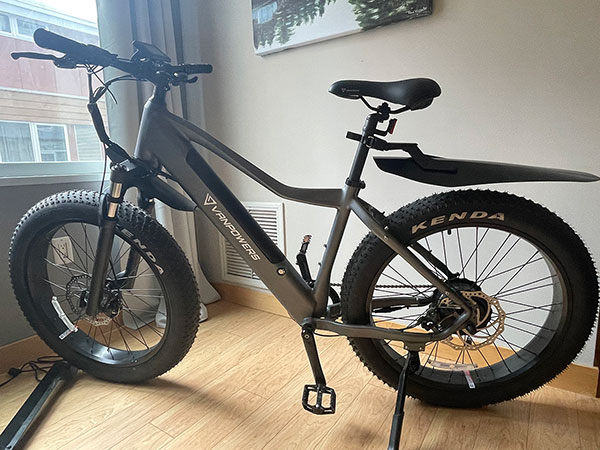 Since the bike doesn't come with fenders, I added front and rear fenders from Portland Design Works – specifically their fat tire fenders. It does a good job of keeping some of the snow and slush off my face and back when I'm riding and I highly recommend getting some fenders if you're going to be riding in wet weather conditions.
Using The Vanpowers Manidae For Food Delivery And Gig Work
In addition to winter commuting, I've also been using the Vanpowers Manidae to do food delivery with apps like DoorDash, Uber Eats, and Grubhub. If you're in a market where it makes sense, doing deliveries via ebike is preferable to using a car. You'll save a ton of money compared to what you'd spend driving around in a car – which means more money in your pocket.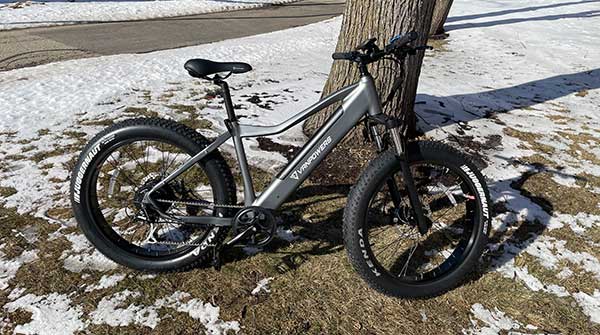 The Vanpowers Manidae works out well for food delivery, especially during the winter months. The large wheels make for a smoother ride, which is helpful when you're carrying food. And I can get around fast since I'm able to get around at 17-20 mph without using my own energy.
Battery range is really important when you're doing food delivery with an ebike. With 70 miles of estimated range, you can deliver all day without running out of battery. In a real-world setting, you're probably going to get closer to 30-35 miles of range, which is still plenty of range. If you need more range, you could also opt for a second battery and switch them out as needed.  
The main issue with the Vanpowers is that it doesn't come with a front or rear rack or basket. You can purchase an optional rear rack for your Vanpowers Manidae, which would probably make sense if you're going to be using the Vanpowers to do deliveries. There's no option for a front rack or basket, so if you want one, you'll have to add one yourself via a third party. Most likely, you'll need to use either a combination of the rear basket and a good delivery backpack. 
As an investment, getting the Vanpowers Manidae for food delivery can make a lot of sense. At around $2,000, it's not a cheap bike, but if you're doing enough DoorDash or Uber Eats you can make your money back quickly. And as I mentioned previously, you'll earn more overall since you're not spending all your money on a car. For more information about how valuable an ebike can be, check out this post I wrote: An Ebike Could Be The Best Investment You Ever Make.
The Things That Could Be Improved With The Vanpowers Manidae
The Vanpowers Manidae is a good ebike and there aren't many negative things I can say about it. It's well built and comes in at a good price point for a fat tire ebike. Here are a few nitpicky downsides I thought could be worth mentioning:
The Bike Doesn't Come With Fenders. The Vanpowers Manidae doesn't come with any fenders. This is fairly common for fat tire bikes, as most fat tire bikes don't come with fenders. The problem is that if you're riding in wet or muddy conditions, you will get splashed on your back and face. The easy solution is to get some fenders from a third party. Portland Design Works makes some very good fat tire-specific fenders that are easy to install 
No Integrated Rear Tail Light. This isn't that big of a deal but is worth mentioning. The Vanpowers Manidae doesn't come with an integrated rear tail light. You'll need to get a third-party rear light if you want to be visible at night.
Final Thoughts
I think the Vanpowers Manidae is a good fat tire ebike. It's got a lot of power, looks great, and works great for riding in all conditions. In particular, it has worked out really well for me as a winter commuting bike. 
If you're in the market for a good entry-level fat-tire ebike, I can recommend the Vanpowers Manidae. It has good specs, will get you around, and is a lot of fun to ride too.
If you have any questions about the Vanpowers Manidae, feel free to leave a comment below or send me an email. If you're interested in the Vanpowers Manidae and want to support this website, feel free to use my affiliate link.