Finding a good business checking account can be difficult – a lot of them charge fees, require minimum balances, are difficult to open, and to be frank, simply aren't very good. For years, I used Azlo, a free online business checking account that charged no fees and had a great app and website. In my opinion, it was one of the best business checking accounts out there.
Unfortunately, Azlo announced that it was shutting down in early 2021, which means that I had to look for a new business checking account for my writing and blogging business. The bank I decided to use was Bank Novo – an obvious successor to Azlo.
Like Azlo, Bank Novo is a free online business checking account with no fees, no minimum balance requirements, and a great app and website. I've now moved all of my business checking activity to Bank Novo and have been very happy with my experience so far.
In this Bank Novo review, I'm going to go over what Bank Novo is, discuss some of its best features, answer some frequently asked questions, and explain why Bank Novo is the business checking account I recommend and personally use.
What Is Bank Novo?
Bank Novo is a free online business checking account aimed at startups and small business owners. There are four main things you should know about Bank Novo.
First, Bank Novo is a fintech company. That means it's a tech company that partners with an FDIC-insured bank. Your funds are securely held with Middlesex Federal Savings, a federally chartered bank headquartered in Massachusetts. Bank Novo provides the back end and customer service for your account. Middlesex Federal Savings holds your money.
Second, Bank Novo does not charge monthly fees or require a minimum balance. Interestingly, Bank Novo also reimburses all ATM fees worldwide, which is a nice perk that can be useful for some people. The only fee I was able to find is a $27 insufficient funds fee which is easily avoided so long as you don't overdraft your account.
Third, Bank Novo is an online-only bank. You can only access your account via the Bank Novo app or on the Bank Novo website. Since it's an online-only bank, there are no physical branches, so if you're looking for a bank with physical branches, this is not the bank for you. I haven't had to go into a bank branch in years and I can't think of any reason that I'd need to go into a branch, so an online-only bank works perfectly for me. 
Finally, Bank Novo is a business checking account which means you can only get it if you have a business. They support sole proprietors, LLCs, partnerships, and corporations. In other words, so long as you have some sort of business, you are eligible to open a Bank Novo account. 
Bank Novo's Best Features
Bank Novo has a lot of features that make it a good bank. Here are some of the most important features to think about when it comes to Bank Novo.
1. No Fees or Minimum Balance Requirements
I have one non-negotiable item when it comes to any bank – it has to be 100% free. That means no monthly fees and no minimum balance requirement. On principle, I don't think anyone should have to pay a fee to use a bank. 
Bank Novo does exactly that. It doesn't charge any fees and doesn't require any minimum balance. The only exception is that you have to fund your account with $50 to open your account, but your balance can drop below that without any issue. 
The fact that Bank Novo charges no fees is in contrast to many other business bank accounts, which often charge monthly fees or require you to maintain a minimum monthly balance to keep the account fee-free. The only fee you have to worry about with Bank Novo is an overdraft fee but so long as you don't overdraft your account, you'll have no issues with fees.
2. Easy to Open
Opening your Bank Novo account is easy. To open your account, you simply select what type of business you have (i.e. sole proprietorship, LLC, S-Corp, etc), then submit any supporting documents they request. Your account should be approved within a few days. The entire signup process is online and should take you about 10 minutes to complete. My account was approved and up and running within a few days.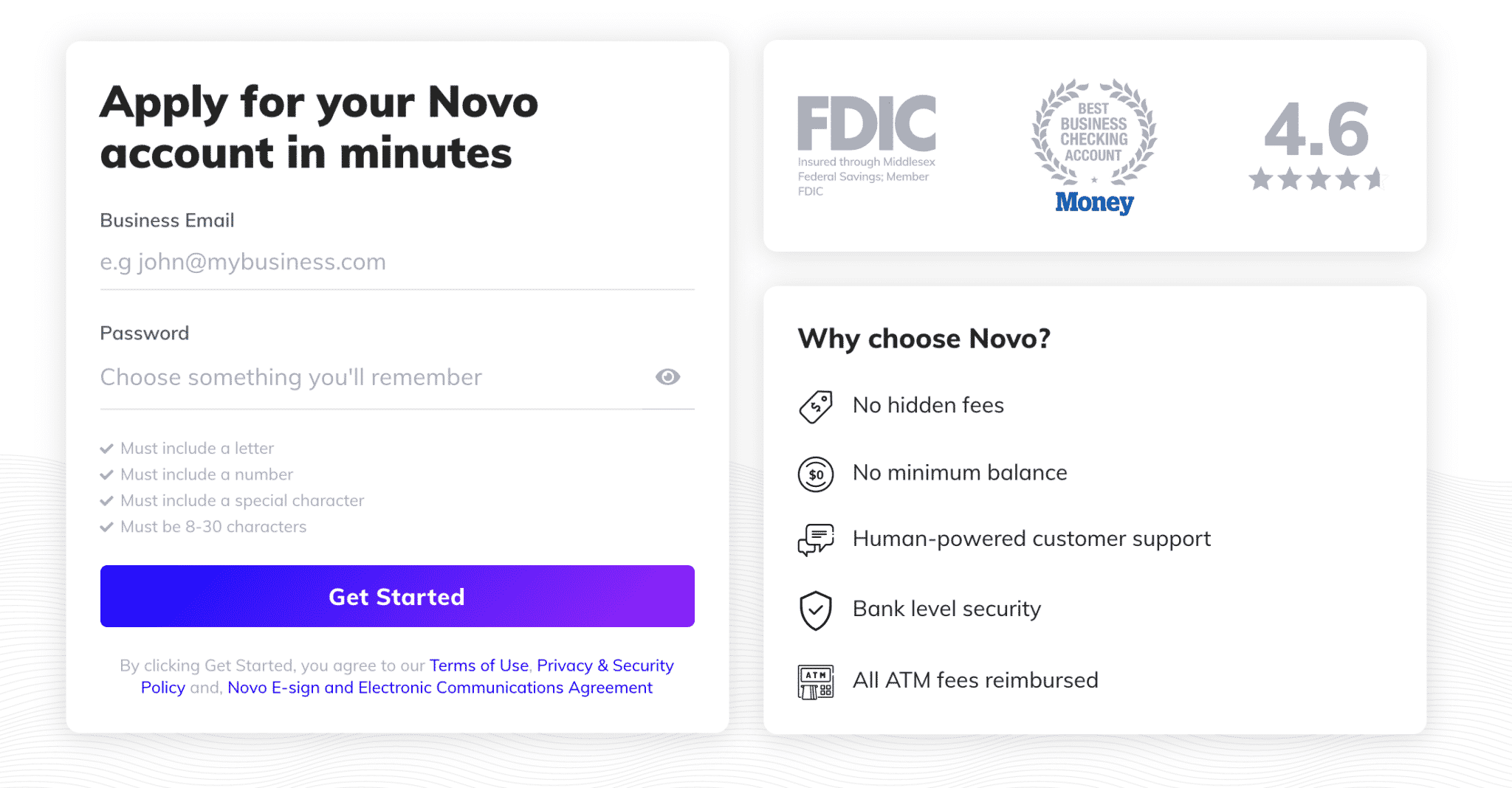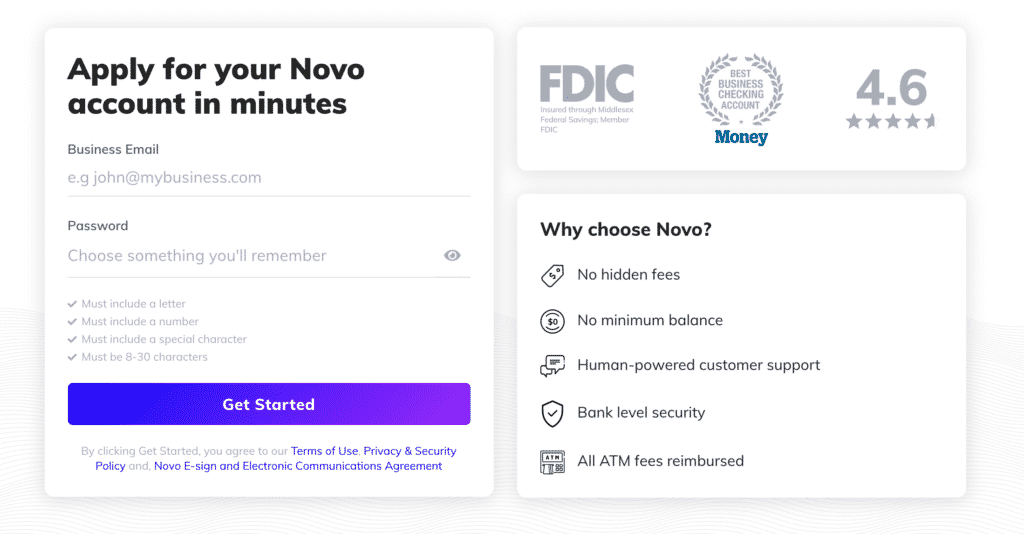 3. Intuitive and Easy to Use App and Website
In my experience, many (if not most) business checking accounts from larger banks have poorly designed apps and websites. 
Fintech banks, by contrast, always have gorgeous apps and websites. Bank Novo is no different. Both the app and website are intuitive and easy to use.
One really important feature with Bank Novo is that you can add notes to your transactions. This is particularly helpful for someone like me since I have income that comes into my business from various sources. It makes it much easier when I can label a transaction and remind myself what the transaction is.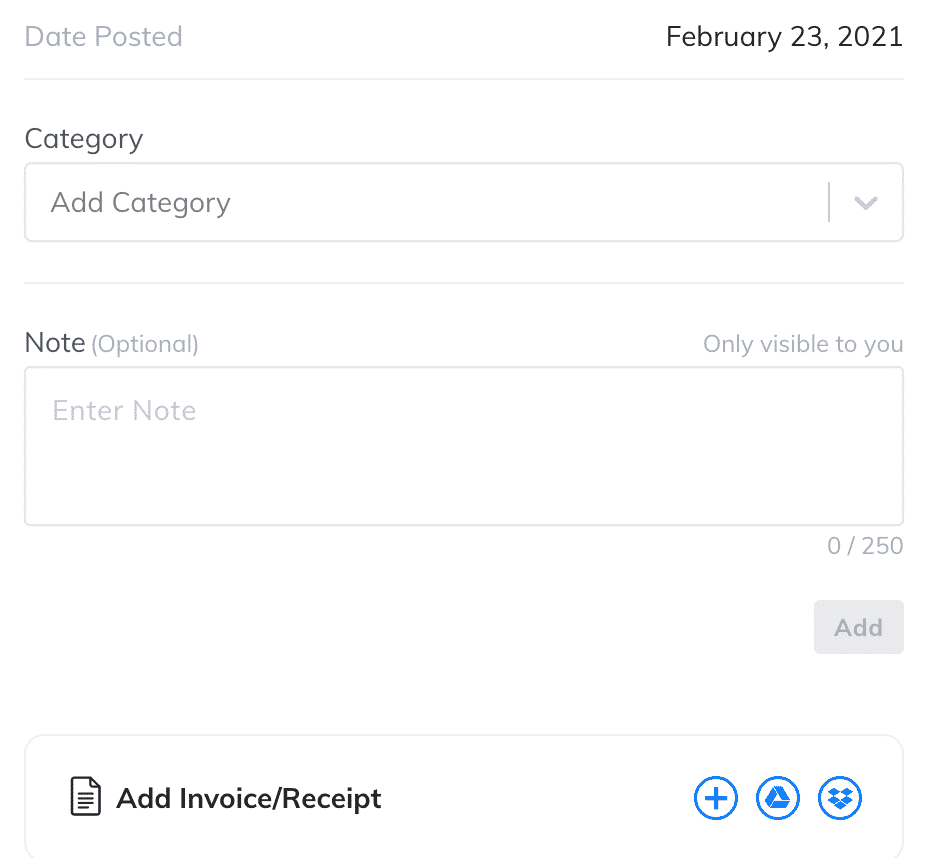 4. Easy Invoicing
If you're running a business, you may have to send invoices to clients. I have several affiliate partners that require me to send an invoice to them at the end of each month. 
Bank Novo allows you to easily create invoices that you can then email to your clients. Clients can then pay you via ACH. If you have Stripe, you can even accept payments via credit card.
5. Novo Reserves Feature
One interesting feature that Bank Novo offers is called Novo Reserves. This feature allows you to create a separate sub-account within your checking account that you can earmark for specific expenses (think taxes, payroll, or any other larger savings that you may need to do). 
Funds kept in your reserves are removed from your available balance, so you won't accidentally spend it. Whenever you need the funds, you simply move them back into your available balance. 
I don't personally use the Novo Reserve feature, but it can definitely be helpful if you're trying to organize your account. One thing to note is that you can only create one Reserve at a time, but Bank Novo is working on allowing users to create multiple Reserves.
6. Mobile Check Deposit
Bank Novo allows you to deposit checks via your app. By default, the app limits you to $20,000 of check deposits per day and $40,000 per month, but they can adjust these limits if your business needs to deposit larger checks.
Bank Novo FAQ
There are a few important questions that you may have about Bank Novo, primarily around whether Bank Novo is secure and whether your funds are safe. Here are the answers to those questions.
Is Bank Novo Legit? Yes. Bank Novo is a legit fintech bank that is partnered with a traditional bank. Bank Novo provides the platform and your funds are kept with Middlesex Federal Savings. 
Is Bank Novo Safe? Yes. Your funds are held by Middlesex Federal Savings, which is a regulated, traditional bank. Bank Novo says they have a dedicated security team and use bank-grade encryption to keep your information secure.
Is Bank Novo FDIC Insured? A very important question with any bank account is whether your funds are FDIC-insured. The definitive answer is yes, any funds you have with Bank Novo are FDIC-insured up to $250,000. All of your funds are kept with Middlesex Federal Savings, which is an FDIC-insured bank. The short of it is that your money is safe and is fully insured by the FDIC, so you can rest easy on that front. 
How I Use Bank Novo
I have two types of businesses, so I use two different business checking accounts to keep everything organized. 
The first type of business I have is income that I earn from gig economy and sharing economy apps (think apps like DoorDash, Uber Eats, Grubhub, Shipt, Instacart, Rover, etc). All of the gig economy apps I use classify me as an independent contractor. When you're an independent contractor, you're technically a business consisting of only yourself.
I don't use Bank Novo for my gig economy income – instead, I use a different free business checking account called Lili, which is geared specifically towards freelancers and gig workers. Lili is a simple business checking account that, in my opinion, is better suited for gig economy and simple sole proprietor businesses. For more information on Lili, check out my Lili Bank Review. I also have a guide I wrote on how to earn a Lili referral bonus.
The second type of business I have is this blog. The blog is more complicated compared to my gig economy side hustles because I have to pay contractors and have a business partner. Because of that, I've opted to use a more full-featured business checking account for this business. Previously, I used Azlo, but since Azlo shut down, I've now switched all of my blog revenue over to Bank Novo.
Everything I earn from this blog goes into my Bank Novo checking account. Any business expenses go on a business credit card specifically dedicated to the blog. I then pay my credit card bills from my Bank Novo account. At the end of each month, I tally my revenue and profit, then pay myself the profit into my personal checking account.
This is the system that I've been using for a while and it works well for me. You can use any system that works for you – just make sure you have a separate business checking account so you can stay organized.
Final Thoughts On Bank Novo
Bank Novo is an excellent bank account and one that I highly recommend for anyone looking for a full-featured business checking account with no fees. It's very similar to Azlo and I think it's the perfect replacement for any Azlo users out there. 
I wouldn't recommend Bank Novo to anyone with a business that handles a lot of cash. If you're that type of business, you're going to need to go with a traditional brick-and-mortar bank (and unfortunately, you're probably going to have to deal with fees or other hoops to jump through to avoid fees). 
But if you're someone that works online or has a business that primarily deals with credit cards, then Bank Novo is a bank worth checking out. I use it for all of the revenue I earn from this blog and can highly recommend it as a business checking account.
If it makes sense for you and you feel like supporting this site, you can open your Bank Novo account using my referral link. You'll receive a $40 signup bonus after you fund your Bank Novo account with at least $100 within 30 days of opening your account and maintain that balance for at least 30 days. The full referral bonus terms can be found here.
I hope you found this post helpful. Feel free to leave any comments or questions below.