One of the first side hustles I ever picked up was dog sitting via Rover. I created my Rover pet sitting profile back in 2015 and have watched dozens of dogs over the years. It's worked out well for me. I've been able to make a decent amount of side hustle income from Rover, and importantly, I've been able to earn this income in a way that's been fun and hasn't been much work. 
If you're looking to earn some extra income while working from home, then watching dogs with Rover is a side hustle I recommend. In this post, I'm going to take a look at what it's like using the Rover pet sitting app and share the reasons I think Rover is a great side hustle. I'll also go through some of the strategies I've used to make my Rover business work the best for me. 
And if you're interested in becoming a Rover sitter, sign up here.
What Is Rover Pet Sitting?
Before we get into how Rover works, we should first give a bit of background about what Rover is. If you're a dog owner, you usually have two choices when you're traveling and can't take your dog with you. The first is to find family or friends to watch your dog. The second is to send your dog to a kennel. 
Rover provides a third option. It's a dog sitting app that connects dog owners looking for dog sitters. I like to describe Rover as the Airbnb for dogs. Rover sitters create a profile on the app. Dog owners can then use Rover to find sitters to watch their dogs. 
Rover differs from other gig economy apps because it's a platform-based app. This means that, similar to Airbnb, you create your profile on the Rover app. Owners can then search the app for sitters and hire you to watch their dog. Importantly, you set your own prices and policies. Contrast that to on-demand apps like DoorDash, Uber Eats, or Grubhub where you can't directly set your own prices or have customers specifically choose your services.
In essence, with Rover, you're creating your own dog sitting business via the Rover pet sitting app. Rover provides a platform for you to market your services, handles payments, and provides some guarantees to customers and sitters in the event something goes wrong during the sitting. 
Signing Up To Be A Rover Sitter
The first step to becoming a Rover sitter is to create your profile. To do that, go to the Rover website and sign up to be a pet sitter. If you use my referral link, you'll see that it says you get $20 if you sign up. I'm not actually sure how this $20 referral bonus works, but if you're going to sign up to be a Rover sitter, you might as well do so via this link.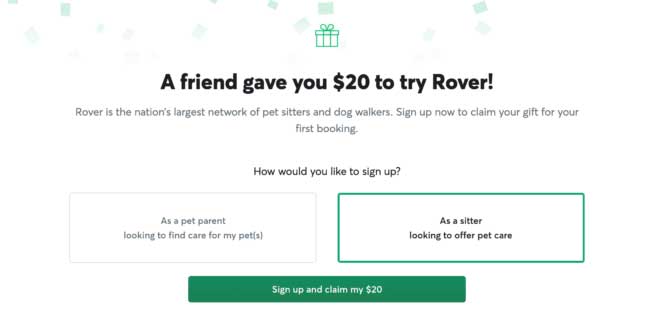 Next, you'll enter some basic information about yourself and choose the services that you'd like to offer. There are five categories of services you can offer. These include (1) boarding; (2) house sitting; (3) drop-in visits; (4) doggy day care; and (5) dog walking. We'll go into more detail about each of these services later in this post.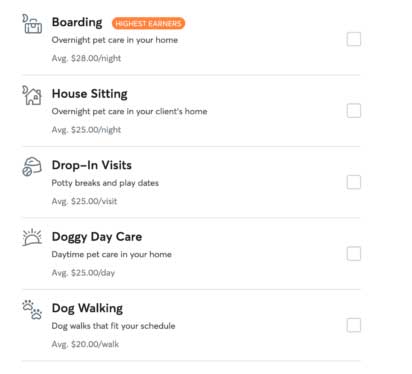 After you choose your services, you'll finish creating your profile. This includes adding photos of yourself and your home and writing a bio about yourself. You're selling yourself to prospective clients, so you should spend some time adding good photos and writing a good bio that explains what makes you a good sitter. Think about it from the customer's point of view. They're entrusting a stranger to watch their dog. Your profile needs to create trust and show that you're a responsible dog sitter.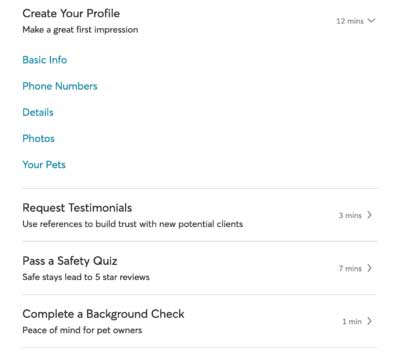 The remainder of the signup process includes adding testimonials, passing a safety quiz, and completing a background check. When you're starting on Rover, you won't have any reviews, so testimonials are a good way to get some reviews on your profile. You'll want to send out testimonial requests to your family and friends and have them explain why you'd be a good Rover sitter. Any testimonials you receive will appear on your profile so that prospective clients can get a better sense of what type of sitter you are.
The safety quiz is a short quiz that you'll need to take before you can start watching dogs. You watch a few videos and answer some multiple-choice questions. It's not difficult, so you shouldn't have a problem with it. 
Finally, you'll need to pass a background check. Unfortunately, the background check is not free. You have two options here. The first is a basic background check that costs $25. The second is an "enhanced" background check that costs $35. I personally chose the enhanced background check because I wanted the enhanced background check badge, but honestly, it probably doesn't make much of a difference.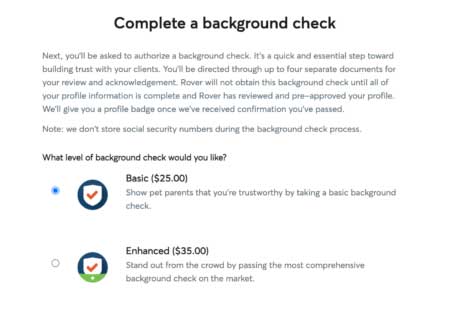 After you've completed your profile and paid for your background check, Rover will then review your profile. Assuming there aren't any issues, you'll likely be approved within a day or two. Your profile will then be visible and clients will be able to reach out to you and have you watch their dogs.
What Services Can You Offer On Rover?
As previously noted, Rover allows you to offer five categories of services: (1) boarding; (2) house sitting; (3) drop-in visits; (4) doggy day care; and (5) dog walking. Since Rover is a platform app, you set the prices for your services. Below is a screenshot of the current prices for my Rover profile.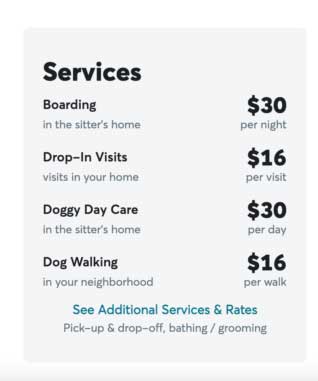 I primarily offer dog boarding, which is when the client brings their dog to my house and the dog stays with me. This is the ideal situation for me because I get to take care of the dog in my home. Since I already have a dog, watching a second dog doesn't add much additional work to my plate and allows me to earn extra income in a fairly passive way.
Depending on your situation and what you enjoy, the other services may work for you. With house sitting, you go to your client's house and watch their dog there. Depending on the client, you may stay at their house overnight. For some people, this works out really well. Personally, house sitting is not something I want to do, so I don't offer that service. 
Another service is drop-in visits. This is when the customer hires you to stop by their house to feed their dog and let them out. I offer this service but have never actually done a drop-in visit. 
Doggy day care is when the client drops their dog off at your house for the day and picks them up later in the evening. I also offer this service, but I've never received a request for it. 
Finally, dog walking is another service you can offer on Rover. I've done the occasional dog walk using the Rover app, but I do this sparingly and only with dogs in my immediate neighborhood. Even then, I don't do it much because I find I can earn more doing other types of side hustles.
How Much Can You Make As A Rover Sitter?
How much you can make from Rover will primarily depend on where you live and whether you're willing to watch multiple dogs at the same time. 
First, the city you live in matters a lot. In major cities, dog boarding costs much more compared to smaller cities. For example, someone doing Rover in New York or Los Angeles will likely earn more per night simply because the market rates for kennels and other sitters are higher. I'm in Minneapolis, where dog sitting services are not quite as expensive.
When I started on Rover, I charged $25 per night. Over the years, I've increased my rate to $30 per night. You'll need to look at the sitters in your area to figure out what is a competitive rate for you to charge. If you charge too little, you're leaving money on the table. If you charge too much, you'll never get any bookings.
Second, the amount you can make varies a lot depending on how many dogs you're willing to watch at once. If you're willing to watch more than one dog at a time, you can easily double or triple your earnings. Watching a lot of dogs at once isn't a cakewalk, however. I personally limit myself to watching one dog at a time (so I watch a guest dog and then my own dog). I find it keeps Rover feeling more passive and doesn't make it feel like I have to work. Every time I watch more than one dog, things get too hectic for me. 
So what do I make with Rover? It varies year by year, but I typically average around $3,000 per year or about $250 per month. For me, this is a comfortable amount of money for what doesn't amount to much work. 
What Fees Does Rover Charge Sitters?
Like most platform apps, Rover charges users a fee for each booking. Currently, Rover charges a 20% commission for each stay. It's admittedly a pretty steep fee. Airbnb, for example, charges hosts just 3%. 
Personally, I'm happy paying this fee since it allows me to keep a steady stream of clients. Because I signed up to be a Rover sitter back in 2015, I'm grandfathered in on the 15% commission plan. Anyone signing up now will pay a 20% commission. 
As for payment, Rover pays you through PayPal. Payment is sent to sitters about 2 days after the stay is completed. The payment consists of the nightly fee that you charge, minus the Rover commission.
Why You Should Sign Up To Be A Rover Sitter
Of the many different gig economy apps out there, Rover is unique in that dog boarding can almost be a source of passive income. With most gig economy apps, you have to actively trade your time for income. For example, with delivery apps like DoorDash or Uber Eats, you only earn money if you're out doing deliveries. If you're not actively working, you're not making money. 
By contrast, the nature of dog sitting means you can earn money even when you're not actively doing any work. Watching a dog in my home doesn't require my 24/7 attention, just as taking care of my own dog doesn't require my undivided attention. When I'm boarding a dog in my house, I can still work on other things, do other side hustles, and generally live my life normally. I already have to take care of my own dog also, so adding a second dog doesn't really change my routine.
So, when a client pays for my dog boarding services, I'm able to earn income even when I'm just sitting at home. It's not entirely passive by any means, but it's not that far off either. In a way, Rover has the same sort of passive income potential as apps like Airbnb or Turo, where your earnings aren't linked to the time you spend working.
Potential Downsides To Rover Pet Sitting
My experience with Rover has been positive, but it's also important to be realistic about the pros and cons of this type of business. Here are some of the downsides that you should be prepared for when it comes to Rover pet sitting.
It Takes a While to Ramp Up. One problem with Rover is that it can be a bit frustrating when you're a new sitter. A lot of getting clients on Rover is based on having reviews and when you're starting, you won't have any reviews. This automatically puts you at a disadvantage compared to the more seasoned sitters. If a client can choose between a new sitter with no reviews versus an established sitter, they'll probably opt for the established sitter.
Unfortunately, all you can do here is be patient and give your business time to grow. In the beginning, you'll want to slightly underprice yourself so that you can get your first few clients and importantly, start building up reviews. Eventually, you'll start building up a base of repeat clients that can sustain your business. This will not be quick. It can take months before you start seeing any traction.
Rover Can Mess Up Your Travel Plans. I find that most clients book sitters a few weeks in advance. Clients will usually book farther in advance for more popular travel times (like Thanksgiving and Christmas). Occasionally, however, you'll get a client that books you months in advance. I've had a client book me almost a year in advance. 
There's nothing inherently wrong with getting your schedule booked up early, but it can impact your personal life. I've had situations where a friend will ask me to go on an impromptu trip, but I'm unable to go because I'm committed to watching a dog. My friends that do Rover have had similar situations come up, where they're unable to do something because they're watching a dog on Rover. This isn't necessarily a deal-breaker by any means, but it is something to know about.
You Will Have Some Property Damage. If you're going to watch dogs, inevitably, you're going to have to deal with some property damage. Dogs will pee on your rugs. They'll chew things up. They might damage other things. It's not something that will happen all the time and most damage that happens isn't going to be a huge deal. But you do need to think of any property damage as part of the cost of doing business.
The Potential for Bad Dogs. Any time you watch a new dog, you always run the risk that the dog you're watching doesn't fit in well with your household. I always do a meet and greet before accepting a new dog, but a meet and greet will never tell you exactly how a dog will behave in your home. There can be anxiety problems. A dog you watch might bark at everything. I've never had an issue with an aggressive dog, but it's always a possibility.
For the most part, most people looking for dog sitters on Rover do have good dogs that are properly trained and socialized. In the 5+ years I've been on Rover, I'd say 95% of the dogs I've watched have been great. But the 5% of dogs that don't fit in well with you can be a pain.
You Probably Won't Make A Ton Of Money From Rover. Rover likes to tout that sitters can make $1,000 per month watching dogs. And while this is possible, it's not likely for most sitters. To hit really high income levels on Rover, you need to be willing to watch a lot of dogs at the same time and do so constantly. 
For me, Rover is more suited as a semi-passive side hustle, where I can earn a little bit of extra money each month by watching a dog in my house for a few days. 
Rover Pet Sitting Strategies
The more you do something, the better you get at it. I've been dog sitting through Rover for over half a decade now. In that time, I've learned a few strategies that have helped me run my business in as smooth a manner as possible. Here are some strategies you should use if you're thinking about doing some Rover pet sitting. 
Build Up a Base of Repeat Clients. If you stick with Rover for a while, you'll eventually start to build up a base of repeat clients. Any time you watch a new dog, you always run the risk that the dog doesn't fit in well with your household. A repeat client is ideal because you know exactly what to expect.
Over the years, I've watched dozens of dogs. At this point, I have a base of repeat clients that come back to me regularly. All of these dogs are so good that I'd probably watch them for free. The fact that I'm getting paid to watch these dogs is what makes Rover so good for me. It takes time, but if you're doing a good job, you'll eventually start seeing the same dogs over and over.
Meet and Greets. You should always do a meet and greet before accepting a new client. A meet and greet serves two purposes for me. First, it lets me vet the prospective dog to make sure they're a good fit for me. Remember, you're letting an unknown dog into your house. I don't know about you, but I need to make sure any dog I'm watching is, at a minimum, not dangerous or going to hurt me or my family. 
Second, I find that a meet and greet can also filter out potential bad dog owners. When you think about it, any good dog owner should want to meet someone they're entrusting to watch their dog. If they aren't interested in doing that or are irresponsible enough that they don't have time to do that, then it raises questions in my mind about what type of dog I'd be watching. 
The short of it is you should always do a meet and greet when a new client reaches out to you. Pick a public park or someplace neutral to meet. I always do my meet and greets at a park a block from my house
If You Already Have a Dog, Rover Works Really Well. One of the reasons Rover has been a good side hustle for me is because of the fact I already have a dog. If you already have a dog, then you already know all of the things that come with it. You have to walk your dog, feed your dog, and otherwise plan your schedule around your dog. And you do all of this for free.
Pet sitting with Rover doesn't really add much additional work to your plate. If you already have to take care of your own dog, taking care of another dog essentially allows you to get paid for the work you're already doing.
Final Thoughts 
Rover is an excellent app dog lovers can use to earn some extra income. It's hard to believe that I've been watching dogs for over 5 years. During that span, I've been able to make thousands of dollars of extra income. And I've had a lot of fun running this little pet sitting side business of mine.
If you're interested in earning extra income watching dogs, you can sign up to be a Rover sitter here.