If you're looking to get started dogsitting with Rover, you might be asking yourself – how does Rover work?
Or maybe you're a client looking for someone to watch your dog for you while you're on vacation. 
I've been dog sitting on Rover since 2015, so I have a lot of experience dog sitting and watching dogs through Rover. It's been a great side hustle.
Indeed, over the years, I've been able to earn well over $10,000 from watching dogs in my spare time with Rover. Of all of the side hustles I do, it's probably my most passive one too. I already have a dog, so watching another dog doesn't add much additional work to my plate.
In this post, I'll go over how Rover works, looking at it from the point of view both of dog owners looking for a sitter and sitters looking to get clients and start up a side hustle or full-time business. I'll also look at some other services that you can get using Rover too.  
How Does Rover Work As A Client  
At the outset, it can be helpful to briefly explain what Rover is. I like to think of Rover as an Airbnb for dogs. It's a platform that you people can use to find dog sitters or cat sitters. Conversely, people that are looking to offer their dog sitting or cat sitting services can create a profile and list themselves on Rover. 
If you're a client looking for someone to watch your dog, you have two options with Rover. The first is to board your dog at someone's house. This is when you find someone on Rover to watch your dog at their house. 
The second option is to find someone to watch your pet at your house. In this situation, the pet sitter would stay at your house for however long you need them. Which option works best for you will depend on your situation. Some people would prefer their pet stays in their own house. Others might not worry about that. Fortunately, there are enough good sitters on Rover that you shouldn't have a problem finding someone to suit your needs. 
To find a sitter, open the Rover app or go to the Rover website, then select the service you're looking for. Below is a screenshot of the different services you can find on Rover.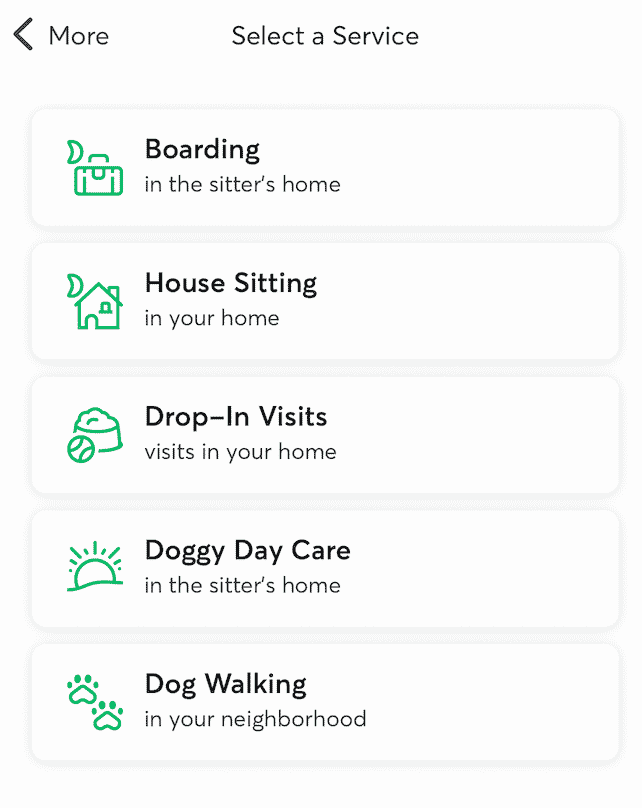 Next, you'll put your address and the dates you're looking for. Rover will then show you a list of available nearby sitters for the dates you selected.
One thing to note is that the list you get isn't necessarily the closest sitters to your location. I'm not sure how the Rover algorithm works, but it doesn't always show the most convenient sitters to you. If you want to search by location, you can click the map icon and then search for sitters based on the map. 
Each sitter will have a profile, reviews, and pictures, which can give you a good sense of what type of sitter they are. You'll also see how much they charge per night so you can see if they fit within your budget. It's important to read each sitter's reviews and carefully review their profile to make sure that the sitter is a good fit for you and your pet. In particular, you'll want to know what the living situation is like for each sitter and how much experience they have. More reviews are better, although everyone does have to get started somewhere too, so not having a lot of reviews shouldn't be a deal-breaker.
Once you find a sitter that you're interested in, you can request a sitting request. Good sitters will require a meet and greet before accepting your request, where you can meet the sitter and make sure that you're a good fit for each other.
If everything looks good from there, both of you can confirm the sitting request, then arrange for drop-off. And that's it! You should be good to go. The Rover app will show you how much you'll be paying for the stay, including any booking fees that Rover charges (unfortunately, to maintain their app, Rover charges a small fee to pet owners, but even with the fee, most Rover sitters will be cheaper than a traditional kennel).
Rover Guarantee 
One thing you might be worried about is the safety of your pet during the stay. After all, you're leaving your dog with a stranger. Rover has received some bad press in the past with dogs being harmed during their stay, usually from escaping or from an inattentive sitter (see, for example, this news story from February 2022).
Unfortunately, there's not much you can do about these worst-case scenarios. Rover runs background checks on all sitters, but even then, mistakes happen. Most sitters aren't trying to cause harm to any dogs and even in a professional dog kennel, dogs can escape or worse. 
The best thing you can do is make sure your dog is well-suited for staying with a sitter on Rover. If your dog tends to run away, for example, you probably should stick to a professional kennel that might be better suited to working with a dog like yours. If your dog is aggressive or doesn't do well with strangers, again, a kennel is probably your best bet. I find that dogs that are friendly, generally calm, and get along well with people and other dogs are best suited for Rover.
Rover does have something called the Rover Guarantee, which is an insurance program that will cover you in the event something happens to your dog. Rover claims that every booking is backed with up to $25,000 in vet care reimbursement, as well as 24/7 support if something does happen. How easy it is to get Rover to cover these costs is unclear – anecdotally, I've heard it is not easy. That being said, it's at least there if something does happen.
How Does Rover Work For Dog Sitters 
If you're a dog sitter, you can create a sitter profile and start watching dogs via the Rover app. Creating a profile is simple. You'll need to pass a background check and go through a short onboarding process where you review some information and complete a safety quiz. 
The safety quiz is a short quiz that you'll need to take before you can start watching dogs. You watch a few videos and answer some multiple-choice questions. It's not difficult, so you shouldn't have a problem with it. 
The background check isn't difficult either. However, the background check is not free. You have two options here. The first is a basic background check that costs $25. The second is an "enhanced" background check that costs $35. When I signed up, I chose the enhanced background check because I wanted the enhanced background check badge, but in practice, it probably doesn't make much of a difference since most pet owners probably don't notice it.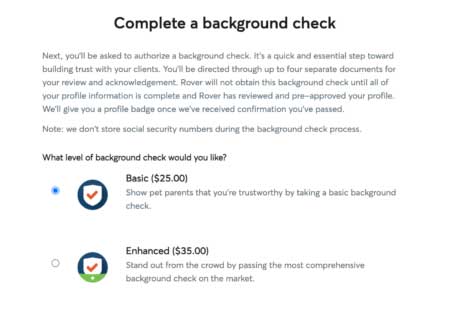 After you've completed your profile and paid for your background check, Rover will then review your profile. Assuming there aren't any issues, you'll likely be approved within a day or two. Your profile will then be visible and clients will be able to reach out to you and have you watch their dogs. 
There's a lot more than goes into being a Rover sitter, and I've written a detailed post that goes over how Rover works and the strategies you can use to make Rover a great side hustle (or full-time business) for you. I recommend reading that post if you want to delve deeper into Rover: Rover Pet Sitting – How To Make Money Dog Sitting With Rover.
You can sign up to be a Rover sitter using this link.
Other Rover Services 
In addition to dog sitting, Rover also offers cat sitting, drop-in visits, doggy daycare, and dog walking. They're all fairly self-explanatory, so I'll briefly touch on each service.
Drop-in visits are primarily geared towards cats. This is when you have a sitter come to your house for a short time to feed your pet. I do a decent amount of cat drop-in visits in my neighborhood where I go to the cat owner's home, feed their cat, and change the litter. Most drop-in visits are 30 minutes long. 
Doggy daycare is when a pet parent drops off their dog at your house for the day. I don't offer this service, but I imagine you could make some solid income with this service if it works for you. 
Finally, dog walking is when a dog owner gets you to walk their dog. Most walks are 20-30 minutes long. You'll usually get directions on how to get into the house. The app tracks your location as you walk the dog so the pet owner can see where you went. 
Final Thoughts
For dog boarding, I find Rover superior to a professional doggie hotel or kennel. It feels far more like dropping off my pet at a friend or family member's house, rather than an impersonal kennel. For my clients, dropping off their dog at my house gives them a good, family environment, no different than how my dog lives. 
Rover is also far cheaper than a traditional kennel. Most kennels charge extra for dog walks and other services, which can add up. Rover sitters, by contrast, aren't charging for things like walking your dog or playing with them while they're in their care. Again, it's like dropping off your dog at a friend or family member's house.
Hopefully, this post gave you some good information about how Rover works. After years of using Rover, both as a sitter and as a dog owner, I can say I've been very happy with Rover. It's easily a side hustle I can continue doing for the rest of my life.