The Sohamo S3 Step-Thru Folding Ebike is an entry-level folding ebike that offers a lot of value for the price point. I've been riding the Sohamo S3 for a while now, putting the bike through its paces, and I have to say, this bike has exceeded all of my expectations. In all honesty, when I first got this bike, I didn't expect much from it, so I've been pleasantly surprised at how well it has performed. It's a great combination of power, comfort, portability, and a potential 
With that said, in this Sohamo S3 Step-Thru Folding Ebike review, we'll look at what the Sohamo S3 offers and what my experience has been like with this bike.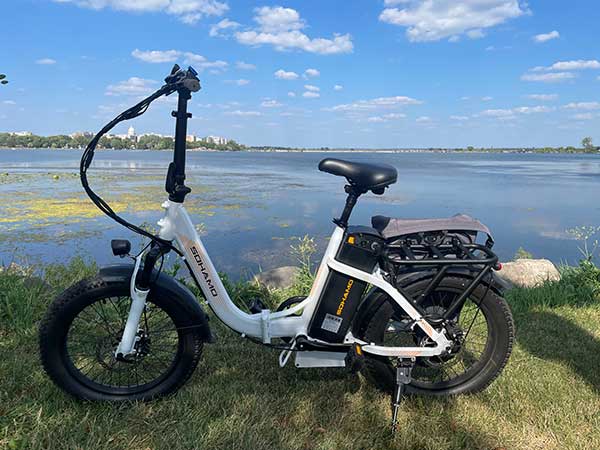 Sohamo S3: Brief Overview
To start, let's look at the general specs of the Sohamo S3.
Class 2 ebike with a 750 Watt Rear Hub Motor.
Comes in two battery sizes – either a 48v, 15ah battery or a 48v, 20ah battery. I have the 20ah battery.
Estimated 30-40 miles of range with the 15ah battery and 40-60 miles of range with the 20ah battery.   
Tires are unbranded, 20×3 fat tires.
Advertised top speed of 28 mph, although I found 22-25 mph is a more realistic top speed.
My Experience With The Sohamo S3
At the outset, my initial thoughts on the Sohamo S3 are that it's an excellent bike for the price point. The 750-watt rear hub motor gives the bike plenty of power – more than you'd expect for a folding bike of this size. The powerful motor gives this compact bike a good top speed -I was easily maintaining around 22-25 mph. The battery is also great, giving me plenty of range on a full charge. I've ridden 20 to 30 miles with it and still had plenty or battery remaining.
Since this is a folding bike, it will be fairly small compared to other bikes, so if you're particularly big or tall, this bike might not be the most comfortable ride for you. I found the riding position of the bike to be comfortable, but it's not the best for pedaling. Indeed, I find myself using the throttle most of the time when I'm riding it.
One interesting thing about the Sohamo S3 is how the battery installs on the bike. To install it, you flip the seat up using a lever on the underside of the bike. You then slide the battery into the slot underneath the seat. The funny thing about the Sohamo is that after sliding the battery into the slot, you then have to physically plug the battery into the bike. It's not a big deal, but it does give the bike a cheap feeling when you have to do that.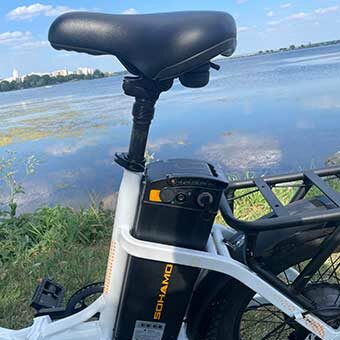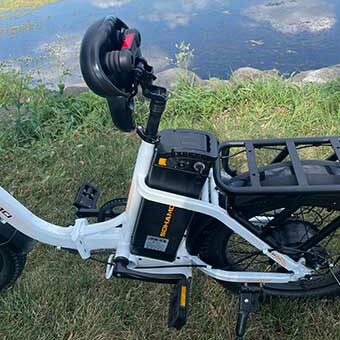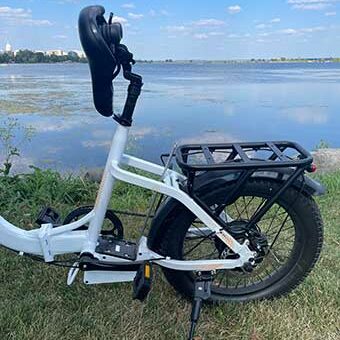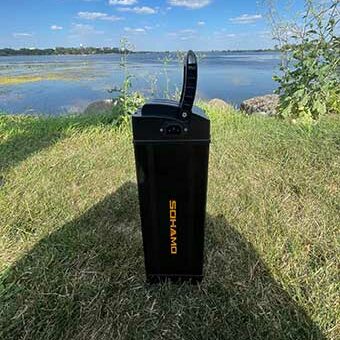 Removing the battery follows the same process – flip the seat up, unplug the battery, then slide it out. The Sohamo uses a massive battery, but it does have a handle so you can carry it with you if needed.
The ride quality of the Sohamo is excellent. The 20×3 tires help absorb bumps well and the bike also has front suspension, helping to smooth out your ride some more too.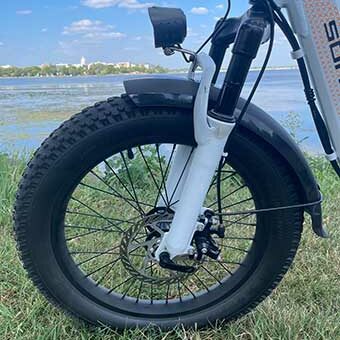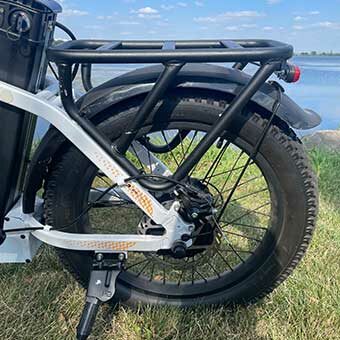 The brakes on the Sohamo S3 are about what you'd expect for a bike in this price range. They're basic mechanical disc brakes that will get the job done.
The thing I really enjoy about the Sohamo S3 is the included rear rack. It gives the bike more utility since I can use the rear rack for extra cargo space. 
Unboxing And Assembling The Sohamo S3
Without a doubt, the Sohamo S3 required the most assembly of an ebike I've received. It wasn't necessarily difficult to assemble, but there are a lot of parts you have to put together. For example, this is the only bike I've had that required me to install the brake rotors. That being said, most people shouldn't have any difficulty assembling the bike themselves. Sohamo has an excellent assembly video that walks you through how to assemble the bike. I followed the video closely and didn't have any issues.
For me, the most difficult part of assembling the bike was putting the seat together. I couldn't seem to get the clamps that hold the seat to fit together and it took me a bunch of time until I finally got it to fit. The difficulty in assembling it comes because the seat isn't a normal one – rather it's a special seat that has to flip open so you can access the battery. This can make assembling the seat more difficult than usual. I eventually did manage to put the seat together, but it was frustrating experience.
Storing And Folding The Sohamo S3
The Sohamo S3 is a folding ebike, which makes it a good option for people that live in small spaces or need a bike that takes up a smaller footprint. 
Folding the Sohamo S3 is similar to other folding bikes. To do so, you unhook the latch holding the frame together in the center of the frame. You can then unhook the handlebars and fold them down. It can be a bit difficult to fold the bike if you haven't done it before, but you'll eventually get the hang of it. That being said, it's not so easy that you'll fold it regularly. Most likely, you'll leave the bike in its unfolded position and just fold it when absolutely needed.
Below is a picture of what the Sohamo S3 looks like when folded. As you can see, it doesn't take up much space and can easily fit in the trunk of a normal car. This is helpful, as you can use the Sohamo S3 for longer trips, where you drive somewhere, and then take the Sohamo S3 out of your car. Another good use case is if you need to drop your car off somewhere, you can take the Sohamo S3 with you, then use it to get home.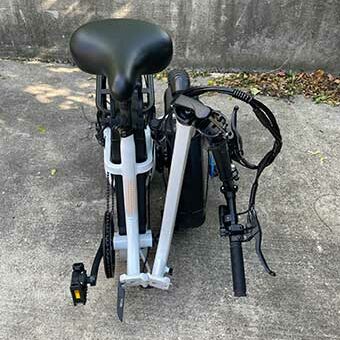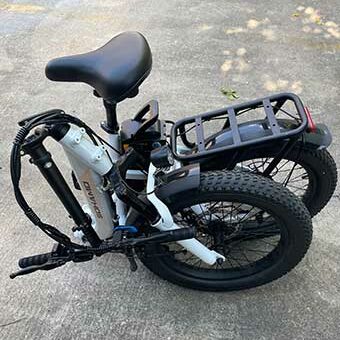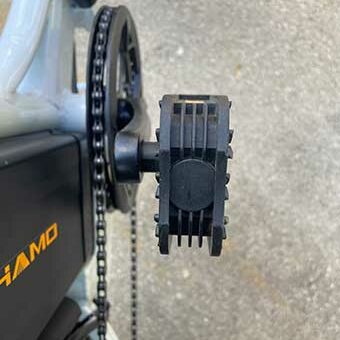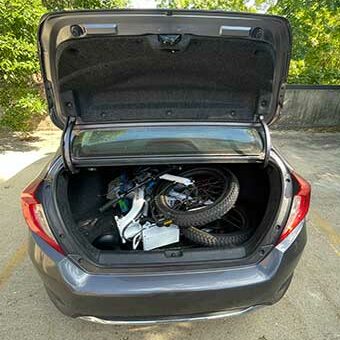 Using The Sohamo S3 For DoorDash, Uber Eats, And Grubhub
I love using folding bikes for food delivery with apps like DoorDash, Uber Eats, and Grubhub. That's because folding ebikes are compact and are generally affordable. The Sohamo S3 is a particularly affordable bike, coming in at around $800. Most people won't have any issue making a return on their investment here. 
To make the Sohamo S3 even better, I always recommend adding a few things. Putting a basket or panniers on the back will make it easier to hold orders. I've always been a fan of the Thule Pack n Pedal Basket, though it is expensive. If you want to save money, you can easily attach a milk crate or some other basket to the back.
In addition, I recommend adding a Quad Lock to hold your phone. A good cupholder would also be useful if you need to carry drinks – I use the HandleStash as my cup holder.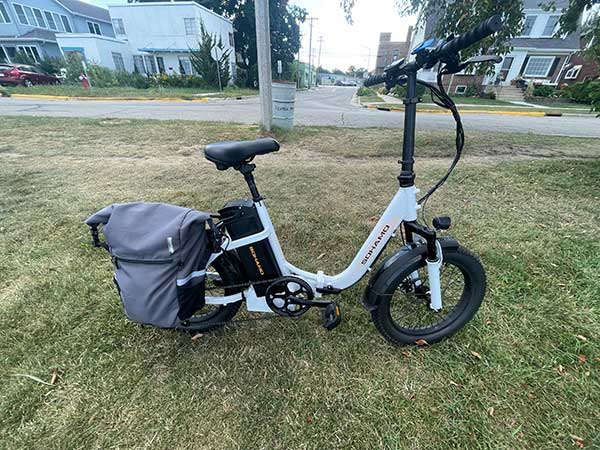 In short, for food delivery, the Sohamo S3 is a good bike to do deliveries with. At around $800, it's very affordable, so you'll likely be able to earn your money back quickly. The battery range is also good, with an advertised range of 40-60 miles. Depending on how conservative you are with the battery, you'll be able to ride all day with it. The additional cargo space from the rear rack is also very helpful.
If you want to see the bike in action, check out a video I made where I did some deliveries using the Sohamo S3.
Final Thoughts
Overall, I've had an excellent experience with the Sohamo S3 and it has exceeded my expectations for a bike at this price point. Of course, because this isn't an expensive ebike, you have to go into it aware that it uses cheap parts and might not last too long. So far, I haven't had any issues with it, but I know that an $800 ebike is going to be limited compared to more expensive options. 
As an entry-level folding ebike, I think the Sohamo S3 is a great option for a lot of people. I would say that if you do get it, it would be helpful to be handy (or be willing to do work on it yourself). Sohamo isn't a brand I'm very familiar with, so I can't speak to how well their customer service will be or the company's longevity. 
Anyway, I hope you found this review helpful. If you have questions about the Sohamo S3 or about ebikes in general, feel free to leave a comment below or send me an email. You can also check out the Sohamo S3 on their website for more information or to get it for yourself.