One of my favorite developments in recent years has been the rise of alternative transportation methods. I've written in the past about bikeshare systems and why I think they are an amazing form of what is essentially mass transit. In the time since I wrote that post, bikeshare systems have started to go dockless and other forms of non-car based transportation methods have also started to pop up. The latest innovations in this space are electric scooters made by companies like Bird and Lime. If you live in any decently sized city, you've probably seen these scooters around. They've even gone international (see my brother below, scooting around on a Bird in Paris). 
So, first things first, I am absolutely obsessed with these scooters – not just because they provide an alternative mode of transportation that I think is good for cities and are just fun to ride, but also because of what they present in the way of side hustle opportunities (more on that later).
There are two big players in the scooter world – Bird and Lime, but there are other scooter companies out there, including Skip, Spin, and others too numerous to name (word on the street is Lyft is going to come out with its own brand of electric scooters).
Using the scooters is pretty simple – you find a scooter using each company's respective app, activate the scooter using the camera on your phone, then ride the scooter around until you're done with it. After that, just drop it off wherever you are. The cost is pretty affordable – $1 to ride, plus 15 cents per minute. Breaking it down, this is how much it costs to ride a scooter for various lengths of time:
15-minute ride = $3.25
30-minute ride = $5.50
60-minute ride = $10.00
Riding these scooters is cool, but what we care about more is how we can make money from them. Since these scooters are electric, they need to be charged every day. Bird and Lime both utilize independent contractors – i.e. regular people like you and me – to pick these scooters up at night, charge them up, and put them back out on the street for the public to use. They call these people Bird Chargers and Lime Juicers.
For the past month, I've been going out and doing just that, side hustling as a Lime Juicer and a Bird Charger. With a month of scooter charging experience under my belt, I'm thoroughly convinced that this is a side hustle tailor-made for millennial, young professionals. 
Signing Up To Be A Bird Charger and Lime Juicer
Like a lot of my side hustles, my brother was the one who first introduced me to these electric scooters and told me about how he was getting paid to charge them up at night. It was something that I knew I had to do if the scooters ever made it to Minneapolis. And when I saw this ad on my Facebook feed earlier this summer, I immediately signed up to be a Bird charger.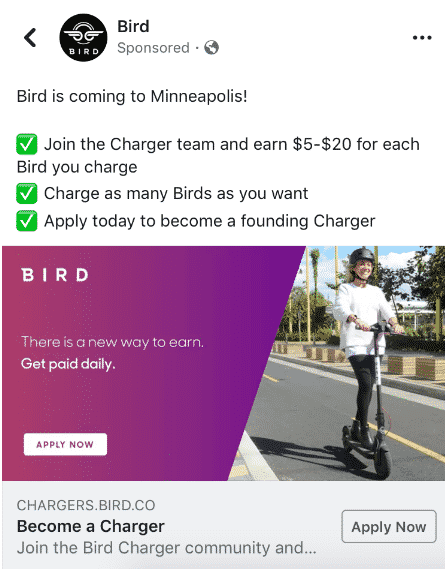 The signup process to become a Bird charger was pretty straightforward – I signed up through the Facebook ad that I saw in my feed, but most people will probably sign up to be a Bird charger directly in the Bird app. I don't remember the questions exactly, but the signup process was pretty easy – similar to signing up for any other gig economy app. A few days later, three Bird scooter charging cables showed up in the mail.
Since I signed up before the official launch in Minneapolis, Bird held an in-person orientation session where they walked us through the app and the process of charging Birds. I took a bus over to the orientation session after I got off work and was surprised to see that they had free food and drinks for us. Score!
I also had a nice surprise at the Bird charger orientation when I ran into my friend Krystel from AllSheSaves.com, who was also signing up to be a Bird charger. We hadn't coordinated this, so it's a good example here of great minds thinking alike! 
After signing up to be a Bird charger, I then signed up to be a Lime charger (or Lime Juicer, as they call it) after I saw some Lime scooters sitting on a sidewalk on my way into work. The process to sign up to be a Lime Juicer was basically the same as signing up to be a Bird charger – I signed up via the Lime website, was accepted a short while later, and then showed up to an orientation session that same day. At the orientation, Lime gave us four charging cables that we could use to charge up the scooters.
Now that I was signed up for both scooter companies, it was off to the races!
How Charging Works
There are a few things that go into being a Bird Charger or Lime Juicer, but basically, the process of charging electric scooters can be boiled down to three steps: 
Go into charger mode and find scooters to charge.
Capture the scooters and charge them up at your house, office, or wherever. 
Release the scooters at a Bird Nest or LimeHub once they are charged up. 
I'll go through each of these steps below:
1. Finding a Bird or Lime Scooter to Charge
Step one is finding a Bird or Lime Scooter you want to charge. When you sign up to be a Lime or Bird charger, you'll get a new button in your Bird or Lime app that lets you toggle over to charger mode. Here's what it looks like in Bird, for example: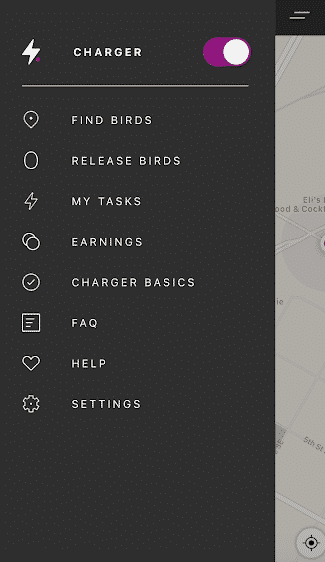 In Lime, it's the same thing. They just call it "Juicer" mode.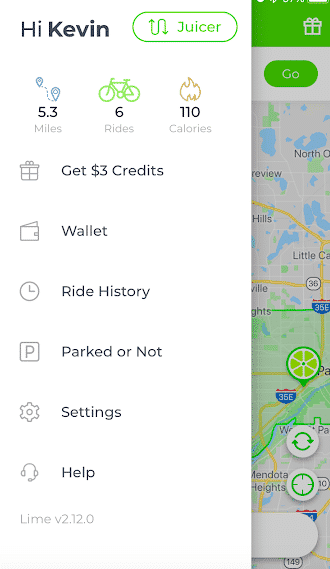 Once in charger mode, you'll be able to see all of the scooters in the area that need to be charged. In the Bird app, it'll look like this.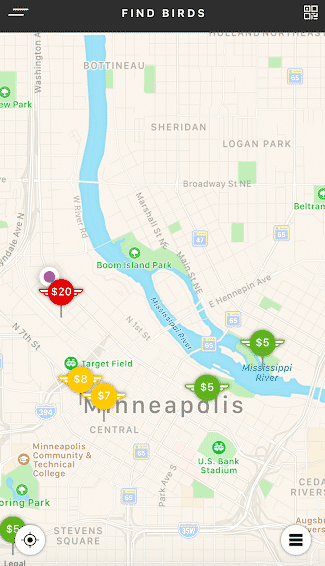 And here's what it looks like in the Lime app: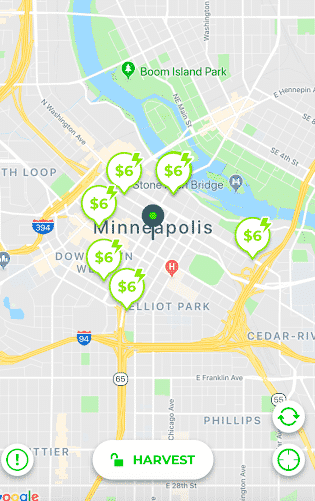 As you can see, the scooters pay different amounts based on how long it's been since the scooter was last charged. Generally, the longer it's been since the scooter was last charged, the higher the pay will be (I'll go into more detail about how pay works later in this post).
These scooter systems shut down at night, so all of the scooters usually become available to charge after 9 pm or so. However, scooters should appear on the map throughout the day, since many of them will run out of battery during the day. I've found that weekends are a pretty good time to do some charging – people are partying and doing other stuff, which means tons of scooters are out there that need to be charged.
2. Capturing and Charging a Bird or Lime Scooter
Step two of charging scooters involves capturing the scooter, bringing it home with you, and charging it to full battery. To do this, find a scooter that's available for capture using your Bird or Lime app, go up to the scooter, then scan it using your app. This will unlock the scooter. At this point, you can ride the scooter or just wheel it along with you. Note that since the scooter battery should be pretty low at this point, you usually won't be able to ride it very far before the scooter dies on you. If that happens, you can then kick the scooter along like a normal, kick scooter. 
Charging the scooters is pretty straightforward as well – you charge them up in a standard outlet using the chargers that Bird and Lime gave you. They basically look like laptop chargers. It takes about 4 to 5 hours to charge a scooter from 0% to 100% battery. One nice thing is that the chargers for Bird and Lime work on each other, so if you sign to be a charger for both companies, you'll have a good amount of chargers to use. 
As an aside, you can get creative with where you charge your scooters – it doesn't have to just be at your house. Along with charging scooters at my house, I've also charged scooters in the bike room at my office and at coffee shops. For example, on a recent weekend afternoon, I charged up some scooters at an outlet outside while I sat at a nearby table drinking coffee and doing work.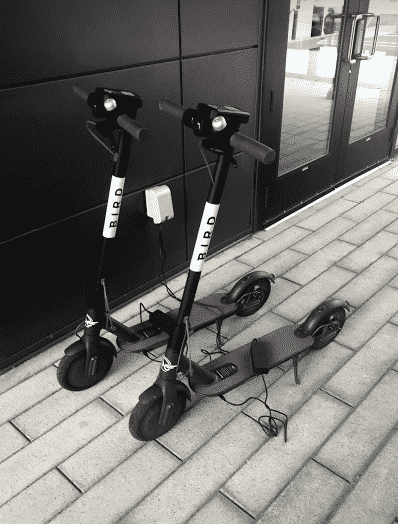 If you're wondering, the electricity cost to charge a scooter is pretty minimal. At my orientation sessions, the Bird and Lime reps both estimated that it cost somewhere between 25 and 40 cents to charge up a scooter all the way. I've found sources saying that it really costs 10 cents to charge up a scooter. Either way, it's not particularly expensive to charge a scooter – basically the same as charging up any other large electronic device.
3. Releasing Your Bird or Lime Scooters
The final step in the charging process is releasing your Bird or Lime scooters. In order to get paid, you have to release your Bird or Lime scooters in designated spots, called Bird Nests or LimeHubs. These spots tend to be clustered in high-density areas that have a lot of young professionals. Think cool, hip neighborhoods.
The app for both Bird and Lime shows you how to release your captured scooters. It looks like this in the Bird app: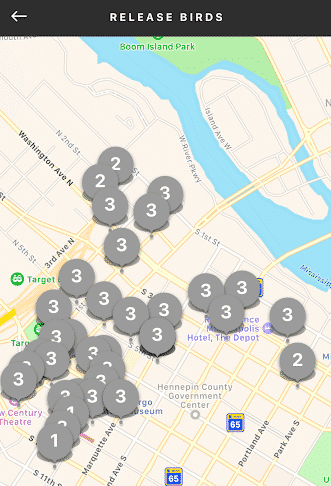 And here's what it looks like in the Lime app: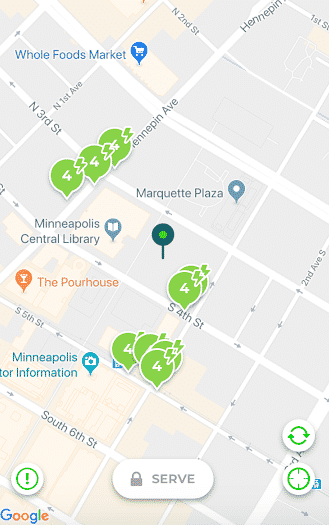 To release your scooters, you first claim or reserve your Bird Nest or LimeHub. Once reserved, just bring the scooters over to the nest or hub, follow the prompts in the app, and then release them.
Below is a recent Bird Nest I set up over the past weekend. Looks pretty nice!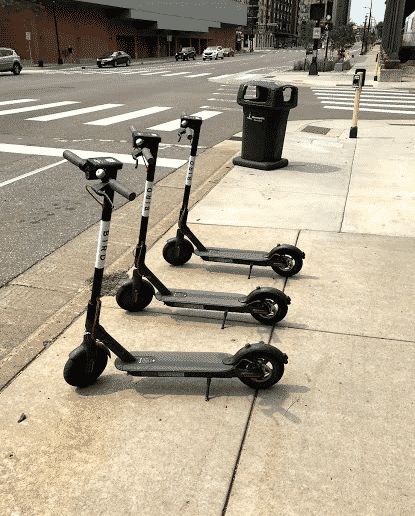 Note that releasing scooters does require you to be an early riser. Bird says that you're supposed to release scooters between 4 am and 7 am in order to receive a full payout for the scooter. If you release them late, you'll get a reduced payout (although I still seem to get a full payout from Bird even if I release them late). One annoying thing with Bird is that if you don't release the scooter by 7 am, it locks up on you and you can't ride it, which means that you're now stuck carrying the scooter or just releasing it somewhere random and not getting paid for it.
Lime has the same release criteria – basically, release them in the morning between 4 am and 7 am. The difference with Lime is that they will let you release a scooter at any time. In contrast, if you try to release a Bird scooter after 5 pm, it literally won't let you. The other nice benefit is that Lime scooters never lock up (at least as far as I can tell), which means that if you've captured a Lime scooter, you can basically ride it forever.
In summary: 
Bird

Release scooters between 4 am and 7 am in order to get a full payout.
Can't release Bird scooters after 5 pm.
Wheels on the scooters lock after 7 am.

Lime

Release scooters between 4 am and 7 am for full payout. 
Can release Lime scooters at any time. 
Wheels on the scooters never lock up.
The early release time can work out for a lot of side hustlers since this allows you to charge them up overnight and drop them off on your way into work in the morning.
How Much Can You Make As A Bird Charger And Lime Juicer?
Both Bird and Lime have similar models where they pay you a base pay of $5 for charging and releasing each scooter. This pay will vary based on how long it's been since the scooter was charged. For Bird, the pay can vary between $5 to $20 per scooter. Lime starts out with a base pay of $5 also, with much less fluctuation in what they pay for each scooter. 
I haven't done a crazy amount of charging due to the fact that my Bird nests aren't on my way into work (I no longer work downtown, which is where all the Bird Nests are located in my city). Still, I've actually made a surprising amount of money tinkering around with scooter charging. Here's a look at my earnings so far with Bird: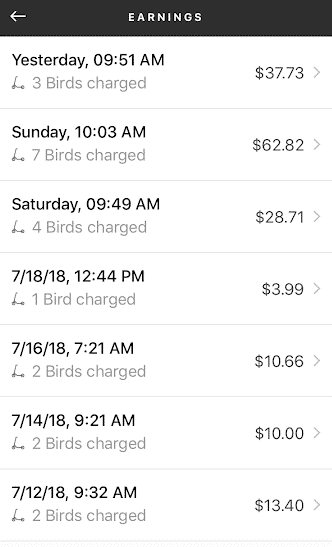 My two most recent charging trips didn't take me very much time. I grabbed a bunch of scooters on my way home, then rode them back out to the Bird nest the next morning. Since I grabbed a few big money scooters, it ended up being a pretty big sum. On one trip, I made $28 riding four scooters back. On a Sunday afternoon trip, I made $37 for a trip that took me about 15 minutes.
The nice thing about Bird is that they'll still pay you something, even if you release a Bird late or with a reduced charge. Since I don't drive, I'm often riding Bird scooters back to their nests, which means that by the time I get there, the battery on the scooter will have been used up a little bit. Bird reduces the payout in that situation but still pays me something.
My earnings on Lime are much less due to the fact that you have to bring Lime scooters back to the LimeHub with at least a 95% charge. Otherwise, you get paid $0 for returning it. This is problematic for me since I can't really ride to a LimeHub without using up some of the battery.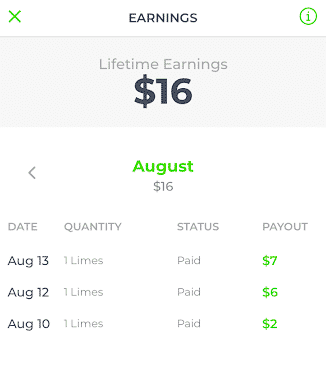 Payments get made the same day, so you don't have to wait very long for your payments to appear in your bank account. That's not a big deal to me, but if it matters to you, that's a nice benefit to get paid so quickly.
Obviously, you can make a lot more if you're using a truck or a car to pick up scooters. Since I don't drive and never use my car for gig economy stuff, I'm basically limited in the number of scooters I can charge – I can only charge and get paid for scooters that are close to me and that I can ride home and back to a nest or hub later.
My Experience Charging Scooters
Now that I've gone through the basic background with charging scooters, I think it's best to walk you through one of my recent experiences charging scooters so you can get a feel for what it's like.
It was a Friday afternoon and as I left my office, I opened up my Bird app to see if there were any scooters I could grab on my way home. Since I use a bikeshare bike to get to work, it's easy enough for me to just dock my bike and grab a scooter if I happen to see one. On this day, I grabbed a Bird scooter that I saw along my route, hidden away in a quiet office park.
Since I don't use my car, my method of getting scooters home is to ride them back. Luckily, the scooter I found had a decent amount of charge left, so I was able to easily ride it home without having to do any kicking. I saw a few more scooters that were close to my house as well and grabbed those to charge also. By the end of the night, I had four scooters charging at my house.
The next morning, I gathered up my fully charged scooters and got ready to bring them to my closest nest. It's about a 10-minute scooter ride for me and to get the scooters to the nest, I do a thing called stacking. Basically, this involves using one scooter as my base, then stacking the rest of the scooters on top of the one scooter. I then basically ride the scooter with all of the other scooters on top.
It's definitely funny riding this big stack. Here's what the stack looked like once I got it set up: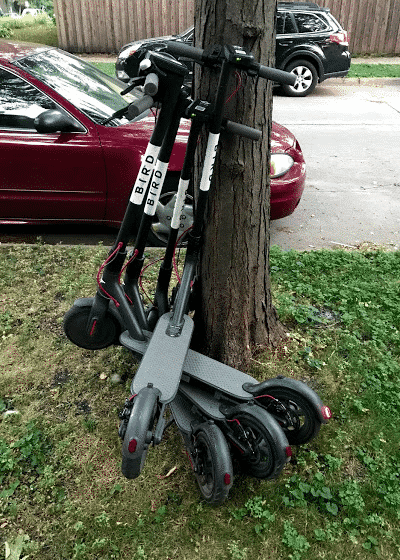 From there, I just stand on this big stack of scooters and basically ride it downtown. It looks crazy, but it's actually a lot easier to do than you think, especially once you get the hang of it.
At the Bird nest, I laid out the scooters like the app told me to do, and that was it. See below for a picture of my nice nest.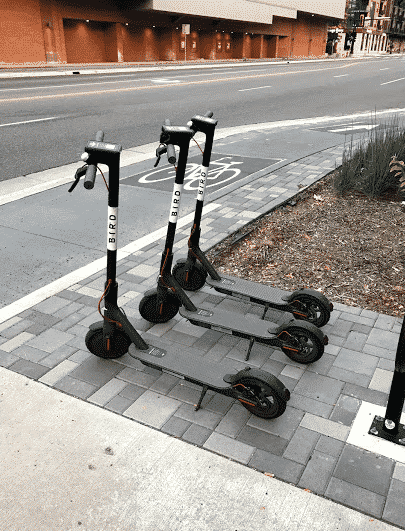 How You Can Make Being A Lime Juicer Or Bird Charger Work For You
One of the reasons I find charging scooters to be so exciting is because it seems like the perfect side hustle for young professionals. Scooters and their accompanying nests and hubs tend to be located in high-density, hip neighborhoods (basically, the kinds of neighborhoods that you would associate with young professionals). 
For example, in Minneapolis, the Bird nests and LimeHubs are all located in the hip, North Loop area, as well as in the nearby downtown area. What this means is that for anyone who lives and works in these places, being a Lime or Bird charger is perfect. You can grab a scooter on your way home from work, charge it up overnight, ride it back to work in the morning, and then put it into a nest or hub and get paid while getting a free scooter ride.
Take my own recent example of putting this strategy into action. A few weeks ago, I had to be downtown for a work meeting in the morning, so the night before, I grabbed a Bird scooter and charged it up overnight. In the morning, I rode the scooter to my meeting, dropped it off at a Bird nest, and got paid while also getting a free scooter ride. I did all of this while wearing a suit too.  
My brother does the same strategy in Washington DC. He lives in a stereotypical hip neighborhood that's filled with scooters and nests/hubs. For example, you can see just how many LimeHubs he has in his neighborhood in the screenshot below: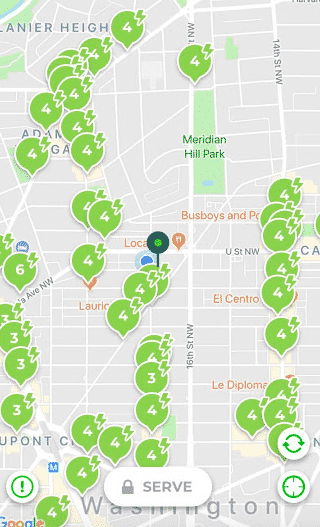 He also works at a nearby co-working space, which means that he usually rides scooters into work and gets paid to do it. Like me, my brother isn't shy about side hustling, and during the day, he'll often grab scooters that he sees near his office and actually bring them inside the co-working space and charge them. It's something that draws funny looks from other people in the office.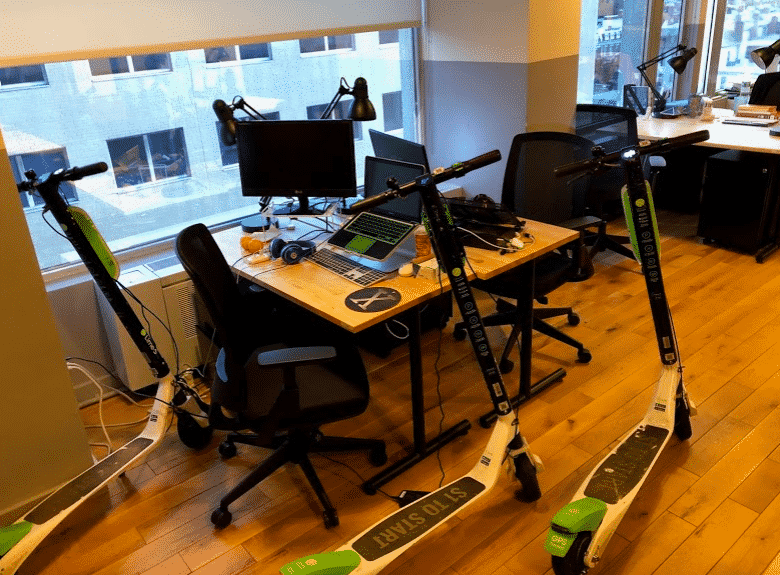 Scooter Charging Strategies and Takeaways 
So, I've already said it, but I'm obsessed with these scooters (my wife can attest to that because she's getting super annoyed at how much I talk about them and about how often I'm dragging scooters into the house). I think my obsession with these scooters is well-founded though – there are just a lot of reasons why I think electric scooters are good and the scooter market, I think, is only going to get bigger.
I've got a few takeaways to think about as I close out this post:
Be a Bird Charger or Lime Juicer and Get Paid to Scooter to Work.  I'm convinced that for most millennial, young professionals, signing up to be a Bird charger or Lime Juicer is well worth it. If you live in a neighborhood that has a lot of scooters and you work somewhere that has a lot of nests and hubs nearby, then you should definitely sign up to be a Bird charger or Lime Juicer. Incorporate charging into your routine, and you'll basically get paid to ride into work in the morning. 
Stacking Scooters. I hate driving, so I'm never going to go around picking up scooters in my car. If you absolutely need the money, then obviously, you'll need to use a big car to collect the most scooters. For the non-car folks out there like myself, stacking the scooters and riding them as a big stack is key. Bird scooters stack well, and I can basically ride a stack of 4 scooters pretty well. Lime scooters are much harder to stack – they're bigger and bulkier, so I can only really stack 1 scooter, at most. 
Free Scooter Rides. An unadvertised benefit of charging scooters is that it basically lets you ride scooters around for free. You're probably not supposed to do this, but still…what's stopping you?
Being a Bird charger or Lime Juicer is definitely one of the more interesting side hustles I've been trying out, and with this scooter market continuing to grow, I have a feeling that more and more people are going to be looking into this as a thing to do.
If you feel like signing up to be a Bird Charger or Lime Juicer, you can do so using the links in this post. My link for Bird isn't a referral link (I don't think they have any referral bonuses), but I've included a Lime Juicer referral link that I have, if you feel so inclined to use it. 
Feel free to share your experiences in the comments section. I'd love to hear if others are having success charging Birds and Limes.