About a year ago, I had a really bad day at work – so bad, in fact, that before I left work that day, I put an important event into my Google Calendar. I picked a date exactly one year into the future and wrote the following: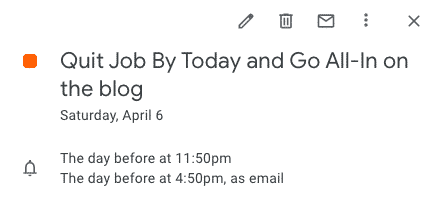 It was an audacious thing for me to write, but it's not like it came out of nowhere. Over the past three years, this blog has become a really important part of my life, something that I've worked on pretty consistently in the free hours of my day. It's added up to countless hours of my life and literally hundreds of thousands of words.
That's a lot of work, but it seems to have paid off to some degree as this blog has built up a pretty sizeable audience. Importantly, the blog has also gotten to the point where it's started to generate some regular monthly income – not enough for me to be rich or anything, but enough that for a while now, I've had to seriously consider whether writing was something that I could actually do for a living.
There's a funny thing that I've been doing over the past few years that I think speaks volumes about my priorities. I don't get sick too often, so I tend to accumulate a lot of sick days at work, and every once in a while, I'll take a random sick day and then spend that day working on my blog at a coffee shop or coworking space. When I feel like a change of scenery, I'll turn on some of my gig apps and go do some deliveries or walk some dogs. 
Whenever I thought about what I wanted my ideal life to look like, I kept looking back at those sick days. Working on my own schedule, out in the world rather than stuck in an office, doing the things I wanted to do. That's exactly how I wanted to live my life.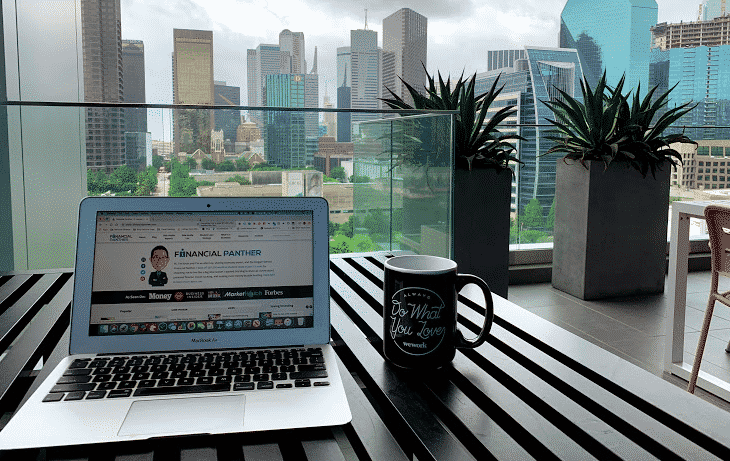 Instead of doing that, however, I was essentially doing the opposite – working for someone else, on their schedule, doing the things they wanted me to do, at the place they wanted me to do it at. I was following the clear, career path – a path that had been laid out for me long ago by family, friends, society, etc.
It always felt like such a shame that the best and most productive hours of my life weren't being used in the way I wanted to use them. Work is such an important part of our lives – basically more than 50% of our waking hours. But the work I wanted to do – writing, creating, and building my own thing – was getting relegated to my off hours, an afterthought to my life.
That just didn't seem right to me. So, about 6 weeks ago, I made a big move. I followed through with what I wrote a year ago and I quit my job.
Rejecting The Clear Career Path
I've now been officially self-employed since mid-March, working full-time on this blog during the day and filling my lunch and evening hours with sharing economy and gig economy apps. It's been a liberating experience, going from set hours every day, stuck in an office, to now being able to work whenever I want, with no one telling me what to do. Those sick days that I enjoyed so much are now something that I can do every day.
In retrospect, I probably should have known that the clear, career path wasn't going to make me happy. Back when I was interviewing for summer associate positions, interviewers would always ask me why I wanted to become a lawyer. Looking back at it, I realize I never had a good answer to that question and any answer I gave was pretty much a lie. There's probably no surer sign that a career path isn't right for you then when you need to lie about why you want to do it.
I struggled a lot at my first lawyer job, working as an associate at a big law firm. I found the environment very stressful and I knew pretty much from the beginning that I wasn't going to last very long there. My plan though was simple. I was going to use my income and pay off my student loans as fast as I could, then get a different lawyer job that would be more fulfilling where I could really grow my career. I chalked up my unhappiness solely to the fact that biglaw is a tough job. My next job, I told myself, would be better.
But that didn't happen. I ended up finding a job as an attorney for a state agency, doing legal work on behalf of the state. But that job didn't make me happier either. I woke up dreading going to work each day. This idea that I had built in my head that working in government would be better for me just wasn't true. With no student loans to worry about though, I made the move out of there a little bit faster.
And so I ended up at my last job, working in a non-traditional legal role for a non-profit. This job, I thought, would definitely be the one I could build a career on – with solid 9-5 hours and no stressful lawyer things to deal with. But once again, the same issues came up for me. I wasn't happy with what I was doing professionally. Being stuck in an office, doing the same thing over and over, having to take vacation days to leave the office – all of that made me miserable.
Each time I left a job, I thought that maybe my next job would be the "dream job" that I could work in for a few decades until I'd saved enough money to retire. I kept telling myself that eventually, I'd find a place where I'd be happy and where I'd finally find that passion that just seemed to be missing in my professional life. After 5 years of working as a lawyer, it began to dawn on me that maybe I was going about this career thing all wrong.
When I think about it, all of the moves I made were based around a basic framework that a lot of us live in where a good career means going to a good school, getting a good job, and working that type of job for the next several decades. It never once occurred to me that there were other ways to make a living beyond a regular job – even as I was going around making money in different ways each month.
The interesting thing is that when you look at the work history of a lot of attorneys my age, you often see a pretty similar looking resume – lawyers jumping around from job to job and from firm to firm. I have a sneaking suspicion that a lot of lawyers are like me, unhappy with their careers and looking for the next thing around the corner that they think might make them happier. But instead of looking outside of their career, they keep working in the only framework they know, finding another lawyer job doing basically the same thing. I know that's what I was doing for a long time. 
So How Will I Make A Living? 
So now that I've made this move, how exactly am I going to make a living?
First, my hope is that this blog continues to grow. I've struggled the last few weeks to write this post, wanting to get this post done before writing anything else (so my bad for sucking on the content this month). My goal in the coming months is to get on a more regular publishing schedule and publish more often. I have a backlog of 200+ topics in my notes app just waiting to get out there. And I'm thinking of new topics every single day. The beauty of this blog is that there's no cap on how much it can grow. I know what I make now. If I keep working on it, I should be able to keep making more just with the natural growth of this blog.
Second, I've got a nice benefit of pretty much being able to support my lifestyle with all of my side hustles that I've been doing over the years. As silly as many people think it it is to go around walking dogs or delivering food on my bike, there is actually money to be made there – enough that it can actually hold you over while you pursue your dreams and passions. Over the past few years, I've consistently been able to make between $1,000 and $3,000 per month while working an inflexible, full-time job. That alone can pretty much cover my life, as most months I only spend between $2,000 and $3,000 for the month. And if I have more time on my hands and more flexibility in my day, I'm pretty sure I can make even more.
Of course, while I do advocate chasing whatever dreams you have, I definitely have to recognize that not everyone can make a move like this. I'm super privileged compared to most people and not everyone will be in a position to just quit their jobs and go all-in on their dreams and passions. After all, I have no kids yet and no one relies on my income. I was fortunate enough to make enough money when I was working that I could pay off my student loans, so I don't have a lot of bills to pay. And, most importantly, I'm married and my wife makes enough from her job that we'd be totally fine living on just her income (although to be fair, my wife is a business owner and has to earn her income on her own using her own wits, not from an employer – in other words, she's hustling and taking risks too). 
I've been working on this blog for years now, and for most of that time, I thought all this blog could really be is a side project. I always said that I'd like to blog full-time if I could, but I never really seriously thought that was something I could do. I was so ingrained in my clear, career path thinking. And even though I couldn't find that right job, I kept working in that framework, telling myself that eventually, I'd find the right job, even though I had a job that I'd been creating for years right in front of me.
I know this isn't an original post – there are lots of other bloggers out there that have done the same thing to the point where the "I Quit" post is pretty cliche now.  What I hope this post does do is inspire you to think a little bit about what you're doing with your life. Too often, I think we get stuck in our own heads about what we're supposed to do and what's possible. We work in the framework that friends and family and society give us, rarely venturing outside of that framework. My overarching theme with this blog, I think, has always been to challenge yourself to think a little bit differently. 
At least that's what I'm trying to do. We'll see what happens.