The Hiboy S2R is one of the more interesting electric scooters I've been able to test out. It's not a high-powered scooter, but for an everyday transport option, it's very useful, especially given some of the unique features that it has. Indeed, for the price, the Hiboy S2R might be the best value scooter I've used.
In this Hiboy S2R review, we're going to look at the features of the Hiboy S2R and explain what makes this scooter unique and why I think it's a great scooter for the price. We'll also look into what a great option this scooter can be for those of you working in the gig economy with apps like DoorDash, Uber Eats, and Grubhub.
Hiboy S2R Review – Brief Overview 
Here are the main specs of the Hiboy S2R:
Max Speed – About 17-19 mph
Range – Approximately 17 miles
Battery – Removable battery (makes it easy to swap batteries and get extra range, if needed)
Motor – 350-watt motor with 3 power levels 
Tires – 8.5-inch solid tires.
Other Features: Integrated headlights and taillights; cruise control settings; both regular disc brakes and regenerative brakes.
At the outset, it's important to note that this is a relatively low-powered scooter. Unlike more expensive and powerful scooters that can hit 25 or 30 mph, the Hiboy S2R tops out at around 17-19 mph. It's also a much smaller scooter compared to the bigger, more expensive scooters. With its small design, I categorize it firmly in the "toy" category of scooters (that's what I call smaller, less beefy scooters). 
That's not a bad thing though. Not everyone needs a high-powered scooter and a scooter like the Hiboy S2R is more than enough to get you around town and cover even relatively long commutes. Indeed, for most people, I think a combination of a decent ebike and a low-powered scooter like the Hiboy S2R is the perfect micromobility solution, giving you both the utility of an ebike and the flexibility of a scooter.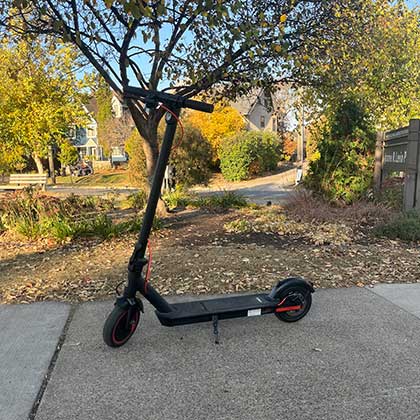 Below are some of the main things you should know about the Hiboy S2R:
Has a high speed of about 19 mph. This is faster than I expected for a scooter like this. There are three power levels, which will max out your speed at about 9 mph, 12 mph, and 17-19 mph respectively. 
You can expect to get about 17 miles of range on a full charge. Of course, this will be dependent on the terrain and the power level you use. If you take it slower, you can get much more range.
It has a 350-watt motor, which is good enough to go up most hills. On really steep hills, you'll slow down a lot, but in my testing, I never had issues going up even really steep hills.
Uses 8.5-inch solid tires. You won't have to worry about flat tires, although the tradeoff is you'll have a bumpier ride.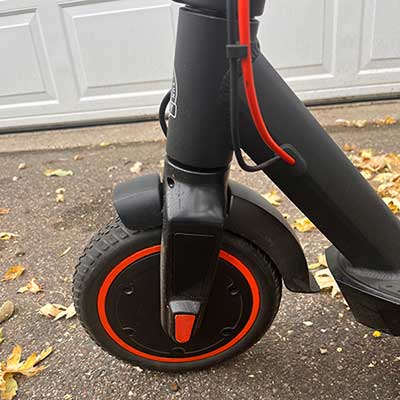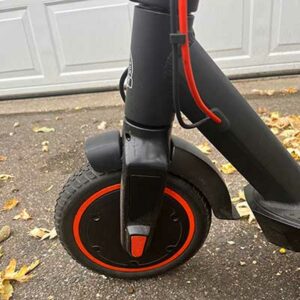 Has both disc brakes and a regenerative braking system (very unique for a scooter at this price point). I find myself braking more often with the regenerative break since I find it a bit better than the disc brake. There's only one brake on this scooter, so be aware of the stopping power.
Has a removable battery, making it easy to swap batteries and recharge batteries indoors without having to bring the entire scooter inside.
Pros: 
Lightweight scooter that goes fast, has good range, and can fold up easily and be brought inside with you. 
Removable battery gives you the ability to add a lot of range to this scooter since you can buy new batteries and swap them out as needed.
Two brake options, including a regular disc brake and a regenerative brake.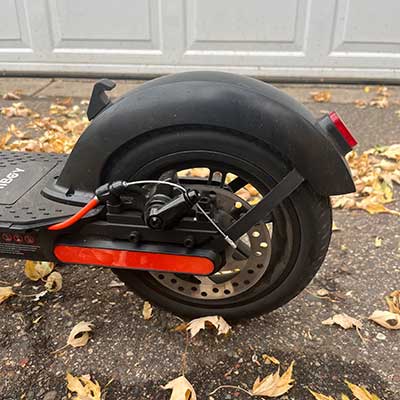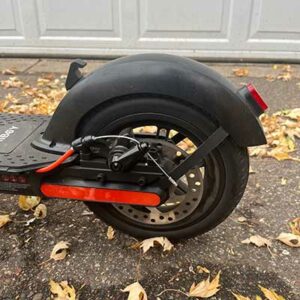 Has a nice LCD display with three levels of power assist and cruise control settings.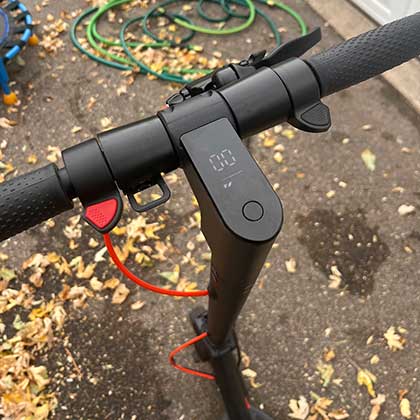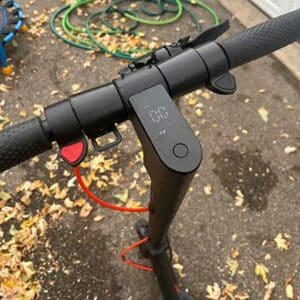 Cons: 
Has relatively small tires, so stability can be an issue for inexperienced riders. And since the Hiboy S2R uses solid tires, it can make for a bumpy ride. 
The range is fairly short, which can be an issue if you have a longer commute or want to use it for longer distances. However, with the swappable battery, you can mitigate this concern by buying additional batteries.
As with most scooters, you'll likely have to do your own repairs since most bike shops won't work on scooters. Doing scooter repairs can be a pain, especially if you aren't particularly handy.
What I Like About The Hiboy S2R 
We've briefly discussed the specs for this scooter, so let's get into what my experience with this scooter has been like. As of the time I'm writing this, I've put several hundred miles on the Hiboy S2R, mainly using it for short commutes and for doing food delivery with apps like DoorDash, Uber Eats, and Grubhub. It's been a great commuter scooter, performing very well for both food delivery and general commuting. 
Range is what most people care about when it comes to scooters and I find the 17 miles of range to be more than enough for the type of city commuting I do. And with a 17-19 mph top speed, I can get everywhere quickly. It can struggle a bit going up large hills, but even with large hills, it can handle them without issues.  
The Hiboy S2R also shines when it comes to multi-modal transport. One of the advantages of electric scooters is that they're easier to use with other forms of transportation. A bike or an ebike isn't so easy to throw into your car, but with a scooter, you can fold it up and take it with you. 
Some scooters are a lot heavier than others or more difficult to fold. For example, my Varla Eagle One is a high-powered scooter, but it's heavy, difficult to fold up, and not easy to carry. The Hiboy S2R has the advantage here because of how light it is. I've had a lot of trips I've done where I needed to drop my car off somewhere. The Hiboy S2R made these trips trivially easy since I could easily fold it up and throw it into the backseat. I've even brought the Hiboy S2R with me on my Urban Arrow cargo bike.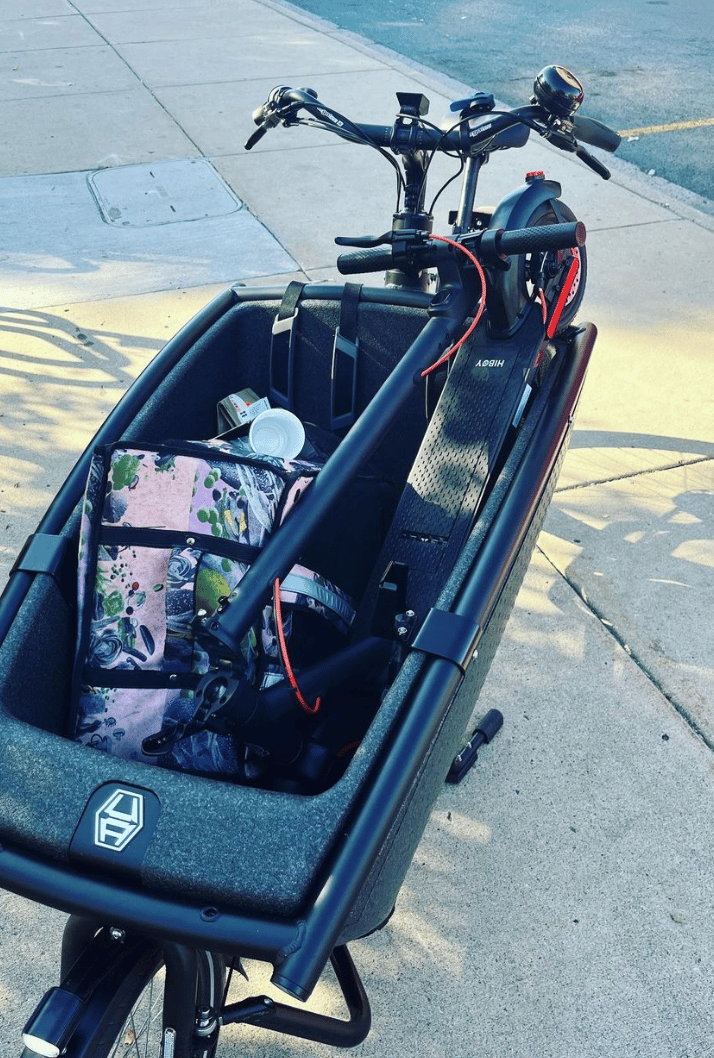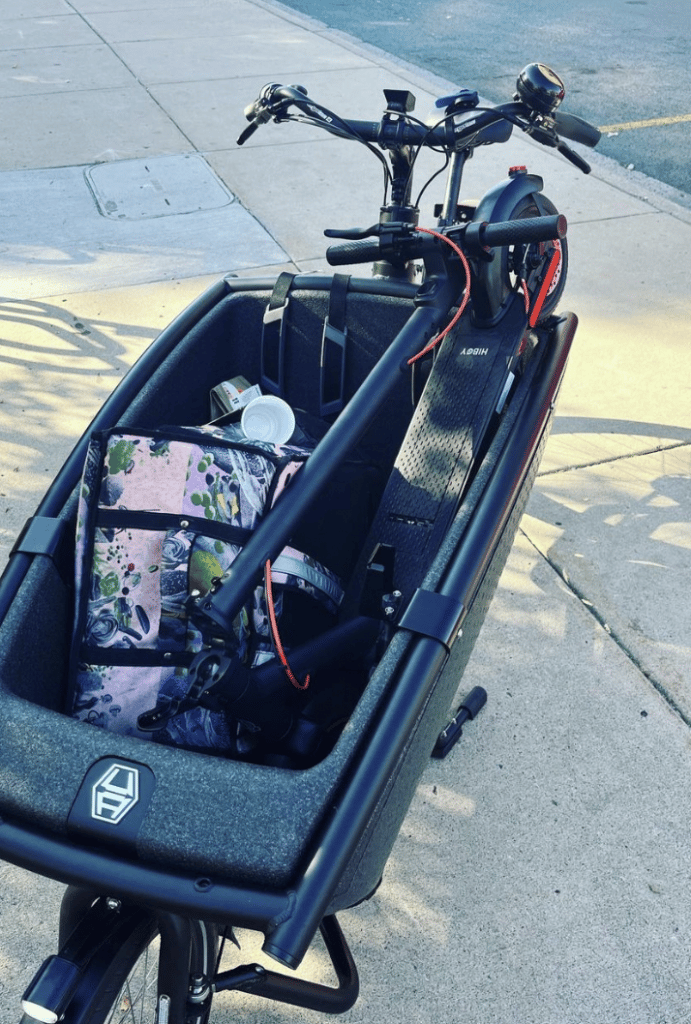 Without a doubt though, for me, the defining feature of the Hiboy S2R has to be the removable battery. Most scooters have built-in batteries, which means if you want to charge it, you have to bring the entire scooter inside. It also limits your available range since you can't easily swap batteries while you're riding.
The Hiboy S2R is unique precisely because it's one of the few scooters on the market with a removable battery. The battery plugs into the base of the scooter, essentially forming the deck of the scooter (i.e. you stand on top of where the battery goes). It's easily removed with a key, so you can bring the battery inside to charge or swap batteries while you're riding. As far as I can tell, the only other mainstream scooters with a removable battery are the Levy Scooter and one of the AnyHill Scooters. Both cost much more than the Hiboy S2R, which makes it an incredible value for this type of scooter.
Using The Hiboy S2R For DoorDash, Uber Eats, and Grubhub
Beyond general commuting, the Hiboy S2R is also an interesting vehicle to use for food delivery and other gig economy apps. Regular readers of this blog know that I use electric bikes and scooters to do food delivery with apps like DoorDash, Uber Eats, and Grubhub. Using an ebike or scooter to make extra money is great – in a way, it can turn your scooter into an investment and you won't have to worry about gas, parking, or other costs associated with driving a car. 
For food delivery, the Hiboy S2R has been great. I film videos of myself doing deliveries on my YouTube channel, so if you're interested, you can check out this recent video I filmed doing food deliveries with the Hiboy S2R. 
There are a few things that make the Hiboy S2R particularly well-suited for food delivery. First, the price. This is a very affordable scooter. That makes the investment fairly small and makes it much easier for you to pay for it using your DoorDash/Uber Eats/Grubhub earnings. 
Second, the Hiboy S2R works well for food delivery because of how small and lightweight it is. Since it's little, you can easily bring it into restaurants or apartment buildings. This is in contrast to larger scooters or bikes, which can be more difficult to bring indoors. 
Finally, the removable battery means you can buy extra batteries and swap them out, allowing you to do deliveries all day if you want. The batteries aren't that expensive, so if you really wanted to be able to use your scooter for extended periods, you could buy 1 or 2 extra batteries and carry them with you. This is a feature that other electric scooters don't have. Honestly, I'm surprised more scooters don't come with the option of a removable battery, since it greatly increases what you can do with the scooter.
Final Thoughts
The Hiboy S2R is an excellent scooter, especially for the price point. In general, it'll set you back a few hundred dollars, which is much less than the thousand or more that you'd spend on a more powerful scooter. Pound for pound, I think this might be the best value scooter you can get. 
I've had a blast using this scooter and it's become one of my go-to scooters simply because of how convenient it is to use. For a city commuter, this is one I highly recommend.  
I hope you found this Hiboy S2R review helpful. If you're interested in checking out the Hiboy S2R, you can buy it directly from Amazon or from the Hiboy website. Feel free to leave me any questions or comments below. And check out my YouTube channel where I'll try to upload more videos of me using these different scooters and ebikes.