One of the keys to being successful with money is to have a strong money system in place. You'll find that once you've done that, money seems to build up without you even realizing it. I don't really budget, and to be frank, I'm not really all that frugal either. And yet, every month, I seem to have more money than I did before.
That's because my money system is heavily automated. I've always maintained that saving isn't about willing yourself to save more – it's about having the right systems in place so that money gets saved without you even realizing it. You probably already do this to at least some extent – automatic contributions into your 401k and other retirement plans, saving money to various savings accounts, etc.
I do all of this too, but I also like to push myself to save a little bit more by using fintech apps that run in the background. These apps help me squeeze just a bit more savings out of my budget each day. 
I go through a ton of fintech apps and most of them end up unused on my phone. It's a pretty big deal to me when I find an app that I actually use. And if I write about it, it means I think it's especially useful. The app I'm talking about today is called Albert – and it's one that I think you should consider adding to your money system. 
In this Albert app review, we're going to go over how Albert works and the way I recommend using this app.
Using Microsavings Apps To Improve Your Money System
Before jumping into what Albert is and why you should use this app, I'd like to first explain a little bit about how my money system works.
As part of my money system, I like having apps that run in the background, monitoring my transactions, and figuring out ways to automatically save more money for me. In my view, when money is in front of you, you'll figure out a way to spend it. So, it's important to keep your money moving and out of your grubby hands.
Microsaving apps are what I use to help get more money out of my hands. These microsaving apps monitor my spending and save small amounts of money for me daily. It's a small enough amount that I don't notice it, but over time, I end up with a surprising amount of extra money saved. By themselves, microsaving apps aren't going to be enough as a savings vehicle, but when you add them on as an extra layer to an already well-run money system, they can work magic. 
There are two types of microsavings apps that I incorporate into my money system. These include the following:
Round-Up Apps. These are apps that monitor my credit card transactions and round up each transaction to the nearest dollar. They then take the spare change and put that money into a separate savings account. Think of these apps as an online piggy bank for your spare change. The app I currently use as my round-up app is Peak Money. If I spend $1.50 on something, Peak rounds up that transaction to $2, pulls 50 cents from my checking account, and saves it away in a separate, FDIC-insured savings account. Check out my Peak Money App Review for more information about Peak and how you can use it.
Sweep Apps. These types of apps monitor my bank account and, using smart algorithms, save small amounts of money for me each week. Unlike round-up apps, "sweep" apps aren't tied to any specific transactions. Instead, they just analyze the money that I have in my checking account and see if I have extra money to spare. If the app thinks I have money to spare, it moves it out into a separate savings account. I'm a big fan of sweep apps because they keep my money from sitting idle and sort of force me to live on less since I end up with a smaller stash of cash in my checking account. 
Below is a diagram that shows how these two types of apps work together in my money system.

The original "sweep" app I used was an app called Digit, which served me well for about two years until it started charging a monthly fee. On principle, I don't believe that you should pay a fee to save money, and since switching between these sorts of apps only takes a few minutes, I made a switch, going over to another app I found called Dobot. Dobot did essentially the same thing as Digit, only for free. Of course, as luck would have it, Dobot also started charging a fee soon after I switched to it. As a result, I dropped Dobot and went on the search for another app that could do what Digit and Dobot did, but without a fee. Albert fit the bill for me.
Albert App Review
So what exactly is Albert? It's a full-featured financial monitoring app like Mint or Personal Capital. You link up all of your accounts in the app and it can then track your net worth and account balances for you. This is a very useful feature that will help you keep your finances organized.
Albert also has a feature called Albert Genius, which acts as a financial advisor. Albert Genius is not free and instead, works on a pay-what-you-want model. I've never used this feature and I don't plan to, but it is something that you may find useful depending on your situation. 
Another interesting addition to Albert is Albert Cash. This is a free checking account with no minimum balance requirement. Funds are kept with an FDIC-insured partner bank, so your funds are safe. I don't use Albert Cash, but I have opened an account and I wouldn't have any problem using it as my primary checking account.
The best feature that makes Albert worthwhile – and the only feature I really care about – is the Albert Savings feature. When you activate the Albert Savings feature, Albert will monitor your transactions and save small amounts of money for you every week. It works the same as Digit, but without any monthly fee.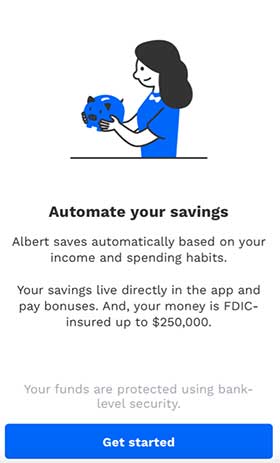 At the moment, Albert is the only free app that offers this service and it's why I highly recommend Albert. Let's take a look at how the Albert savings feature works. 
How Albert Savings Works 
Albert's smart savings feature analyzes your spending and determines how much you can save each week. If you are using the free version of the app, Albert will initiate one savings transfer per week, typically between $25-$100.  
To figure out how much it can automatically save for you, Albert uses a special algorithm. Their algorithm analyzes your spending, income, predicted account balance, and upcoming bills. With that information, it will determine how much it can safely save for you. 
If you're someone who doesn't have too much cushion in your bank account, here's what Albert says about that:
To avoid overdrawing your account, we do not initiate a savings transfer when your bank balance is too low. We determine Smart Savings amounts at the time of transfer. 
To activate Albert's smart savings, link your checking account to Albert, then activate the smart savings feature. If you prefer, you can also have it set up to just save a fixed amount each week, but I prefer the Smart Savings features since that's the point of using an app like this.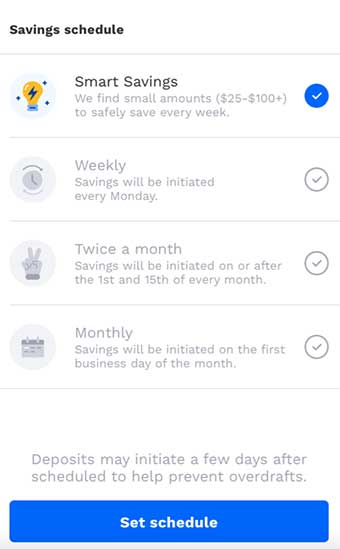 Over the time that I've used Albert, it's been able to save me several hundred dollars – not bad at all. It typically saves $45 to $70 per week. Over a month, that's about $200 I'm able to save without even noticing it. And this is all on top of the normal saving I'm already doing, which makes it a nice compliment to my money system. 
You also get a slight amount of interest on your savings, so it's not as if your money sits idle in your Albert savings account. At the moment, free users get 0.1% interest. It's obviously not a lot of interest, but it's better than nothing. I generally think of this money as short-term savings, so the interest rate isn't too big a deal to me anyway.
Like most fintech apps, Albert uses bank-level security. You link your accounts to Albert using Plaid, which is a secure bank connection tool that is used by all major banks. Importantly, any money in your Albert savings is kept in an FDIC insured savings account with Albert's partner banks. In other words, you don't have to worry about losing your money.
If you've used Mint or Personal Capital or were previously a user of Digit or Dobot, you shouldn't have a problem using Albert.
Albert $150 Signup and Referral Bonus
Albert is currently offering a $150 referral bonus if you open a free Albert Cash account, complete a direct deposit of $200 or more, and spend $100 using the Albert debit card. I wrote a step-by-step guide on how to earn your Albert referral bonus here. Check that post out if you need more direction.
At the moment, it appears that you need a real direct deposit to trigger the bonus. If anyone is able to trigger the bonus without a real direct deposit, please let me know. You can use my Albert referral link here.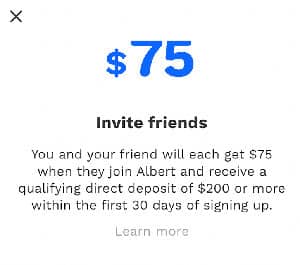 Final Thoughts – Albert Is The Best Free Alternative To Digit And Dobot
I've been using Albert for years and have had no issues with it. It's a great app. And now that Digit charges a monthly fee and Dobot has shut down, Albert is the only free app left that has an automated savings feature that can analyze your accounts and save small amounts of money for you each week. 
There are a lot of ways you can use your Albert savings, I personally use most of my Albert savings as a part of my travel fund. Another good way to use Albert is to let your Albert savings build up over time and then fund part of a Roth IRA with the money it saves you. The beauty is that you can choose how you want to use your savings – whether it's to save for the future or to use your savings for fun things.
Ideally, you use both Albert and Peak Money together – Peak should round up transactions you make, and Albert should sweep away a little bit of excess money for you each week. This is a way to add a passive layer to your money system. And it costs nothing to do and takes only a little bit of time to set up. 
If you've used Albert before, let me know what your experience has been like. I think they've really improved the app a lot over the years and I wholeheartedly recommend it.