If you want to be successful with money, you need to have a good money system in place. Your money system consists of all of the financial accounts and tools you use to keep your financial life in order – things like your checking accounts, savings accounts, and any fintech apps you might use. Once you've got your money system set up, you'll find that everything just sort of runs on its own. Money gets saved and invested automatically. Bills get paid. And really, you just sit back and relax while your money system does its thing.
Over the years, I've fine-tuned and tweaked my money system to the point where I'm pretty happy with how it works now. Of course, this isn't to say that there's only one right way to set up your money system. Your money system is like a fingerprint – unique to you. Still, with all of the financial accounts, tools, and apps out there, it helps to see how others have things set up.
In today's post, I'd like to share with you all of the accounts, tools, and apps I use in my own money system. My hope with this post is that it gives you ideas for how you can set things up in your own money system. Feel free to pick and choose bits and pieces from my system that works for you. If nothing else, it should at least be interesting to see how I do things.
The Financial Panther Money System
The base of my money system consists of three layers – a checking account, various savings accounts, and microsavings apps that run in the background. Here's how it works:
1. Checking Account
The first line of my money system is my checking account. My checking account serves as my financial inbox. All of my base income goes into my checking account first, then automatically gets shuffled off to different parts of my money system. Because my checking account is the starting point of my money system, it's super important that I use a good one.
For my primary checking account, I use a bank called Simple. It's an online-only checking account that works perfectly for me (and naturally, as a tech-savvy millennial, I don't have any real need to go into a physical branch to do my banking since I can get all of my banking and look at my bank statements online). There are at least three reasons why I think Simple is a great primary checking account:
It's 100% fee-free (literally, they charge no fees for anything);
They have one of the best-looking and intuitive banking apps out there (very important to me since my phone is my life); and
In my experience, the customer service has been excellent (although there has been a bit of decline lately).
If you're comfortable with an online-only checking account (and really, you should be comfortable – it's the 21st century), Simple is a great choice.
A few other completely free online checking accounts that I have and that I think are worth using include:
Ally. I've had a checking account with Ally for a few years now and it's the primary checking account that my wife uses. At a minimum, Ally is a checking account that you should have because it works great as a hub bank account, which can be really useful if you like going for bank account bonuses. Unlike a lot of banks that limit how many external bank accounts you can link to it, Ally lets you link up to 20 bank accounts. They have no minimum balance and no fees, so you really don't lose anything by having an Ally checking account in your financial arsenal. If I had to name the best overall bank in the world, it would be Ally.
Capital One 360. This is another checking account that I still keep open since it's free and has no minimum balance requirement. Keep an eye out for $200 sign up bonus offers – I randomly got an email once offering me this, although I'm not quite sure how you get targeted for it.  
Chime. I use Chime as a checking account for all of my gig economy income. It has a good interface, no balance requirements, and is 100% free. Transfers and deposits into your Chime account are also super fast. If you open a Chime account using my referral link and do a direct deposit of $200 or more, you'll also get $50.
Ultimately, just make sure that whatever checking account you use is 100% free and has no minimum balance requirement. Online-only banks are what I think most people should use, but if you're the type of person that needs a traditional bank, you can use that too so long as it's a 100% free checking account.
2. Savings Accounts
While you really only need one checking account, you should consider utilizing multiple savings accounts in your money system. I have three main savings accounts that I use for different purposes. Two of these savings accounts are used for holding my emergency fund money. The other savings account is used for all of my short-term and medium-term goals. Here's how it works:
Emergency Fund. I have a two-step system for my emergency fund:
First, I keep a small buffer emergency fund of $500 to $1000 in my Ally savings account. I think Ally is a good savings account because it has a solid interest rate, no fees, and no minimum balance requirement.
Second, after the buffer emergency fund, I store the rest of my emergency fund in mega high-yield savings accounts that earn 5% guaranteed interest. These 5% interest savings accounts are an advanced financial hack that does take some initial set up work, but once set up, the accounts run themselves. If you take the time to set up all of these 5% interest savings accounts, you should be able to put away up to $12,000 in FDIC insured savings accounts earning 5% guaranteed interest. The steps to set up these 5% interest accounts go beyond the subject of this post, but check out my guide I've written here for more info.
Short-Term/Medium-Term Savings. For short-term and medium-term savings goals, I recommend an high-yield savings accounts that lets you make multiple sub-savings accounts. I currently use Ally, Capital One 360, and Marcus by Goldman Sachs. All of these banks let you create different sub-savings accounts, have a solid interest rate, and are all 100% free with no minimum balance requirements.
Here's an example of some of the sub-savings accounts that I've used: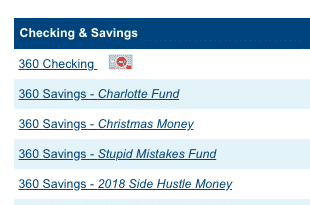 I have different savings accounts for different short-term goals. Some are more concrete goals – I know Christmas is coming every year, so I automatically set aside money for Christmas on a monthly basis. Other goals are less concrete. My "stupid mistakes fund", for example, is just a savings account where I put away a small amount of money each month to help me pay for dumb mistakes I might make in any given year. For short-term/medium-term savings, make sure you figure out a way to sub-divide it all. It makes it much easier compared to keeping all of your savings in one big pile.
3. Microsaving Apps
After the basic checking and savings accounts, I like to then add a third layer of savings with apps that can be termed "microsavings" apps. These are fintech apps that run in the background and monitor my financial accounts, saving small amounts of money for me each day that I typically don't even notice. Over time, these small savings add up. Microsavings apps, by themselves, aren't enough when it comes to saving, but it's a nice way to squeeze just a little bit more savings out of my money system without even noticing it.
There are two types of microsavings apps that I utilize: (1) a "round-up" app; and (2) a "sweep" app. Here's how they work:
Peak Money. Peak serves as my round-up app. I linked my credit cards to Peak and it monitors all of my transactions on that card. Whenever I make a transaction, Peak rounds up the transaction to the nearest dollar, then saves the spare change into a separate savings account. It's essentially like an online piggy bank for my spare change. These are small amounts, so I don't notice them on a daily basis, but over time, the spare change that I save does add up. Check out my Peak Money Review for more information about this app.
Dobot. I use Dobot as my sweep app. Dobot works by analyzing the cash flow in my checking account and then, using a proprietary algorithm, the app saves small amounts of money for me that it thinks I won't notice. Using an app like Dobot is a great way to "sweep" out some of that excess money from your checking account and force yourself to save just a little bit more. You can check out my Dobot review for more info about how it works. Another app that you can use as your "sweep" app is Albert, which does the same thing as Dobot, although with slightly fewer features (you can read my Albert review here).
Investment Accounts
After my basic banking accounts, I've then got a slew of investment accounts. Obviously, a lot of what you use will depend on where you work, but here's what I've got going on:
Pre-Tax Retirement Savings. I currently have pre-tax retirement savings in three different places.
457 Plan. The bulk of my retirement savings is in a 457 plan that I have with the state. When I left biglaw, I rolled over my 401k into this plan since the state plan was so awesome. So, my 457 plan includes my 401k contributions from my first job, as well as my 457 contributions from when I worked for the state. The state plan is cheap, and these funds are all invested in low-cost, Vanguard index funds.
Solo 401k. Since I side hustle, I set up a Solo 401k to open up some extra pre-tax retirement savings for myself (the Solo 401k is the bonus retirement account for side hustlers). I have my Solo 401k with Fidelity, and it's the company that I think you should have your Solo 401k with. Setting up a Solo 401k with Fidelity is free, it's not that hard to set up, and you can invest in low-cost Fidelity index funds that are often cheaper than comparable Vanguard funds. If you're looking to set up a Solo 401k, here's a step-by-step guide on how I set up my Fidelity Solo 401k.
Health Savings Account. I use Lively for my HSA. They have no fees and you can invest your funds into low-cost ETFs. You can read more about my thoughts on Lively in my Lively Review. 
Roth IRA. I currently have my Roth IRA with Vanguard. I initially started my Roth IRA with Betterment since when I first set up my Roth IRA back in 2015, I had no idea what I was doing and Betterment made things really easy for me. For most people, I think it makes sense to start out with Betterment or Wealthfront, and then once you have $10k or $20k saved up in your Roth IRA, move all of it directly to Vanguard.
529 Plan (College Savings). For the past three years, I've been saving a tiny amount into a 529 plan in my own name. The idea is that I'll transfer this over to my kids one day in the future. I use the New York 529 plan, which I think is the best plan for most people. The New York 529 plan uses Vanguard funds, and it costs 15 basis points, which I don't think you can really beat when it comes to 529 plans. If you're in a state that offers a tax deduction for your state's specific plan, then you should use your state's 529 plan. If you're like me and are either in a state that doesn't have a tax deduction or that gives you a tax deduction for investing in any 529 plan, then use New York's plan.
Taxable Investments. Since I'm still early in my investing career, I don't really have any significant taxable accounts. Right now, I basically do all of my investing in retirement accounts. I do have two taxable accounts that I contribute small amounts to each month as a little test.
WiseBanyan. I like WiseBanyan because it's a robo-advisor that is 100% free. Since it costs nothing, I really don't see any downside to using them. Right now, WiseBanyan serves as my "computer fund." I've been investing a small amount of money each month for the last 3 years, with the idea that I'll use those funds to buy a new computer every 5 years or so. If the market tanks when I'm ready to buy a new computer, it's not a big deal (since it's not like I "need" a new computer).
SoFi Wealth. SoFi has it's own robo-advisor service now. I signed up for it because they gave me $100 to open up an account – and I can't resist free money. My understanding is that it's free if you have a SoFi loan, but otherwise, it's basically the same cost as any other robo-advisor.
Fintech Apps That I Use
After all of the bank and investment accounts, I also have a number of fintech apps that I use every day. All of these apps are free and ones that I think you should use:
Mint & Personal Capital. I use both Mint and Personal Capital to monitor all of my financial accounts. Mint is better for keeping a general track of transactions and balances in all of your accounts (like a primary financial dashboard). Personal Capital is better for looking at and analyzing your investments. I think it's best to use both apps together (they're both free, so you have no reason not to use them both). One nice thing about Personal Capital is that they offer a $20 Amazon gift card if you create an account with them (I get a $20 Amazon gift card for referring someone), so it's a nice little bonus for a completely free and useful financial tool.
Prism. I use Prism to keep track of and pay all of my bills. This is especially useful for people like me who prefer not to do auto-pay and like seeing all of my bills in one spot. Even if you have all of your bills set to auto-pay, it still makes sense to link them to Prism so you can see them all in one place. Prism also really helps if you're a travel hacker and open up a ton of credit cards each year. Every time I get a new credit card, I link it to Prism and then I don't have to worry about remembering to pay the bill. Of all the fintech apps I use, Prism is, without a doubt, the most useful app for me. I wrote a review about it a while back, so check it out if you want more info about Prism.
Credit Karma + Experian App + Bank Apps That Give You Your Credit Score. Since I open up so many credit cards, it's really important that I keep tabs on my credit and credit score. This helps to make sure that I know what my credit score looks like, but also helps me to avoid any identity theft issues. Credit Karma monitors my credit reports for TransUnion and Equifax. The Experian app monitors my Experian credit report. Anytime there's a hard pull or a new account appears on my credit report, I get a notification immediately through these two apps.
You can ignore the credit score that Credit Karma gives you, however. That's a different type of credit score that is completely made up and that no one actually uses. Instead, the Experian app will give you your actual FICO credit score through Experian.
Other banks will give you your real FICO score as well for the other major credit bureaus. I have a Bank of America credit card, so I can get my TransUnion FICO score through the Bank of America app. Equifax doesn't really have a way to get your real Equifax credit score, although Citi gives a sort of modified version of that score, which can give you an idea of where you stand.
Takeaways
There's no one right way to set up your money system, but hopefully, this post can give you some ideas of how you can set things up. Your money system can change of course – I've switched over time between a traditional brick and mortar bank account and online-only bank accounts. Fintech apps like Astra and Dobot didn't even exist a few years ago.
Really, the important thing is to figure out what tools and systems work for you. It'll be an evolving process. But once it's set up, things will just run themselves and you'll find that you keep ending up with more money, without even realizing it. That's the power of having a smooth, running money system.
How's your money system set up? Let me know if you have any accounts or tools you use that I should be incorporating into my money system.