One of the surprising things I learned when I started side hustling was that doing so gave me access to an extra retirement account unique to side hustlers.  This was true even for sharing economy/gig economy side hustles like Uber or Postmates. Most people don't realize it, but when you're working in the sharing economy/gig economy, you're technically a self-employed business owner.  Your business is you and you're the boss and sole employee.  And as a benefit, when you're self-employed, you get to contribute to self-employed retirement plans like a Solo 401k.
Yes, even a lowly delivery person can put away money in the same manner as a successful solo entrepreneur.
Last year, I set up my Solo 401k with Fidelity and this past week, I made my first contribution to it. At first glance, the process seemed pretty intimidating, but it actually turned out to be much easier than I expected.  This post walks you through the entire process of setting up and contributing to your Solo 401k.
Just a quick note.  I opted to go with Fidelity when I set up my Solo 401k because it's free to set up and has no annual fees.  I would imagine that the process for contributing to a Solo 401k would be pretty much the same with any company, but be aware that this post is geared specifically towards those of you looking to contribute to a Fidelity Solo 401k.
What Is A Solo 401k?
A Solo 401k is a retirement account that is available to any independent contractor.  Basically, any money that you have to pay self-employment taxes on can be contributed to a Solo 401k.
In terms of how it works, it's pretty similar to your 401k at work except that you are in charge of it. Remember, as an independent contractor, you're basically a business of one.  You've got one boss (you) and one employee (you).  The Solo 401k is like your business's own little retirement plan.
There are two parts to the Solo 401k: the employer part and the employee part.  Just like with your 401k at work, you can contribute money to it as an employee.  Nothing too complicated there.
In addition, since you're also technically the employer, you can also make an employer contribution to the plan. Think of it like the match you might get at work.
It's easiest to visualize a Solo 401k as looking a little like the below image: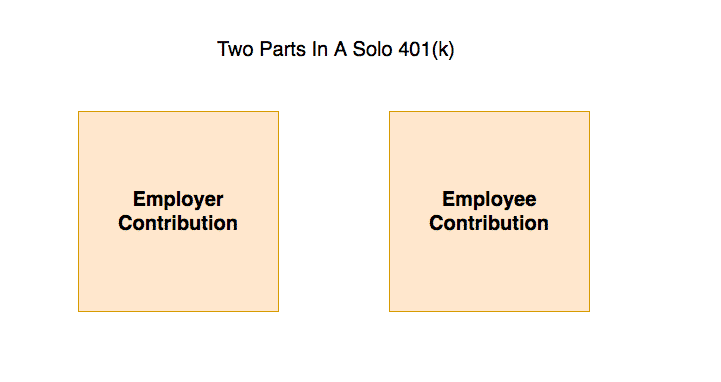 Which Solo 401k Provider Should You Use?
There are a ton of Solo 401k options out there, but in my opinion, Fidelity is the optimal choice for the side hustlers out there. The reason I like Fidelity is that it's free to set up and has no annual fees.
In addition, trading fees are also non-existent if you're an index investor like myself.  They don't charge any trading fees if you're buying and selling Fidelity funds and it's easy enough to find a Fidelity fund with really low expense ratios.

So why would I pick Fidelity and not a company like Vanguard?  As much as I love Vanguard, their Solo 401k isn't quite as good an option because it comes with an annual fee of $20 per year for every Vanguard fund you hold.  This fee is waived if you happen to have more than $50,000 in the account.  The $20 fee isn't terrible if you're just picking one fund, but why even pay the fee at all if you can get the exact same thing for free, right?
Deadline To Set Up A Solo 401k
This is extremely important if you're looking to tax-shelter some of your independent contractor income.  The deadline to set up your Solo 401k is December 31st.  This is a little different from other plans where the deadline to set up your account is the tax filing deadline.  I didn't realize this myself, and as a result, I missed out on a bunch of tax savings for 2015.
Note that you can contribute to your Solo 401k all the way up through your tax filing deadline.  It's just that the actual account has to be set up by the end of the previous calendar year.
Step By Step Directions:
With that background out of the way, let's get into the details on how to set up your Fidelity Solo 401k plan.  Here are the step-by-step directions that you'll need to follow:
Step 1: Get An Employee Identification Number
In order to contribute to a Solo 401k, you need to first get an Employee Identification Number ("EIN") from the IRS.  The EIN is basically like a social security number for your business.
It's easy enough to get yourself an EIN.  All you need to do is apply for one at the IRS website here.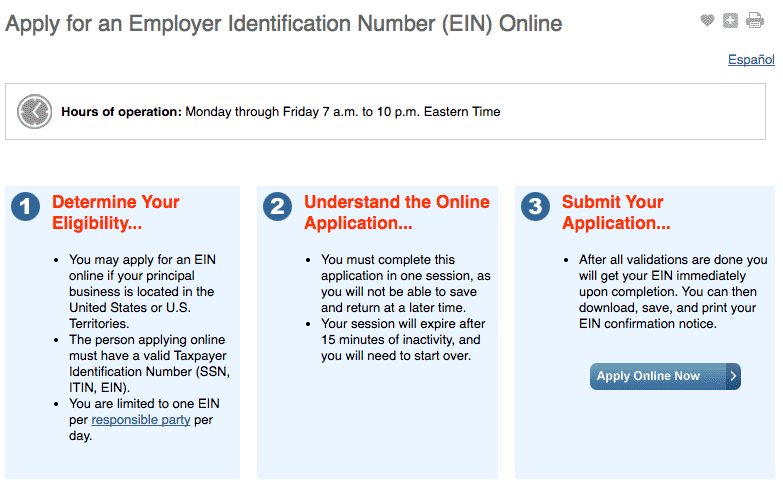 The entire process is super simple.  Just follow the directions on the website.  It only takes a few minutes and you'll get your EIN immediately.
When you get your EIN, make sure you print out the page and save the number somewhere. I'm sure you can get your number again if you lose it, but it's probably better not to take that chance.
Step 2: Fill Out Your Fidelity Solo 401k Forms
You'll need to fill out two forms in order to set up your Fidelity Solo 401k.  Both forms are pretty straightforward and can be found on Fidelity's website here.  Just go the "Get Started On Your Own" section of the website to download the forms.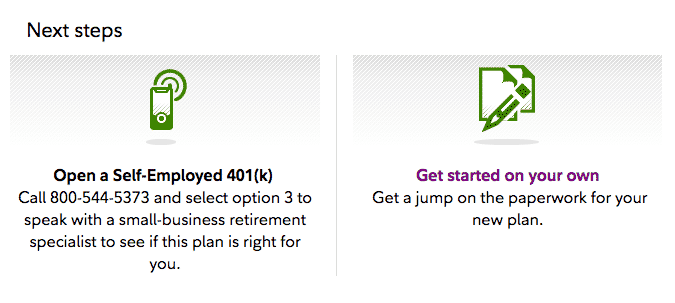 The first form you need to fill out is the Solo 401k application itself.  It'll look like this: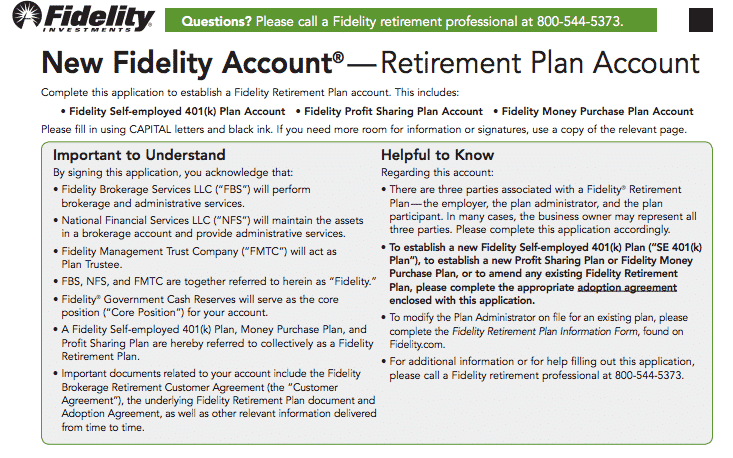 Things to remember with the application are that you are the plan administrator and the sole employee.  You also don't need to fund the account right away.  It's easiest to just get the account open first.
The second form you need to fill out is the Adoption Agreement.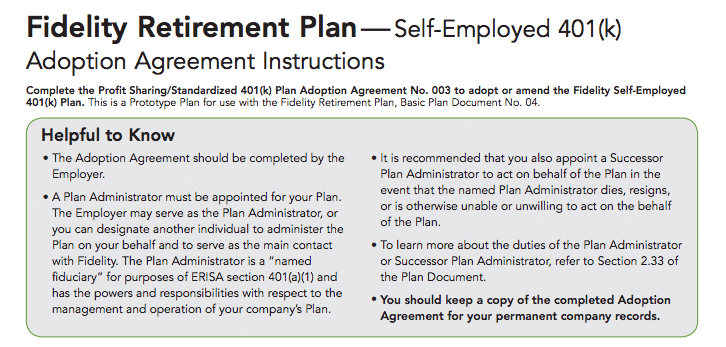 Like with the application, remember that you are the employer and the sole employee.
If you have any questions, just call up Fidelity and they'll walk you through the forms.  They're actually pretty helpful over there.
Once you've got both forms completed, just mail them to Fidelity as instructed.  Your account should be opened up in just a few days.
Step 3: Make Your Contribution
Once you've got your account opened, the next step is to actually put money into the account. The weird thing about Fidelity is that they don't let you contribute to your Solo 401k online. Instead, you have to mail them a check. Kind of annoying, but not all that big a deal. I wrote a check from my regular bank account and then mailed it off to them in a regular envelope.
When you mail your check, make sure to also include the Contribution Remittance Form, as seen below.  You should also put your account number in the memo field of your check.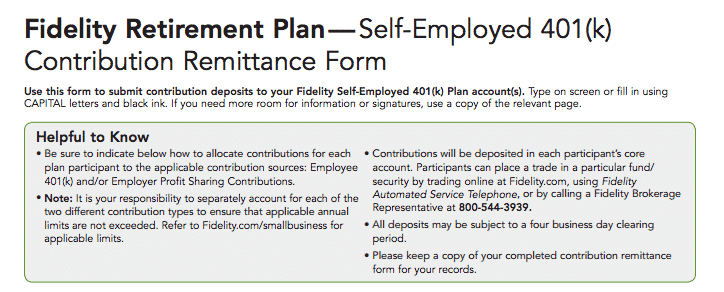 Note that you do not need to pick any specific funds when you're making your contribution.  Instead, your contribution will default to a basic money market holding account.  You can then pick your funds online once the money is in your account.
One nice thing is that the contribution process is really fast.  I mailed my check to Fidelity on April 10th and my funds were in my account by April 13th.
When you're making your contribution, make sure that you're aware of what your contribution limits are. As of 2017, your employee contributions are limited to $18,000 across all of your 401k accounts. Your employer contributions are limited to 20% of your profits after deducting 1/2 of your self-employment taxes. Stay tuned for a future post explaining these limits some more.
Step 4: Pick Your Investment Options
Now that you've put money into your Solo 401k, the next step is to get that money to work.  Your options might differ depending on how much you have in your account.  No matter what though, you're going to want to look for Fidelity Index Funds with low fees.  Luckily for us, Fidelity has a ton of good options out there that are pretty much the same as those offered by Vanguard.
If you're trying to keep it simple, you can't go wrong with putting it all into a Total Market Index Fund.  Here are some suggestions that are available from Fidelity (remember, if you go with Fidelity, it's free to buy and sell their funds):
Fidelity Total Market Index Fund – Premium Class (FSTVX) (Expense Ratio = 0.09%/Minimum Investment = $2,500)
Fidelity Total Market Index Fund – Investor Class (FSTMX) (Expense Ratio = 0.04%/Minimum Investment = $10,000)
iShares Core S&P Total US Stock Market ETF (ITOT) (Expense Ratio = 0.03%).
These options are exactly the same as the Vanguard Total Market Index Funds that we all love!
I personally put my contributions into FSTVX.  A 0.09% expense ratio is basically the lowest you can get and I get plenty of diversification by tracking the entire US market.  Once I have more money in my Solo 401k, I'll likely switch it over to FSTMX.  If I didn't have enough to meet the fund minimums, I'd buy ITOT.
Step 5: Make Sure You Record The Deduction
The last thing we need to do is to make sure we're recording our contribution so that we can get our tax deduction. If you're using Turbotax or some other tax preparation software, it'll take care of that for you.
If you're doing your taxes by hand, just go to line 28 on your Form 1040 and enter in what you contributed for the year.  That's it!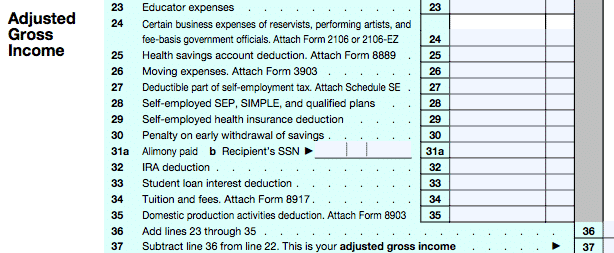 Please be aware that I am not a tax expert by any means, so make sure you consult with a tax professional as needed.
How Much In Taxes Did I Save?
Setting up the Solo 401k is a pretty big benefit given my working situation.  For some reason, my job only gives us access to a 457 plan, and as a result, I don't have a 401k plan at work.
The good thing, though, is that contributions to a 457 plan don't count towards my 401k contribution limit.  As a result, I'm basically able to create my own 401k and put almost all of my side hustle income in it.  That results in huge tax savings for me!
So how much did I save in taxes this year?  I managed to contribute $5,620 into my Solo 401k last year.  That money would have been taxed at the 25% tax bracket.  I always consider side hustle income to be taxed at my highest marginal tax rate since it's technically money that I otherwise wouldn't have earned.
With that said, here are my tax savings from making my Solo 401k contributions for last year:
Federal Tax Savings = $1,405 ($5,602 x 25%)
State Tax Savings = $441.17 ($5,602 x 7.85%)
Total Tax Savings = $1,846.17
Not too bad at all.  That's almost $2,000 in tax savings for the year.  And this is money that can now grow tax-free in my bonus retirement account that regular people don't get to have!
Are any of you side hustlers taking advantage of the Solo 401k or other self-employed retirement plans?