In previous posts, we've gone into detail about what it's like delivering for DoorDash and Uber Eats, along with strategies to maximize your earnings on those apps. In this post, we'll be taking a look at what it's like to be a Grubhub delivery driver. 
I first signed up for Grubhub about three years ago when I discovered that Grubhub was operating in my city. Like all the food delivery apps, what made Grubhub appealing to me was its flexibility. I could work whenever I want and earn extra income while also working a full-time regular job. 
These days, I work for myself now. But these food delivery apps (i.e. DoorDash, Uber Eats, and Grubhub) remain my favorite side hustles and ones I think many people should consider doing. You can make extra money on your own time. And they can be fun too.
In this post, we're going to go over what it's like to be a Grubhub delivery driver in 2023. And if you want to sign up to be a Grubhub delivery driver, you can do so with this link.
Why Should You Be A Grubhub Delivery Driver?
Before we get started, let me go through the reasons why you should consider signing up to be a Grubhub delivery driver. These include the following:
1. Flexibility (Sort Of). In contrast to Uber Eats, Grubhub does have a scheduling system, which would seemingly make the app less flexible. From what I understand, if you're on the schedule, you'll receive priority for delivery requests. In some areas, the supply of Grubhub drivers is high enough that you need to schedule yourself in advance to get deliveries.
I think scheduling is a pain. We're independent contractors, which means in exchange for not getting typical employee benefits, we're gaining flexibility. By requiring drivers to schedule in advance, delivery apps like Grubhub are essentially trying to get the best of all worlds.
That being said, at least in my market, it doesn't appear that you need to schedule yourself to get delivery requests. Instead, I simply toggle myself to be available. It can be slow during off-peak hours, but during peak hours, I'll generally get delivery requests without much issue. Indeed, in all the years I've been a Grubhub delivery driver, I've never put myself on the schedule. It hasn't seemed to impact my ability to get orders.
2. I Can Use My Bike (Sort Of).  When you sign up to be a Grubhub delivery driver, you do get the option to deliver via a bike or scooter. However, when I tried to sign up as a bike courier in my city, the app wouldn't let me because it said that bike delivery wasn't available in my city. Since I couldn't sign up as a bike courier, I opted to sign up using my car.
However, I don't like doing deliveries in a car, so even though I signed up with my car, I still do my deliveries on a bike. To avoid distance issues, I reject any orders that are going too far away. So far, I've had no issues using my bike to do deliveries with Grubhub. 
3. Grubhub Tends To Pay The Most Per Delivery When Compared To DoorDash Or Uber Eats. In my market, Grubhub seems to pay the most per delivery, although I have noticed a drop in payouts over the past few months. Previously, the minimum payout in my market was $9, but Grubhub seems to have gotten rid of that minimum. Still, even with the reduced minimum payout, I find that Grubhub still tends to pay the most on a per-order basis.
4. I Have Fun Delivering Food. Any side hustle I do has to be fun – otherwise, it's not worth doing. I find delivering food with apps like Grubhub to be fun. I get to be outside, exercise, explore new places, and make a little bit of extra money too.
How To Become A Grubhub Delivery Driver
Of all the food delivery apps, Grubhub seems to be the hardest one to onboard with. The other delivery apps don't seem to limit the number of drivers in any particular market, but when I first signed up for Grubhub, it placed me on a waiting list because it said my market didn't need any more drivers. I had also initially signed up as a bike courier but was told that my city did not accept bike couriers (which I find pretty crazy because my city is consistently rated in the top 1 or 2 biking cities in the US).
What made things more annoying is that it seemed like nothing was happening with my application after I was put on the waitlist. I first applied to be a Grubhub delivery driver in February 2018. After I applied, I didn't see any activity for months. Eventually, I decided to set up a monthly automated email message to Grubhub support asking about the status of my application. I finally ended up getting my application approved in May 2019 – over 1 year after I had initially applied! 
I don't know if my application got lost in the shuffle or what explains this incredibly long time frame between when I applied and when I was approved but I know that I'm not the only person who has had issues onboarding with Grubhub. My advice is to get your application into Grubhub as soon as you can and be prepared to wait a while and be persistent. It's worth getting onto Grubhub if you can because of the multi-apping opportunities it provides (more on multi-apping later in this post). 
The signup process itself is easy. You do everything online, so there's no need to go into a physical location to get your account activated. To qualify as a Grubhub delivery driver, you'll need the following: 
Be at least 19 years old.
A car (or a bike in select areas).
Driver's license and car insurance information.
A smartphone (obviously).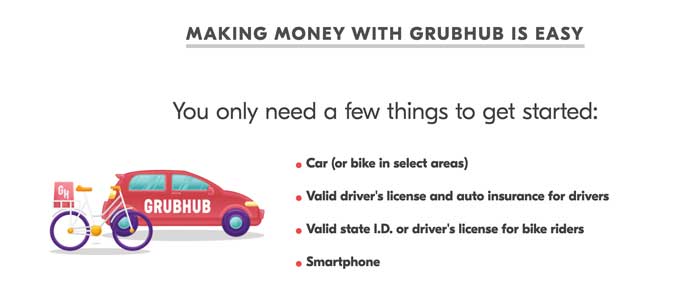 Once you're approved, you should be able to start doing deliveries immediately. Grubhub did not send me any delivery equipment, although I have seen people with Grubhub delivery bags. I'm not sure if those people bought the Grubhub bags from the Grubhub store or if they received them for free.
I do recommend having a delivery bag to keep the food warm. If you're going to deliver using a bike, you'll want to get a delivery backpack or set up your bike to hold the food (I use an Uber Eats delivery backpack that I bought from Uber Eats).
The only other thing you'll need is a Grubhub payment card. This is a prepaid debit card that you'll need to use for non-prepaid orders. The vast majority of orders on Grubhub are prepaid, so you shouldn't need to use this card often. The only place I ever need to use it is at a few fast-food restaurants. 
And that's it! You have your account active. You've got your Grubhub payment card. And you have your delivery bag to hold the food. Now you're ready to start doing deliveries. 
How Do You Deliver For Grubhub?
When you're ready to start accepting deliveries, open the Grubhub driver app, then toggle your status to "taking offers." In my market, you don't have to schedule yourself in advance, but in some markets, the supply of drivers is high enough that you might have to schedule yourself before you can start accepting deliveries.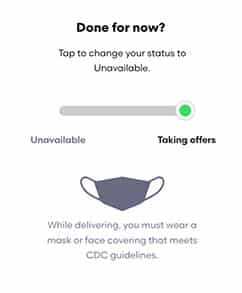 Once you've made yourself available, you'll get a notification on your phone each time a delivery request comes in. Each delivery request will give you the following information: 
How much the order pays (tip included). 
Which restaurant you'll pick up from. 
Where the order is going. 
If the order is not prepaid, then it'll tell you whether you have to order and pay or just pay upon pickup.  
Below is an example of a typical order. The yellow box shows where the restaurant is. The green box shows where the customer is located. You can also see how many orders you're picking up and what it pays. This pay includes the tip amount, so what you see is exactly what you'll get.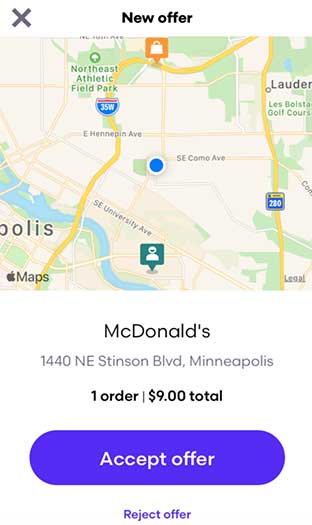 Look at the information in your delivery to see if it makes sense for you. If it does, click to accept the order. If it doesn't, feel free to reject it. You'll need to select a reason why you're rejecting the order, but it doesn't matter which reason you pick. I usually choose that the order is too far away or that the total value is too low.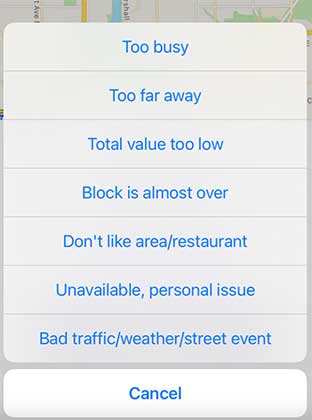 After you've accepted the order, you'll head off to the restaurant to pick up the food. When you arrive at the restaurant, click arrived, then click that you have the order once you receive it. After that, click to start the delivery and head off to the customer.
You can send pre-written texts to the customer through the Grubhub delivery driver app. Typically, I like to send the customer a message that says I'm on the way, then I send another message saying I've arrived when I get to the customer's address.
Depending on the order, you'll either leave the food at the front door and send an automated text to the customer letting them know you've left the order outside of their door or you'll hand the order to the customer directly. DoorDash and Uber Eats both have you take a picture of the food if it's a contactless order. In contrast, Grubhub doesn't make you do that. That being said, I still like to snap a photo of the order for my records just in case there's any dispute about the delivery.
Overall, the delivery process is straightforward. There are, however, some nuances to consider. We'll get into more details and strategies in the Grubhub driver strategies section of this post.
How Much Does Grubhub Pay?
In this section, we'll go over what Grubhub pays and what you can expect to make as a Grubhub driver. 
How Does Grubhub Calculate Driver Pay?
Your pay on Grubhub technically consists of the following items: (1) delivery pay; (2) mileage pay; (3) tips; and (4) bonus pay. In reality, though, the payment formula is not clear at all and I'd say it really only consists of two things – how much Grubhub is paying you for the order and how much the customer is tipping. 
What do I mean by this? In all the years I've delivered for Grubhub, I can't seem to figure out how they determine the payment amount. The interesting thing is that in my market, every order seems to have a minimum payment of $9. So, if the customer tips, Grubhub pays less. If the customer doesn't tip, then Grubhub pays more until it hits the $9 mark. And if the customer tips a lot, then the order can pay more than $9. 
Here's an example of an order that paid me $9, but where the customer didn't tip. As you can see, the order still paid me $9, but it was Grubhub that covered the entire payment.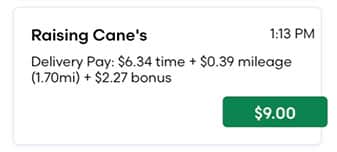 In contrast, here's an order I did where the customer left me a tip. I still received $9, but $3.26 of that $9 payment came from the customer.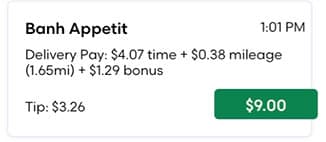 Ultimately, for me, it doesn't matter whether the customer tips or not, so long as I'm still getting what I want to get paid. In this case, getting $9 for an order, so long as the distance makes sense, is a no-brainer for me. 
How Much Can You Make As A Grubhub Delivery Driver?
The big question you have is probably how much can you make as a Grubhub delivery driver? Of the three major delivery apps, I find that Grubhub tends to pay the most per delivery. As I mentioned earlier, the minimum driver pay per delivery in my market is $9 (or at least I rarely see an order under $9). My friends that do Grubhub in other cities also find that Grubhub tends to average a higher per delivery payout compared to DoorDash or Uber Eats. 
It's great that Grubhub tends to pay the most per delivery. The downside is that, at least in my market. Grubhub isn't busy enough to rely on as your only delivery app. The best strategy, then, is to multi-app – that is, in addition to using Grubhub, you should also use DoorDash and Uber Eats. Turn on all of these apps at once, then piece your deliveries together. 
By itself, you'll probably average somewhere around $15 to $20 per hour with Grubhub during peak times. But with the right multi-apping strategy, it's possible to make much more than that. In my market, I average $30 to $40 per hour. And I do my deliveries using a bike! Whether you can pull this off is heavily dependent on your market, the neighborhood you work in, and your general skill at picking and choosing the correct orders. 
If you're wondering how you can average $30 to $40 per hour, think of it using this math: 
Figure out the average amount you make per delivery. I tend to average between $6 and $8 per delivery. If you want to be more conservative or aggressive with your estimates, adjust your numbers accordingly. 
Estimate how many deliveries you can compete per hour. Volume is key in the delivery game. I only work during peak hours and since I multi-app, I'm usually able to average 5-6 deliveries per hour.
With those two numbers (how much you make per delivery and how many deliveries you complete per hour), you'll be able to get a good estimate of what you can earn. Complete 5 deliveries per hour at an average of $6 per delivery and you'll make $30 per hour. Do 6 deliveries per hour at $8 per delivery and you'll make $48 per hour. The goal for me is to end up somewhere between these two numbers. 
It's important to note that making this level of income per hour is really only possible if you limit your work to peak hours. If you're doing deliveries all day, you won't be able to pull this off. That's why I tend to think of apps like Grubhub as more of a side hustle, rather than something you use as a full-time job.
Grubhub Delivery Driver Strategies
There are strategies you need to know to maximize your earnings. My guess is that if you're the type of person taking the time to read a post like this, you're probably the type of person who's going to earn more than the average Grubhub delivery driver.
Here are some strategies for you to consider that will allow you to earn the most money you can with Grubhub.
1. Don't Be Afraid To Cancel Deliveries 
Time is money in the delivery game. The faster you can complete your order, the more you'll earn. And conversely, the longer it takes you to complete an order, the less you'll earn. The mistake I see a lot of Grubhub drivers make is sticking with a delivery request even when they know it's not going well. Maybe the line at the restaurant is really long or the order isn't ready yet. Or maybe you're multi-apping and realize that keeping the Grubhub order isn't worth it because you can make more with a different order. 
The thing is, most people don't even realize that you can cancel an order after you accept it. So long as you don't actually pick up the order, it's fair game to cancel it.
Unlike DoorDash, Grubhub does not seem to actually penalize you for canceling an order after you accept it. As a bit of background, with DoorDash, you have to maintain at least an 80% completion rating, which essentially means you can cancel 20 out of your last 100 orders before you start getting into deactivation territory.
In contrast, Grubhub does not appear to keep track of this stat. When you cancel an order that you accepted, the app will say that the order was "removed with penalty." I believe that this "penalty" has to do with your ability to schedule yourself further in advance. Since I don't schedule myself anyway, this apparent penalty doesn't do anything to me.
In short, unless you're in a market where you need to schedule yourself in advance, don't be afraid to cancel orders that you accept.
2. Pay Attention To When The Order Was Placed 
One very annoying thing with Grubhub is that they'll often send you orders at the same time that they send them to the restaurant. This can mean you arrive at the restaurant, then find yourself waiting for a long time while the restaurant prepares the food. This is in contrast to Uber Eats and DoorDash, which typically send orders so that they'll be ready by the time you arrive at the restaurant. 
While this can be annoying, it can also be used to your advantage. If you're multi-apping, you can continue doing deliveries for other companies while you wait for your Grubhub delivery to be ready. Or if it's not worth waiting, don't be afraid to cancel the order and move on. 
3. Strategize About Whether Long Orders Make Sense 
I think Grubhub is unique among the delivery apps in that they'll often send you orders that are high-paying but also very far away. It can often be tempting to grab one of these long orders because of how high the payout is. However, I think it's worth thinking carefully before accepting these types of orders. 
My main issue is that these orders often take you so far away from the main delivery areas that you end up making less since you have to travel way out and then make your way back. I'd rather aim for volume, doing multiple short orders in a tight area.
Of course, do what works for you, but be aware that just getting a high payout shouldn't be the only thing you consider. You want to think about how long it'll take you to complete each order. A $20 order that takes an hour to complete is worse than three $9 orders that you can complete in the same amount of time.
4. Use Multiple Delivery Apps (i.e. Multi-App)
To maximize your earnings, you need to become good at multi-apping. Relying on a single app is never going to make you as much money as using multiple apps at once. 
Whenever I do deliveries, I always turn on all of my food delivery apps – DoorDash, Uber Eats, and Grubhub. I then accept orders from all of these apps, piecing together deliveries that are all going in the same direction. 
Multi-apping is something you have to learn as you go. With enough practice, you'll discover the flow of your city and which orders to accept or reject.
The Negatives Of Being A Grubhub Driver
For the most part, Grubhub is a good delivery app that offers good pay per delivery but might not be as busy as some of the other apps. I tend to rank DoorDash as my best delivery app, with Uber Eats slightly ahead of Grubhub purely because of higher demand.
There are also a few negative things about Grubhub that can be annoying. Here are the negative things about Grubhub you should know about. 
1. Grubhub Sends Orders To Drivers Too Early 
In my opinion, the biggest issue with Grubhub is that they sometimes send orders to delivery drivers way too early. The most annoying is when you're near the restaurant and receive an order, mark that you have arrived at the restaurant, and then see that the order was placed by the customer at the same time you received it. If it's a regular restaurant, it means you're waiting at least 15 minutes for the order to be prepared. 
There's not much of a way to avoid these types of orders, but you can make it work to your advantage if you multi-app. For example, if you arrive and find that the restaurant just got the order, but you also have some other orders to do, complete those first, then make your way back to the Grubhub restaurant. 
The other option is to cancel these types of orders and move on to a different one. That's fine too. Either way, you want to keep yourself busy and avoid sitting around when you're working.
2. No Bike Option In Many Markets 
Grubhub seems to operate differently from DoorDash and Uber Eats in that they let customers order from restaurants that are really far away. As a result, Grubhub seems to limit the markets in which they allow bike couriers. I live in one of the most bike-friendly cities in the US and even my market doesn't allow bike couriers.
There is a way around this though. Assuming you have a driver's license and car insurance, you can sign up as a driver, then just do your deliveries using a bike. This is exactly how I've done it.
The downside with signing up as a delivery driver, but then using your bike, is that you'll get a lot of requests that are going way too far away for you to handle. My acceptance rate on Grubhub is around 10% to 20%, as I have to reject a lot of orders that I simply can't complete in a timely fashion.
3. Canceling Orders Can Be Annoying – If You Don't Know What You're Doing 
This is more of a nitpick, but I thought it was worth mentioning anyway. When you want to cancel an order, the Grubhub delivery driver app asks you to pick a reason why you want to cancel the order. If you pick certain reasons, Grubhub will require you to chat with a customer service representative. This is a waste of time that you don't want to deal with. 
Luckily, you can avoid this issue by picking the correct reasons for canceling an order. I always pick distance too far or I don't want to do this delivery. Both of those seem to allow me to cancel the order without having to talk to anyone. 
4. Grubhub Can Have A Long Wait List 
I mentioned this in the signup section of this post, but one thing I've noticed with Grubhub is that it can often take longer to onboard with them compared to DoorDash or Uber Eats.
I don't know if they limit the number of drivers more or why this is the case. It took me over a year before I could sign up. Whether this was a fluke or something more common is unclear. The main thing is to be aware that if you want to sign up for Grubhub, you may have to be prepared to wait (and be persistent in checking on the status of your application). 
5. Scheduling Yourself 
This isn't something I've ever had to deal with, but I know that in some markets, you have to put yourself on the schedule to do deliveries. I'm not a fan of apps that require you to schedule yourself in advance since we're independent contractors and shouldn't have to work any set schedules. If you're in a market that is busy enough where you have to schedule yourself, then this is a big negative for Grubhub.
Other Things To Know About The Grubhub Delivery Driver App
This final section is a bit of a catch-all section with some things about Grubhub that I think are worth mentioning. These include the following: 
1. You Can Switch Markets 
Grubhub is different from DoorDash and Uber Eats in that you can't automatically do deliveries in another market. I like being able to turn on my delivery apps anywhere because it's a way I can earn money while I travel. 
The good thing is that it's not that hard to switch markets. All you have to do is email Grubhub driver support and let them know you want to switch markets. It should take about a day or two to get a response. It's not worth it if you're only going somewhere for a short time, but if you know you're traveling and want to plan, you can switch your delivery market pretty easily. 
2. Grubhub Does Not Have A Rating System 
DoorDash and Uber Eats both have a rating system. If your rating gets too low, you risk being deactivated. Interestingly, Grubhub doesn't have a rating system. Customers don't directly rate you, which means you generally don't risk deactivation from angry customers. This removes a lot of the pressure from you as a driver.
That being said, I still try to give good service because a bad customer complaint could theoretically get you deactivated. But there's still a lot of comfort in knowing that you can't get deactivated because your rating drops below some threshold.
Final Thoughts
Grubhub is a good delivery app that tends to pay well for each delivery. In some markets, Grubhub might very well be the best delivery app in your city. 
Where I live, Grubhub is my third best app – falling slightly behind Uber Eats mainly because of volume. The fact is, Grubhub is not as busy in my city compared to DoorDash or Uber Eats. 
Still, Grubhub is an integral part of my multi-apping strategy. Without it, I would earn significantly less. This is especially true because Grubhub pays so well for each delivery, so when I get a good delivery, it really increases what I earn. 
I hope this post was helpful to anyone looking for more information about Grubhub and some of the strategies you can use to maximize your Grubhub delivery driver earnings. If you have anything you'd like to share, please do so in the comments. 
I also have other in-depth posts about other delivery apps you can use. Check them out below. Hope this helps!