When does Grubhub pay? If you're reading this, you're probably a Grubhub delivery driver or thinking about becoming one and you're wondering when Grubhub pays its drivers. 
Here's the answer if you're wondering when does Grubhub pay. There are two ways Grubhub pays its drivers. The normal way is Grubhub pays drivers once per week. However, if you can't wait for the weekly payout, you can also use Grubhub Instant Cash Out, which allows you to cash out your earnings immediately for a 50 cent fee. 
Let's look at each of these payout methods and consider the pros and cons of each.
When Does Grubhub Pay – Direct Deposit Payments  
The first (and primary) payout method is via weekly direct deposit. Grubhub sends payments to drivers' bank accounts every Tuesday. If you have a regular bank account, it'll likely take 1-2 business days for the payment to process, which means you'll receive your payment on Wednesday or Thursday (more likely on Thursday). 
However, you can get your direct deposit earlier by using a bank account that pays early. I use Lili, which is an online business checking account that pays 2 days early. When Grubhub sends my direct deposit on Tuesday, I always receive it in my bank account the same day. If you're interested in learning more about Lili, check out my post, Lili Bank Review – A Free Business Bank Account For Freelancers And Gig Workers.
The regular weekly Grubhub direct deposit has no fees, so that's how I get my payment. I recommend you do the same because, on principle, I don't think you should pay fees to get your own hard-earned money. 
To set up direct deposit, you'll need to add your bank account information in the Grubhub Driver app (your routing number and account number). You can change your bank account information under the profile section of the app. Once there, you'll see a section that lets you input or update your bank account information. 

That being said, I know there are situations when you may be in a pinch and need to get your Grubhub earnings faster. In that case, you could opt for Instant Cash Out.
When Does Grubhub Pay – Instant Cash Out 
Grubhub Instant Cash Out is a service that Grubhub offers that allows drivers to immediately cash out their earnings to their bank account. It's similar to the DoorDash Instant Pay feature.
You can find the button to cash out your Grubhub earnings in the "Earnings" section of the Grubhub app. Note that you are limited to cashing out up to $500 per day. That's probably more than enough for most people, but it's worth noting in the interest of completeness. 
Cashing out your earnings does come with a small fee. Grubhub charges 50 cents each time you utilize the Instant Cash Out feature. That's actually a very reasonable fee, so cashing out your Grubhub earnings with Instant Cash Out is not that bad if you need the money fast. 
One important thing to note is that whether your earnings will be immediately deposited into your bank account depends on whether your bank supports Real Time Payments. Grubhub says that most major banks do support this feature, but some smaller banks do not. If your bank does not support Real Time Payments, you'll see a message saying that your bank doesn't support real time payments and that your funds will be deposited in 1-2 business days.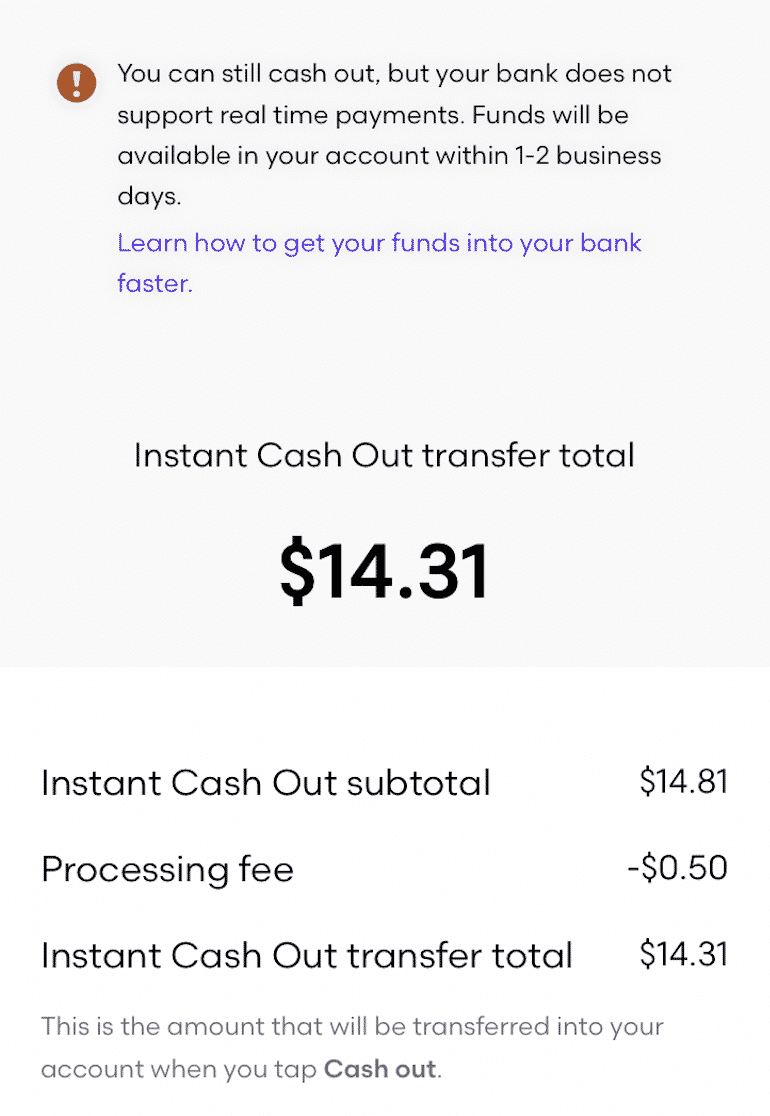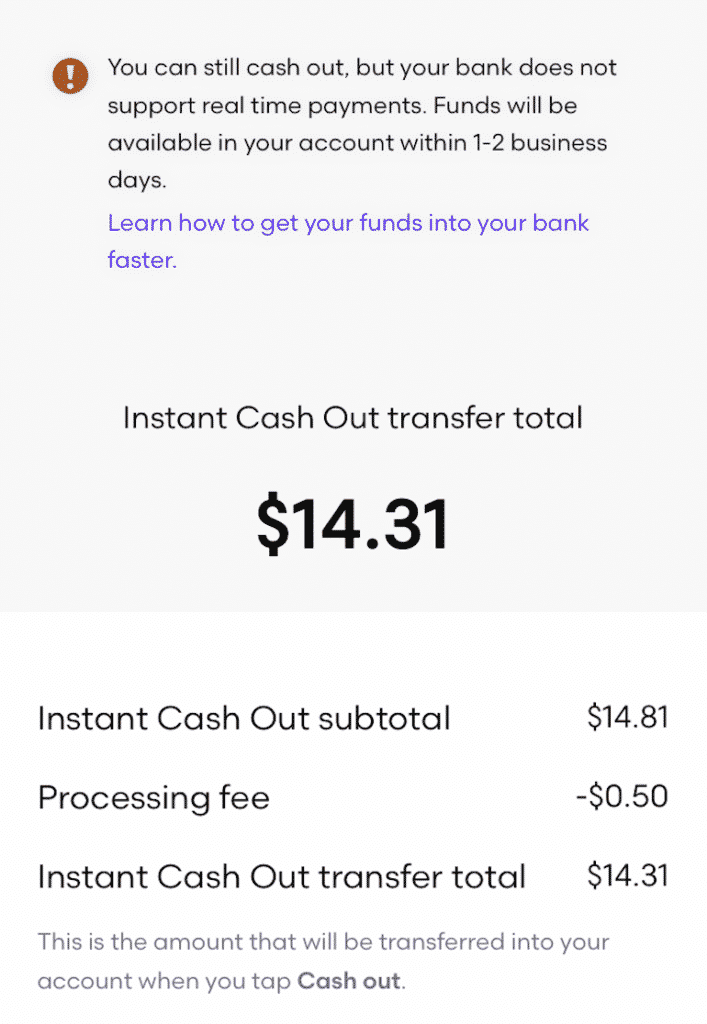 The only other limitation to Instant Cash Out is that you won't be able to use it for 72 hours after you change your bank account information. This is to prevent fraud. A common situation is someone gaining access to your Grubhub Driver account, then changing the bank information to their account, and then cashing out the earnings. The 72 hour waiting period helps to prevent this scenario (Pro-Tip: If you ever get a call from someone claiming to be a Grubhub employee and asking you to give them your password, hang up immediately). 
If your earnings are subject to garnishment, you also won't be able to use Instant Cash Out. 
Final Thoughts 
Grubhub pays weekly, so I don't think people should utilize the Instant Cash Out feature if they can help it. If you want to get your earnings quicker, consider signing up for an account like Lili or Chime, both of which pay 2 days early. That way, when Grubhub initiates the weekly direct deposit on Tuesday, you'll likely get the deposit on the same day. 
If you're in a pinch though, you can use Instant Cash Out and pay the 50 cent fee. It's not a large fee, so it can be worth paying if you need the money faster.