Several years ago, I found a side hustle that quickly became one of my favorites – charging electric scooters as a Lime Juicer. If you live in a large city, you've undoubtedly encountered these scooters before. Companies like Bird and Lime place shared electric scooters all around the city. Users can then download the respective apps and rent these scooters on a per-minute basis.
The side hustle opportunity comes from recharging the batteries on these electric scooters. Lime uses independent contractors that pick up scooters that are low on battery, recharge them in their homes, and then put them back out on the street at specific locations. They call these people Lime Juicers.
For years, I took advantage of this pretty easy side hustle, making extra money by simply walking out my front door every evening, grabbing a few scooters, and recharging them overnight. The next morning on my way to work, I'd drop off the scooters and get paid.
It didn't seem like it at the time, but the money I earned added up. Each day, I'd bring in about $20 to $30. Over a week, I could make $140 to $210 (and sometimes more if I worked a little harder). Today, I've now made over $5,000 charging Lime scooters. That's pretty incredible when you think about how easy scooter charging was for me.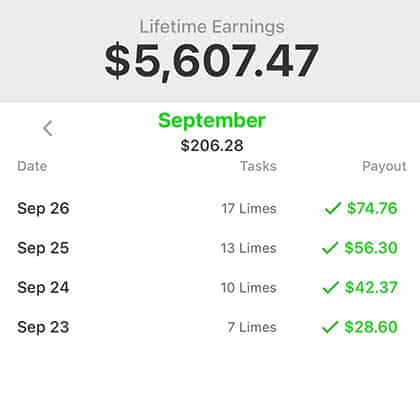 Unfortunately, Lime wasn't able to renew its contract with my city, leaving only Bird and Lyft left where I live. Both companies have similar scooters, but they use employees to charge their scooters, which means that for the past few years, I haven't been charging scooters regularly. As a result, I haven't talked about scooter charging much.
Recently, however, I was on a trip to Austin for a conference, and knowing that I was staying downtown and there'd probably be scooters I could charge, I packed my Lime scooter chargers. I was staying in an Airbnb, so that meant I had an apartment with plenty of space to charge scooters. And importantly, there was no concierge or hotel staff I had to worry about.
During the week I was in Austin for my conference, I made a little over $200 – all from doing something as simple as walking outside and grabbing a few scooters. My experience with charging Lime scooters reminded me how well it can work out to be a Lime Juicer if you're strategic about it and happen to have the right circumstances to make it worthwhile.
In this post, I want to go over how it works to be a Lime Juicer and why I think it's still worth doing.
How To Become A Lime Juicer
Signing up to be a Lime Juicer is straightforward. To sign up, you need to download the Lime app, then click the button that says "Earn With Lime." From there, you'll provide any information they ask for. You should be up and running almost immediately.
Once you're onboarded on the Lime app, you'll get an option in the app that says "Switch to Juicer." That'll let you go into Juicer mode, which allows you to see all of the Lime scooters that need to be recharged
The only equipment you'll need to be a Lime Juicer is the scooter chargers. Lime used to give these away, but unfortunately, they no longer do that now. These days, you have to purchase individual chargers. In the Lime app, there's a button that you can click to purchase scooter chargers. Lime doesn't sell the scooters themselves, so the link in the app goes to Amazon. You'll find that scooter chargers range from $10 to $15, so you'll have to spend a bit of money if you want to get started as a Lime Juicer.
How To Harvest And Serve Lime Scooters
Working as a Lime Juicer requires you to do two things:
Find scooters that need to be charged and recharge them in your home.
Bring the fully-charged scooters back outside and put them at a Lime Hub.
The first step is what Lime calls "harvesting." This is when you find a scooter that is low on battery and bring it home to charge. To do this, first, you'll open the Lime app in Juicer mode, then see what scooters are around you. The app will show you all of the available scooters that need charging, along with how much you'll earn for charging the scooter. Green scooters need charging. Red scooters need to go back to a Lime base for repair. Typically, if you check in the evening, you'll find a lot of Lime scooters that need to be charged.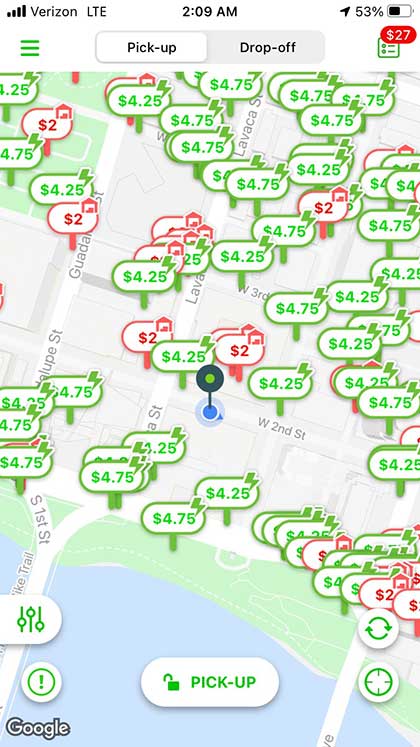 If you live in a neighborhood with a lot of scooters, then getting the scooters home won't be an issue. You can simply walk the scooters home or ride them home (more on riding Lime scooters as a Juicer in a later section). I don't recommend scooter charging if you don't live in a neighborhood with a lot of scooters, but that's up for you to decide whether it's worth it or not. For me, I think of working as a Lime Juicer as a pure side hustle that I do for fun, not something to actively spend a lot of time on.
In general, charging a scooter should take you about 5 hours. The amount of electricity it takes to charge a scooter is minimal. Most people have a misconception that small electric vehicles like ebikes and scooters take a lot of electricity to charge, but the truth is, they don't. At most, charging a scooter will cost you about 2-5 cents in electricity.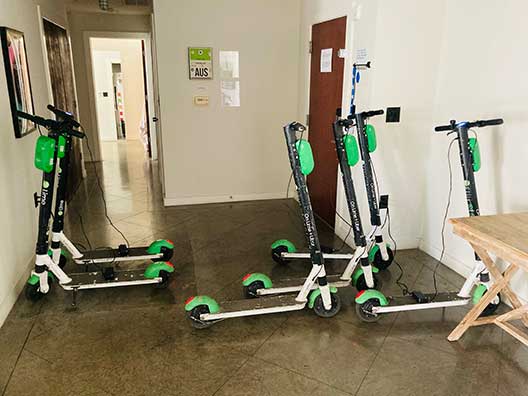 Once the scooter is fully charged, the next step is to "Serve" them at a Lime Hub. This means putting the fully-charged scooter in a designated space that you'll see in the app. If you live in a neighborhood with a lot of scooters, you'll probably have a lot of Lime Hubs nearby. Most likely, you'll be able to walk them over or slowly scoot them over. 
And that's it. You'll earn your money after you serve the scooter. You might wonder when does Lime pay? The nice thing about Lime is that they pay every weekday. You'll always get paid for your scooters the next business day after you serve them, so you don't have to wait long to get paid.
How I Made $200 Charging Lime Scooters While I Was Traveling
As I mentioned, when Lime was operating in my city, side hustling as a Lime Juicer was super easy. Each night, I could step outside and choose between dozens of Lime scooters all within a block or two of my house. It's been a bummer since they left my city because Lime was an easy source of side hustle income for me.
When I travel though, I always like to check if the place I'm going to has scooters. Usually, I'm staying in a hotel, so charging scooters doesn't work out too well since no hotel will let me bring a scooter into my room. When I was in Indianapolis a few years ago, I stayed at a hotel that had a side entrance, so I was able to sneak scooters into my room without the staff seeing me. 
On my recent trip to Austin, I had an Airbnb in an apartment building. Even better, my place had no apartment staff at all, so I was easily able to bring scooters in and out without any fear. Downtown Austin is littered with scooters everywhere, so getting my hands on several Limes throughout the day was not difficult. Most of the time, I barely even had to step off my route to grab a scooter. 
I ended up charging 48 scooters over the 5 days I was in Austin. That might seem like a lot, but you have to remember that I was charging scooters throughout the day. I'd often grab six scooters in the morning, charge them up, then drop them off before grabbing another 6 scooters in the evening. 
I had a blast doing it too. It'd been a while since I'd charged any scooters, so I forgot how much fun it was to do this.
Lime Juicer Strategies
Start Small and Stay Consistent. The secret with anything in life, I think, is consistency. Time is the superpower that all of us can use, and if you can stay consistent for a long enough time, big things will start to happen. 
The same is true with side hustling as a Lime Juicer. Making a few bucks a day charging scooters doesn't seem like much. But if you stay consistent, you can see how it can add up. Just $10 per day – which means you're charging 2 or 3 scooters – adds up to $3,650 over a year. If you live in the right neighborhood, charging 2 or 3 scooters per day takes no time at all. You can see how after a year or two, you can easily make $5,000 or more, just charging scooters in your neighborhood.

Stay On Foot If You Can. I sometimes see people loading scooters into their trucks to charge them. If you've done the math and that makes sense for you, go ahead and do it. Personally, it's not worth it for me to use a car. Not only does it not seem cost-effective, but it also seems unpleasant to charge scooters this way. 
Instead, the best way to do it is to treat this as a way to make extra income if you live in a neighborhood that has a lot of scooters around you. Fortunately, if you're young and live in a dense neighborhood, you probably do live in a place where scooter charging will make sense. If you live in Downtown Austin, for example, you're missing out if you're not taking advantage of scooter charging. 
The Changing Landscape Of Being A Lime Juicer
Scooter charging has changed a lot since scooters first launched. In the early days, numerous companies used independent contractors to charge scooters, making this an easy side hustle to get into. Unfortunately for the side hustlers out there, many of these companies have moved to using full-time or part-time employees instead of contractors to charge the scooters. 
The other tough change recently is Lime capping the speed of their scooters. One of the secret benefits of being a Lime Juicer was that you could ride the scooters for free. All you had to do was charge a scooter and then you'd have your own personal scooter you could use for a day or two. Lime knew people were doing this but didn't seem to do much to stop it until recently when they made it so the max speed for Lime Juicers is 5mph. That means you can still ride the scooter for free if you're a Lime Juicer, but it's only going to go 5mph. It's still slightly faster than walking, but not by much. 
Still, even with this change, I think side hustling as a Lime Juicer still has value. You need to have the right living situation, but if you're in that situation, take advantage of it. For a brief while, when I was in Austin, I had that ideal situation – an apartment in downtown Austin, with Lime scooters all around me.
If you've never used Lime before, feel free to use my Lime referral link.