For a few years now, my primary scooter has been the Varla Eagle One, a high-powered electric scooter from Varla. It's been a great scooter that covers a lot of situations for me – commuting, long-distance trips, and food delivery, to name a few. The downside is that the Varla Eagle One is an expensive scooter and probably offers more power than most people need for day-to-day commuting.
The Varla Falcon, on the other hand, is a more budget-friendly scooter with specs better suited to your average rider. And while it has less power than a high-powered electric scooter, it doesn't mean it's a weak scooter either. This is a scooter with a surprising amount of power and importantly, sold at a much more affordable price point.
I've had the pleasure of riding the Varla Falcon for a while now, putting it through its paces as I run errands with it, commute around town, and do food delivery with apps like DoorDash and Uber Eats. After putting some solid miles on the Varla Falcon, I thought it'd be worth reviewing and sharing my experience with it.
In this Varla Falcon review, we'll take a closer look at the Varla Falcon, discuss some of the things I like about it and some of the things I don't like about it, and consider whether this is the right scooter for you. 
Varla Falcon Review – Quick Overview
Here's a brief overview of the Varla Falcon:
Has a 500-watt rear hub motor with a max speed of approximately 22 mph.
Has an estimated range of about 22 miles.
The battery is a 48V 10.4Ah lithium-ion battery.
Max load of 265 pounds. This is a reasonably beefy scooter that can hold more weight than other budget scooters.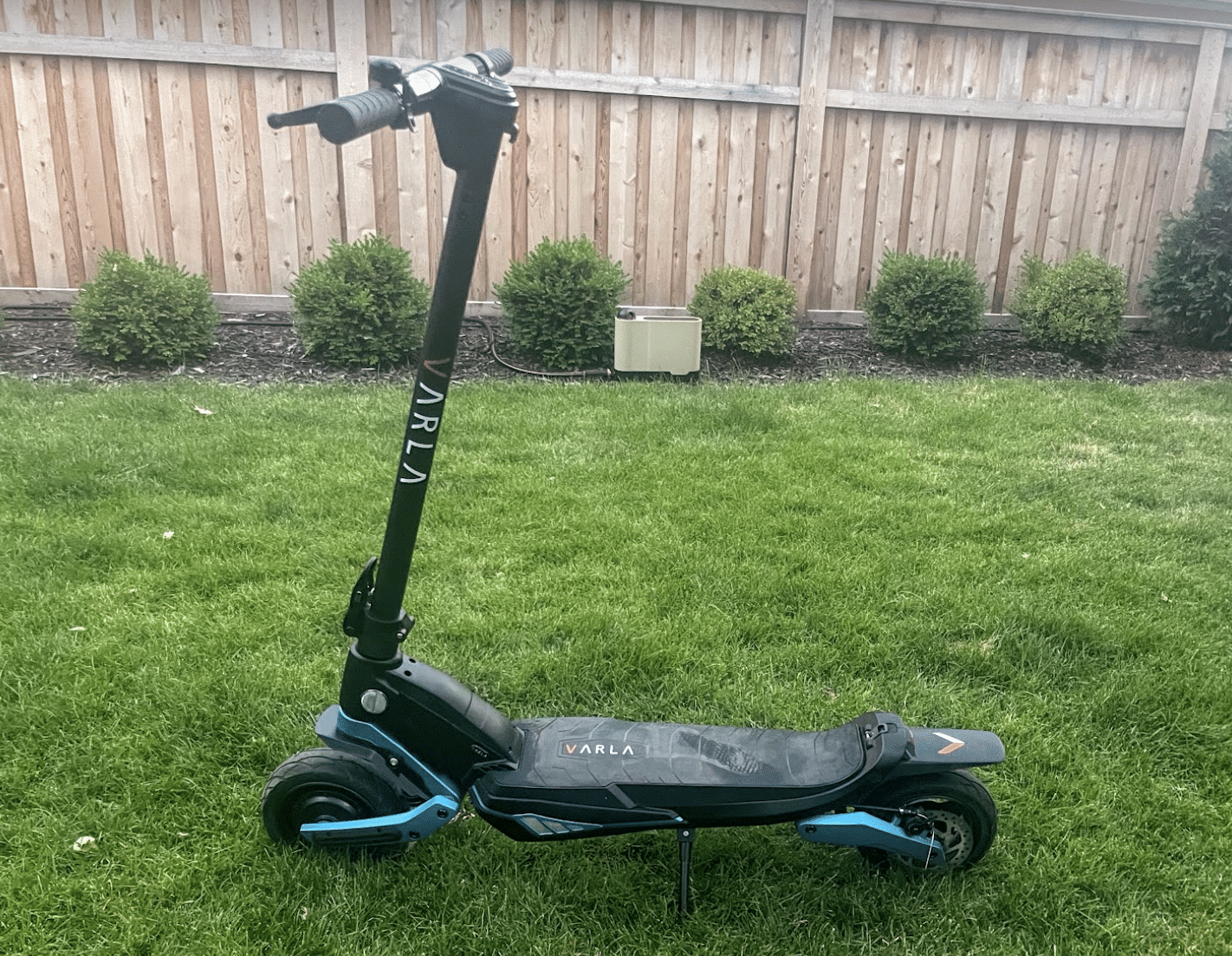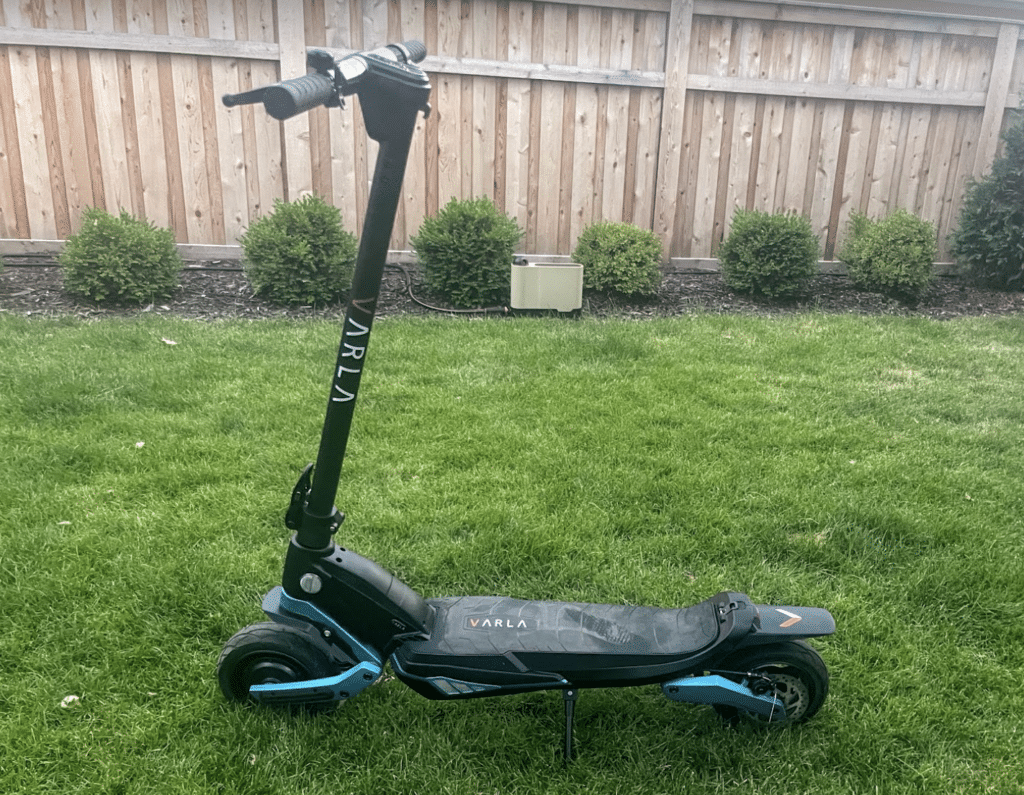 Pros: 
Has front and rear suspension, which helps make for a smoother and more comfortable ride.
Uses 9-inch, air-filled tires. This helps to make for an even smoother ride, especially when compared to similar scooters that use solid tires.
The scooter has a lot of power, which makes it possible to climb steep hills.
Cons: 
Varla estimates a range of 25 miles, but I found I got far less than that in real-world use. This can be a problem depending on your commute and the power level you use when riding.
Uses a single set of mechanical disc brakes on the rear wheel, which gives it less stopping power than I would have liked.
My Experience With The Varla Falcon 
The Varla Falcon arrives in a large box and can be assembled fairly quickly. Like with most scooters, you'll need to assemble the stem and handlebars. Varla has a video that walks you through the setup process (linked below).
One thing I did find interesting is that the Varla Falcon doesn't come with the brake line connected. It isn't difficult to connect the brake line to the rear caliper, but this is an extra step that I found odd, as it doesn't seem like it would be difficult for Varla to ship the scooter with the brake fully assembled. 
Riding the Varla Falcon is a pleasant experience. Unlike your typical entry-level scooter, the Varla Falcon offers a beefier frame, air-filled tires, and full suspension. This makes for a very smooth ride. It's great for getting around a city since it can absorb a lot of the bumps and potholes you'll deal with when city riding.
The deck of the scooter is also big, which gives you plenty of space to stand. The scooter is also a lot taller than I expected – the same height, in fact, as my high-powered electric scooters. Being higher off the ground is nice since it makes you more visible and makes it easier to see around you.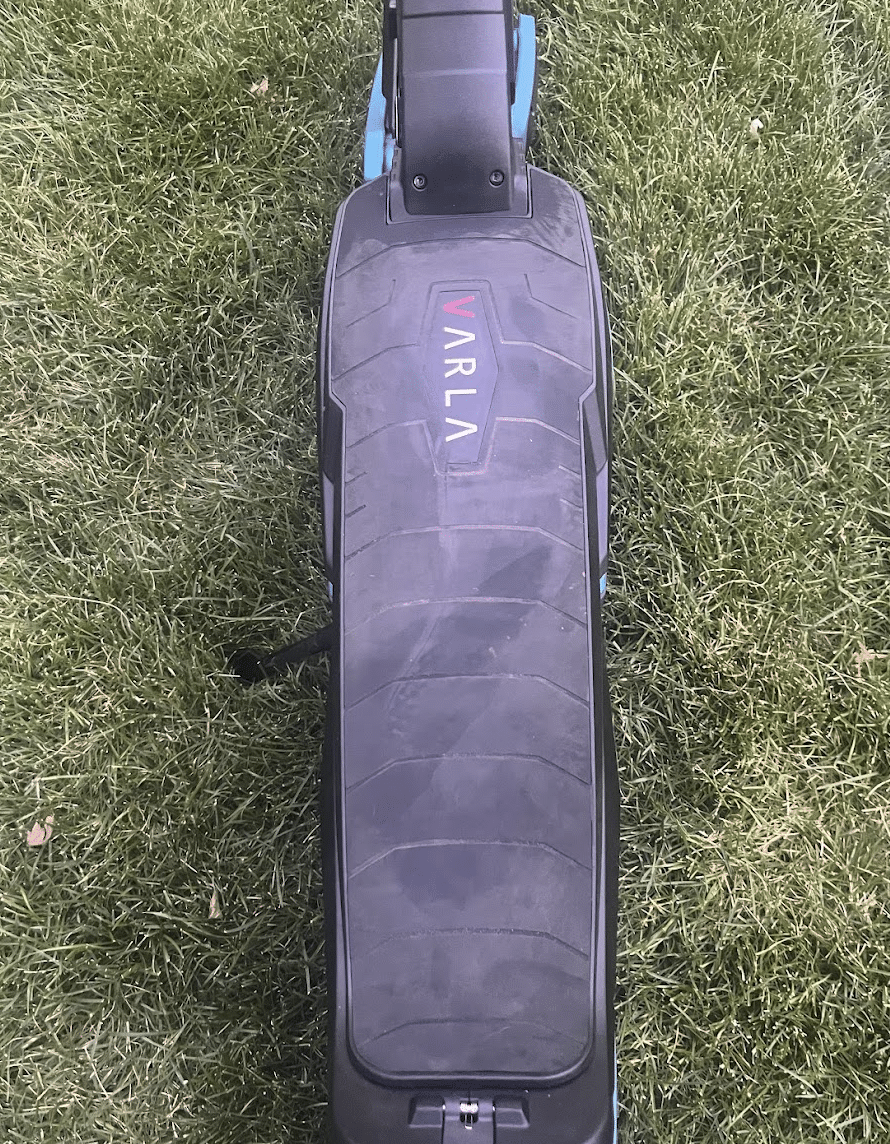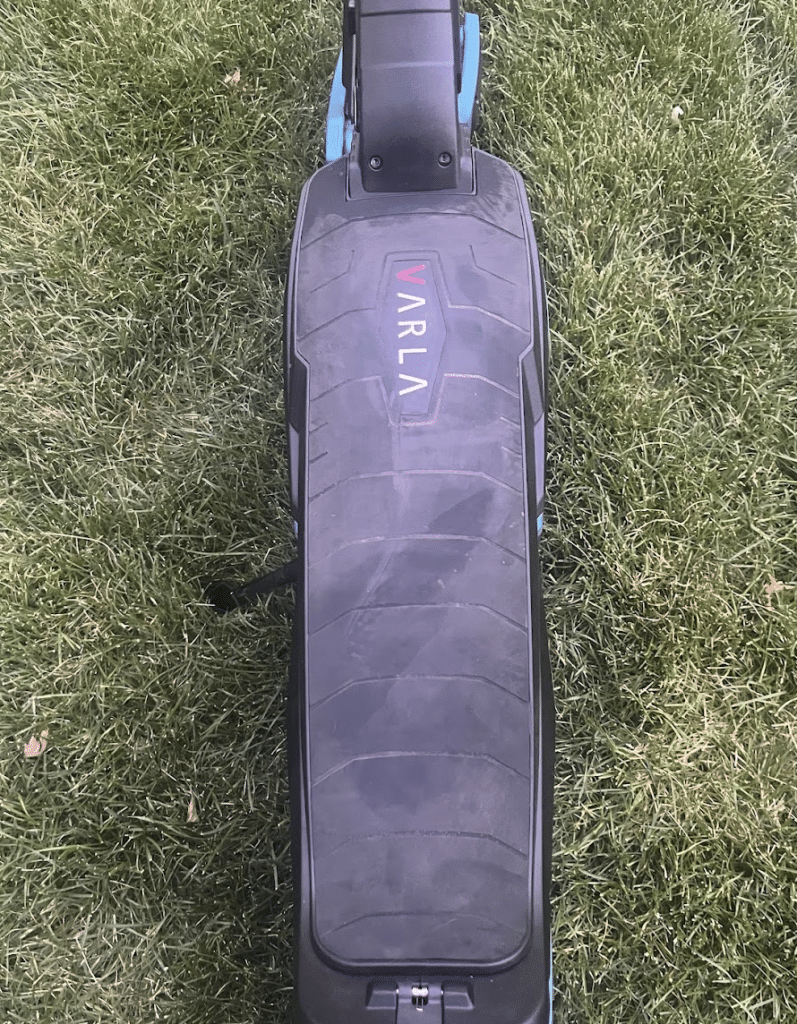 In terms of speed, the Varla Falcon offers three power levels which give you different max speeds. In the highest power level, you can expect a max speed of about 22 mph. The middle power level gives you a max speed of around 15 mph. I felt perfectly stable riding at 20 mph or so, but if you're a less confident rider, riding at 15 mph is plenty fast too. 
The range on the Varla Falcon will vary depending on riding conditions. Varla advertises a range of about 25 miles, but based on my usage, I doubt I could get that much range. I found that if I rode 10 miles or so, the battery would drop down to half-power, which leads me to believe that somewhere between 17 and 20 miles is probably a more realistic range. This is plenty of range for regular commuting, but I did find it limiting since I often like to go on longer rides. It's not a deal breaker by any means, as similar-priced scooters will give you a similar range, but it is something worth noting.
Varla Falcon – The Things I Like About It (And Some Things I Don't Like About It) 
There are a lot of things I like about the Varla Falcon. To start, the Varla Falcon has a lot of power for a mid-priced scooter. It's not going to hit the same speeds as a high-powered scooter, but the acceleration and top speed are definitely more than enough for most people – much more than your typical entry-level scooter, in any event.
The Varla Falcon is also a very comfortable scooter thanks to the dual suspension, air-filled tires, and wide deck. The deck gives you plenty of standing space, while the suspension and tires help it absorb bumps and road imperfections far better than typical entry-level scooters. As a city commuter, the Varla Falcon works out very well for someone who's willing to pay a little more for a more comfortable ride.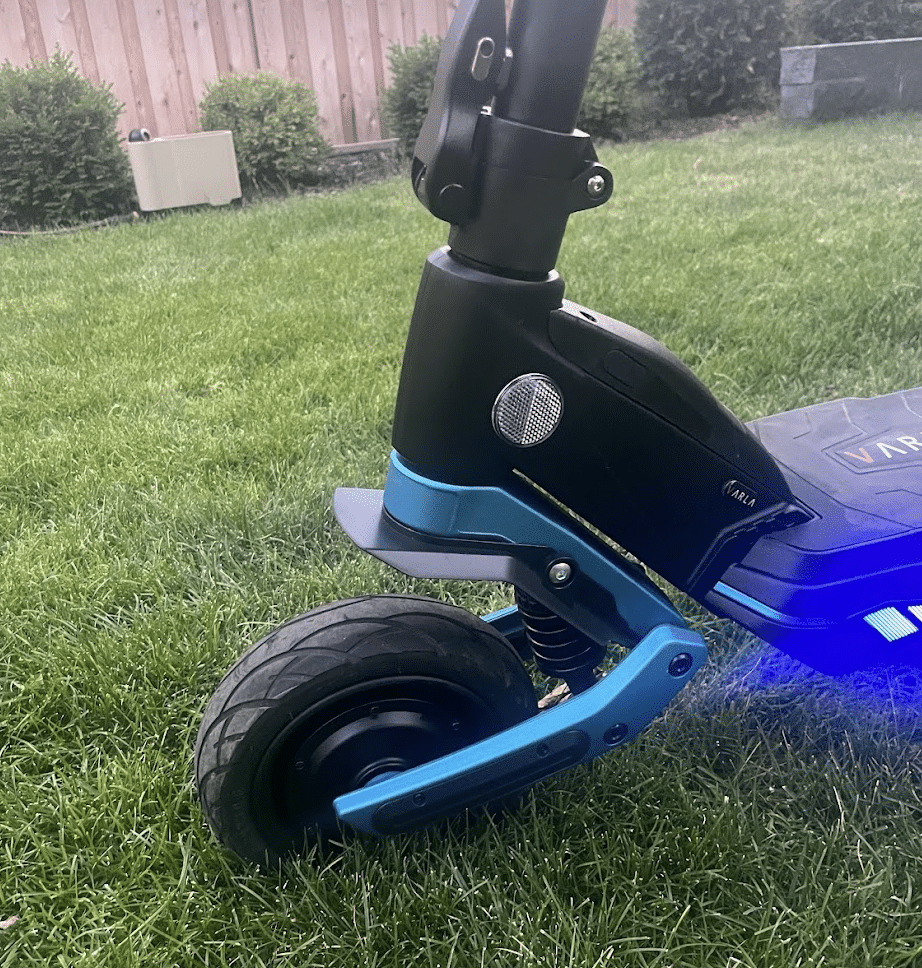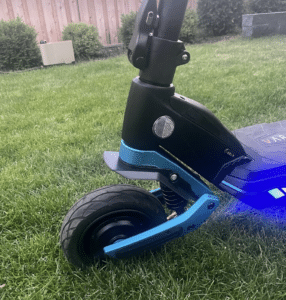 The speed on this scooter is also excellent. The Varla Falcon has three power levels, allowing you to get yourself to a speed that works for you. You'll get around 22 mph of max speed in power level 3, while power level 2 maxes out at around 15 mph. These are perfect speeds for me since I don't usually feel comfortable riding much faster than these speeds on electric scooters. 
Finally, in terms of looks, this is a cool-looking scooter. The scooter also has lights below the deck, helping to give you more visibility when you're riding at night. Of all the scooters I have, this one is definitely one of my better-looking scooters.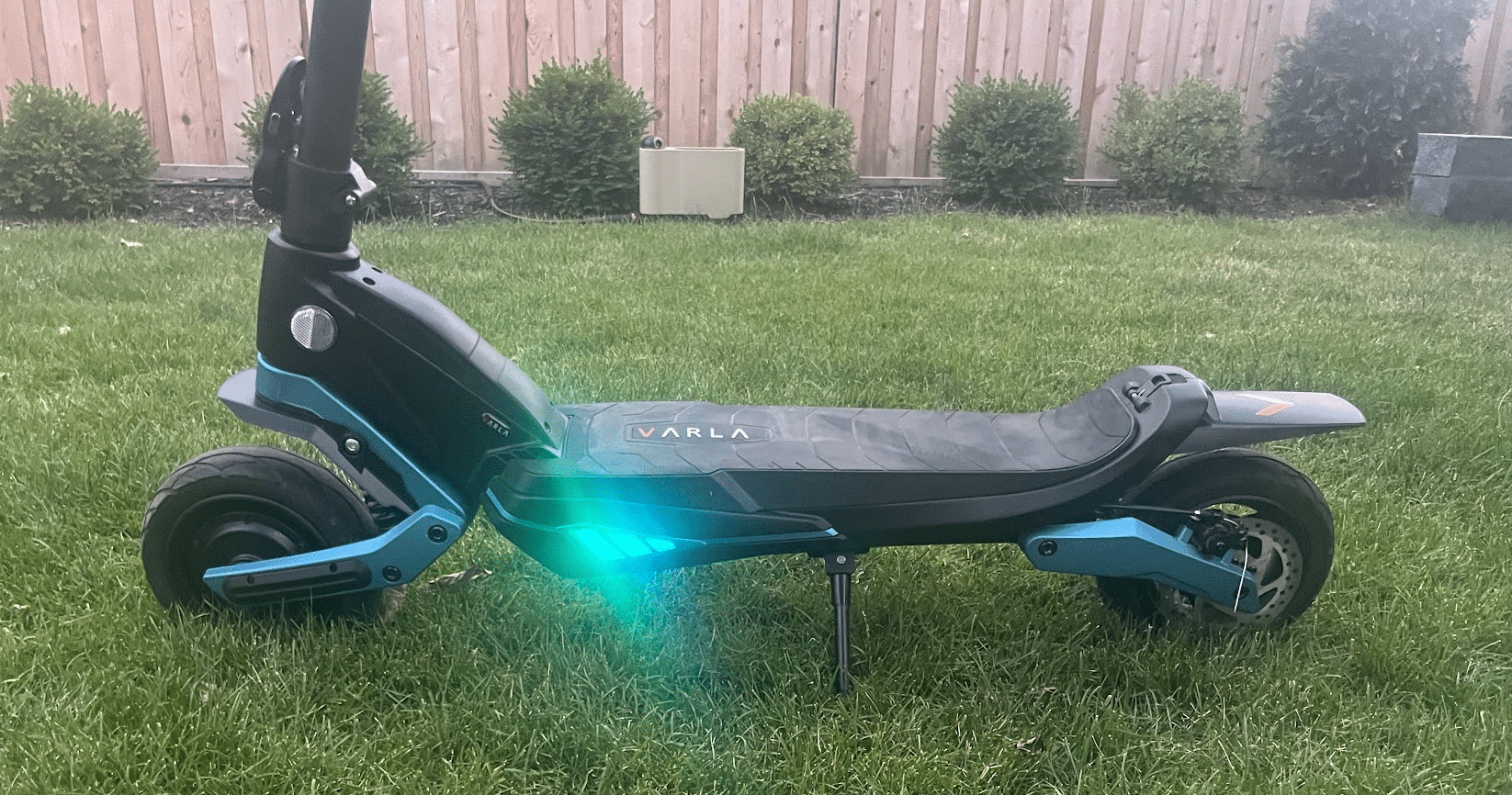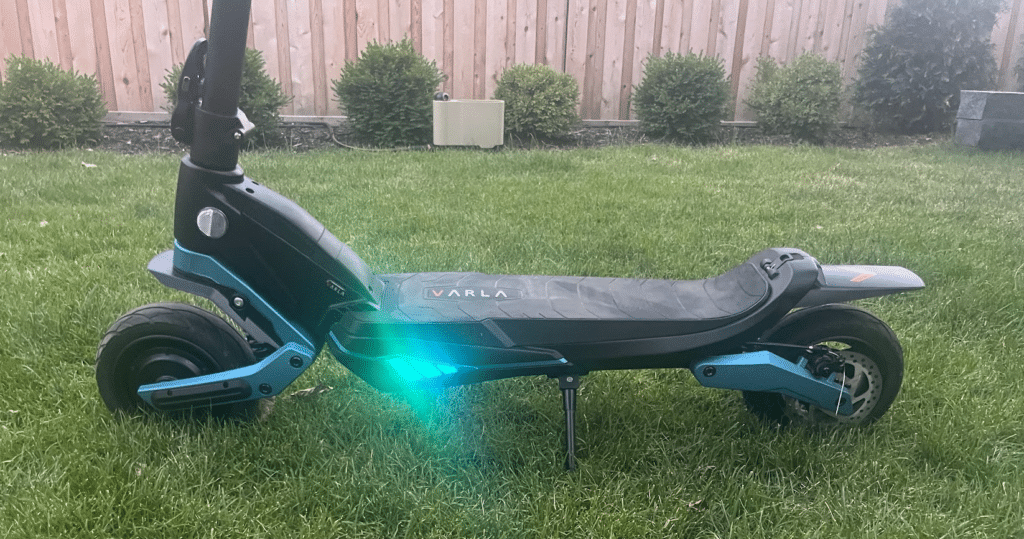 There are also a few notable things that I don't like about the Varla Falcon. The two main things are the brakes and the range. When it comes to the brakes, the Varla Falcon uses a single set of mechanical disc brakes on the rear wheel. The brakes are fine, but I think with the power the Varla Falcon offers, having a dual set of brakes would have been nice.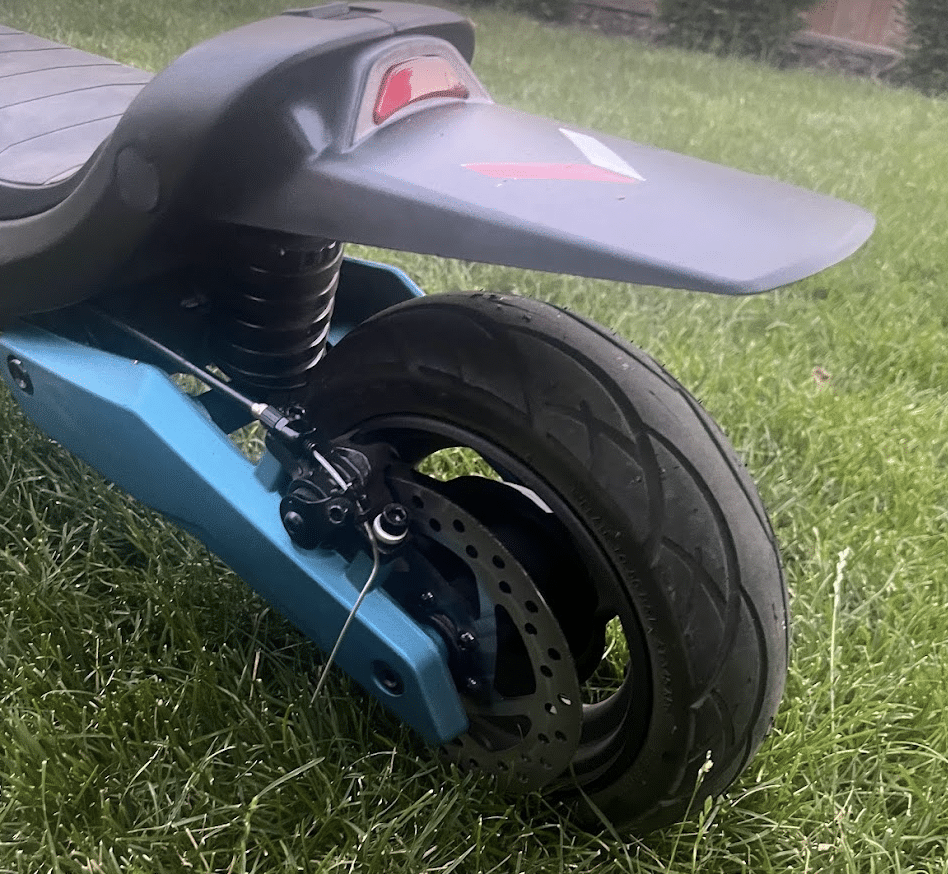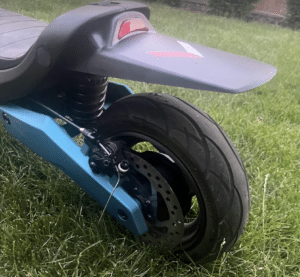 The range is also something that I wish was better. Varla advertises about 25 miles of range on a full charge, but this likely only applies if you're riding in a low power level on flat ground. I typically ride at the highest power level and I found that if I rode about 10 miles or so, I'd drain about half the battery. At the highest power level, you can probably expect around 17 to 20 miles of range. This is fine for most commuters, but if you're someone that expects to do longer rides, this is something you'll need to consider. I did notice that if I kept myself to power level 2, it could significantly increase the range, so if you're okay riding at 15 mph or so, you'll get a lot more battery power.  
Who Is The Varla Falcon For?  
I think the Varla Falcon is best suited for a commuter that is looking for a comfortable ride. With the large deck, good tires, and full suspension, it makes for a comfortable ride. If you have a commute in the 3-5 mile range, the Varla Falcon is probably ideal for you.
The Varla Falcon also works well for multi-modal transport. The stem folds up easily, and while this isn't a lightweight scooter, it is compact enough that you can put it into your car or bring it with you on a bus or train.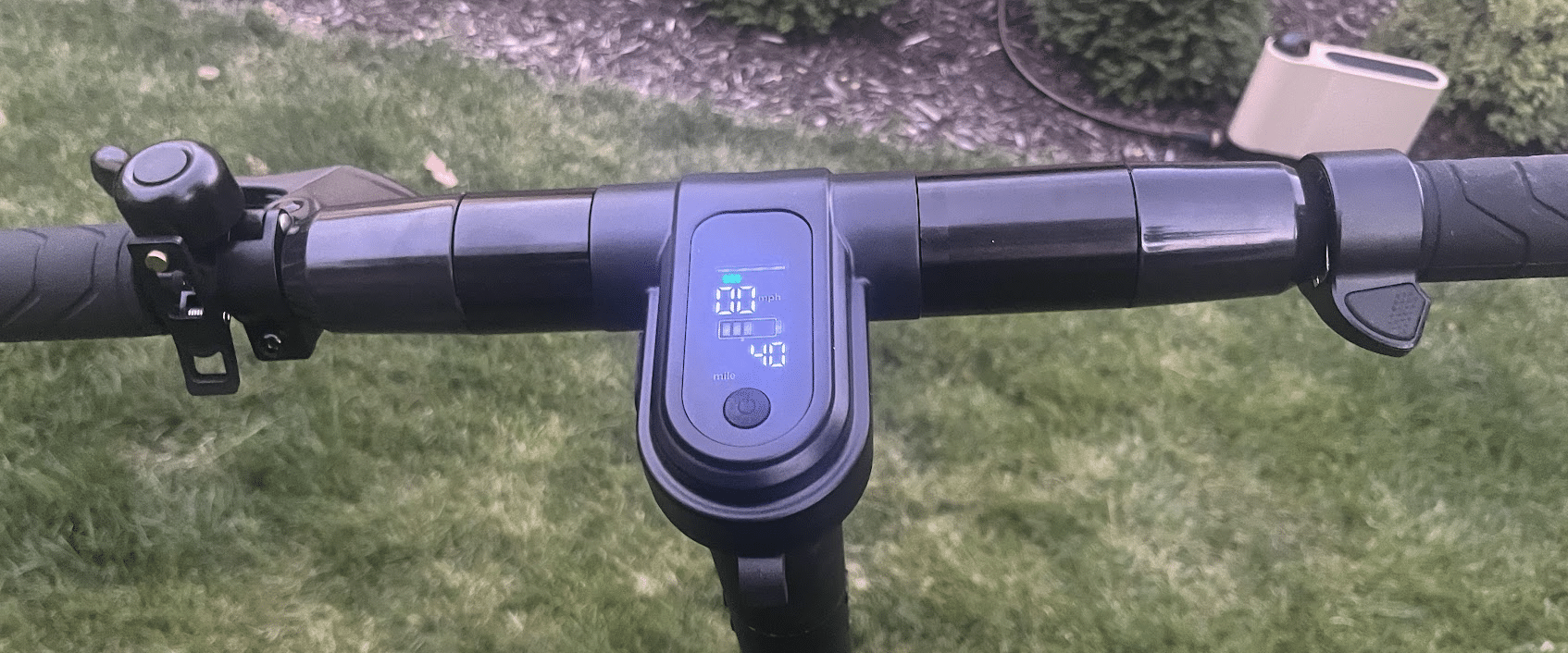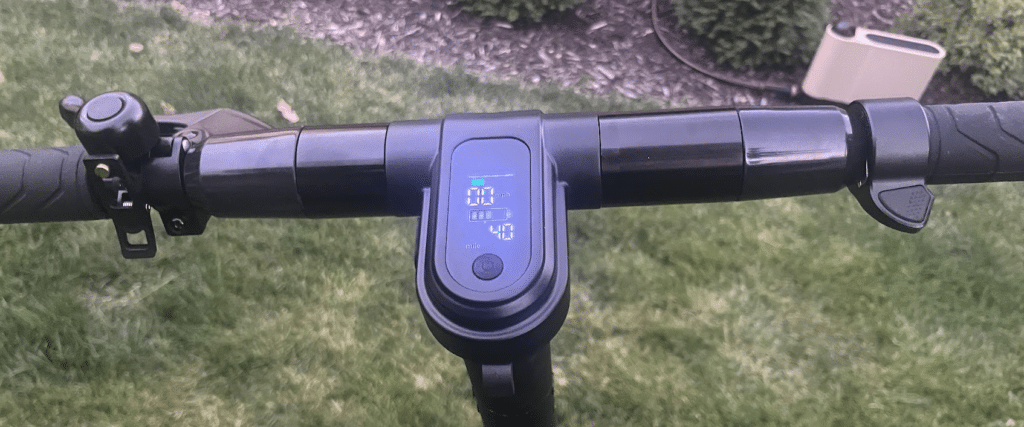 I usually like to use scooters for food delivery as well and while the Varla Falcon could work fine as a food delivery vehicle, the limited range could be an issue for anyone trying to do deliveries for an extended amount of time. For me, the Varla Falcon is fine for food delivery since I only deliver for DoorDash, Uber Eats, and Grubhub as a side hustle. I typically only spend an hour or so doing deliveries, so the range is good enough for me. But if you anticipate needing more range, I'd probably look for a scooter that offers more range.
Final Thoughts
Overall, the Varla Falcon is an excellent scooter that offers a good amount of power at a lower price point compared to more powerful scooters. It's not exactly an entry-level scooter, nor is it a high-powered scooter. I think it fits somewhere in-between those two categories – an intermediate scooter if I had to give it a category. 
For someone on a budget looking for a more powerful scooter, the Varla Falcon is one I'd consider looking at. There are cheaper scooters and there are more expensive scooters out there, but both come with trade-offs in terms of ride quality or price. For around $1,000, the Varla Falcon offers solid value, great power, and a lot of nice features. 
Be aware that because it has air-filled tires, it will require some maintenance. If you're looking for a similar scooter with fewer maintenance requirements, the Varla Pegasus could make sense since that scooter uses solid tires. The trade-off, however, is a harsher ride.
I hope this Varla Falcon review was helpful to those of you looking at getting a scooter. If you have any questions or comments, please feel free to leave them in the comments below.