If you ever see me in person, there's a good chance you'll find me riding around on an electric scooter. For years, I've used shared electric scooters from companies like Bird and Lime. I always knew I wanted to get my own scooter though, so I was beyond excited when Varla sent me the Varla Eagle One to try out. In this Varla Eagle One review, I'm going to go over the Varla Eagle One scooter, discuss some of the features I like about it, and give you the information you need to decide if this scooter makes sense for you. 
Before we get started, I think it's a good idea to talk about the differences between electric scooters. It's possible that if you're reading this, your only experience with electric scooters is via shared electric scooters from companies like Bird and Lime (I know that was my first introduction to the electric scooter world).
Bird and Lime scooters are what I often like to call "toy" scooters. They have small wheels, are fairly lightweight, and typically have a max range of 15 miles and a top speed of around 15 mph. These scooters do the job of getting most people from one place to another. But they're not utility vehicles or long-distance vehicles by any means.
The Varla Eagle One, by contrast, is a high-powered electric scooter with big wheels, dual motors, and double suspension. If your only experience with scooters is via Bird and Lime type scooters, a scooter like the Varla Eagle One is going to surprise you. It takes a little bit of adjustment to get used to the power that a scooter like this gives you, but once you start using a high-end scooter like this one, it's difficult to go back. 
The Varla Eagle One is one of my primary modes of transportation now and I've put hundreds of miles on it. Beyond just getting me around town, I've also been using it as my mode of transportation when I do food deliveries with apps like DoorDash, Uber Eats, and Grubhub (I'll go into more detail about the Varla Eagle One as a food delivery vehicle later in this post).
So far, I've been very impressed with this scooter. It's an outstanding scooter that's been well worth adding to my electric vehicle lineup. Let's take a closer look at the Varla Eagle One and what it has to offer.
Varla Eagle One: Brief Overview
The Varla Eagle One is a high-powered electric scooter with up to 40 miles of range and a max speed of 40 mph. 
It has two 1000w motors, making it powerful enough to climb any hills. 
Has four power modes, including an eco-mode, so you can travel at a speed that's comfortable for you or preserve your battery if needed. 
This is an excellent scooter for getting around town. The wheels have good traction. The suspension makes for a smooth ride. And it can go fast.
Pros: 
Heavy-duty scooter with a lot of power. It can keep up with traffic. 
Large deck and dual suspension make for a comfortable ride. 
This is a really fun scooter to use and get around a city with.
Cons: 
It's a heavy scooter, so not as portable as other lower-powered electric scooters. 
Could be too expensive for you depending on your needs. 
Repairs can be a pain. You'll either have to do repairs yourself or search for someone that is willing to work on electric scooters.
Taking A Look At The Varla Eagle One
The Varla Eagle One scooter is a high-powered electric scooter that features dual 1000 watt motors and a 52V/18.2Ah lithium-ion battery. This is a powerful scooter, with a max speed of about 40mph. That's incredibly fast for me – and admittedly, I haven't tried to max out the speed since I'm too scared to take it that fast.
Luckily, the Varla Eagle One has different power levels that allow you to get the scooter to a comfortable speed for you. There are three different power levels, plus an additional eco-mode power level. If I need to preserve the battery, I'll put the scooter on eco-mode, which caps the scooter at 15mph. Most of the time, I leave it at power level 1, which gives the scooter a max speed of about 20mph. I find that's plenty fast enough for me. If I'm on an open, smooth road, I sometimes will put the scooter to power level 2 and punch it up to 25-30mph. 
Setting up the scooter is pretty easy, even if you aren't particularly handy. They ship it to you in a box and the only thing you need to put together is the handlebars. Varla includes an Allen wrench tool that'll allow you to screw everything into place. They also have a YouTube channel that has assembly instructions and you can find plenty of other YouTubers that have created their own assembly videos to help you walk through the assembly process.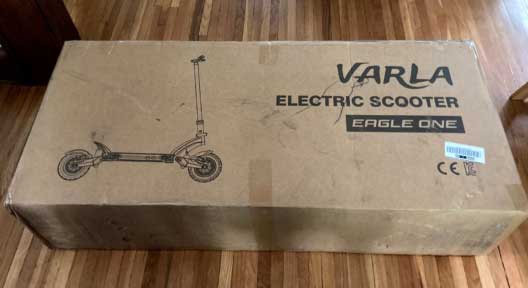 Getting to the build of the scooter, the body of the Varla Eagle is very comfortable. The scooter features front and rear suspension, which makes for a very smooth ride. The wheels are big and comfortable as well, allowing you to go through most road conditions without issue. I generally try to avoid hitting big bumps because I don't want to risk getting flat tires, but there are a lot of people out there that put their Varla Eagle One through some rough conditions.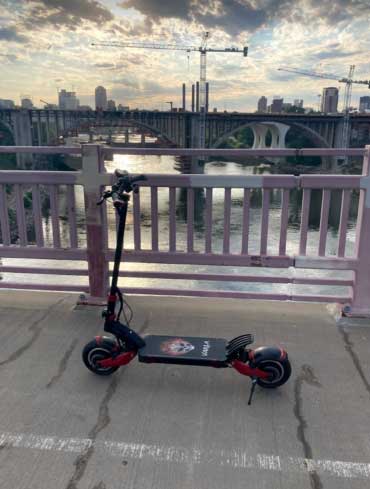 The deck of the Varla Eagle One is wide and comfortable, giving you plenty of space to stand. It also features a sort of rear tail thing that I like to place my back foot on when I'm riding. I like having this bit of extra space – I've used other scooters that don't have this rear tail and I've found it to be less comfortable for me to ride without it.
One other nice thing about the deck is that it can be customized with different deck stickers. The scooter comes with a default deck sticker, but they also send you three other deck stickers that you can use. If you want, you can also customize your scooter by getting your own deck stickers and cutting them to fit the deck dimensions.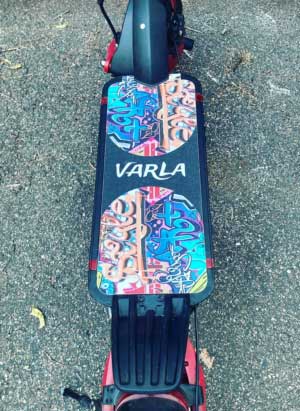 Finally, anyone interested in this scooter should know that it's heavy, weighing in at around 80 pounds. This makes the Varla Eagle One less portable compared to lower-powered scooters like your Bird and Lime-style scooters. If you have to carry your scooter up and down steps, it'll be a bit of pain. I had to lift it up and down steps at my old house, which wasn't that fun to do (thankfully, I recently moved to a new house and now have a garage that I can scoot right out of).
The Things I Like About The Varla Eagle One 
Here's a brief rundown of some of the notable features of the Varla Eagle One that I enjoy:
1. The Large Wheels and Dual Suspension Make for a Smooth Ride. One thing that surprised me about the Varla Eagle One was how smooth a ride it provided. Before the Varla Eagle One, the only scooters I'd used were Bird and Lime scooters. These scooters are fine for getting you short distances, but the wheels are small and they don't have any suspension. Anytime you hit a bump, you feel it.
By contrast, the Varla Eagle One has large wheels and front and rear suspension. It makes it very bouncy, which means it's able to absorb most bumps and road imperfections. In a lot of promotional materials for the Varla, they show people going off-road with the scooter. I wouldn't recommend doing that because this is an expensive vehicle and it seems silly to risk damaging it, but I guess it's possible if you wanted to ride off-road.
2. Powerful Motors and Acceleration. The Varla Eagle One features dual motors, giving the scooter a lot of acceleration and power. Let me tell you, this scooter can fly! I'm not someone that likes going super fast on a scooter, but it's nice to be able to keep up with traffic if you're riding on the street.
You can toggle between dual and single motors, which is nice because it gives you a bit more control over how much battery you're using and how fast you're going. Since I'm usually riding around on bike paths and city streets, I tend to stick to single motor riding, but I do punch it up to dual motors when I want a bit more speed.
3. The Deck is Comfortable and Has a Nice Rear Tail for Your Foot. 
The deck of the Varla Eagle One is big, giving you plenty of space to stand and get comfortable. The thing I like that might not seem like that big a deal is the rear tail. It gives me a spot to put my foot on, putting me in a more athletic stance compared to if I had both of my feet flat on the deck. I've used other high-powered scooters that don't have this feature and have always found myself a little bit less comfortable compared to the Varla. 
4. The Scooter Has Good Range For What I Need It For. Most of my rides with the Varla Eagle One are either to do food deliveries or as a mode of transportation to get me places. Varla advertises that the scooter can get 40 miles on a charge, but that's only possible if you're riding on eco-mode.
Still, I haven't had any issues with the range on this scooter. I've been able to do several hours of food deliveries without any issues and I'm able to get around the city, also without any issues. I haven't done a full test to see what sort of range I get with normal use, but I've used it for at least 25 miles on a single charge. That being said, I also only ride in the lowest gear, typically sticking to 20mph or so. If you go faster than that consistently, you're going to see the battery life decrease.
Using The Varla Eagle One To Do DoorDash, Uber Eats, and Grubhub 
The main reason I wanted to get the Varla Eagle One was to try using it as a food delivery vehicle. For years, I've been doing deliveries on my bike with apps like DoorDash, Uber Eats, and Grubhub. It worked out well. I was making money and getting exercise at the same time. 
A few years ago, however, I got my first electric bike and started doing deliveries with that. It was probably one of the best things I've ever bought. And thanks to a little strategy of mine, I also regularly used Lime scooters to do my DoorDash, Uber Eats, and Grubhub deliveries. It was my experience doing deliveries with Lime scooters that got me thinking about getting a high-end scooter to use as my delivery vehicle. 
The Varla Eagle One has worked out perfectly as a delivery vehicle that I've been using with DoorDash, Uber Eats, and Grubhub. I use the same gear that I use on a bike – a helmet and a food delivery backpack. When I get a ping for a delivery, I pull off to the side, check my phone, and see if the order makes sense for me to accept. 
The Varla Eagle One wasn't created to be a food delivery vehicle, but it has one feature that is perfectly suited for people thinking of using a scooter with DoorDash, Uber Eats, and Grubhub. Specifically, the Varla Eagle One requires a key to turn it on. It's similar to how you'd use a car. The nice thing about having a key is that when you're doing deliveries with the Varla Eagle One, you can park outside of the restaurant, turn off the scooter, take the key out, and then run inside to grab the order. 
Yes, someone can still theoretically walk away with your scooter. But it's an 80-pound scooter and you can't easily ride away on foot. As long as I can see my scooter, I feel pretty safe that someone isn't going to be able to run off with it.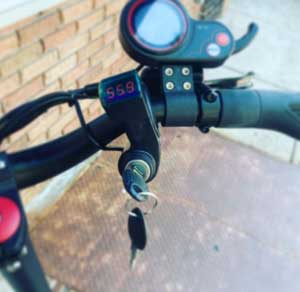 Using a scooter as a food delivery vehicle changes up the equation a bit. The Varla Eagle One is an expensive scooter (although comparable in price to most electric bikes). Many people reading this might balk at spending $1,600 on what is, for most people, a recreational vehicle. But if you use it as a food delivery vehicle, you can change your scooter purchase from a luxury purchase into something that acts more as an investment. It's not difficult to earn back what you spent on your scooter using apps like DoorDash, Uber Eats, and Grubhub. 
And don't forget the other advantages that come with using a scooter for these types of gigs. You'll be able to move quickly from place to place. You won't have to worry about traffic or parking (there is no better feeling than zooming past a bunch of cars stuck in traffic). And, most importantly, you'll make money since you won't have to worry about gas or the maintenance costs that come with a car.
Potential Things To Think About With This Scooter 
If you're thinking of getting the Varla Eagle One (or any electric scooter), I think it's important to consider a few things. These include the following:
How Will You Maintain Your Scooter? Electric scooters are a relatively new technology compared to other forms of transportation. So, one issue you need to think about is how will you maintain your scooter? With electric bikes, it's possible to go to any bike shop and get your bike fixed or tuned up. I take my ebikes to a local bike shop not too far from my house and they've always been able to work on any of the mechanical parts without issue.
There aren't many places, however, that are able or willing to work on electric scooters yet. That means if you need to adjust the brakes or fix a flat tire or tune-up your scooter, you're probably going to have to do it yourself. I have a friend that's currently in this situation with his high-powered electric scooter. He recently got a flat tire and now has to replace the tire himself or find somewhere that will help him do it.
Any electric scooter will need maintenance. Most of it you can probably do yourself. But if you're not comfortable doing repairs or figuring out how the scooter works, you're going to need to think carefully about how you'll service your scooter. In that situation, an ebike might make more sense.
The Varla Eagle One Is Heavy – So It's Not That Portable. When you think about a scooter, you'd probably think of it as being pretty portable. And while the Varla Eagle One isn't huge, it's still pretty heavy, weighing in at around 80 pounds. You can fold the handlebars so you can bring the scooter inside with you or put it into your car, but this isn't the type of scooter you're using for portability. If you have steps in your house, be aware of how heavy this scooter is because it can be a pain to lug your scooter up and down stairs.
That being said, I've found that this scooter has a pretty small footprint. When I'm doing deliveries, I'll often bring the scooter inside without it blocking anyone. A bike definitely takes up more space compared to this scooter.
It's Expensive, So It Might Not Make Sense For You Depending On What Your Goals Are. The Varla Eagle One is an expensive scooter, although it's at the same price point as similar high-powered scooters and most direct-to-consumer ebikes.
If all you need is a vehicle to get you a few miles to and from work, the Varla Eagle One might be overkill. You can buy a cheap Xiaomi M365 scooter for $500 or less that'll probably handle the job fine. But if you're looking for a scooter that you can use for long distances and that is more of a utility vehicle, then spending $1,600 on this scooter can make a lot of sense. A lot of people think $1,600 is a lot to spend on a scooter or ebike. But if you think about it, even your cheapest car will cost more than that. 
At The Moment, It Seems Like There Are Long Wait Times For Scooters And Replacement Parts. I haven't had to speak with customer service much, but I did have to deal with customer service one time and my experience is worth sharing here. When I first received my scooter, I set it up and then plugged it into the outlet to charge. Stupidly, I didn't turn off the scooter and when I was tweaking some things on the handlebar, I ended up hitting the throttle, and the scooter shot forward. In the process, I broke my charger and needed to buy a replacement.
It ended up taking a month for my replacement charger to arrive. Customer service didn't do much for me, simply telling me to be patient because the charger had to ship from a factory overseas. I eventually received more help after reaching out with my blog email and they did a good job following up with me after that. I get that there are shipping problems and supply shortages right now, but having to wait a month for a replacement charger seems too long for me. 
That's not to say they weren't responsive. They did answer my emails and didn't ignore me. It just took a long time for me to get my replacement charger. I know from the Varla Facebook group that a lot of people have had similar issues, where it's taking a long time to receive their scooter or replacement parts.
Final Thoughts
I've ridden the Varla Eagle One for several hundred miles now, using it as one of my primary modes of transportation and as my main food delivery vehicle. It's definitely drawn some attention from people when I do my deliveries this way. I regularly get comments from people about how smart it is for me to use a scooter to do deliveries.
I'm no scooter expert by any means, but in my opinion, the Varla Eagle One is an excellent scooter that can make sense for a lot of people. It can work as a primary mode of transportation. You can use it to work on gig economy apps like DoorDash, Uber Eats, and Grubhub. And it can also be a recreational vehicle if you'd prefer to use it for that. 
For those of you that do food delivery, the Varla Eagle One is something that I'd highly recommend. I've found it to be one of my favorite ways to do deliveries. The fact that I can leave it outside and take the key out is a feature that works really well for me. Just be aware that if you are going to get this scooter, you're going to need to learn how to do some maintenance on it – things like adjusting brakes, fixing flat tires, replacing parts, etc. 
If you're interested in getting the Varla Eagle One, you can buy it from the Varla website using my Varla referral link. Using this link will get you a discount on your purchase. 
And if you have any questions feel free to leave them down below. I hope this post helps those of you that are thinking about this scooter.