Last year, I made one of the largest purchases I've ever made – I bought a $9,000 electric cargo bike from Urban Arrow. It's an admittedly crazy amount to spend on a bike – there are used cars that cost that much (though increasingly fewer given where car prices have been going).
Still, even at that price, I'm convinced that a bike like the Urban Arrow might be one of the best transportation bargains out there – an investment that will save me thousands of dollars per year and that could be worth hundreds of thousands, or even a million dollars or more to me, in future savings. And this doesn't even include the physical and environmental benefits of the bike, which are significant as well. 
So how exactly can a bike that's as expensive as a cheap used car be a massive bargain, worth potentially a million dollars or more? It's because of what this bike can do, replacing pretty much every normal trip I might need to take with a car. And this isn't unique to me either. There are probably millions of families out there that could switch to a car-free or car-light life, all with a bike like the Urban Arrow.
In this Urban Arrow review, I will discuss what it is and why I decided to buy this bike, as well as discuss how impactful a bike like this can be on your journey to financial independence.
Urban Arrow Review
My goal with this post isn't to get too deep into the specs of Urban Arrow, but rather to provide a general overview of the bike and how it works for anyone who isn't familiar with this type of bike. The Urban Arrow is a top-of-the-line bike, so as you can expect, the bike is well-made and uses all of the best parts. 
Rather than focus on the specs, I instead want to focus on the basic things that probably matter to most people, such as how powerful is this bike, what sort of range can you get, what kind of cargo can you hold, and how it handles compared to a normal bike.  
To begin, let's get into the look of this bike. The Urban Arrow is a type of bike called a Bakfiets – a box bike when translated from Dutch. As you can see from the picture below, a Bakfiets features a large cargo area in the front of the bike that can hold people and cargo.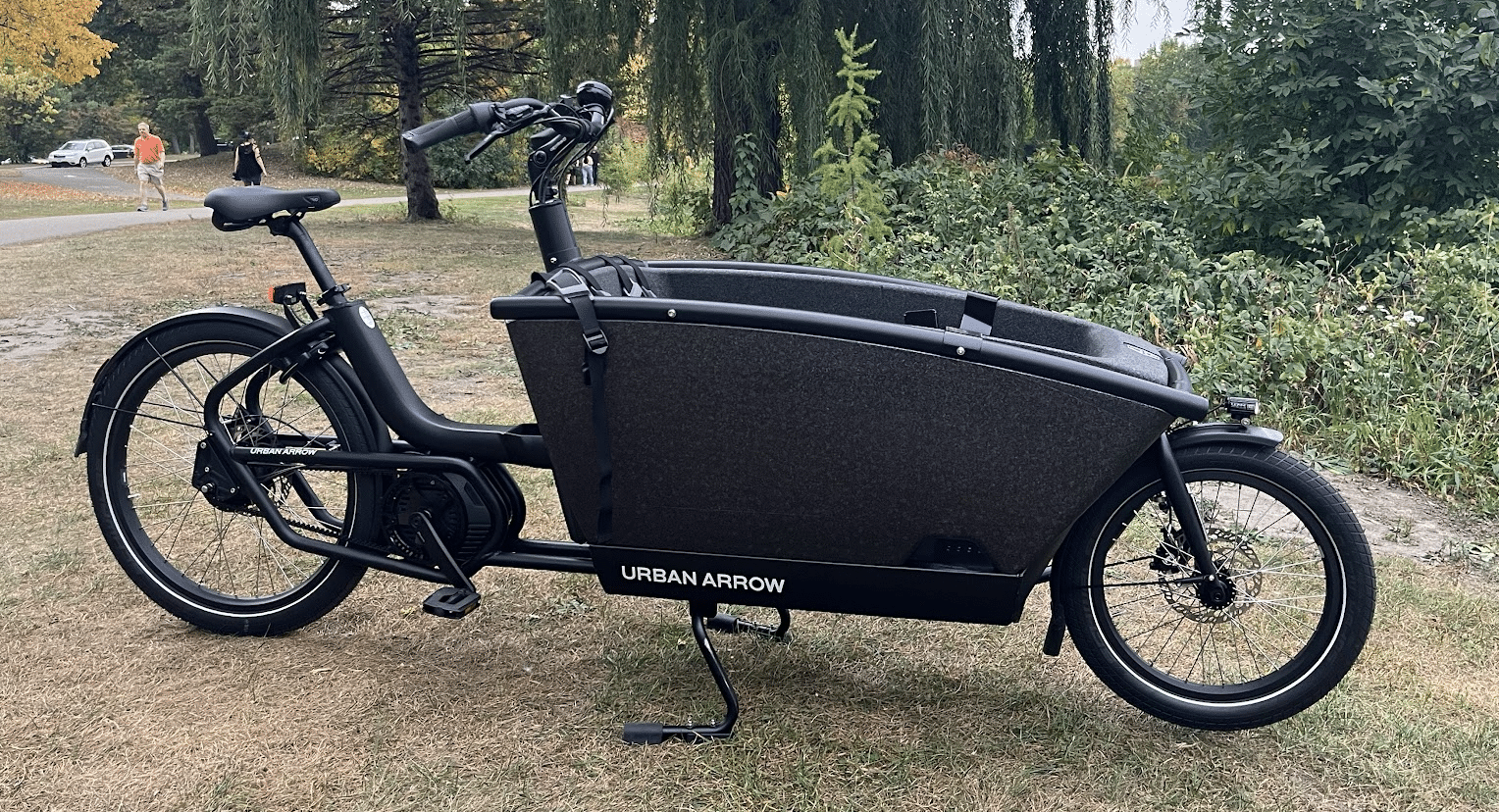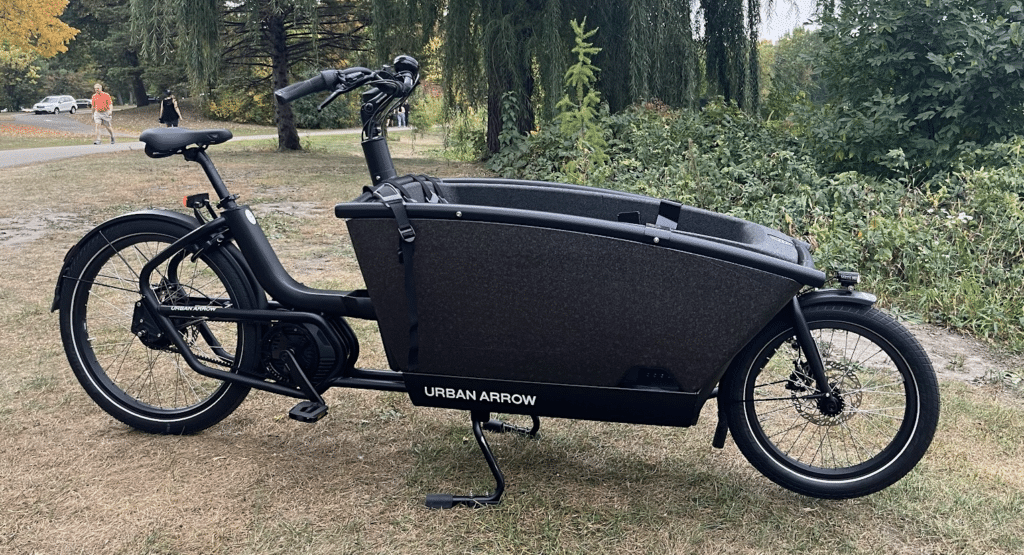 As you can probably tell, the Urban Arrow isn't a normal-looking bike. The large box in the middle means the handlebars are placed in the middle of the bike, which then controls the front wheel via a pivot bar underneath the frame. I had a bit of a learning curve when I first started riding the Urban Arrow because of how big and bulky it was, but I quickly got the hang of it. If you try it out and it feels weird to you, don't be discouraged. With a bit of riding, it'll eventually feel completely normal to you. 
The Urban Arrow is a heavy bike – and even heavier when fully loaded – so having a good motor is critical. To move the bike, the Urban Arrow uses a Bosch Cargo Line motor, which is probably the best ebike motor you can use. You'll get a max speed of 20 mph and it also has plenty of torque to help you climb hills, even when fully loaded with cargo or passengers. I live in a flat area but there are some steep hills in my neighborhood that I'm able to easily climb even when the bike is fully loaded. One thing to note is that the Urban Arrow does not have a throttle and only uses pedal assist. That means you do have to pedal if you want to get moving. This isn't a big deal for me, but it does mean I can't just throttle to get around.
When it comes to range, you can expect about 25-30 miles of range on a full charge, although you can get more range if you ride with a lower level of pedal assist. I typically ride in Turbo mode (the highest pedal assist level) and I've never had any issues with range. Given how big this bike is, you're probably not going to be doing many extremely long-distance trips with it, so range shouldn't be an issue for most people. One nice thing is that the removable Bosch battery can fully charge in about 3 hours, which is much faster than most of the ebikes I own. That makes it possible to do a longer trip, then take a break at a coffee shop and recharge for an hour or so before continuing on.
Why I Bought The Urban Arrow
What differentiates the Urban Arrow from other ebikes is obviously the cargo capacity. Ebikes are valuable tools for most people. Indeed, I've argued in previous posts that an ebike may be the best investment you can make (I've even given speeches about this too). At the time I wrote that post, I didn't have any experience with cargo bikes, but wow, if I thought regular ebikes were car replacements, a cargo bike supercharges everything.
As for me, I bought the Urban Arrow a few months before my second son was born. With my first son, we got around using a regular ebike with a child seat on the rear rack or a Burley trailer attached to my bike. This worked great when it was just me and my son, but the problem was that I couldn't get a baby around using a regular bike. What I needed was something that could safely hold a car seat as well.
At first, I considered getting a second car – something like a used Nissan Leaf. Since I only needed it to get a few kids around the city, I figured even with the battery degradation and limited range, it'd still be fine. And used Nissan Leafs aren't that expensive – you can get decent used ones for between $7,000 and $10,000. That's not a bad price for a car to get around the city. 
The problem for me is the recurring costs of a car. Cars aren't just what you pay to buy it. They also come with maintenance, insurance, registration, parking, and fuel, not to mention depreciation. Go to any car calculator and you'll find that the annual cost of owning a car is somewhere between $7,000 and $10,000 per year. 
Car ownership isn't cheap. For most people, transportation makes up the second-largest expense in a household budget after housing. So given how expensive cars can be, I've always made it my mission to do everything I can to limit the number of cars I own. While it might not be possible to go car-free, I firmly believe that most families could probably get by with one car if they really tried.
So rather than get a second car, I opted instead to get the Urban Arrow to get my two kids around. What makes the Urban Arrow perfect for me as a second car/kid hauler is the way it's set up. Like most Bakfiets, the cargo area features a padded seat that can fit 1 or 2 kids. In addition, the Urban Arrow has a spot to mount a car seat attachment. This lets me safely mount a car seat directly onto the bike. You can also buy a rain cover for the Urban Arrow, so on cold or rainy days, my kids are able to stay warm and dry inside the bike. 
Here's what my Urban Arrow looks like with the rain cover on it. It makes it sort of like a tiny car for my kids.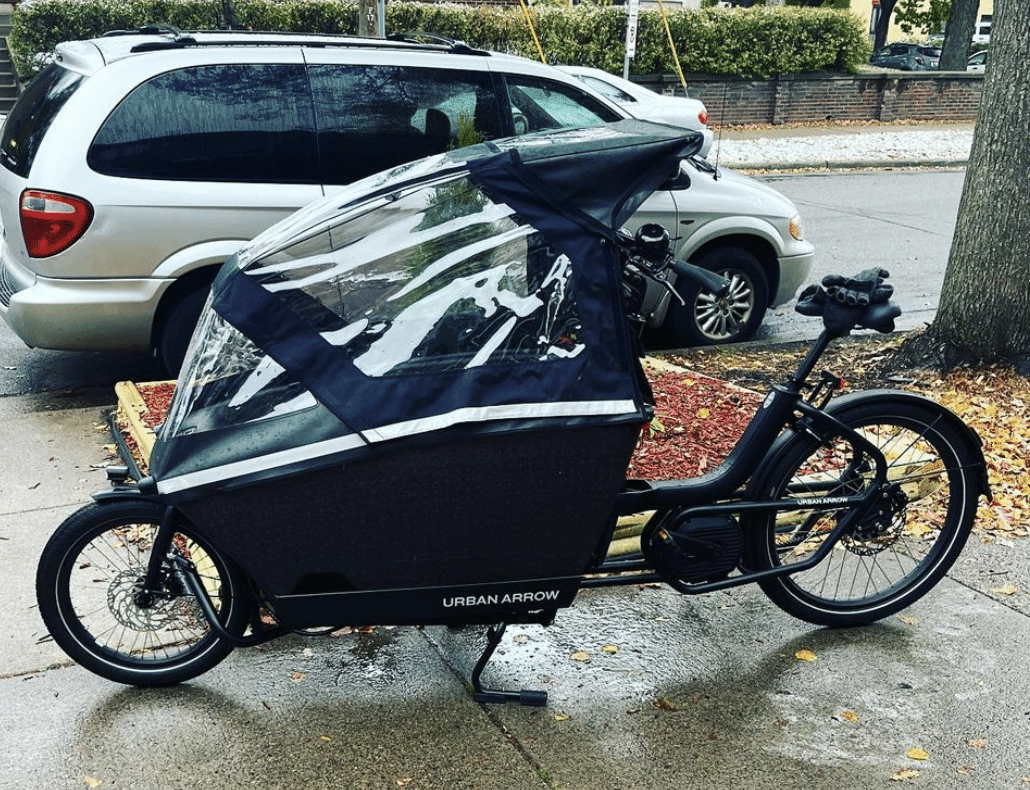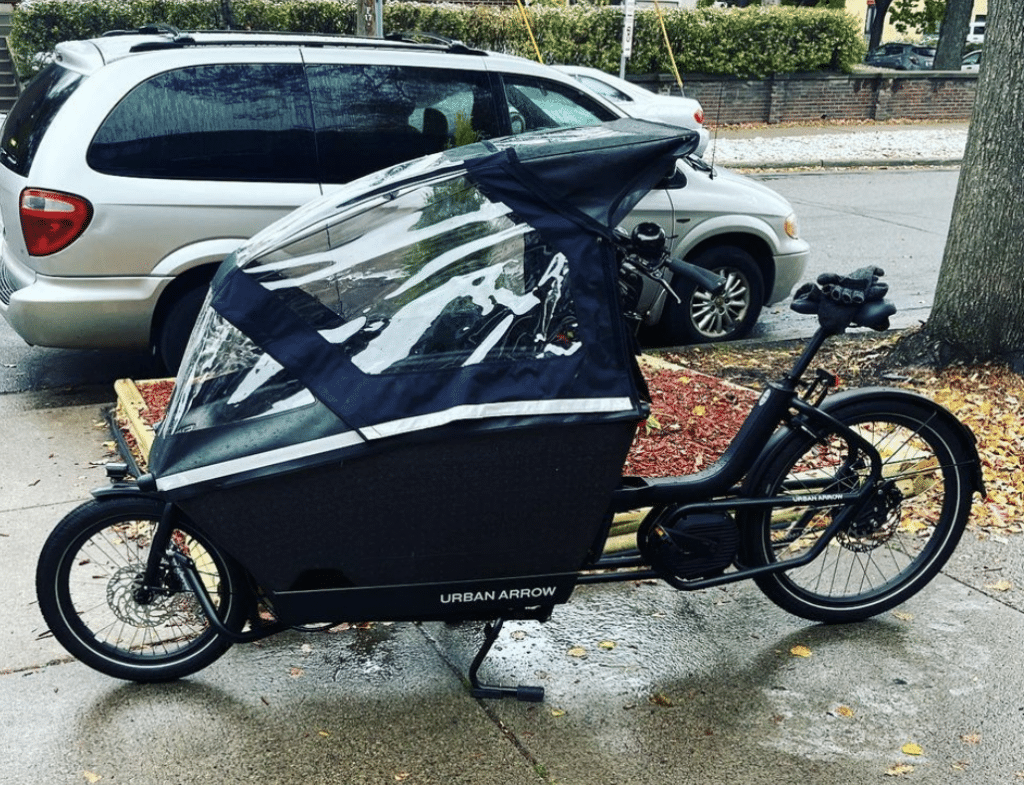 And here's a look at the Urban Arrow hauling my two kids around using the car seat attachment. 
How The Urban Arrow Can Make You Financially Independent 
I went with the higher-end model of the Urban Arrow, which features a more powerful motor and a belt drive system. With all the add-ons and taxes, my Urban Arrow ended up costing me about $9,000.
That might seem like an insane amount of money to spend on a bike – and I don't deny that it's a lot of money – but in the long run, opting to use a bike like this as my primary method of transportation will save me money and improve my finances. Indeed, while it might be hard to believe, this single decision could be worth a million dollars or more and make me financially independent.
How is this possible? Consider the math of opting for the Urban Arrow over a car: 
Your typical car costs $7,000 to $10,000 per year to operate.
An ebike like the Urban Arrow costs very little to operate. At the time I'm writing this post, I've had my Urban Arrow for a year and have put over 3,000 miles on it. I've spent $802 in maintenance and repairs on it during that stretch, which is likely more than average for most people.
If I can save the money I would have spent on a car over many years, the money can grow to hundreds of thousands or even a million dollars or more. Setting aside $10,000 per year for 30 years can add up to over $1 million.
When you consider most of us have cars for longer than 30 years, the amount you can save over the long term can be astronomical (over $2 million over 40 years and over $4 million over 50 years).
Not spending $7,000 to $10,000 per year on a car also means I don't need as much in my portfolio to cover my transportation costs. Under the 4% rule (which says we can withdraw 4% of our portfolio each year), $10,000 per year of car costs would mean I'd need $250,000 in my portfolio – all just to have a second car.
Even now, the 3,000 miles I've put on the bike have replaced the 3,000 miles of driving I would have done. Even at a conservative 50 cents per mile to operate a car, I've directly saved at least $1,500 by replacing those 3,000 miles with my bike.
I'm not saying everyone should go car-free. But when you consider how many people have two or more cars, being able to save the money on a second car and have 1 car along with a cargo bike like the Urban Arrow can directly lead to hundreds of thousands, or even a million dollars or more to your future savings. It really puts things in perspective when you consider just how much that car really costs you.  
Final Thoughts
The Urban Arrow is a game-changer bike for me. It basically gives me a little truck that I can use for my day-to-day trips. I've hauled all sorts of things in this bike – multiple kids, groceries, furniture, bags of mulch, etc.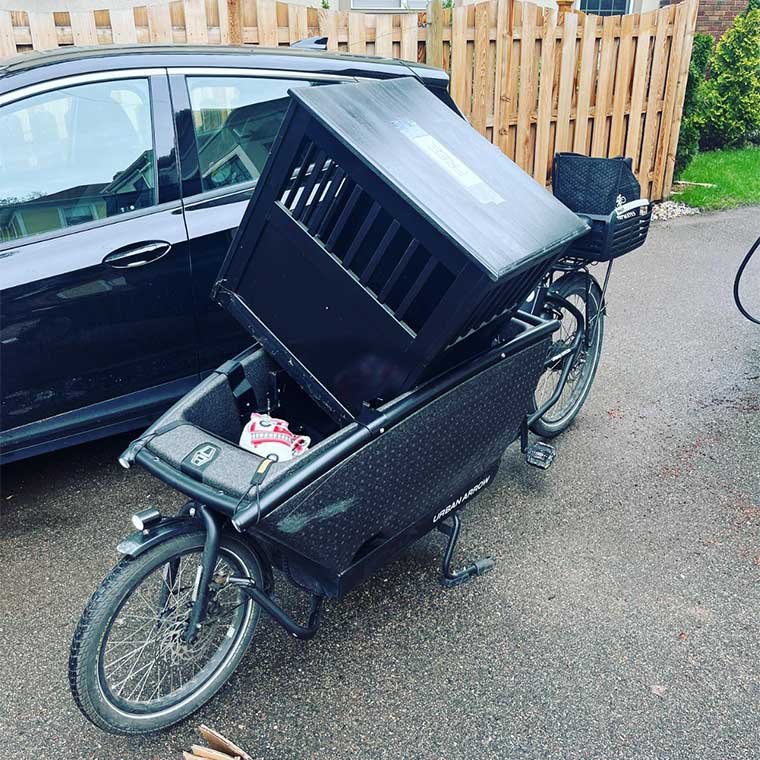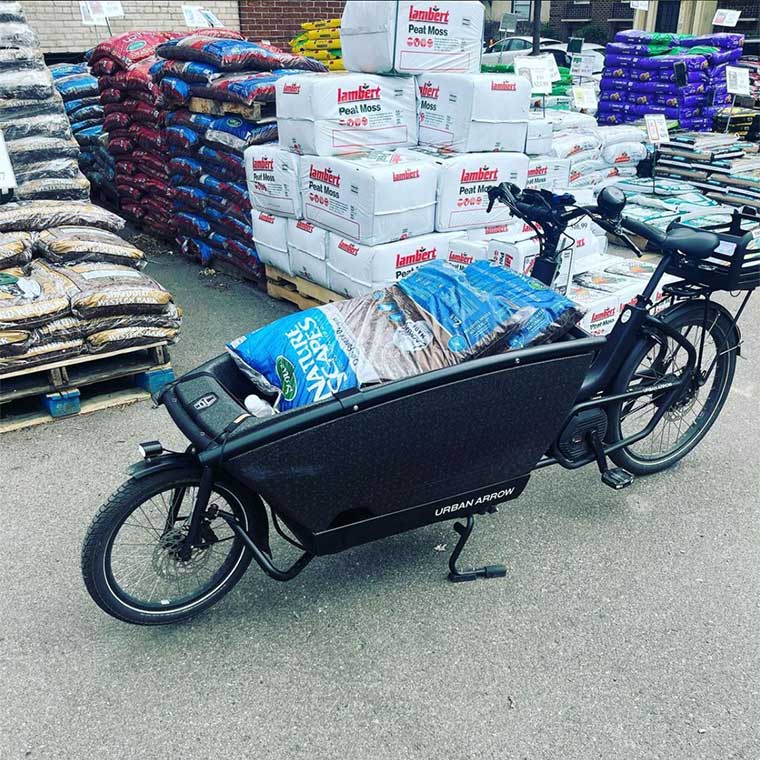 This isn't a bike for everyone because it is expensive and not everyone should spend so much on an ebike. There are lots of cheaper options for electric cargo bikes too.
But if you're in a financial position to get a cargo bike like this, it can change your life – both now and in the future.