One of the reasons I like the gig economy is because it lets me try out weird jobs that I might not otherwise get to do in a normal setting. I'm sure you've had times where you thought it'd be fun to do a certain type of job for a day (I know I've always thought it'd be interesting to be a postman for a day). Unfortunately, with the way jobs work, you can't just sign up and go do a job randomly just to see what it's like.
These gig economy apps, on the other hand, allow you to do just that. It's opened up a whole new world for experimenters like me.
The latest gig that I've been trying out is working as an on-demand dog walker with an app called Wag. Like a lot of these types of apps, I first learned about the Wag app from my brother, who signed up for it back when it first launched. He lives out on the East Coast, so he tends to get these apps before they make their way over to me in the Midwest.
So what is Wag? The easiest way to describe it is like an Uber for dog walking. If someone needs their dog walked, they can open up the Wag app, order a dog walker, and someone will show up at their house to walk their dog. Pretty nifty.
Home sharing with Airbnb and ridesharing with Uber has already become pretty commonplace. It makes sense that pets are the next frontier. I didn't realize it, but the pet industry is gigantic – worth $44 billion in the US alone.
I've been taking part in this pet revolution by starting up my own dog sitting business using Rover. For people like me who already own a dog, dog sitting makes a lot of sense. It's not a lot of work to take care of a second dog if you're already taking care of one dog anyway.
Dog walking on the other hand – that's a whole different thing that I thought would be fun to try out.
The Signup Process
Like with a lot of these gig economy apps, signing up to be a Wag Walker doesn't take much time. When I initially signed up, Wag asked me to have a few friends give me a recommendation before I could proceed. I gave them some email addresses and Wag sent my recommenders a form to fill out. Wag moved me on to the next step a day or two later.
Once I got through that step, I had to answer a few questions, watch a few training videos, and take a few quizzes related to walking dogs. The questions mainly have to do with how to put on a leash properly and how to walk a dog correctly. I thought most of the questions were pretty common sense. It also doesn't take long – I watched the videos and took the quizzes during a bus ride to work.
With those steps done, I then had to complete a background check and set up my Wag profile. You write up a short bio and upload a picture of yourself. I wrote a little thing about how I'm a lawyer, I'm super responsible, and I like dogs. For my photo, I uploaded a picture of myself from my old law firm bio. Very professional if I do say so myself.
One thing to know – to be a Wag walker, you have to pay a $25 fee so that Wag can conduct a background check. In contrast, every other sharing/gig economy app I've signed up for in the past hasn't required me to pay anything. This upfront cost is something to consider mainly because no one else has ever asked me to pay for a background check. I ended up paying it mainly because I wanted to see what Wag was all about.
My First Wag Walk
Since Wag was new in my area, it took me a while before I got my first request. If a walk request comes, you get a notification telling you how far away the client lives. The app will also show you a picture of the dog and the general neighborhood that the request is coming from. For a while, my screen just looked like this.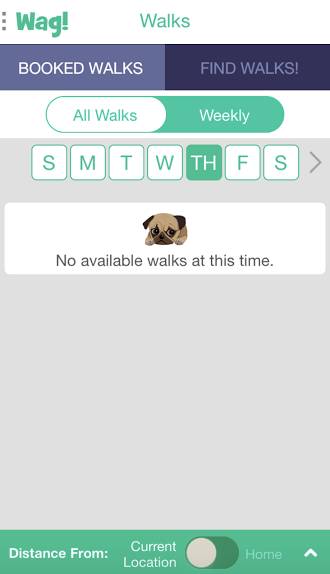 There must also be a huge supply of Wag walkers out there because the first few requests I received were booked literally within seconds of me trying to accept it. This was pretty frustrating since I'd like to at least have a second to be able to see if the dog is one I'd like to walk.
I eventually snagged a walk request on a random weekday for a house located about 4 miles away from me. The owner wanted a 60-minute walk for their dog (Wag lets you pick between a 20-minute walk, a 30-minute walk, or a 60-minute walk). I probably wouldn't travel that far normally just to walk a dog, but since I wanted to try out the Wag app, I figured I'd take the time to bike over there.
There are directions in the app about how to get into whatever house you're going to. In this case, the key was kept in a lockbox that Wag sends to dog owners. That's how you'll typically get into a house when the owner isn't home.
When I arrived, I grabbed the key from the lockbox, let myself in, and was greeted by the friendly, older pup you see below.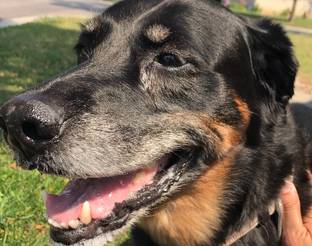 I put the leash on this pup, indicated that I was starting the walk, and then I was off.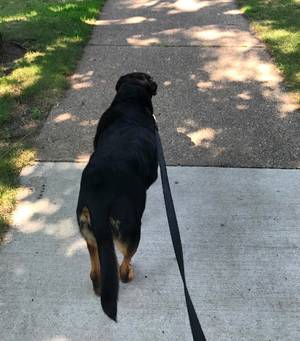 Like Uber, Wag tracks you based on your GPS, so dog owners can see where you're walking their dog. There are also these funny pins that you can click to show where during your walk the pup that you're walking uses the bathroom.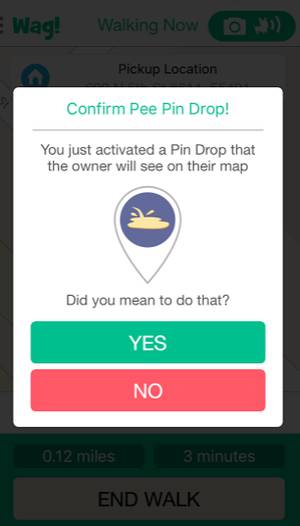 After a pleasant hour-long walk, I brought the pup back to her house, locked the door, and secured the key back in the lockbox. I then clicked a button in the app to end the walk and filled out a report card to tell the owner how the pup did on the walk.
That was it – my first official Wag walk was in the books.
How Much Can You Make With Wag?
So the question that I wanted to see was whether this was a worthwhile side gig for a busy professional to have in their side hustle toolkit. You get paid three base amounts:
$9 for a 20-minute walk
$12 for a 30-minute walk
$18 for a 60-minute walk
In addition, you get to keep all of your tips (and from the walks I've done so far, it seems like every customer tips). My first customer tipped me $3, so I ended up getting paid $21 for a 60-minute walk.  That's not terrible if you consider that you're also outside getting paid to exercise while walking a cute pup. You still need to count travel time to consider whether it's worth your time. The farther you have to travel, the less worthwhile this would be.
Wag charges the customer $14 for a 20-minute walk, $20 for a 30-minute walk, and $30 for a 60-minute walk, so it looks like Wag gives the walker about 60% of whatever it charges the customer. That seems like a pretty high take from Wag, in my opinion – at least when compared to other sharing/gig economy apps.
So what have I made as a Wag walker?  Here's what it looks like in the few weeks that I've been walking pups on Wag:

You might notice that I earned $25 in referrals during my first month. If you sign-up to be a Wag Walker, Wag gives you a referral code to refer new customers, so when I signed up to be a Wag Walker, I referred my buddy to snag the referral bonus.
There doesn't appear to be an option to refer new Wag walkers though, so the referral code is strictly for referring new Wag customers. My guess is that Wag isn't having any trouble finding people that like walking pups, so their goal is probably to get more customers using the app.
I think a savvy person could make some significant money by referring new customers. If you give a new customer your referral code, they get $20 towards their first walk, which is good enough for a free 30-minute walk. You get paid a $25 referral bonus once the new customer uses your code for the first time. It wouldn't be too hard to just give your Wag Walker promo code to a bunch of your friends and have them use Wag once. They'd get a free walk and you'd snag yourself a $25 bonus. If you were the one walking their dog, you could make even more.
Even better would be if you could leave out your referral code in an apartment building or some other place with a ton of dogs. Wag recently sent me a bunch of Wag business cards where I can write down my referral code on them. Since Wag is pretty new, I'm planning to just drop these cards in random, dog-friendly apartment buildings to see if it does anything.
If you're interested in trying out Wag on the customer side, consider downloading Wag from the Apple App Store or Google Play Store and using my referral code: KEVIN9516. You'll find a place to enter the promo code in the payments section, where you enter your credit card information. It's pretty much a win-win if you own a dog – you get a free walk and I earn a referral bonus.
How Can You Use Wag?
Ideally, Wag is something you could do if you happen to be out and about and get a request nearby. Here's a video from Wag that sort of shows the ideal situation.
I'm not sure how realistic that video is, but if you could use it like that, it could be a useful and fun thing to have in your pocket.
The other way to use Wag is just as a way to interact with dogs that you wouldn't interact with regularly. I have a small dog, so I rarely interact with big dogs in my regular life.
So far, all of my Wag walks have been with big dogs, and these dogs, while big, are all well-behaved sweethearts. It's fun to walk a dog that I would probably never see regularly – like this huge white German Shepard that I've walked a few times: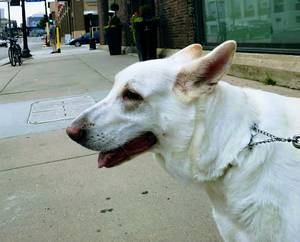 Let me just say, when you're walking around with a giant dog like that, you can walk around with no fear. No one is going to mess with you.
Walking dogs using the Wag app is interesting.  If you're in a large city and like dogs, I think it's at least worth trying out to see if it's for you. At most, it'll cost you $25 and a little bit of time. If you can refer just one friend as a customer (or even refer your spouse or another family member), that should cover your sign-up costs.
At a minimum, I do think that, if you're a dog owner, you might as well use my referral code (KEVIN9516) and snag yourself a free walk.
An Update – Walking Dogs During My Lunch Break
As a quick update, Wag has found itself as a permanent part of my side hustle toolkit, mainly because of its ability to earn me money during my lunch break. Instead of spending money on lunch, on a lot of days, I can get outside, get a little exercise, and earn money during my lunch break!
Just take a look at some of my recent earnings: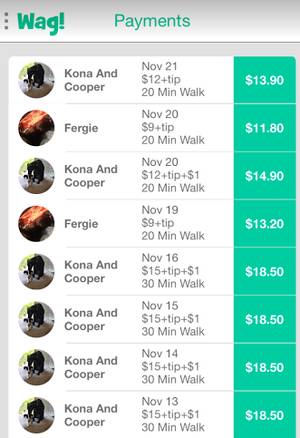 There's a luxury apartment building just down the street from my office that's filled with dogs, and almost every day, I can grab a walk from someone in that building. I think a lot of people could do the same thing.
My goal for the next year is to try to get the word out, with the ultimate end goal of having a walk every day at lunch.
What's great about this is how it's essentially a reverse latte factor going on here. Instead of spending money on lunch each day, I'm out, stretching my legs during lunch, and making a couple of bucks every day! If you work somewhere that has apartment buildings nearby, Wag can be a perfect lunchtime side hustle for you. 
If you're interested in other side hustles, be sure to check out some of the other posts I've written about my side hustle experiences: