A few days ago, I received an email from Betterment notifying me that I had maxed out my Roth IRA for the year. It marks the third year in a row that I've maxed out my Roth IRA.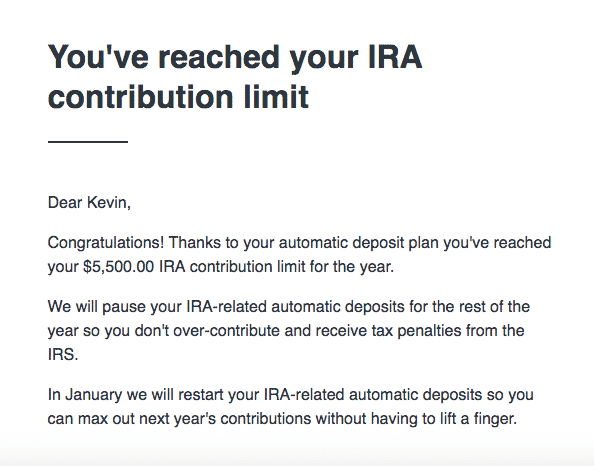 Maxing out my Roth IRA might not seem like all that big a deal, but I think it is when you consider that three years ago, I didn't even know what a Roth IRA was, let alone how to start or invest in one. At the time, the only investing I had done was a small, automatic contribution from my paycheck to my firm's 401k – the default amount that my firm opted everyone into unless you specifically opted out.
When I did eventually get around to starting my Roth IRA, I went with the robo-advisor route. I chose to use Betterment since it had a low minimum contribution amount, the fees were reasonable and transparent, and the interface was straightforward and intuitive. Even though I had read that it was slightly more expensive to use a robo-advisor and every investing person online said I could do the same thing myself without the added fees, the ease of opening up a Roth IRA using a robo-advisor made it worth it. Plus, I found comfort in knowing that my contributions were being properly invested by a company that was also a fiduciary.
After three years and $16,500 in contributions, I've now outgrown my Betterment account (at least when it comes to my Roth IRA). While the 0.25% management fee that Betterment charges isn't very high, I've learned enough about investing and have enough saved up that I don't really need the robo-advisor element anymore. As a result, this year, I'll be transferring all of my Roth IRA funds directly over to a Roth IRA with Vanguard. The move should cut my overall fees down from somewhere in the 0.35% range all the way down to 0.04%. It's going to save me a lot of money over the long term.
Though I've outgrown my Betterment account, when new investors ask me where they should set up their Roth IRA, I still generally say to start with a robo-advisor – Betterment or Wealthfront, in particular. The way I see it, when it comes to a Roth IRA, start with Betterment or Wealthfront. Graduate to Vanguard later.
*Note: This post isn't an advertisement for either Betterment or Wealthfront. Indeed, I haven't even included any affiliate links in this post. I simply suggest these two because they're both low cost, have low minimum deposit requirements, and allow you to transfer to another brokerage later down the line for free. 
Start Your Roth IRA With A Robo-Advisor Like Betterment or Wealthfront
For a lot of us in the personal finance/financial independence community, investing seems pretty simple – invest in low-cost index funds that aim to match the market, save a huge percentage of our income, and let that money grow over time.
As easy as we like to think it is, the actual process of investing isn't all that easy for the new investor. I know this because I was in that position once too. It took me a while to learn this stuff. And even now, a lot of you take for granted that you understood what I wrote in the previous paragraph. For someone like me three years ago, that previous paragraph might as well have been gibberish.
It's this lack of knowledge that I think slows people down with investing. Just telling someone that they should open a Roth IRA or other retirement account isn't enough. A retirement account isn't like opening up a savings account, where you can simply open it and put money into it. There's much more that can trip someone up along the way – questions like:
Where do you open a Roth IRA?
How do you put money into it?
What happens once that money goes in?
How do you invest it?
How much do you need to invest?
What does it cost?
Throw that list of questions in someone's face and most likely, they'll opt for the path of least resistance and do nothing at all. That's why I've always been a huge fan of robo-advisors and why I started my investing life with one. They answer those questions for you. All I had to do was open an account, deposit money into it, and then the robo-advisor – Betterment in my case – did the rest for me.
Move Your Roth IRA Directly Into Vanguard After A Few Years
What makes the robo-advisor route so helpful for new investors is that it can get you started without a lot of costs.
Let's look at management fees. Management fees are the main problem most people have with going the robo-advisor route. Betterment and Wealthfront both charge a 0.25% management fee, which isn't that big of a deal if it means you can get started investing sooner and have comfort in knowing that you're investing correctly.
The other fees to consider are closing or transfer fees. One issue with opening a brokerage account and then moving to another account is that you'll often get charged fees to transfer your funds to another brokerage. That makes picking the right brokerage fairly important.
Robo-advisors, on the other hand, seem to be different. When I was looking to move my Roth IRA out of Betterment, I did a little research to see if I'd have to pay any fees to do so and was pleasantly surprised to see that there were absolutely no fees to move my money over to another company (see the below excerpt from Betterment's FAQ):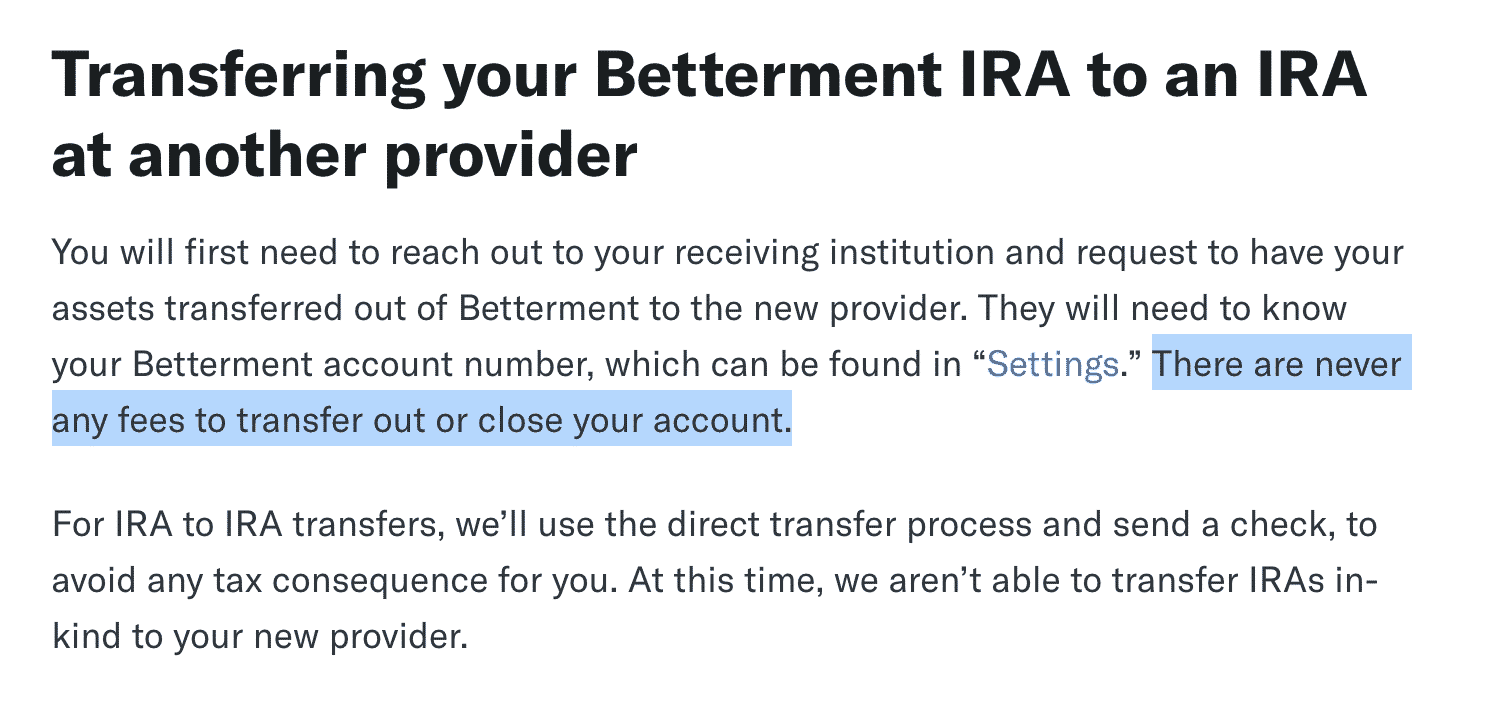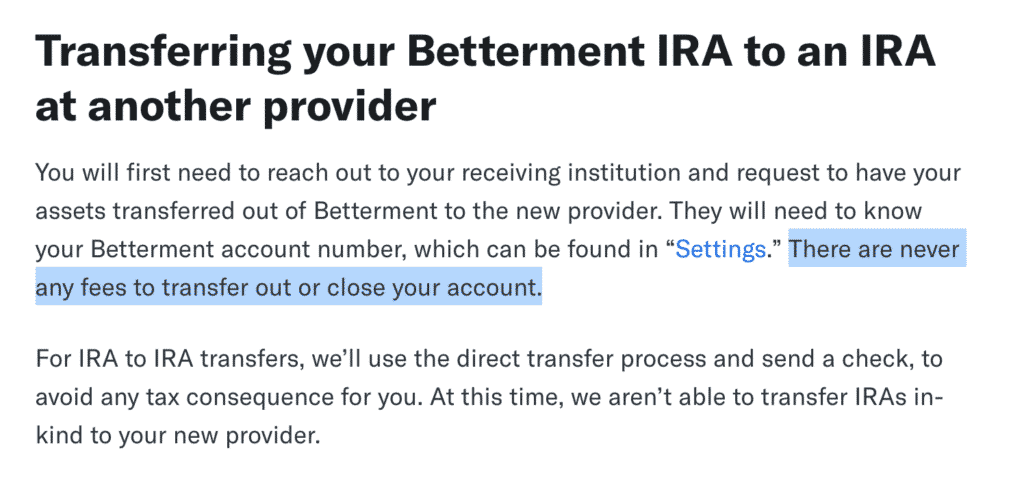 Wealthfront has the same policy as well – no fees to transfer your account from Wealthfront over to another broker.

What this means for you is that it's easy enough to start your Roth IRA with a robo-advisor first, just like I did. You'll pay minimal management fees on a small amount of money. After a few years, you'll have $10,000 or more saved up in your Roth IRA. At that point, you can just transfer it out and go with investing directly with Vanguard, if you want to do so.
Suggested Robo-Advisors To Start With 
I've talked about Betterment and Wealthfront in this post and those two are both great robo-advisors that give you the flexibility to get started investing and move over to cheaper options later if it makes sense for you. 
When I started my first Roth IRA, I opted to use Betterment because it was the robo-advisor that I was more familiar with and I preferred their interface more. I used Betterment for three years before moving my Roth IRA directly to Vanguard. Yes, I paid a 0.25% management fee for Betterment to manage my account. But it was worth it to me since I didn't know much about what I was doing and it gave me comfort in knowing that I was investing correctly. 
There are some other robo-advisors that are very good as well. One other option that's worth talking about is M1 Finance. What makes M1 Finance particularly interesting is that it has robo-advisor features and charges no management fee at all. When you set up your Roth IRA, you can answer a few questions and pick a low-cost portfolio that's appropriate for your situation. Basically, you can get the best of all worlds with an app like M1 Finance – a no-fee robo-advisor service and low-cost investing with no additional cost. 
M1 Finance didn't exist when I first set up my Roth IRA. If it had, maybe I would have opted to go with them over Betterment or Wealthfront. Note that, unlike Betterment or Wealthfront, M1 Finance does charge a fee if you want to transfer your account to another brokerage, so it loses a little bit of flexibility if you decide that you'd rather go directly to a company like Vanguard.
Robo-Advisor Fees Aren't Forever
You'll hear from a lot of experts who tell you that you can do all of the stuff that a robo-advisor does on your own for free – and they're absolutely right. But doing it yourself naturally increases friction, which makes it harder to get started.
Instead, I think it's better to get started right away with a robo-advisor, then move those funds to Vanguard once you've figured out what you're doing and have a little bit of money saved up. Even if you pay some management fees to a robo-advisor on your Roth IRA, it doesn't have to be forever. Sure, I paid three years' worth of management fees to Betterment – three years where I could have figured out how to invest on my own and paid no fees at all. Three years, though, isn't a ton of time in the grand scheme of things.
So, I'll be doing two things this year when it comes to my Roth IRA. First, I'll be moving my Roth IRA contributions directly into Vanguard. With three years of contributions and a long bull market, my Roth IRA is now standing at a little over $21,000 at the time I write this. I'll likely be dumping it all into a Vanguard Total Stock Market Fund (VTSAX) just to keep things simple. Transferring my funds into Vanguard shouldn't be difficult either – companies are always willing to help you get money to them, so it'll just be a matter of opening up my Roth IRA and figuring out some directions.
The second thing I'll be doing is opening up a Roth IRA for my wife and getting as much as we can into her Roth IRA for this upcoming year.
In a few years (possibly even this year), our income will be too high to directly contribute to a Roth IRA, at which point, we'll have to start utilizing a backdoor Roth (a topic for another post).
Anyway, that's the strategy I recommend for anyone starting their Roth IRA investing journey – go with a robo-advisor like Betterment or Wealthfront first, then move those funds into Vanguard later. It's an easy way to get your investing life off to a good and easy start.