Everyone is looking for ways to save or make extra money, so I thought it'd be a good idea to share all of the best cashback apps I use to help me optimize my spending.
My philosophy with spending money goes like this. If I'm spending money, I might as well figure out the best ways to optimize my spending so that I can earn some money back on my spend. That's one of the reasons I try to open up a new credit card every few months – by doing that, I'm able to get money back in the form of hefty credit card signup bonuses, which I can then use for free travel.
In addition to using credit cards, I also have a plethora of apps that run in the background and offer me some form of cash back when I spend money at certain places – either in credits, gift cards, or just plain cash. These are apps that everyone should be using and taking advantage of. 
In this post, I'm talking about the best cashback apps that allow you to earn cashback without having to do anything besides setting them up and perhaps linking a credit card to them. These apps are entirely passive and run in the background without you even noticing them. And they are a great way to optimize your financial life. 
Note that the apps I talk about in this post differ from the receipt apps that require you to take a picture of your receipt in order to earn cash back. I've always found that those kinds of apps – Ibotta, for example – took me too much time for what I was getting in return, plus I didn't like the fact that those kinds of apps required me to buy specific things at the store. However, I do use and recommend using ReceiptPal, ReceiptHog, and FetchRewards to take pictures of your grocery store receipts – I find those apps very easy to use since they let you take pictures of any receipt, and the money you earn from those apps surprisingly adds up over time.
The Best Cashback Apps
If you're just looking for a list of the best cashback apps, here's what I recommend (I use every single one of these apps personally):
1. Dosh
The first app I recommend you use is Dosh. It's a mobile-only app that tracks your spending and gives you cash back for purchases you make at certain places. I've been using Dosh for over a year now to earn approximately 7% cashback on my spend at various restaurants and breweries around me.
What makes Dosh really great is that it's completely passive once you set it up. You just link your credit cards to Dosh, and if you spend money at a participating restaurant or store, you automatically get cash back to your Dosh account. You can then cash out your earnings to your regular bank account once you hit the minimum cashout requirement.
In my time using Dosh, I've found that it instantly recognizes when I spend money at a participating restaurant or store and then credits my Dosh account immediately. It's pretty crazy how fast it works.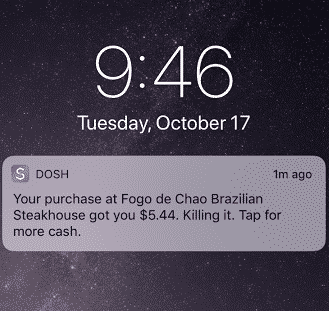 For me, Dosh has worked out really well simply because, for whatever reason, a lot of breweries in my city seem to offer 7% cashback. In essence, whenever I go grab a beer somewhere, I get an automatic 7% discount. When you combine that with the credit card rewards that I earn (typically at least 2% back), I'm basically snagging myself a 9% or 10% discount at most breweries – without having to do anything!
You shouldn't go out of your way to eat or drink at places you wouldn't normally go to, but you should definitely link your cards to Dosh to give you a little bit of return on spend for random places you might happen to go to.
Even better, if you sign up for Dosh using my link and link a credit card, you'll get a free $5 to start off your account. You can't beat that for a few seconds of work.
*Note, Dosh uses the same cash back network as Swagbucks Local and Yelp Cash Back, and unfortunately, you can't double dip with these rewards networks. You'll get the same cash back on Swagbucks Local or Yelp Cash Back, but personally, I think Dosh is the way to go simply because of the free $5 you get for signing up with a referral link. The smart money move here is to sign up with a referral link, then refer your spouse or partner to Dosh using your own referral link.
2. Drop
Another app I've been using to get a little bit of cash back on my everyday spend is Drop. Like other cashback apps, you link your credit cards to Drop and then you earn points that you can redeem for gift cards. 1,000 points are worth $1. It's not a ton of money, but again, it's money you're earning for the things you're already doing.
When you first sign up for Drop, you'll have to choose five primary stores that you can earn points at. I picked Chipotle, Uber, Walgreens, Target, and McDonalds as my five base stores. Other stores include Whole Foods, Trader Joes, and some clothing stores that I don't really shop at very often. Pick the places that work for you.
Drop also offers special deals which allow you to earn more points for certain purchases. These are rotating categories that you technically have to activate, so every once in a while, you'll need to go into the app and activate these deals.
It takes only a few minutes to sign up and get everything set up, so it's not really a big commitment to get started. Again, I wouldn't go out of my way to earn the points, but it's not bad to just have Drop passively running in the background for you.
If you sign up for Drop, you'll get 1,000 Drop points to start off your account. Yep, you'll be rich!
3. Ebates
Ebates is pretty much a no-brainer Google Chrome extension that everyone should have in their browser. With Ebates, you get cashback on almost any purchase you make online – typically around 2% -5% back.
The extension only takes a few seconds to set up, and once it's in your browser, it'll automatically notify you if you're on a website where Ebates offers cashback. From there, you just activate the extension and continue with your purchase as normal. Ebates then tracks your purchase and gives you whatever percent cashback you earned.
Payments are made from Ebates four times per year, so it's a nice little bonus when you get an Ebates check in the mail. In my time using Ebates, I've earned back a little over $100 – all while spending on stuff I was already going to buy anyway. And all I had to do was click a button to get my cash back (this used to be way harder before they created the Google Chrome extension, which is why I used to forget to activate Ebates).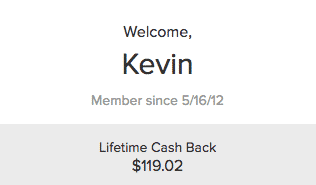 If you combine Ebates with the return you're getting on your credit cards, pretty much any purchase you make online should be worth at least a 5% to 10% discount.
If you buy anything online, you should be signed up with Ebates. You're just missing out on cashback otherwise. Plus, use my link and you'll get $10 free once you signup!
4. Freebird
Freebird is a new app that I've found that I've now added to my best cashback app list. If you ever use Uber to go anywhere, this is a must-have app that you need to download. Here's how Freebird works. 
A lot of people are taking Ubers to go to various places. At the same time, there are hundreds of restaurants looking to find ways to get people in the door. Freebird partners with restaurants to offer cashback if you take an Uber to that restaurant. For the restaurant, it's basically a marketing expense – if you take an Uber to their restaurant using the app, the restaurant pays you something, which is worth it for them since it gets a customer through the door.  Below is a video from Freebird that explains how it works: 
So, basically, instead of ordering Ubers through the Uber app, you should instead order them using the Freebird app. It's exactly the same thing as ordering an Uber, but by using the Freebird app, you at least get cashback on your rides.
I've found that cashback rates tend to be about $4 for the restaurants near me, so if you go to a restaurant that's not too far away, you can basically subsidize or completely cover the cost of your Uber ride. If you order an Uber to go to a non-participating place, you earn points. 5,000 points in the app equals $10 cashback. I've already used Freebird a few times to try it out, and it's worked out great for me.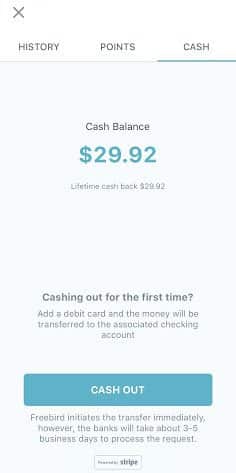 If you use my referral link, you'll get $10 cashback on your first two Uber rides ($5 cashback for each ride). To make sure that the referral link worked, be sure to enter my code j622d in the promo codes section of the app (you'll see it when you click on "profile" in the app). To maximize your cashback signup bonuses, also use the promo code FREERIDE and you'll also get up to $25 cashback on your first Uber ride. 
5. Visa Local Offers From Uber
I recently discovered that Uber has their own cashback program in the Uber app. Like with other cashback apps, you link your credit card and it tracks your spending. When you spend at certain places, you'll automatically earn cash back in the form of Uber credits. It won't be helpful for you if you're looking for straight cash, but if you ever use Uber, this is a nice way to get a little bit back on shopping you're already doing.
You can also use Uber Offers even if you're using other cashback apps (like Dosh or Drop), so it's a nice way to stack some extra return on your spend.
The transactions are immediate as well – literally as soon as my card was charged, I received my Uber credit (which was a nice bonus because I had no idea that I was going to get any Uber credit at the time).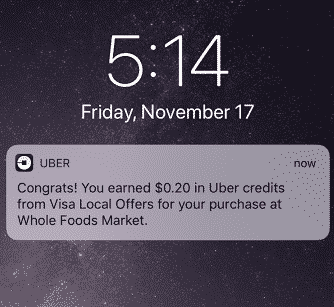 To set up Uber Offers, just go to your Uber app and activate it. It'll be somewhere on the main screen. After that, you don't have to do anything else – it'll just monitor your cards and give you cash back if you spend at eligible places. Note that, as the name implies, it only works for Visa cards.
6. WikiBuy 
WikiBuy is another no-brainer Chrome extension that I recommend everyone use. Like with Ebates, it runs automatically in the background while you're shopping, only instead of cash back, WikiBuy helps you get immediate discounts on your purchases by either scanning for promo codes, or if you're buying on Amazon, searching to see if you can get the same item for less somewhere else.
Here's how it works. First, for promo codes, WikiBuy automatically scans for promo codes and then applies the promo code when you're at the website's checkout screen. I've saved literally hundreds of dollars by having the WikBuy extension run in the background and do this for me. 
Second, for your Amazon purchases, WikiBuy will automatically show you if Amazon has the best price on the item you're buying. When you download the WikiBuy extension, that information will automatically show up on your Amazon pages. This is hugely helpful. 
It takes 10 seconds to set up WikiBuy, so it's a no-brainer app that I think everyone should have. One thing to note is that WikiBuy does have a cashback thing similar to Ebates on some websites, but these won't stack with Ebates. Most likely, if Wikibuy has a cashback offer, Ebates has the same one, and I'd recommend using Ebates for your cashback. Stick to using WikiBuy for the promo code scanner and the Amazon price checker. 
7. Upromise
The last cashback program I use is Upromise. Like with Dosh, Drop, and Uber Offers, Upromise tracks your credit card spending in the background and then gives you cash back on eligible purchases.
The main difference is that you're supposed to use the cash back that you earn through Upromise to pay student loans or to fund 529 plans. I've just been putting the cash into my own 529 plan that I set up for myself a few years back.
I haven't earned a ton of money through Upromise and it seems super slow in actually applying your cashback to your account. Still, it requires no work on your end other than linking your credit cards, so you might as well have it set up.
Honorable Mention: Earny
Earny is an app I use to help me get refunds in the event that something I buy goes down in price. Most people don't realize it, but if you buy something and the price drops a little later, most credit cards will give you a refund on the difference. The issue, obviously, is tracking this – few of us have time to go around tracking prices on our purchases.
Earny takes away this problem by monitoring your purchases for you and then getting you refunds when there's a price drop. They charge 25% of any refund they get you, but that's worth it when you consider that you'd normally get nothing back. So, if you were to get a $10 refund, Earny takes $2.50 of that $10 refund, netting you $7.50 that you otherwise wouldn't have seen.
It doesn't take long to set up, and you might as well have Earny running in the background as well. You can sign up for Earny here.
Note that the reason I dropped Earny to "honorable mention" is due to the fact that a lot of credit card companies are starting to reduce price matching because of automated price-matching apps like Earny. For example, Chase got rid of price-matching in the last year because of apps like Earny. I still recommend just keeping this app just because it doesn't take any effort, but be aware that this app isn't as good as it once was.
Takeaways
There are a lot of apps out there that can save you money or give you some cash back on your everyday spend.
You obviously won't get rich from these apps, but it's at least something. And none of this requires you to change any of your spending habits. You're basically adding a cashback component to your financial life that runs passively in the background.
It literally takes a few minutes to set up all of these accounts. Most of you could probably read this post and set up all these apps in the next 15 or 20 minutes. Once set up, you can sit back and just keep doing what you normally do.
What do you think of my best cashback apps list? Any other cashback apps that you recommend?