Everyone is looking for ways to make or save extra money, so I thought it'd be a good idea to share all of the best cashback apps I use to help me optimize my everyday spending. If you use all of the apps I write about in this post, you'll put yourself in a pretty good position to optimize your everyday spending.
Before we get started with all of the best cashback apps that I use, let me first talk a little bit about how I approach spending. My philosophy with spending money goes like this – anytime I have to spend money on something, I want to do so in a way that will get me the most return on my spending. That's one of the main reasons that I open up a new credit card every few months. By doing that, I'm able to get money back in the form of hefty credit card signup bonuses, which I can then use for free travel, all while spending the same money I'd already be spending anyway.
Perhaps the easiest way I optimize my spending is by using a plethora of apps that run in the background. These apps give me cash back when I spend money at certain places – either in cash, credits, or gift cards. What's great about all of these apps is that they're entirely passive and run in the background without you even noticing them. In short, they're a great way for you to optimize your financial life just a little bit more.
Note that the apps I talk about in this post differ from the receipt apps that require you to take a picture of your receipt to earn cashback. I've always found that those kinds of apps – Ibotta, for example – took me too much time for what I was getting in return, plus I didn't like the fact that those kinds of apps required me to buy specific things at the store. However, I do use and recommend using ReceiptPal, ReceiptHog, and FetchRewards to take pictures of your grocery store receipts – I find those apps very easy to use since they let you take pictures of any receipt, and the money you earn from those apps surprisingly adds up over time.
With all that out of the way, let's take a look at the best cashback apps that I think everyone should use.
The Best Cashback Apps
If you're just looking for a list of the best cashback apps, here's what I recommend (I use every single one of these apps personally). Make sure to read through the rest of the post to learn more about why I recommend each of these apps. 
Best Cashback Apps:
Honorable Mention Apps: 
1. Drop
The first app I recommend is Drop. Like other cashback apps, you link your credit cards to Drop, and then you earn points that you can redeem for gift cards. 1,000 points are worth $1. It's not a ton of money, but again, it's money you're earning for the money you're already spending anyway.
When you first sign up for Drop, you'll have to choose five primary stores that you can earn points at. I picked Chipotle, Uber, Walgreens, Target, and McDonalds as my five base stores. Other stores include Whole Foods, Trader Joe's, and some clothing stores that I don't really shop at very often. My advice is to pick the places that work for you.
Drop also offers special deals which allow you to earn more points for certain purchases. These are rotating categories that you technically have to activate, so every once in a while, you'll need to go into the app and activate these deals.
It only takes a few minutes to sign up for Drop and get everything set up, so it's definitely worth the time to set things up. Again, don't change your spending habits just because of this app, but it's not bad to just have Drop passively running in the background for you.
If you sign up for Drop using my link, you'll get 1,000 Drop points to start your account.
2. Dosh
Another app I've been using to get a little bit of cashback on my everyday spend is Dosh. It's a mobile-only app that tracks your spending and gives you cashback for purchases you make at certain restaurants and stores. I've been using Dosh for over a year now to earn cash back on my spending at various restaurants and breweries around me.
What makes Dosh really great is that it's completely passive once you set it up. You just link your credit cards to Dosh, and if you spend money at a participating business, you automatically get cashback to your Dosh account. You can then cash out your earnings to your regular bank account once you hit the minimum cashout requirement.
In my time using Dosh, I've found that it instantly recognizes when I spend money at a participating place and then credits my Dosh account immediately. It's pretty crazy how fast it works. For me, Dosh has worked out really well simply because a lot of breweries in my neighborhood seem to offer 5% or more cash back. When you combine that with the credit card rewards that I earn (typically at least 2% back), I'm basically snagging myself a 7% discount at most breweries – all without having to do anything!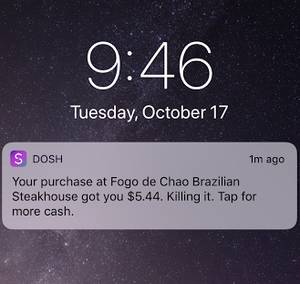 I wouldn't recommend you go out of your way to eat or drink at places you wouldn't normally go to, but you should definitely link your cards to Dosh to give you a little bit of return on spend for random places you might happen to go to.
3. Rakuten
Rakuten (formerly Ebates) is pretty much a no-brainer Google Chrome extension that everyone should have in their browser. With Rakuten, you get cashback on almost any purchase you make online – typically around 2-5% back, but often more depending on the store and the time of year.
The extension only takes a few seconds to set up, and once it's in your browser, it'll automatically notify you if you're on a website where Rakuten offers cashback. From there, you just activate the extension and continue with your purchase as normal. Rakuten then tracks your purchase and gives you whatever percent cash back you earned.
If you're wondering how Rakuten can pay this cashback, it basically gets a referral fee from the store when someone buys something with Rakuten activated. Rakuten then shares this referral fee with you. The alternative would be that you don't use Rakuten, in which case you're just not getting back anything at all – so naturally, Rakuten makes a lot of sense to use.
You get paid by Rakuten once per quarter, so it's a nice little bonus when you get a Rakuten check in the mail. In my time using Rakuten, I've earned back several hundred bucks – all while spending on stuff I was already going to buy anyway. And all I had to do was take a few seconds to set up the Rakuten Google Chrome extension.
If you combine Rakuten with the return you're getting on your credit cards, pretty much any purchase you make online should be worth at least a 5-10% discount. Basically, if you buy anything online, you should make sure you have Rakuten set up – otherwise, you're just missing out on free cashback.
If you use my link, Rakuten will give you a $40 signup bonus once you signup and make your first purchase using the Rakuten browser extension!
4. Freebird
Freebird is an app I found that I've now added to my best cashback app list. If you ever use Uber to go anywhere, this is a must-have app that you need to download. Here's how Freebird works.
A lot of people are taking Ubers to go to various places. At the same time, there are hundreds of restaurants looking to find ways to get people in the door. Freebird partners with restaurants to offer cashback if you take an Uber to that restaurant. For the restaurant, it's basically a marketing expense – if you take an Uber to their restaurant using the app, the restaurant pays you something, which is worth it for them since it gets a customer through the door.  Below is a video from Freebird that explains how it works:
So, basically, instead of ordering Ubers through the Uber app, you should instead order them using the Freebird app. It's the same thing as ordering an Uber, but by using the Freebird app, you at least get cashback on your rides.
I've found that cashback rates tend to be about $4 for the restaurants near me, so if you go to a restaurant that's not too far away, you can basically subsidize or completely cover the cost of your Uber ride. If you order an Uber to go to a non-participating place, you earn points. 5,000 points in the app equal $10 cashback. I've already used Freebird a few times to try it out, and it's worked out great for me.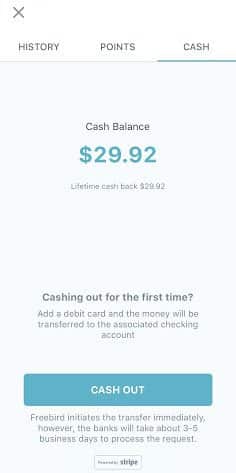 5. ReceiptPal, Receipt Hog, Fetch, CoinOut, and Amazon Shopper Panel.
One easy way to get cashback is by taking pictures of your receipts. This is a simple way to get a little something back for the purchases and receipts that you're probably already getting anyway.
I use five apps to do this – ReceiptPal, Receipt Hog, Fetch (2000 points), CoinOut, and Amazon Shopper Panel. ReceiptPal, CoinOut, and Amazon Shopper Panel give you cashback for any receipts. Receipt Hog and Fetch both give you cashback for taking pictures of any grocery store or convenience store receipt. Amazon Shopper Panel is the best one right now and gives you $1 for each receipt, up to $10 per month (and they can be receipts for anything).
I recommend downloading all five of these apps and incorporating them into your day-to-day life. Whenever I get a receipt, I quickly snap a picture of it using these apps before I toss the receipt. It takes me a few seconds and allows me to earn a few extra dollars every few months without much work.
6. Honey & WikiBuy
My next set of apps are two Chrome browser extensions that will help you make sure that you're paying the lowest possible price for whatever you're buying. I've put them both in the same section because they work very similarly and it makes sense to have both of them installed in your browser.
Honey works by scanning for coupons and promo codes whenever you're checking out from your online purchase. By using Honey, you'll always know that you've used every possible coupon or promo code out there. If you sign up for Honey with my link, you even get $5 when you use Honey at checkout.
WikiBuy works similarly to Honey, but its best feature is that whenever you buy something on Amazon, it will automatically tell you if Amazon is offering the lowest price, or if you could find that item for a lower price somewhere else, such as on eBay or another site. WikiBuy works entirely in the background and integrates right into Amazon, so you should definitely have this app installed.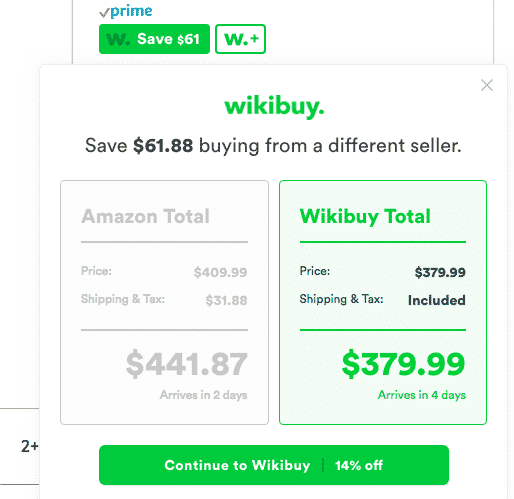 One thing to note is that both Honey and WikiBuy have a cashback thing similar to Rakuten on some websites, but these won't stack with Rakuten. Most likely, if either of these apps offers cashback, Rakuten offers it too, and I'd recommend using Rakuten for your cashback (but obviously, use whichever one gives you the most cashback).
7. Upromise
The last cashback program I use is Upromise. Like with Dosh, Drop, and Uber Offers, Upromise tracks your credit card spending in the background and then gives you cash back on eligible purchases.
The main difference is that you're supposed to use the cash back that you earn through Upromise to pay student loans or to fund 529 plans. I've just been putting the cash into my own 529 plan that I set up for myself a few years back.
I haven't earned a ton of money through Upromise and it seems super slow in actually applying your cashback to your account. Still, it requires no work on your end other than linking your credit cards, so you might as well have it set up. 
Also, use my link and receive a $5.29 bonus when you sign up and $25 when you link a 529 plan.
Honorable Mentions
I have a few other apps that I have included here as honorable mentions. I think these apps are worth setting up just to squeeze out a little bit more cashback. These include the following apps: 
1. RebateKey 
RebateKey is an interesting website I found where you can search for items offering a rebate on their website, buy the items from Amazon, submit the purchase information to RebateKey, then get the rebate check in the mail about a month later. The rebates vary but typically range from 50% to even 100% of the purchase price. 
Based on my research, the purpose of RebateKey is for Amazon sellers to boost up their sales – most likely to improve their Amazon search rankings. 
I've used RebateKey several times now and have received my rebates each time without any issue, so I can say that this website is legit.
You'll need to search the RebateKey website to see if anything is interesting to you, but if you're looking to buy random things from Amazon for very cheap (or even free), you should try out RebateKey. 
If you feel like supporting this blog, feel free to use my RebateKey referral link. 
2. Trunow 
Trunow is an app similar to the receipt apps discussed above, except it only applies to gas station receipts. It gives a small amount of cashback for all of your gas station receipts, so it's worth just quickly snapping a picture of your receipt before you get rid of it.
Takeaways
There are a lot of apps out there that can save you money or give you some cash back on your everyday spend.
You obviously won't get rich from these apps, but it's at least something. And none of this requires you to change any of your spending habits. You're basically adding a cashback component to your financial life that runs passively in the background.
It literally takes a few minutes to set up all of these accounts. Most of you could probably read this post and set up all these apps in the next 15 or 20 minutes. And once set up, you can sit back and just keep doing what you normally do.
What do you think of my best cashback apps list? Any other cashback apps that you recommend?