If you're looking for a Fetch referral code, this is the post for you. Fetch is currently offering new users a 3,000-point signup bonus if you download the Fetch app using a referral link. You can then redeem the points for gift cards, including Amazon gift cards.
To earn your Fetch referral code bonus, you'll need to do the following: 
Download the Fetch app using a referral link (here's my Fetch referral link).
After you've downloaded the app, snap a photo of any receipt with the Fetch app. 
Your bonus points will be included with the points you earn from your first receipt.
Fetch is an app I regularly use and it's a nice way to earn extra money for receipts you're already getting and would otherwise just throw away. I've included my earnings from these various receipt apps in my side hustle reports, which go back over 5 years. 
With that said, in this post, we'll briefly go over how Fetch works, how to use the Fetch referral code, and how to refer your friends and family for even more points. 
What Is Fetch? 
Fetch is what I like to call a "receipt app." It's an app that gives you points for receipts. You snap a photo of each receipt you get and you earn points for those receipts. At present, Fetch gives you 25 points for every receipt you snap. If your receipt has certain products on it, you'll earn bonus points. 
Fetch is part of a group of receipt apps I use all the time (the other apps that make up this group are ReceiptPal, Receipt Hog, CoinOut, Amazon Shopper Panel, and Upside). Each time I get a receipt, I snap a photo of it with each of these apps. Some of the apps only work with grocery store and convenience store receipts. Other apps work with any receipt. 
The nice thing about Fetch is it's one of the receipt apps that work with any receipt. You'll always get at least 25 points for each receipt. Once you've accumulated at least 3,000 points, you can cash out your earnings for gift cards. I usually cash out my earnings every few months for Amazon gift cards. 
Receipt apps are, in my view, a fairly passive source of extra income. You probably accumulate a lot of receipts over the course of a day or week. Instead of throwing them away, consider snapping a photo of them with an app like Fetch. You won't make a ton of extra money, but you will make some money without a lot of effort.
Fetch Referral Code 
To earn your Fetch referral code bonus, follow these steps: 
1. Download The Fetch App Using A Referral Link. First, you'll need to download the Fetch app using a referral link (here is my Fetch referral link).
2. Snap A Photo Of Any Receipt With The Fetch App. To do so, open the Fetch app, then click the camera icon in the app. You'll be able to snap a photo and will be able to see how many points you earned. 
3. Your Bonus Points Will Be Included With Your First Receipt. You should see your bonus points post with the first receipt. From there, keep snapping photos of more receipts until you're able to cash out your points for some gift cards!
Refer Your Friends/Family With Your Fetch Referral Code 
In addition to getting a signup bonus, you can also refer your friends and family using your Fetch referral code. To find your Fetch referral code, go to the "Me" section in the app, then click "Refer a friend." 
You'll come to a screen that shows your referral code, as well as a QR code that people can scan and options to text or email your referral code to your friends or family.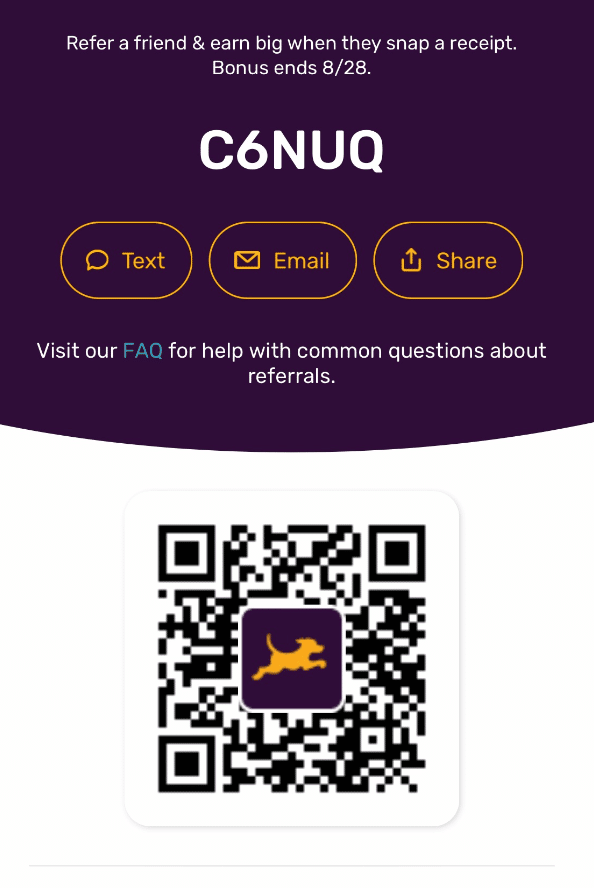 The bonus points you'll earn for each referral change regularly, but you'll typically earn 2,000 to 4,000 bonus points for each referral. You can also track your referrals in the "my referrals" tab.
Final Thoughts 
Fetch isn't an app you'll make crazy amounts of money with. But it is a nice app you can use to earn a bit of extra money for receipts that you're probably already getting. It only takes a second to snap a photo of each receipt.
I've been doing this for years and have been able to accumulate a decent amount of Amazon gift cards with Fetch.