Over the past several years, I've earned extra income by taking advantage of various types of gig economy apps. There are a couple of obvious apps that you've probably heard about before – think food delivery apps like DoorDash and Uber Eats or grocery delivery apps like Shipt and Instacart. But there's also a subset of smaller apps out there that you might not have heard about before. One app I've used on-and-off over the past few years is the Observa app.  
Observa is in a category of app that I like to call "picture-taking" apps. These are apps that pay independent contractors to visit businesses, answer a few questions, and take pictures of specific products. Generally, you do these assignments surreptitiously, without letting anyone at the business know what you're up to.
The assignments usually don't take long – 5 or 10 minutes at most – and typically pay you $5 to $10 for your work. It's not enough to make a full-time income or even a significant income, but it's something that you can do to earn a little extra money while you're out and about. And importantly, apps like Observa are pretty easy to fit into your daily routine.
In this Observa app review, we're going to look at what the Observa app is, how it works, and whether it makes sense to use this app to earn a little bit of extra income. I'll also look at some of the strategies I've used to maximize my earnings with the Observa app.
What Is The Observa App?
Observa is an app that partners with brands to audit their product shelving at businesses. Brands spend a lot of money to get their products in front of customers. As a result, they like to make sure that their products are being properly displayed and are correctly priced.
To do this, Observa pays independent contractors to visit businesses and take photos of certain products on the shelves. The brand can then use this information to make appropriate changes to their product, if necessary. 
For the side hustlers out there, Observa is a way you can make a little extra money by taking pictures and answering questions for these brands. 
Here's a video from Observa that gives some more information about Observa and how it works: 
How Does The Observa App Work?
Observa is an on-demand gig economy app where "Observers" can complete short assignments and get paid for them. I've done Observa gigs sporadically for the last four years. It's not a lot of money and I don't go out of my way to do these gigs, but they can sometimes work out well depending on what I'm doing. 
Here's all the information you need to know about how Observa works.
How To Sign Up For Observa
The first thing you need to do to become an Observer is to sign up for Observa. Signing up for Observa is very easy. Simply download the app and follow the instructions to sign up. You can sign up to be an Observa Observer using this link. 
Once you've downloaded the app, simply follow the instructions to sign up for Observa. When you open the app, you'll see a button at the top that says join. You'll then enter your email address and create a password for your account. That's it! Once you do that, you'll be able to log in and see available assignments in your area.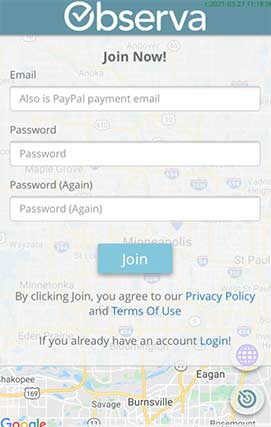 How Do Observa Assignments Work?
Observa assignments are straightforward and most of them are easy to complete. After you've created your account and logged in, you'll see a map that shows you all of the available assignments around you. If the assignment is available, you'll see it as a red dot. If the dot is yellow, it means that the assignment has already been picked up by another Observer.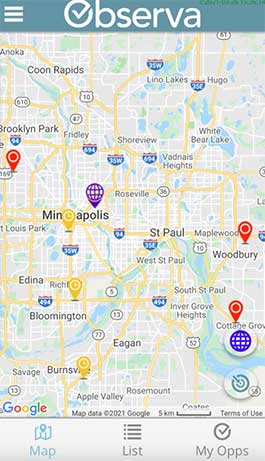 When you click on an assignment, you'll see information about what the assignment is and what it pays. The app will also tell you how long you have to complete the assignment (I believe that every assignment gives you 5 hours to complete it once you've accepted it).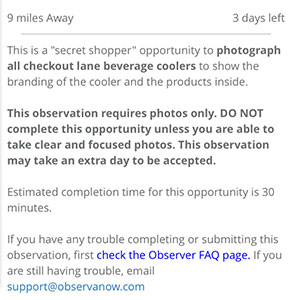 There are two types of assignments in the Observa app. The first is your typical secret shopper-type assignments where you take photos in the store without making yourself known. Some only require you to take photos. Most will also require you to gather some other information, such as entering pricing information into the Observa app. A few may require you to buy products and get reimbursed for them. 
The second type of assignment is one where you speak to a manager and see if they would be interested in adding a particular product to their inventory. To do this, you'll have to print out a sell-sheet and give it to the manager. This is basically an order form that the business can use to order a product.
I only do the secret shopper-type assignments because I don't want to interact with any store employees when I do these gigs, but if you're comfortable with it, you can try either of these types of Observa assignments.
How Much Does Observa Pay?
After you complete your assignment, you'll submit it to Observa. The app will then review your assignment and either approve or reject your assignment. This process is quick – usually within 24 hours. In all my years of doing Observa gigs, I've never had an assignment rejected, although admittedly, I haven't done that many Observa gigs either. 
As for pay, each Observa gig typically pays at least $5. Looking at my own Observa history, most of my gigs have paid $5 to $7.50. When I look in the app now, I see a lot of gigs that pay $7.50 or more. I don't know how the pay is determined, but it seems that the more you have to do for an assignment, the more they tend to pay. 
Payment is made via PayPal, so you'll need to have a PayPal account if you want to sign up for Observa. I assume most people have a PayPal account already. It's free to create a PayPal account, so there's no downside to doing that. 
Downsides With The Observa App
Observa is far from perfect and indeed, there are a lot of downsides with this app. If you're going to use this app, you have to go into it understanding what it's for and what it's not for. Here are some of the big downsides that you need to think about if you're using Observa.
There aren't many assignments. I've used the Observa app for several years and even though I've had it on my phone for a long time, I haven't done very many assignments. Often, you'll open up the app and see a handful of assignments at most. If you're looking for something that will be a consistent source of income, this is definitely not the app for you to use. 
It's not a very lucrative app. The Observa assignments only pay $5 or so for each assignment, which isn't very much. The assignments don't take long – a $5 assignment, for example, should take you 10 minutes to complete at most. When you break it down, $5 for 10 minutes is a solid $30 per hour for your time, which can be worthwhile. At the same time though, $5 isn't that much money. You're not going to get rich from this app. 
Many assignments require travel time. The biggest downside with an app like Observa (or any picture-taking app) is your travel time. Even if an assignment only takes you 5 or 10 minutes to complete, it's not going to be worth your time if you're spending 10 or 20 minutes traveling to the location. In my experience, most Observa gigs are too far away to spend your time doing them.
The app interface isn't great. Observa has a pretty dated-looking interface compared to many other apps. I've found the app to be glitchy and slow. And it definitely isn't optimized for the latest version of iOS (I have an iPhone, so that's the phone operating system that I use).  
Some assignments are unrealistic. There are occasional Observa assignments I've noticed that are unrealistic for anyone to complete. For example, you'll sometimes see assignments that ask you to take photos in a small convenience store. That's going to be difficult to do since most business owners aren't going to be happy with you walking into their store and taking photos. In a larger store – like a grocery store or a big box store – it's no problem, but in a small store, you're going to have trouble taking photos without being noticed. I always avoid any assignments in small convenience stores, even if they're close to me.
Strategies To Maximize Your Observa Earnings
Observa isn't a lucrative gig economy app. You won't make a lot of money from it. But there are strategies you can use to make it more worthwhile for you. Here are the main strategies I recommend. 
Combine Observa with other gig economy apps. The most important thing you can do to make Observa worthwhile is to combine them with other gig economy apps you might be using. For example, I also do a lot of food delivery using apps like DoorDash and Uber Eats. If you're doing one gig that takes you past an Observa gig, it can make sense to quickly run in, snap some photos, and then continue on your way. 
Do Observa gigs while you're running errands. In my opinion, the best way to use Observa is to do these gigs while you're doing errands. For example, if you're going to be at the store anyway, then it would make sense to do an Observa gig that is at that store. Not too long ago, I had to run an errand that took me past a couple of Observa gigs. It was easy enough for me to stop by these stores and complete these gigs along the way. 
Do not go out of your way to complete Observa gigs. This is fairly obvious, but worth mentioning. Observa gigs are not worth doing if you have to travel out of your way to do them. Even though the gig itself might pay a decent amount for the time it takes to complete it, the travel time will destroy your earnings, making your real hourly wage very low. Instead, only do Observa gigs if you're already at the store, it's very close to where you are, or you'll be going in that area anyway.
Final Thoughts On The Observa App
Observa is an app that will allow you to make a little bit of extra income while you're out and about. You won't make a lot – but it's at least some extra income you can use, especially if you can incorporate Observa into the activities you're already doing. 
In addition to Observa, there are a variety of other similar types of apps that you should download and keep on your phone. If earning extra income in this way makes sense to you, then I recommend you download the following apps and keep them on your phone: 
All of the above apps work similarly to Observa, so download all of them and keep them in a folder on your phone. Of all of these apps, Field Agent is the best one, in my opinion.
I hope you find this Observa app review helpful. And if you're interested in signing up for Observa, you can do so using my Observa referral link.