The last time I wrote a post like this, I wrote about what it's like to be a DoorDash Dasher and gave an overview of how the DoorDash app works and some things to think about to make Dashing as profitable as it can be for you. All of the big four delivery apps work in generally the same manner – but there are differences between them. In this post, we're going to take a look at Uber Eats, go over what it's like to be an Uber Eats driver, and discuss the strategies you can use to earn more money with Uber Eats. 
First, a little bit of background about who I am and what I'm all about. I started my career as an attorney and practiced law for five years before quitting my job to become a full-time blogger, writer, side hustler, and solopreneuer. Even when I was working as a full-time attorney, I was also side hustling using different gig economy apps. My favorite side hustle has always been the food delivery apps – apps like Postmates, DoorDash, Uber Eats, and Grubhub. 
What made these apps so appealing to me was how flexible they were. I had a full-time, demanding job, so if I wanted to side hustle, I needed to do something that could fit into my day-to-day life. Delivering for Uber Eats did exactly that – I could turn it on whenever I wanted and do deliveries in the spare moments of my day. 
Most importantly, Uber Eats didn't require me to use a car – I could use a bike instead. I'm an avid biker, so delivering food with my bike was essentially a way for me to get paid to do something I was already doing anyway.
I've now been an Uber Eats driver (or Uber Eats courier) since 2016. It's one of my favorite side hustles and a side hustle that I think many people could incorporate into their own lives, whether they're looking to make extra money or simply looking for a potentially fun activity to try out.  
If you're interested in learning more about what it's like to be an Uber Eats driver in 2023, be sure to read the rest of this post. And if you're interested in signing up to be an Uber Eats driver, you can sign up using this Uber Eats driver link. 
What Is Uber Eats?
If you've found this post, you probably already have an idea about what Uber Eats is, but I'll briefly go into some detail for anyone who might not know about this app. 
Uber Eats is an on-demand food delivery app where customers can order food from local restaurants and have their food delivered to them by Uber Eats drivers. Rather than use employees, Uber Eats uses independent contractors to pick up and deliver food to customers.
For our purposes, this is where we can use Uber Eats to generate extra income. Anyone can sign up to be an Uber Eats driver. And once you sign up, you can log into the Uber Eats app and start delivering orders. 
Why Should You Deliver For Uber Eats?
There are four main reasons why I deliver with Uber Eats. These include the following: 
1. It's Very Flexible Work. What makes Uber Eats most appealing to me is that it's extremely flexible. Uber Eats is an on-demand food delivery app and does not have any scheduling features. That means whenever you want to do deliveries, you can just turn on the app, make yourself available, and start getting orders. Other apps like DoorDash and Grubhub allow couriers to schedule in advance. In some circumstances, it can put you in a position where you either can't sign in or won't get any deliveries because other people are already scheduled.  
2. I Can Use My Bike. The most appealing aspect of Uber Eats for me is that it allows you to sign up as a bike courier. I think food delivery works best when you're doing it on a bike. You don't have to worry about gas or parking. You can simply pull up to customers and restaurants. And you get the benefit of improving your health by exercising. When you're signed up as a bike courier with Uber Eats, you'll get shorter deliveries that you can complete faster and, as a result, make more profit. Whether you can use your bike will depend on where you live and your personal preferences, but it's an option I recommend. (Related: The Best Thing I've Ever Bought Is An Ebike)
3. Small Amounts Add Up Thanks To The Reverse Latte Factor. Most people don't think about it, but doing something like Uber Eats can make you a millionaire. You just have to make use of a concept I like to call the Reverse Latte Factor. Small amounts, saved and invested over time, can yield huge numbers. Consider this. If you earn $10 per day, you'll end up with $3,650 in a year. Invest that for 30 years with an average rate of return of 7% per year, and you'll have over $368,000. If you can double your earnings to 20 per day, you'll end up with over $735,000. Increase your earnings to $30 per day and save all of it for 30 years and you'll be a millionaire.
4. It's Fun. The most important thing to me when it comes to any side hustle is that I have to enjoy it. For whatever reason, food delivery with apps like Uber Eats has always been really fun for me. I think it's because it makes the world feel a bit like a game. I get a mission, I go out and do it, and I make a little bit of extra money for it. Plus I like to challenge myself to see how much I can make and do things to improve my earnings.
How To Sign Up For Uber Eats
Like most food delivery apps, the Uber Eats driver signup process is straightforward. When I first signed up for Uber Eats back in 2016, I had to go into my local Uber office to get my account activated. These days, you don't need to do that and can instead sign up to be an Uber Eats driver entirely online using your phone or computer. 
The documents you'll need to sign up for Uber Eats depend on which vehicle you opt to deliver with. You can use a car, a scooter, or a bike to do your deliveries. If you're using a car or scooter, you'll need a driver's license and insurance. If you're using a bike, you'll only need some form of government ID.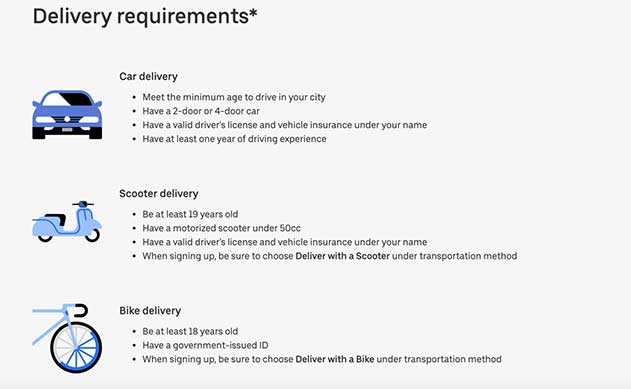 You'll also have to do a background check and provide a photo of yourself to use with your Uber Eats driver account. The entire sign-up process is quick and you should be able to get up and running in a few days, assuming there aren't any delays in processing your information. 
Other than a vehicle (i.e. a car, scooter, or bike), you'll also need a delivery bag to transport the food and keep it warm. Unlike the other food delivery apps, Uber Eats does not provide you with a delivery bag (in contrast, Postmates and DoorDash both send you a delivery bag when you sign up to work for them). I use an Uber Eats branded delivery backpack that I bought for $25. I thought that was a good deal for this type of bag, but you can use whatever works for you.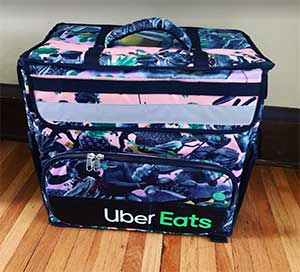 One optional thing that you might need is the Uber Eats driver card. This is a debit card that Uber Eats gives you to use for orders that are not prepaid. You'll rarely have to use this card and you don't need it to start doing deliveries with Uber Eats, but it's something you may need if you want to accept non-prepaid orders.
Another thing to note is that Uber Eats does not have an easy way to switch between different vehicle options. I've only ever signed up as a biker on Uber Eats, but my understanding is that if you want to use multiple vehicles, you have to create a different Uber Eats driver account for each vehicle type. This isn't that big of a deal, but it is less convenient compared to DoorDash or Postmates, both of which let you switch vehicle types easily within their respective apps.
How To Deliver With Uber Eats
After you have signed up to be an Uber Eats driver, you'll be able to log in and start doing deliveries. Uber Eats does not have schedules, so whenever you want to do deliveries, you simply open the app and click the "Go" button.
Once you've logged in, you'll start to receive delivery requests in your Uber Eats driver app. You'll receive the following information with each order: 
Restaurant name and address
Customer delivery location
The total amount you'll be paid for the order (including the expected tip) 
The total distance you'll travel and estimated time to complete the order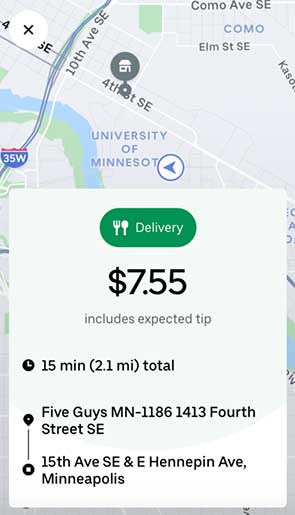 The things you'll care about are the first three items – which restaurant you'll be going to, where the customer is located, and how much you'll make for the order. If the order works for you, you can click to accept the order. If it doesn't, then you can decline it. 
The vast majority of orders on Uber Eats are prepaid. That means it's already paid for by Uber Eats and the only thing you need to do is walk into the restaurant and pick up the order. Uber Eats recently added a pay when you arrive option for some restaurants, but it's rare enough in my experience that you won't encounter it too often (whenever I do get an order like this, I usually will cancel the order). 
After accepting the order, you'll then head to the restaurant and pick up the food. Uber Eats does a very good job of timing when it sends out orders, so most of the time, the order will be ready as soon as you arrive at the restaurant. This is better than a lot of the other apps – DoorDash does a decent job of making sure orders are ready by the time you arrive while Grubhub is notoriously bad at this. 
The next step is to deliver the food. Once you've picked up the order, you'll mark that you want to start the order in the app and then Uber Eats will give you the exact delivery address. From here, simply head to the customer and drop off their food. Some orders will be ones where you can leave it at the door and snap a picture of the food. Others will be ones where you need to hand the order to the customer. Your goal here is to get through this process as fast as you can so you can move on to your next delivery.
And that's it! There are a few more advanced things to know about the deliveries, which we'll talk about in the strategies section of this post.
How Much Do Uber Eats Drivers Make?
In this section, we'll go over how much you can make with Uber Eats. Specifically, we'll look at how Uber Eats calculates driver pay and what you can expect to make as an Uber Eats driver.
How Does Uber Eats Calculate Driver Pay?
Your pay on Uber Eats consists of three main things: (1) base fare; (2) surge pricing; and (3) customer tips. Here's a look at the pay breakdown on one of my deliveries.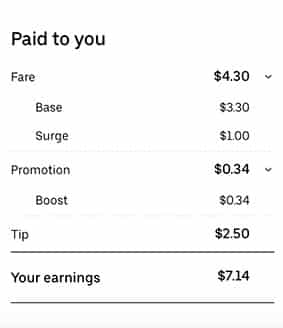 When you get an order, you'll see the total amount that you'll make for the order, including the expected tip. This is better than the old system that Uber Eats had, where you couldn't see the tip until after you delivered the order. When you couldn't see the tip, every order was a crapshoot and if you didn't get a tip, the order likely wasn't worth doing. Getting more information upfront is always better, so this is definitely a welcome change.
Orders start at $2 or $2.50 and have no theoretical upper limit. I've found that most orders worth accepting range from $5 to $10, with my average payment per order somewhere between $6 and $8. You can understand why orders tend to fall in this pay range by thinking about the math behind most orders. A typical Uber Eats order will have a base pay in the $3-$4 range. If your tips are in the $3-$4 range as well, you'll come out to about $6-$8 per order.  
How Much Can You Make With Uber Eats?
So how much can you make with Uber Eats? Specifically, what can you expect to make per hour as an Uber Eats driver?
This will vary depending on the market that you live in, as well as your skill level and experience. That said, assuming you're in a busy market, you'll probably make around $15-$20 per hour if you only use Uber Eats.
But that's not the end of the story. That's because like all gig economy apps, Uber Eats is one where you're paid for the tasks you complete, not the amount of time you work. What this means is that with the right strategy, it's possible to make more (or less) depending on how strategic you are with your deliveries.
I personally average in the $30 to $40 per hour range in my market – and this is while doing all of my deliveries on a bike. Not everyone will be able to make this much, but it's possible depending on where you live and when you think about how the math works.
Here's how to think about the math with your deliveries to determine what is a realistic amount that you can make.
First, figure out the average amount you can make per delivery. I personally average between $6 and $8 per delivery. I think this is a realistic number in most markets. If you want to be conservative, you can adjust it down.
Second, figure out how many deliveries you can complete per hour. The more deliveries you can complete, the more you'll make – in my experience, volume is the name of the game. During peak hours, I'm usually able to average 5-6 deliveries per hour via multi-apping (i.e. running multiple delivery apps at the same time). 
Third, once you know the above two numbers (how much you make per delivery and how many deliveries you complete per hour), you'll be able to get a good ballpark of what you can earn per hour. If you can complete 5 deliveries per hour and make $6 per delivery, you'll make $30 per hour. Hit 6 deliveries per hour at $8 per delivery and you'll make $48 per hour. Most likely, you'll be somewhere in between those two numbers (assuming you're strategic about which orders you accept and how you do your deliveries).
$30 to $40 per hour is what I personally aim for whenever I go out to do deliveries. This may or may not be possible in your market, but it's worked out for me.
To do this, you're going to need to multi-app and work only during peak times. That means using multiple delivery apps and working during lunch and dinner hours when delivery demand is highest (we'll discuss in greater detail how to multi-app in the strategies section of this post). If you're using Uber Eats as a full-time job, you won't be able to average this high of an hourly rate. That's why I think of these gig economy apps more as a side hustle, rather than a full-time job.
A Word On Uber Eats Tips 
A key difference with Uber Eats compared to DoorDash and Grubhub is that with Uber Eats, the tip amount is an estimated amount and can be reduced by the customer after you deliver the food. Uber Eats customers enter their tip amount when they place their order, but they also have 1 hour in which they can change the tip. In contrast, with DoorDash and Grubhub, you'll always get paid at least what the app says you'll get paid. 
The fact that customers can change their tips leads to a situation where you can make less than what was initially offered. I've found that almost every order I've completed pays what was offered, but there have been times when I've received less than what the Uber Eats app estimated I would make.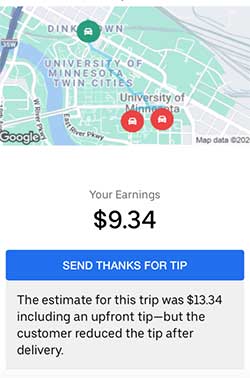 There are two scenarios I can see where a customer will lower your tip after they receive their order. The more common scenario is one where something goes wrong with the order and you end up with an upset customer that lowers your tip. You can see this happening when an order is delayed or if an item is missing.  
The other less common scenario is called tip baiting. This is where the customer offers a high tip to get someone to accept their order, then lowers the tip after they receive it. Most people won't do this, but it is possible since Uber Eats allows the customer to change their tip after receiving their order.
For the most part, I find that you can count on what the Uber Eats app says you'll make, but it's worth understanding this part of your payout whenever you decide whether to accept an order on Uber Eats.
Your Uber Eats Driver Ratings
Like most food delivery apps, Uber Eats utilizes a rating system where customers can rate you after each delivery. You have to keep your rating at a minimum level or else you can be subject to deactivation. 
Unlike DoorDash, Uber Eats does not utilize a number rating system. Rather, customers simply rate you positively or negatively after each order and can also leave feedback on your delivery. Your rating is made up of the positive and negative ratings from your last 100 rated deliveries. So, for example, if you receive 95 positive ratings and 5 negative ratings, your rating would be 95%. I'm not clear on what your rating needs to be to avoid issues, but I'd likely aim for a satisfaction rating of 90% or higher.
You can also get a more detailed look at your ratings in the Uber Eats driver app. On this screen, you'll see how many positive and negative reviews you've received for your last 100 rated deliveries and also see any feedback from customers.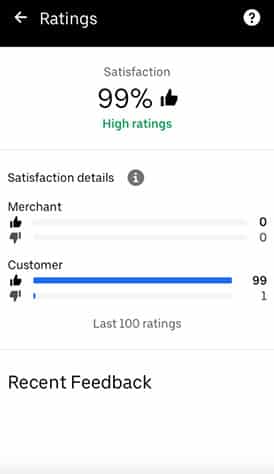 The takeaway here is to do your best to maintain a good delivery rating. My rating always hovers around 99-100% and I'm generally able to keep it there without having to do much beyond delivering my orders on time and trying my best to make sure orders are correct when I receive them. 
How To Handle Stacked Orders As An Uber Eats Driver
A stacked order is when you receive a delivery request that includes two orders in the same delivery request. In that situation, you'll pick up the two orders and drop both of them off. The orders can be from the same restaurant or from two different restaurants that are close to each other. In general, stacked orders are an excellent way to make more money since you're able to complete two deliveries at the same time. 
One annoying thing with Uber Eats, however, is that if you get a stacked order, you won't see where the second delivery is going. Instead, the Uber Eats app will only show you where the first delivery is going. This can be a problem because the second delivery could either be going really far away or going in a direction that doesn't make sense for you. As a result, you're stuck in a tough position of either rejecting both orders or accepting the orders and taking a chance that the second delivery isn't going to a bad spot. 
However, there is a hack that will allow you to see where the second delivery is going. Here are step-by-step instructions on how to do this: 
Accept the order.
Once you've accepted the order, turn on airplane mode on your phone. Make sure your phone is not connected to wifi either – your phone needs to have no data connection of any sort for this hack to work properly.
Swipe to start the delivery on the first order. The app should then bring you to the second order.
Swipe to start the delivery on the second order. 
The app will now show you where the first order is going. Mark the order as delivered. 
Once you mark the first order as delivered, you'll see where the second delivery is going. 
Open and close the app at least three times. You need to be completely out of the app – so, it's not just clicking out of the app, but actually closing the app and opening it again (i.e. a forced restart of the app). You need to do this at least three times for this to work properly. 
After you've opened and closed the app at least three times, reactivate the data on your phone. You can then open the Uber Eats app and it'll go back to the beginning of the order as if you had just accepted it. 
This hack works because when you get an order, your Uber Eats app knows where the order will be going. If you go into airplane mode and start the delivery, the app gives you this information but can't send it out to the Uber Eats server.
Once you know where the order is going, you can then decide whether the second delivery works for you. If it doesn't, then you can cancel the order. Just make sure to keep track of which order is the right one to cancel. You'll likely need to remember the customer's name so that you cancel the correct order (note: canceling orders that you have accepted is a good strategy and one that you can do without any issues – more on this in the strategies section of this post).
Uber Eats Driver Strategies
Making the most money you can with Uber Eats requires an appropriate strategy. Most people think of gig economy apps like Uber Eats as unskilled work. And while these aren't necessarily high-skill jobs, they aren't jobs with no skill either. You will find that the more deliveries you do, the better you become at them and the more you'll make.
If you're someone reading a post like this, you're probably the type of person who will make more than the average person simply by utilizing strategies that make you more efficient. There are a lot of strategies and tactics that you'll figure out as you do more deliveries. Here are a few to think about specific to Uber Eats:
1. Cancel Deliveries Whenever You Want (So Long As You Haven't Picked Up The Food Yet)
Uber Eats does not track acceptance rate or completion rate – at least as far as I can tell. You can reject as many orders as you want without impacting your status on the app, but more importantly, you can also cancel or unassign orders after you accept them.
Why would you cancel an order after accepting it? I have two primary reasons for doing this: (1) I accept an order and then realize completing the order won't work for me or (2) I accepted a stacked order and find that the second delivery isn't going in a good direction. 
There are several reasons why you might accept an order and then realize it's not a good one to complete. These include the following:
You're multi-apping and after accepting an order, you get a more advantageous order with a different app and can't complete both orders on time. In this case, you may want to cancel the Uber Eats order to take a better order from a different app.
You accept an order and then find that the order will take longer to complete than you expected. This could be because the restaurant is busy or they didn't get your order ready on time for whatever reason. In this case, it can make sense to cut your losses and move to a different order. 
With stacked orders, you may want to cancel one of the orders after figuring out where the second delivery is going. For example, it might be going really far away or in the opposite direction of where you want to go. In that situation, it can be better to cancel one of the orders and turn your stacked delivery into a single delivery.
When you cancel an order, you have to pick a reason as to why you're canceling, but the reason you pick doesn't actually matter. I typically pick "I don't want to do the delivery" or "distance too far." The most important thing is to only cancel orders before you've picked up the food. When you cancel an order that you accepted but that hasn't been picked up yet, the order will go to the next Uber Eats driver. However, if you cancel an order that you've already picked up, the order will then get canceled completely and you'll keep the food. Doing this too often will undoubtedly get you deactivated from Uber Eats. 
The primary takeaway here – cancel orders when it makes sense for you to cancel them. It won't impact your ratings or your ability to do deliveries. Do not cancel orders where you've already picked up the food. Once you pick up the food, you have to deliver it.
2. Pay Attention To How Long It'll Take You To Complete An Order 
When you receive a delivery, Uber Eats gives you the total distance the order is traveling and how long it expects you will take to complete the order. This isn't exactly accurate but it does give you an idea of how much time an order will take. 
Time is money in the delivery game, so you want to do your best to complete orders quickly so you can move on to the next one. You'll get better at understanding which restaurants to avoid or which to target with enough experience. You'll also get better at understanding your market and how long it takes for you to travel from place to place.
A general rule of thumb you can use is the 50-cent rule. Ideally, you want to make 50 cents per minute for each delivery you complete. If you're getting $6 for an order, you want to try to complete it in 12 minutes or less. This extrapolates to $30 per hour, which is the minimum I'm aiming for with my hourly earnings.
With time, you'll learn which orders are worth doing and which aren't. I tend to stick to shorter-distance deliveries since I'm on a bike and avoid any long-distance orders, even if they have a high payout. The main thing is to think about how long it'll take you to complete the delivery and if you're getting paid enough for the time it takes.  
3. Use Multiple Delivery Apps 
The most important thing you can do when using any gig economy app – and especially so with food delivery apps – is to use multiple delivery apps at the same time. Remember, you aren't trading time for money with these tasks. You're trading tasks for money. That means the more deliveries you can complete in a shorter amount of time, the more you'll ultimately make. 
The best way to get the most deliveries possible is to work for every delivery app at once. Postmates, DoorDash, Uber Eats, and Grubhub – turn all of them on and accept deliveries on all of them. It takes practice, but you'll find that if you're strategic, you can get deliveries from multiple apps, all from nearby restaurants, and all going in the same direction. If you can do this, you'll dramatically increase the amount you make.
Unfortunately, there isn't a lot I can tell you on how to do this other than to practice and get better at understanding which orders to accept and which to reject. I've been doing deliveries using apps like DoorDash and Uber Eats for over half a decade. With practice, I've gotten very good at multi-apping. 
4. Use Uber Eats While You're Traveling 
You can deliver with Uber Eats in any market that they operate in. This is actually an interesting feature because it means you can use Uber Eats to earn extra income even when you're traveling. I've delivered for Uber Eats in many major cities throughout the United States. It gives me an interesting way to explore a new city and discover restaurants and neighborhoods I might not have otherwise seen.
Negatives With Uber Eats
I've generally found Uber Eats to be a good food delivery app with high demand and solid earnings. In my market, Uber Eats tends to be the second busiest of the major food delivery apps after DoorDash. In my own personal power rankings of the food delivery apps, Uber Eats would be number 2 for me. 
That said, there are things about Uber Eats that can be problematic. Some can be addressed. Others you have to just accept.
Here are the negative things about Uber Eats that you should know about. 
1. Customers Can Change The Expected Tip Amount 
Uber Eats pays a very low base rate, so to make money, you need to get tips. In general, you'll find that tips make up about half of the earnings you make as an Uber Eats driver. The Uber Eats driver app tells you the total amount you'll make for the order, including the expected tip. This gives you enough information to decide whether an order is worth completing. 
The downside is that customers can change their tips after the fact. Sometimes, this might be because the customer was unhappy with your delivery performance. Other times, it could be premeditated, where the customer leaves a tip to get an Uber Eats driver to accept their order, then removes the tip afterward to save themselves money. 
Either way, this is a negative thing that you need to consider. With DoorDash and Grubhub, the amount you are offered when you accept an order is the amount you'll be paid without exception. But with Uber Eats, any offer amount you see is an estimate and there's always a chance that the customer lowers the tip after the delivery. Personally, I've found that customers don't change the tip too often, but it does happen. 
2. Uber Eats Doesn't Always Show You Where The Delivery Is Going
There are two situations where you won't be able to see where the delivery is going until after you pick up the order. The first is when you receive a stacked order. In that situation, you'll only see where the first delivery is going. (Note that it looks like the latest version of the app now shows you where both orders are going. The only issue is that it's sometimes difficult to see because the map will be small and you don't have much time to decide whether to accept the order or decline it).
The second is when you receive an order while you're already doing another order. When this happens, Uber Eats will tell you the intersection that the order is going to, but you won't actually see the map showing you where the order is going. This is fine if you are familiar with the neighborhood, but if you're not familiar, then this can be a problem. 
Luckily, there is a workaround to this problem. You can follow the steps I lay out in the section on stacked orders. If you follow those steps, you'll be able to see where your blind orders are going, then decide whether to keep the order or cancel it and wait for a different one.
3. You Can Sometimes Have Administrative Hassles With Uber Eats 
This is an issue that might not apply to everyone, but I've had to deal with this before, so I thought it was worth mentioning. Every year, Uber Eats runs a background check on all of its drivers. Usually, this happens behind the scenes without any problems.
This year, however, I had an issue where my background check consent wouldn't process, which meant that Uber Eats couldn't run its background check on me. As a result, I couldn't log into Uber Eats for over a month. I ended up calling Uber support multiple times and going into my local Uber office, where I received no help. Finally, after 6 weeks, I managed to get someone from Uber support who went out of their way to help me get my background check processed. Not having my Uber Eats account active for over a month definitely hurt my overall delivery earnings since I couldn't multi-app as efficiently without it.
You might never have a problem like this, but it's an issue that impacted me enough that it's worth sharing. My own cursory research suggests other people have had similar issues like mine, so this isn't necessarily an isolated incident. 
4. You Can't Change The Order Routing On Stacked Orders
A very annoying thing with Uber Eats is that you can't change the routing on stacked orders. When you get a stacked order, Uber Eats decides which order you pick up first and the order in which you deliver them. Sometimes this can be inefficient. I've had orders where Uber Eats has had me go past a customer's house in order to drop off a different order first, even though it'd make more sense to drop off the closer order along the way. In contrast, DoorDash and Grubhub both let you pick which orders you pick up and deliver first when you get a stacked order through their apps.
This can be especially annoying if you're multi-apping. You might find yourself with a nice stack that fits in well with your other orders, but then find your routing on Uber Eats is stupid. 
Frequently Asked Questions
You probably have a lot of questions about Uber Eats. Check out the posts I've written to answer some of the frequently asked questions about Uber Eats.
Final Thoughts
Uber Eats is my second favorite of the big three delivery apps. In my power rankings, I rank DoorDash first, Uber Eats second, and Grubhub third. 
The reason Uber Eats comes in second for me is that it's a busy app in my market and generally pays pretty well. However, I've found that DoorDash tends to pay better in my market, primarily because they're usually offering better delivery promos.
That's not to say Uber Eats pays poorly, but I find the demand and pay for DoorDash where I'm located works a little bit better for me. In your market, Uber Eats might very well be the best delivery app.
That said, Uber Eats should never be your only delivery app. Your best bet is to always sign up for every food delivery app in your city. Practice using them together. This is the best way to maximize your earnings. 
As a final word, if you're someone that is looking for a flexible side hustle that can fit around a busy schedule, Uber Eats is definitely an app you should sign up to drive for. I personally use my bike because I find it more fun that way, but use it in whatever manner works best for you. 
Your experience with Uber Eats may be different than mine. The great thing is that with gig economy apps like this, you can try them out to see if they work for you. 
If you're looking for more information about other delivery apps you can use, check out the below posts: