If you're working as an Uber Eats driver, you might be asking yourself, does Uber Eats pay for gas? 
The short answer to that question is this – No, Uber Eats does not pay for gas. You're an independent contractor when you're delivering for Uber Eats, so that means you're essentially running your own business. If you want to get a true sense of what you're earning as an Uber Eats driver, make sure to account for mileage and gas costs.
But that doesn't mean there aren't things you can do to reduce your gas costs. If you use the right strategies, you can earn some money on the gas you buy too. Or if you are willing to try something different, you may even avoid paying for gas altogether.
In this post, we'll take a closer look at the question of whether Uber Eats pays for gas and tips and strategies you can use to save on gas costs. 
Does Uber Eats Pay For Gas? 
Does Uber Eats pay for gas? It's a simple question with a simple answer. No, Uber Eats does not pay for gas. 
Uber Eats drivers are responsible for all of their vehicle and fuel costs because they are independent contractors. Unlike employees who do get their gas expenses reimbursed by their employer, as independent contractors, drivers are essentially acting as their own small delivery business. I'll go into more detail about the nature of being an independent contractor in the next section, but the gist of it is that when you're doing deliveries, you should think of yourself as a small business.
What makes Uber Eating different than a regular job is that Uber Eats drivers are paid on a per delivery basis. So, rather than trading time for money like an employee would, Uber Eats drivers are trading tasks for money. As an Uber Eats driver, you get an assignment, decide whether you want to accept it, then complete it. In return, you get paid for completing the task, regardless of how long it takes you to complete it.
Every Uber Eats payment consists of three parts: (1) the base pay, (2) peak pay bonuses if applicable, and (3) tips left by the customer for the driver. Whether or not you want to accept a delivery request should take into account whether the payment is worth the costs you'll incur. 
So, while Uber Eats does not directly pay for gas, in a sense, drivers cover their gas costs with the payments received from Uber Eats. If the payout for a delivery isn't enough, then you should reject those orders. After all, you don't want to do work where you aren't making a profit.
Uber Eats Drivers Are Independent Contractors 
If you've never owned your own business or worked as an independent contractor, it can be a bit confusing as to the nature of your work relationship with Uber Eats when you are doing deliveries for them. The fact is, that Uber Eats drivers are independent contractors. When you're an independent contractor, you should think of yourself as your own small business. 
The payouts you receive for each delivery can be considered your gross revenue. This is the total amount of money you earn before expenses. After you pay your expenses, what's left is your profit. In theory, the profit you earn is what really matters because that's the money that you'll actually be able to use. 
So what are some common expenses you might have to deal with? There are a few you can think about, but the main one is likely going to be your vehicle costs. In general, this will include the maintenance you have to perform on your vehicle and the gas you have to use to operate your vehicle.
After you pay your expenses, you're left with your profit. This is the amount that you pay taxes on. Remember, as an independent contractor (and business), you pay taxes on the profit you earn. 
Just remember the following equation and you won't have any issues:
Revenue – Expenses = Profit
How To Save Money On Gas When Delivering For Uber Eats  
Even though gas prices are expensive and will hurt your bottom line when delivering with Uber Eats, you can still take steps to reduce your gas expenses. Here are some ideas that you can use to keep your gas costs as low as possible.
1. Use Ebikes or Electric Scooters 
Of course, the easiest way to reduce your gas expenses is to not use gas at all. That's exactly what I do. From the very beginning when I first signed up to be an Uber Eats driver, I've always done my deliveries using a bike. Not only does it save me money because I don't have any fuel expenses, but it also gives me added health benefits since I'm able to get outside on a bike and get some exercise. 
A few years ago, I transitioned over to using ebikes and electric scooters to do my deliveries. It's been a complete game-changer. I can cover huge distances now. I don't get tired when I'm biking or scooting. And I can move as fast as a car most of the time without having to worry about parking or gas prices. 
If there's one thing you can do to reduce your gas expenses, it's to get yourself an electric bike or scooter. It's well worth it.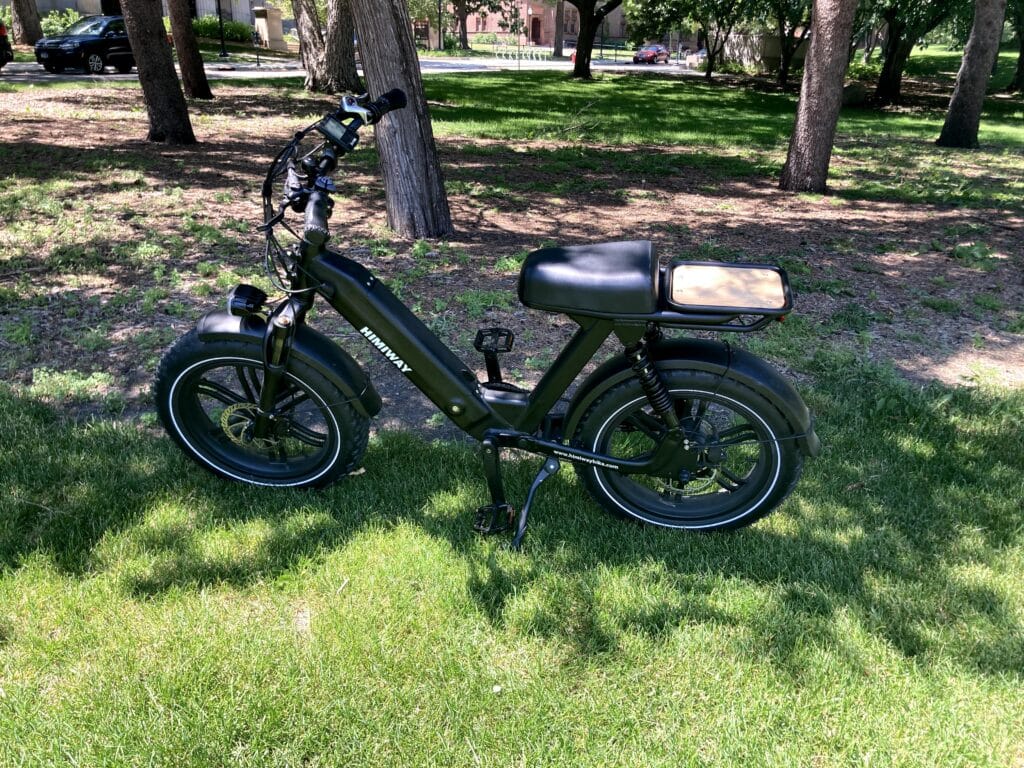 For ebikes, I use the RadCity, Himiway Escape, and Espin Sport. For electric scooters, I use the Varla Eagle One. Using an electric micromobility vehicle, in my opinion, is a superior way to do deliveries, especially if you're living or working in a city.
If you're interested, check out my reviews on these bikes and scooters:
2. Use a Fuel-Efficient Vehicle 
If you can't make the move to an electric bike or scooter, then your next best bet is to be sure you're using a fuel-efficient vehicle. You don't want to be driving a pickup truck or SUV when you're doing deliveries. 
For conventional cars, a hybrid vehicle like a Toyota Prius is a good option. The nice thing about the Toyota Prius is that it's not that expensive compared to some cars. You can get a solid used Prius at a very good price. 
If you're willing to make a bigger jump, going to an electric can make a big difference. You'll have less maintenance and you won't have to pay for gas anymore. The downside is whether the range is going to be enough for what you're trying to do, but you'll have to look at your situation and determine if an electric car makes sense for you. I'm personally considering getting a used Nissan Leaf as a second vehicle at some point.
3. Track Your Miles   
The IRS allows you to deduct the mileage you drive when you're doing Uber Eats. It's a bit confusing if you don't understand what this means, but basically, every mile you drive costs you something in gas, maintenance, and depreciation of your vehicle. The IRS understands this, so they've come up with what they think every mile costs you to drive.
In 2022, the IRS has put the mileage deduction at 58.5 cents. So, the IRS is saying that every mile you drive costs you 58.5 cents. 
Tracking your mileage is important because these are expenses you incur, which means they should be deducted from your revenue. For example, if you drive 50 miles in a day doing Uber Eats, under the 2022 mileage deduction rate, that would cost you $29.25 (50 miles x 58.5 cents). if you made $100, after deducting your mileage, you'd be taxed on $70.75. In other words, your profit for the day after expenses would be $70.75. 
Long story short, you should always track your mileage whenever you're driving Uber Eats. I use Gridwise, which is an excellent free app that you can use to track your mileage. I highly recommend it. 
4. Use Cashback Apps  
Cashback apps are a great way to get some money back for the purchases you're already making. There are a few apps that are geared specifically towards gas purchases, where you can earn cashback for the gas you're buying. 
Two good apps you can use are Trunow and Upside. You can use both apps to earn a small amount of cashback whenever you buy gas. 
5. Use Credit Cards So You Can Earn Points and Miles
The final strategy you should use is taking advantage of credit cards to earn points and miles. Even a basic 2% cashback card will at least get you something back for the purchases you're already making. 
If you want to get more advanced, it's worth taking a deeper dive into credit card points and miles. I haven't had to pay for a flight or hotel in over 5 years because I'm able to utilize points and miles for all my travel. The caveat is you should only use credit cards if you're responsible with them and never carry a balance. Otherwise, you'll lose more than you gain. 
If you want more information on good cards to get, you can check out my best credit card offers page.
Final Thoughts 
Uber Eats does not pay for gas. It's an expense you have to pay yourself if you're working as an Uber Eats driver. Whenever you're working, you need to think like a business and make sure that you're making enough money to cover your vehicle and gas costs.
But even though Uber Eats doesn't pay for gas, that doesn't mean you're at the mercy of gas prices either. With the right strategies, you can do things to reduce or eliminate your gas costs completely. 
I hope this info helps!