I'm absolutely obsessed with electric micromobility. And one of my favorite ways to get around is with electric scooters. Fucare recently sent me their Fucare H3 Scooter to test out and I've been putting it through the paces for the past few months. Long story short, I've been having a blast with it. In this Fucare H3 scooter review, I'm going to take a look at the Fucare H3 and give you my thoughts on it.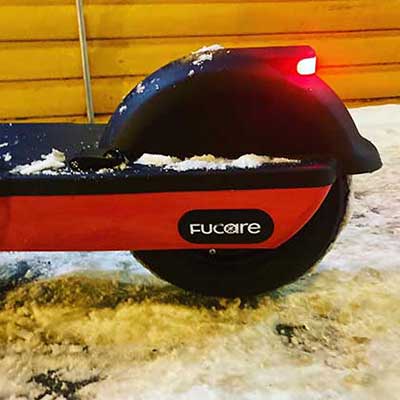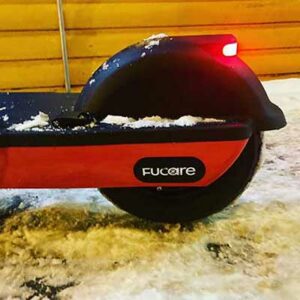 Fucare H3 Scooter: Brief Overview 
The Fucare H3 Scooter has a max speed of 18-20 mph and advertises up to 40 miles of range (in reality, it's unlikely you'll get that much range due to terrain and speed – a more realistic range is probably 15-20 miles with normal use). 
Has a 500-watt motor and comes with a 48V 12Ah lithium battery. The charging time is approximately 5-7 hours. 
Uses 10-inch pneumatic tires. These give the tires solid traction for city riding.
Overall, this is a good scooter that's great for getting around town and can be used as a vehicle for gig economy work. I'd say it's somewhere between an entry-level scooter and a high-powered scooter. The price reflects that as well.
Pros: 
Fairly lightweight scooter and folds up easily, making it a portable scooter that you could combine with other modes of transit.
Has good speed and power for a scooter that isn't a high-powered electric scooter. 
It has a cruise control feature, which can be fairly handy if you're traveling long distances on bike trails.
Cons: 
It's a pretty expensive scooter compared to other scooters at this level. If it's on sale (which usually it is on sale), then the price point is a bit more palatable, but at full price, it's probably more than what I'd recommend spending. 
Like all scooters, maintenance is going to be something you have to figure out. You're going to have to do repairs on your own unless you can find someone to help you with it.
This is an overseas company, so there are fair questions about the staying power of this company and future support if needed.
Taking A Look At The Fucare H3 Scooter
The Fucare H3 Scooter is an electric scooter sold by Fucare, a Chinese company that sells electric scooters and ebikes. There are a lot of these companies out there shipping out similar scooters and ebikes, so when it comes to scooters and ebikes, you have plenty of choices. 
My Fucare H3 arrived quickly in a large box, which I was then able to drag into my living room. Assembling the Fucare H3 was easy. It includes all of the tools you need and the only work I had to do was install the handlebars and connect various plugs on the scooter. Instructions are included and I found them easy to follow. I had the scooter set up in about 15 minutes. 
The scooter itself is comfortable, well-built, and looks sleek. Here's a breakdown of some of the components of the Fucare H3:
Body. The scooter has a sleek, red body. Most scooters are pretty plain, so I like the splash of color that the Fucare H3 offers. One thing to note is that much of the scooter body is made of plastic, which might bother some people (it doesn't bother me).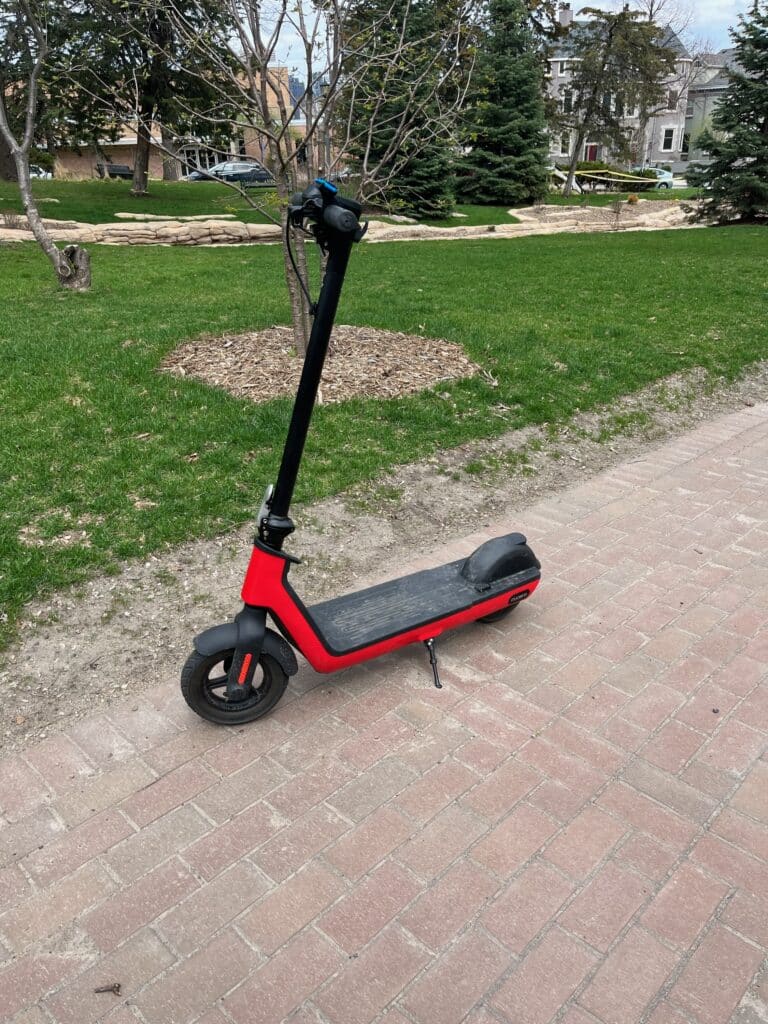 Wheels. The Fucare H3 uses 10-inch pneumatic tires. That gives the scooter plenty of traction on city streets. For a non-high-powered electric scooter, these tires are pretty good. While I wouldn't recommend it, I was able to ride the scooter on snowy streets.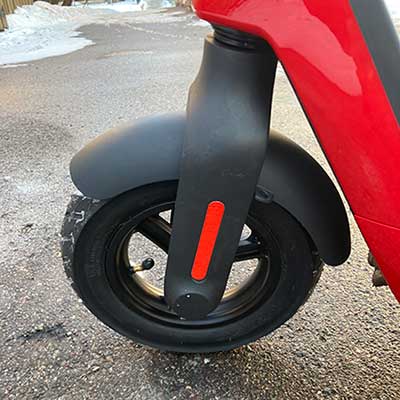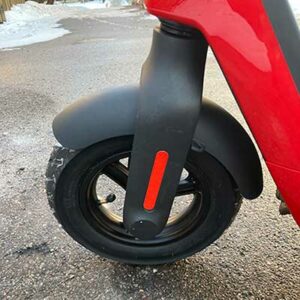 Motor. The Fucare H3 has a 500-watt motor that gives it enough power to get up most hills without issue. Of course, this isn't a high-powered scooter like the Varla Eagle One, so you're not going to fly up hills like you can with a more powerful scooter. That being said, I find the Fucare H3 to be powerful enough to get me around my city without any major speed dips.
Speed. The Fucare H3 has a max speed of about 20 miles per hour. It has three different power settings, so you can adjust your power to match the speed you'd like to travel. In general, I found myself usually going around 15 mph.
Range. Fucare advertises that the H3 can get up to 40 miles on a full charge. Most likely, this is based on traveling at the lowest power setting on flat ground. I haven't done a formal range test yet, but based on what I've seen so far, you'll probably get about 20 miles of range in a real-world setting. For most people, that's plenty of range and should be able to cover even long commutes.
Battery. The battery on the Fucare H3 is a 48V 12Ah lithium battery. The battery is built into the scooter, which means you'll need to plug the charger into the scooter to recharge the battery. It takes about 5-7 hours to fully charge the battery.
Screen. The scooter has a built-in screen that shows your speed, battery, and power level. The screen is good and is easy to view.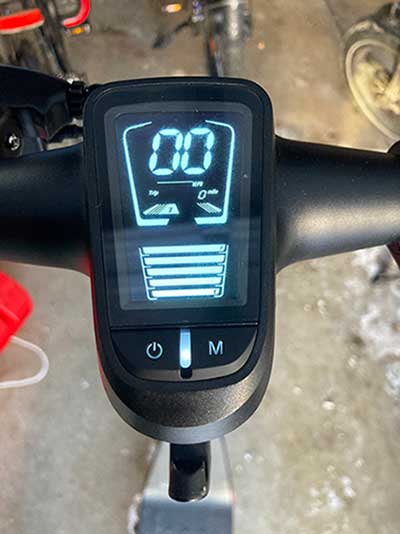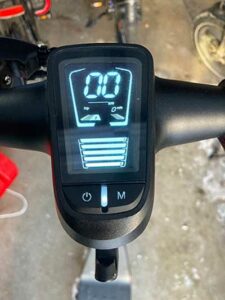 Cruise Control Mode. One interesting feature of the Fucare H3 is the cruise control mode. If you hold the throttle for 7 seconds, the scooter automatically switches to cruise control. I'm not quite sure what I think of it. On the one hand, it's helpful if you're traveling on a long bike path or a long street. But on the other hand, I don't like that it seems to automatically set the cruise control and there doesn't seem to be a way to turn off this setting. 
What I Like About The Fucare H3 Scooter 
At the outset, I have to say that no matter how you view it, the Fucare H3 is a fun scooter to ride. You're not going to get crazy high speeds like you can with a high-powered scooter, but 15-20 miles per hour is plenty fast for me and fast enough for commuting and getting around a city. It's a scooter that I think is accessible to most people, in contrast to the high-powered scooters that can be too expensive and too big or fast for most people.  
Beyond that, here are some of the other things I've enjoyed about the Fucare H3 scooter.
Portable And Easy To Maneuver. One of the main advantages of a scooter like the Fucare H3 is that it's lighter and far more portable compared to high-powered scooters like the Varla Eagle One or Dualtron. The Fucare H3 weighs in at 44 pounds, which isn't light by any means but is light enough that most people can lift it up and down stairs or carry it onto a bus or train. The stem is easy to fold down and it can be secured onto the deck via a hook, making it easy to transport and hold the Fucare H3. 
As a smaller scooter, the Fucare H3 is also easy to maneuver. You can make turns easily and it can fit pretty much anywhere. If you're limited on space, having a scooter that doesn't take up much space can be a plus.
Solid Range. The Fucare H3 has good range for a scooter with this level of power, offering up to 40 miles of range. In reality, the range is probably closer to  20 miles, but that's still enough range to get me to most places.  
Comfortable Deck. The deck on the Fucare H3 is comfortable. It's a wide deck that gives me plenty of foot space. It's a grippy deck too, which gives me good traction on it.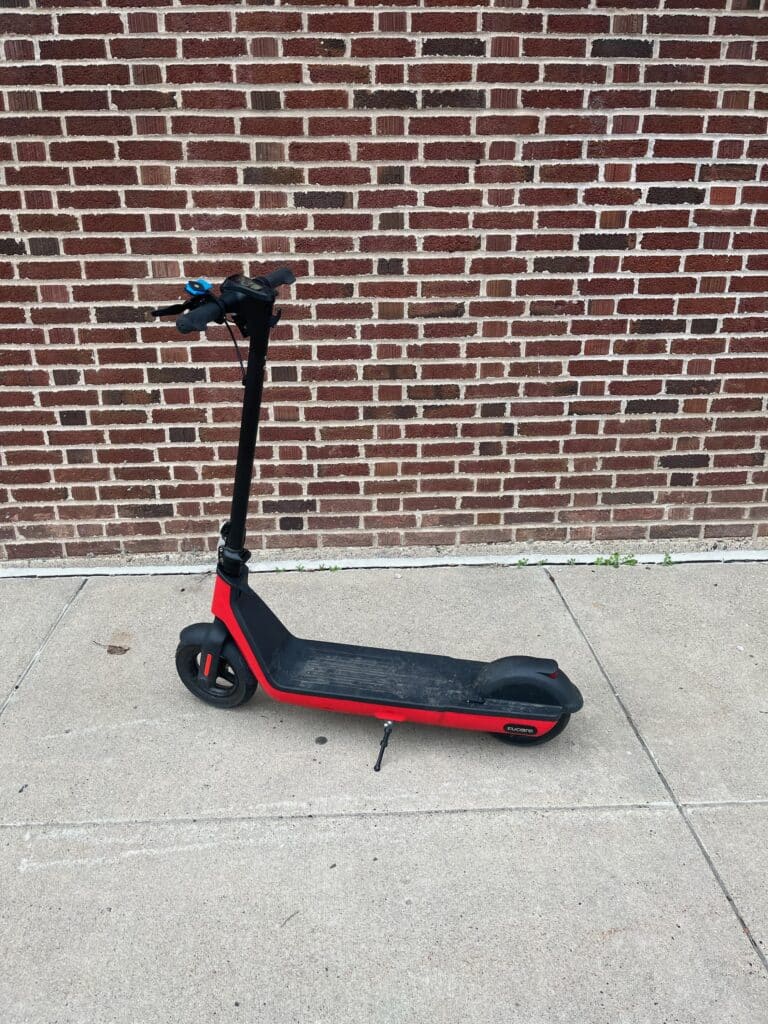 Good Customer Service. I was surprised at the good customer service I received with this scooter. Shortly after getting the scooter, I had an issue where the scooter wouldn't power up. I got in touch with Fucare and they immediately diagnosed the problem and sent me replacement parts, along with YouTube videos showing me how to replace the parts. Since this isn't a huge company, I wasn't expecting much customer service, so I was pleasantly surprised that they took care of my issue quickly.
Things To Think About With The Fucare H3 Scooter 
The main advantage of a scooter compared to an ebike is portability. Scooters are easier to store in your house and are easier to get around with because you just stand on them. The main downside with electric scooters is maintenance. This is true of any scooter, and the Fucare H3 is no different. If you are getting a scooter, you have to ask yourself, how will you maintain it, fix flat tires, and things like that. 
Another thing to think about before getting a scooter like this is what sort of power you want. My experience with the Fucare H3 is that it's a good scooter with plenty of power. For most people, this is going to be plenty good enough to get you around a city. But, if you want more power or live in particularly hilly areas, you may need to look for other options.
Finally, the last thing to consider is the longevity and staying power of the company that makes this scooter. This is a new company and there's no telling how long they'll be around or if they'll be able to provide customer service in the future. For the most part, it probably doesn't really matter. If you do your research, you can find replacement parts and maintenance tutorials. With any scooter, you need to remember that you'll most likely need to do your own maintenance no matter which company you go with. 
That being said, none of these are dealbreakers for me. Having to do your own scooter maintenance is annoying, but it is manageable. The power on this scooter is plenty for what I want to do (even with my high-powered scooter, I rarely go over 20 mph). And I'm not too concerned about the long-term outlook for this scooter company, since I'm going to have to handle my own maintenance anyway and most parts can be found online.
Using The Fucare H3 Scooter For Gig Work 
Aside from commuting and acting as a car replacement, the main reason I use electric scooters and ebikes is to do gig economy work, specifically with food delivery apps like DoorDash, Uber Eats, and Grubhub. If you live in a dense area, I think it makes way more sense to use a scooter or ebike, rather than a car. You won't have to worry about parking. You'll make more because you don't have to pay for gas or other vehicle expenses. And you'll have more fun too. 
I found the Fucare H3 works really well for food delivery. Since it goes 15-20 mph, that gives you plenty of speed to get around a city (and since you can cut across sidewalks and don't have to park, you'll usually go as fast or faster than a car). 
The portability and smaller profile of the Fucare H3 also make it a good delivery vehicle option. I like how easy it was for me to hop on and off the scooter. And since it's not too big, I can easily bring it into buildings to make sure it doesn't get stolen. 
The main issue to think about is how much range you'll get on a scooter like this. You won't get a massive amount of range from the Fucare H3, so this isn't something you can use all day to do deliveries. Still, I found it to have plenty of battery for me to work through a busy lunch or dinner hour. If you're strategic and mainly doing deliveries during those busy hours, this scooter can work for you.  
The price is also low enough that just about anyone can get their investment back fairly quickly. As I write this, the Fucare H3 is currently on sale for $600. If you make just $100 per day (which isn't difficult), you'll make your money back in a week. And even if you're sporadically doing deliveries, it probably won't take you longer than a month to get your money back. 
The main downside is how to handle tougher weather conditions. I do deliveries year-round and the testing I've done so far with the Fucare H3 has been in the winter. It's handled fine even with slightly messy conditions, but I've had to be careful and I wouldn't recommend using the scooter to do deliveries in tougher weather conditions. For spring, summer, and fall though, the Fucare H3 is a great scooter for doing gig work.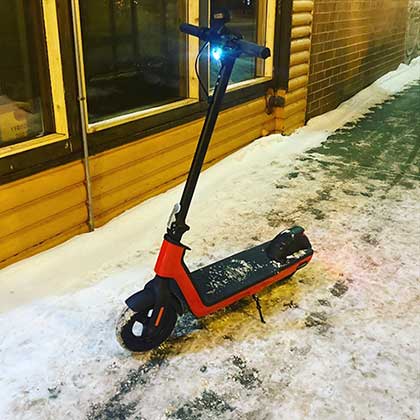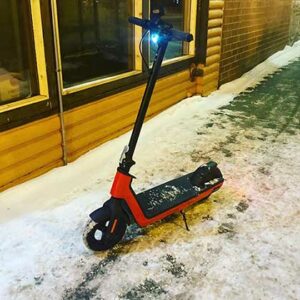 Final Thoughts 
The Fucare H3 is a fun scooter and I've enjoyed testing it out. If I need more power or am going longer distances, I'll probably stick with my high-powered Varla Eagle One scooter. But for a daily commuter or quick trips or errands, the Fucare H3 is probably the scooter I'll probably use. It's portable and easy to maneuver, so it's just easier to take on the road when I need it. 
At just $600 when it's on sale and $800 or so when it's at full price, the Fucare H3 is a solid scooter for people looking for a scooter with this level of power and range. I'd likely be hesitant to buy it at $800, but at $600, it's comparable in price to similar scooters like the Glion Dolly, Segway Ninebot, or Gotrax scooters. If you're in the market for a scooter in this price range, it's worth checking out the Fucare H3.
If you're interested in checking out the Fucare H3, head over to the Fucare website. I hope you found this review helpful!