Digital Federal Credit Union (DCU) is a free, nationwide credit union that I recommend to readers for two reasons. First, DCU has a $20 referral bonus if you open a free DCU checking account with a referral link. Second, DCU has a savings account that gives you 6.17% interest on your first $1,000. This makes DCU an excellent bank account that you should use as part of a super-high-yield savings strategy. The fact that you can get a signup bonus for opening an account is just icing on the cake.
Earning your $20 referral bonus is simple. There are a few ways you can earn your DCU referral bonus, but below is what I think is the easiest option:  
Open a free DCU checking account using a referral link (here is my DCU referral link).
Within 90 days of opening your account, complete at least 5 qualifying transactions in the same calendar month (this includes debit/credit card transactions, ACH transfers, Point of Sale (POS) transactions, bill pay payments, balance transfers to your DCU Visa Credit Card, and Pay a Person transactions).
You can also earn your bonus by completing a direct deposit or by taking out a vehicle loan. I'll briefly mention those options later in this post, but in general, completing the 5 qualifying transactions is the simplest and fastest way to earn your DCU referral bonus.
In the remainder of this post, we'll take a deeper look at what you need to do to earn your DCU referral bonus. We'll also go over how the 6.17% interest savings account works and why it's worth doing. Before we get started though, let's quickly go over what DCU is.
What Is DCU?
DCU is a not-for-profit, federally chartered credit union that serves over 900,000 members in all 50 states. As you can probably guess by its name, DCU (Digital Federal Credit Union) is primarily an online-based credit union, with most transactions completed via its website or mobile app. They offer the same products as any full-service bank (i.e. checking and savings accounts, loan products, etc), making DCU a solid and reliable choice for anyone looking for a bank.
There are two banking products DCU offers that are relevant to our purposes. The first is a free checking account. This account has no monthly fees or minimum balance requirements, which makes it an easy bank account to maintain. They also (at least temporarily) reimburse all ATM fees. Importantly, DCU also offers a $20 referral bonus if you open a free checking account and meet some fairly easy requirements. We'll talk about that more in the bulk of this post. 
The second banking product that DCU offers is a free savings account that offers an astounding 6.17% interest on the first $1,000 in the account. Everything above $1,000 earns 0.15%. This makes DCU an excellent savings account to park $1,000 of your emergency fund. We'll go into more detail about this savings account later in this post as well.
DCU Referral Bonus: Step-By-Step Directions
Opening a DCU checking account isn't difficult, but there are a few nuances that you need to know about. Here are the steps you need to follow to open your DCU checking account and earn your $100 referral bonus.  
1. Open A DCU Checking Account With A Referral. The first thing you'll need to do is open a DCU checking account using a referral link (again, here is my DCU referral link). 
The referral link doesn't mention the bonus terms, but you'll know it's a referral link because the URL will have my unique referral link. The terms for the referral bonus can be found here on the DCU website. So long as those terms are still there, you'll know the referral bonus is still active. As a precaution, I recommend saving a PDF of that page just in case there are any issues and you need to show the terms to customer service.
2. Donate $10 To Reach Out For Schools To Qualify For Membership. DCU is a credit union, which means membership is limited. For our purposes, everyone can qualify for membership with DCU so long as they are a member of one of their partner organizations.
In this case, the cheapest organization you can join is Reach Out For Schools, a non-profit that raises money for schools. It costs $10 to join this organization and it's a one-time fee. During the application process, you'll see an option to make your donation. Once you're a member of DCU, your family members will be eligible for DCU membership based on their relationship with you.

If you're opening a checking account, you'll earn your money back via the signup bonus. More importantly, though, the main reason we're opening up the DCU checking account is to gain access to the 6.17% interest savings account.
In any event, there are worse ways to spend $10 than giving it to an organization that helps schools.
3. (Optional) Fund Your Checking Account With $250 Using A Credit Card. One advantage of opening a DCU checking account is that DCU allows you to fund up to $250 using a Visa or Mastercard. If you're earning credit card rewards, this is an easy way to get some extra spending on your card without having to actually spend any money. Simply fund the account with a credit card, then pay the card with the money you funded into your account. You don't have to do this, but I do recommend doing this if you can. Be sure to make sure that your credit card won't charge the funding as a cash advance (Chase credit cards have the biggest risk of doing this).
4. Complete 5 Debit Card Transactions In One Calendar Month. The terms require you to complete 5 debit card transactions in one calendar month to earn your bonus. An easy way to do this is to reload your Amazon gift card balance using your DCU debit card. Amazon lets you reload as little as 50 cents at a time, so doing five 50 cent transactions is all you need to do to meet this requirement. 
Alternatively, you can also earn your bonus by completing a recurring direct deposit of $500 per month or taking out a vehicle, RV, boat, or mobility loan. Both of those options are more difficult so I don't recommend meeting the bonus requirements that way (but if you were going to take out a loan already, then you might as well get your bonus that way).
5. The Bonus Will Post After You Meet The Requirements. Your $20 bonus will post within 30 days of the five qualifying transactions successfully posting to your checking account.
If you're meeting the requirements via the direct deposit or loan option, your bonus will post within 30 days of completing the direct deposit or funding your loan.
DCU Savings Account Strategy
Opening this account for the referral bonus is great, but what really makes DCU worth it is the super-high-yield savings account that they offer. You'll get 6.17% interest on your first $1,000 in your savings account. Everything over $1,000 will earn 0.15% interest (so ideally, you only want to keep $1,000 in your savings account). Interest is paid monthly, so you'll see the interest at the beginning of each month. 
Doing the math, you'll earn about $61 of interest per year on your $1,000. As a comparison, in a typical savings account earning about 0.5% interest, you'd need to have a little over $12,000 to earn the same amount of interest. That's a huge difference that I think puts things into perspective and emphasizes why it's worthwhile to take advantage of a savings account like this. 
The best thing you can do is take $1,000 and park it in there. Since interest is paid monthly, if you don't want to leave more than $1,000 in there, just pull the interest out each month into a different savings account that earns more interest.
Refer Your Friends And Family
DCU is a credit union that I support. And after you've opened your accounts, you'll probably feel the same way. An easy way to earn a little bit of extra money is to refer your friends and family members using your referral. At the moment, you'll earn $10 for each referral and the person you refer will earn $20. 
You can find your referral link in the "Membership" section of the DCU website. When you're logged into your account, click "Membership" in the top row, then on the next page, look for the section that says "Member Referral."

From there, you'll be able to get your referral link that you can use to refer other people. The nice thing is that, in contrast to how it used to be, DCU will now generate a single referral link that you can use as many times as you want. Previously, DCU required you to generate a new link each time you wanted to refer someone, which made it much more of a hassle.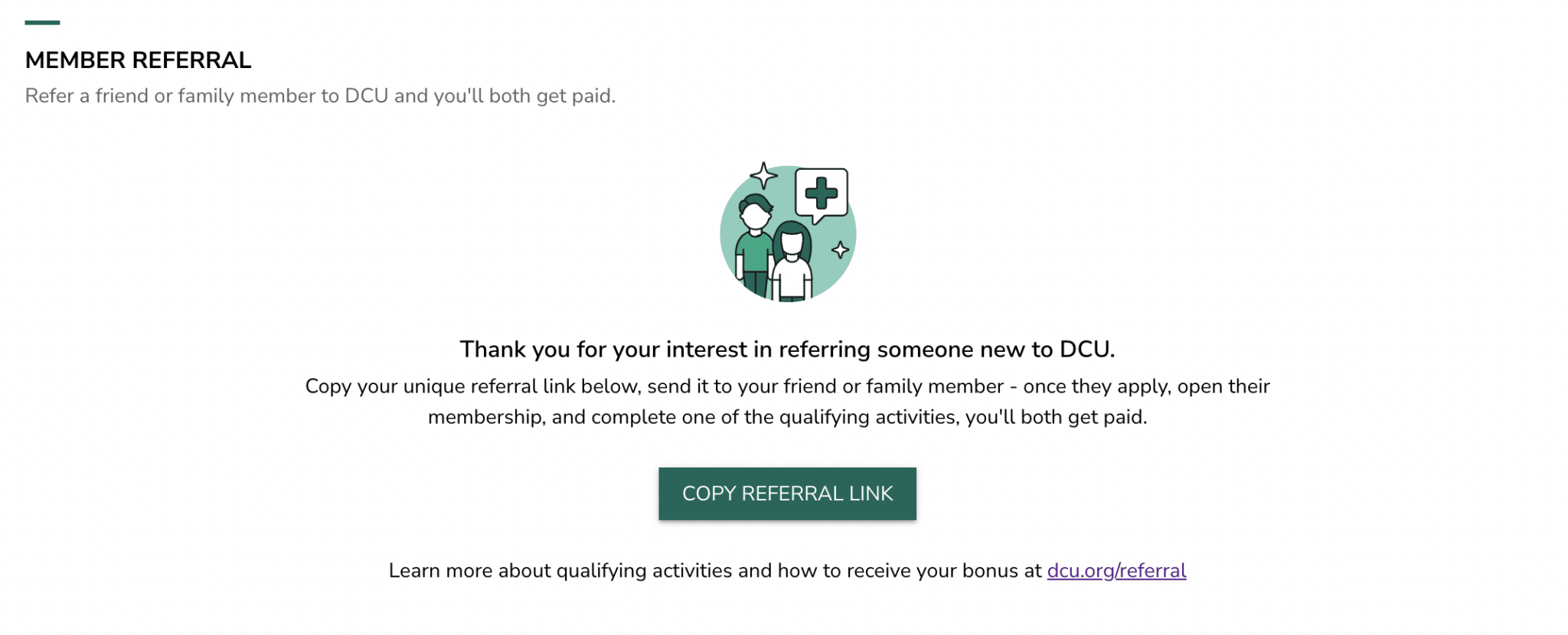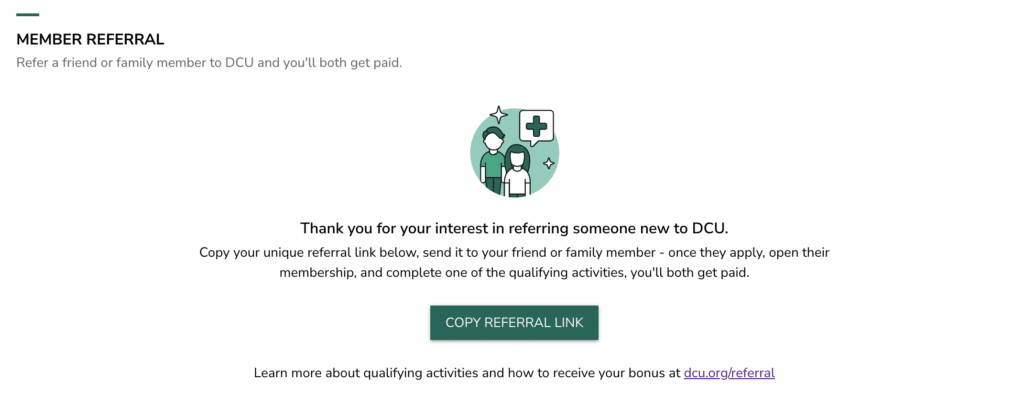 Final Thoughts
DCU is a good credit union that I recommend because of the 6.17% interest savings account. It's the highest-paying savings account currently available – nothing else even comes close. If you combine it with my strategy for other 5% interest options, you can have a decent chunk of cash earning a good rate of return in FDIC-insured savings accounts. The fact that you can earn a referral bonus as well makes this account one that I think everyone should open.
Right now, with interest rates where they are, I recommend using Raisin, which is a free high-yield savings option that you can set up in minutes. Check out my post on Raisin here.
If you're interested in learning more about bank account bonuses, be sure to check out my post, The Ultimate Guide to Bank Account Bonuses.  
For other mega-high-yield savings options, check out these posts: 
And if you're interested in earning your DCU referral bonus, please consider signing up for DCU using my referral link. I hope this post was helpful!