Workers Credit Union is a mega-high-yield savings account option that offers 3.56% interest on your first $1,000. I use it to store part of my emergency fund, allowing me to keep a good safety net, while also getting a solid return on my cash.
I've written several posts about different mega-high-yield savings accounts that are worth checking out. These include a general overview post that goes through all of the accounts I use, as well as more in-depth posts I've written about each individual account. You can find those posts at the end of this post.
My general criteria for a good mega-high-yield savings account is that it offers 3% or more interest, has no fees or has easily avoidable fees, and doesn't require doing anything to earn the interest. Workers Credit Union meets all of these criteria. When combined with all of the other mega-high-yield savings accounts I use, I'm able to set aside $29,000 earning 3-6% interest in FDIC-insured bank accounts. That's an excellent emergency fund that's giving me the best of all worlds – the safety of cash in the bank plus solid returns.
In this post, we'll go over the Workers Credit Union savings account, discuss how it works, and walk you through how to set up your Workers Credit Union savings account.
How The Workers Credit Union Savings Account Works 
Workers Credit Union is a state-chartered credit union headquartered in Massachusetts. While they are based in Massachusetts, the account is available to customers nationwide. 
The only thing I care about with Workers Credit Union is their "SaveUp Savings Account." It offers 3.56% interest on up to  $1,000. Everything in the account above $1,000 earns varying rates of interest. For our purposes, we can assume that everything above $1,000 earns 0.1% interest. So, for example, if you have $1,001 in your Workers Credit Union savings account, you'd earn 3.56% interest on $1,000, and 0.1% interest on $1.
In addition to the 3.56% interest, you'll also earn an additional 0.05% interest if you have a monthly direct deposit of $50. To some, that might be worth doing since it's not necessarily a difficult requirement to meet. I personally don't bother with getting that extra 0.05% interest, since managing a monthly direct deposit doesn't seem worth it to me.
Interest is paid monthly. I typically withdraw the interest I earn each month and send it to another savings account. If you want to avoid the hassle of doing that, you could easily just withdraw the interest once per year (or just leave the interest in the account if you want).
Most importantly, the Workers Credit Union SaveUp Saving Account has no fees, which makes it an easy account to manage. The fee schedule does list a $5 charge for outbound transfers, but if you initiate your withdrawals from an external bank account, there are no fees. There is also a $5 minimum balance requirement, but that shouldn't be a big deal. Finally, the account is a soft pull, so opening a Workers Credit Union savings account will not impact your credit report.
In the remainder of this post, I'll go over the process of setting up your Workers Credit Union account. It's a relatively straightforward process.
How To Open Your Workers Credit Union Savings Account
To open your Workers Credit Union SaveUp Savings Account, go to the Workers Credit Union website and select "Open Now" in the SaveUp Savings Account section of the website (here's the direct link to open your account). 
The first page you'll see asks you to confirm that you meet the criteria to open the account. You need to be 18 years old, have a social security number, a government ID, and be applying for a personal account.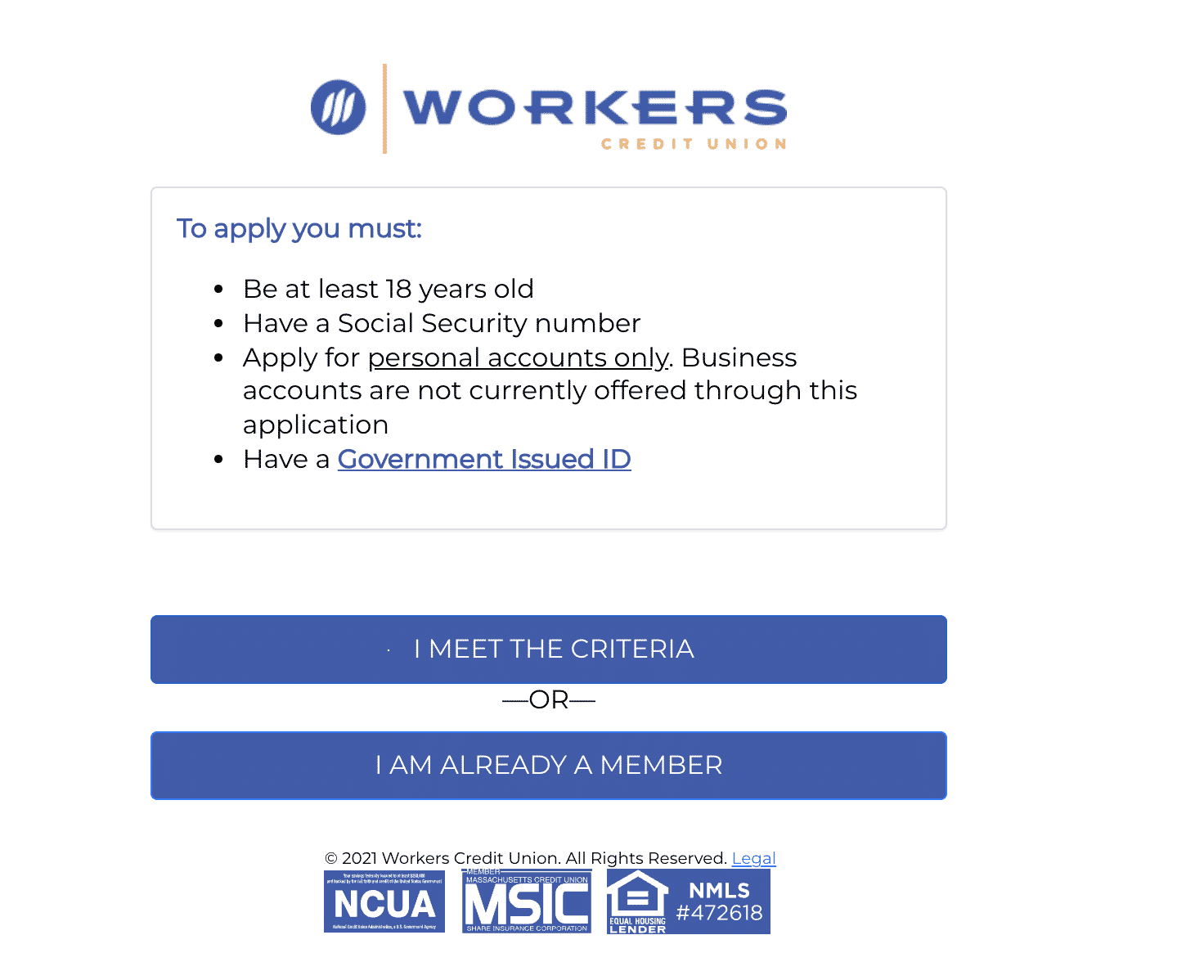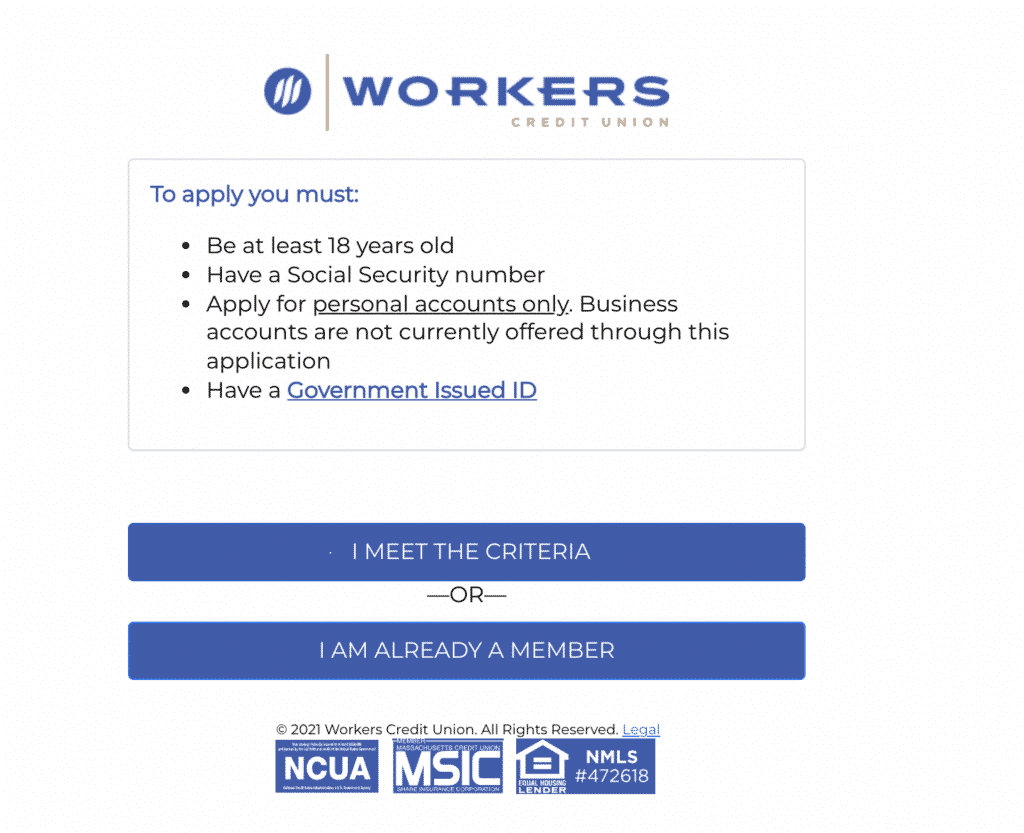 The next page will ask you to confirm the accounts you want to open. I don't recommend opening any account besides the SaveUp Savings account. If you started the application from the SaveUp Savings page, then the account will automatically be selected. It'll look like this: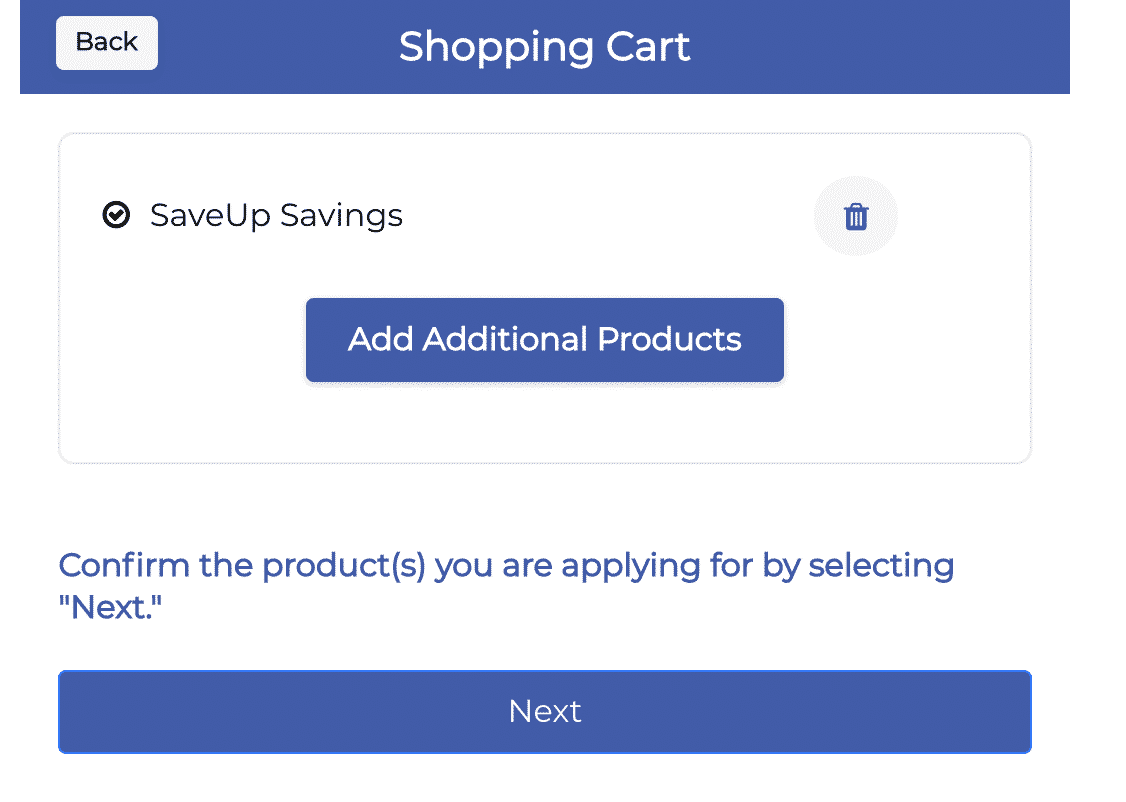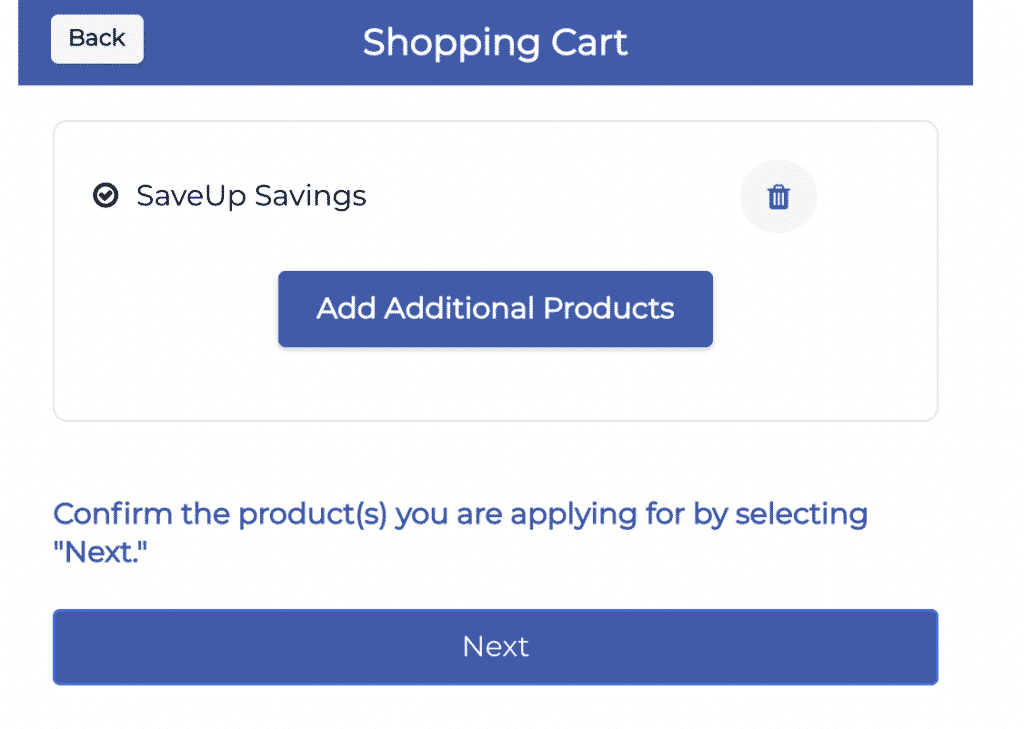 Next, enter your email address and phone number, and input your driver's license information.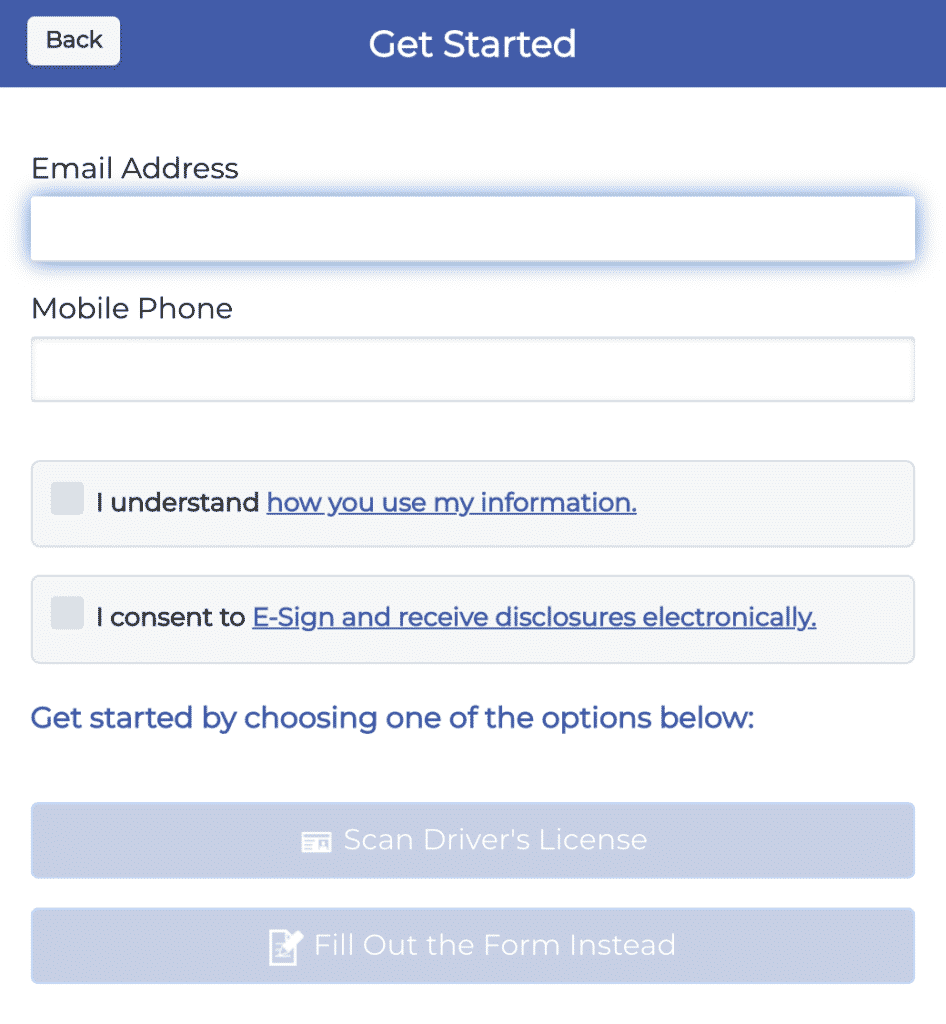 Finally, you'll need to confirm your membership eligibility. The easiest way to meet this requirement is to have Workers Credit Union make a contribution to the Financial Fitness Association on your behalf. This doesn't cost you anything and as far as I can tell, it doesn't seem like Workers Credit Union checks to make sure you actually are a member. In any event, even if you aren't a member, Workers Credit Union will donate on your behalf so you'll be eligible to join the credit union.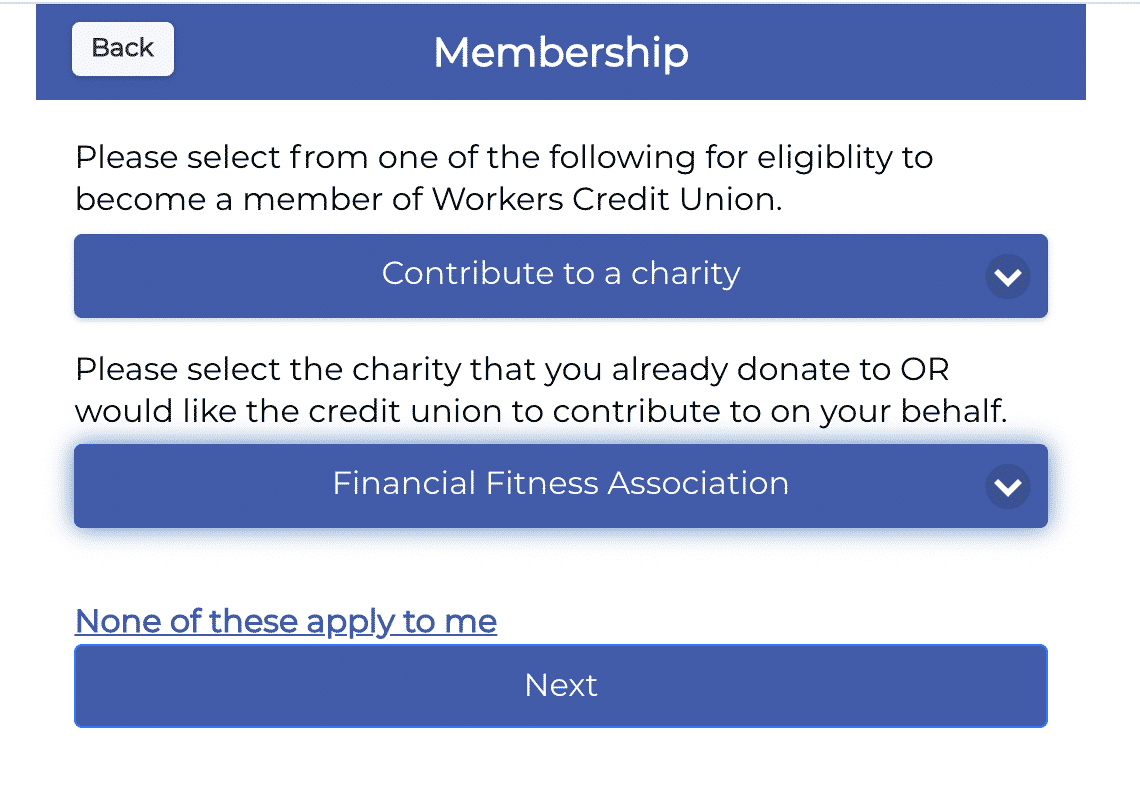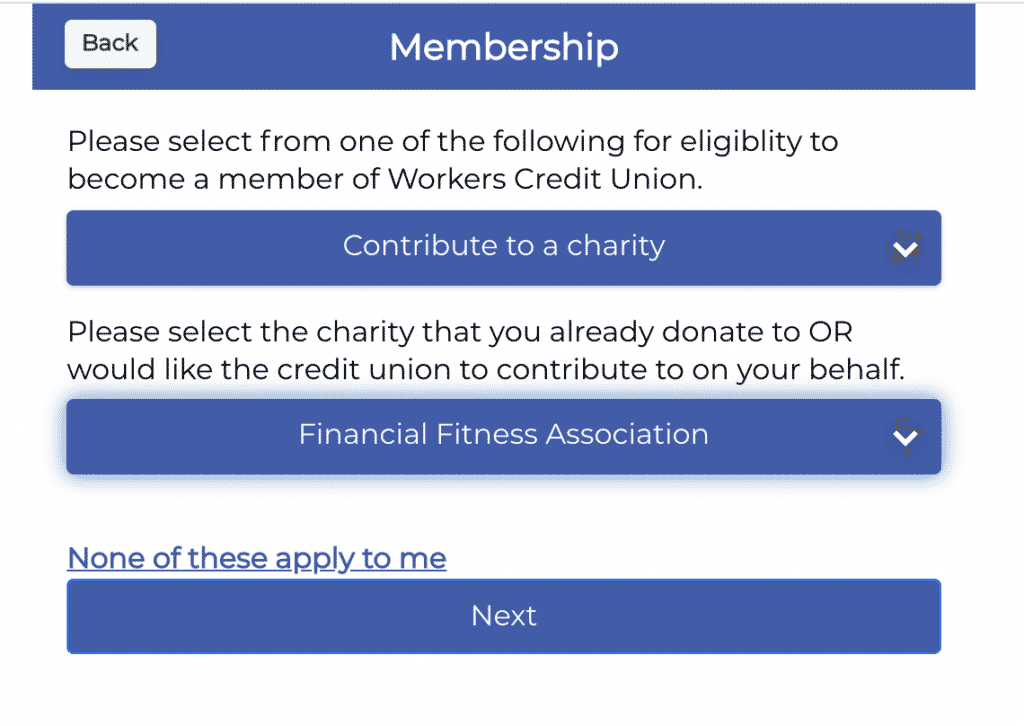 Once you've completed your application, you'll receive an email with a verification code and some disclosure documents. This email is sent immediately after you submit your application. You'll need to confirm the verification code to complete the application.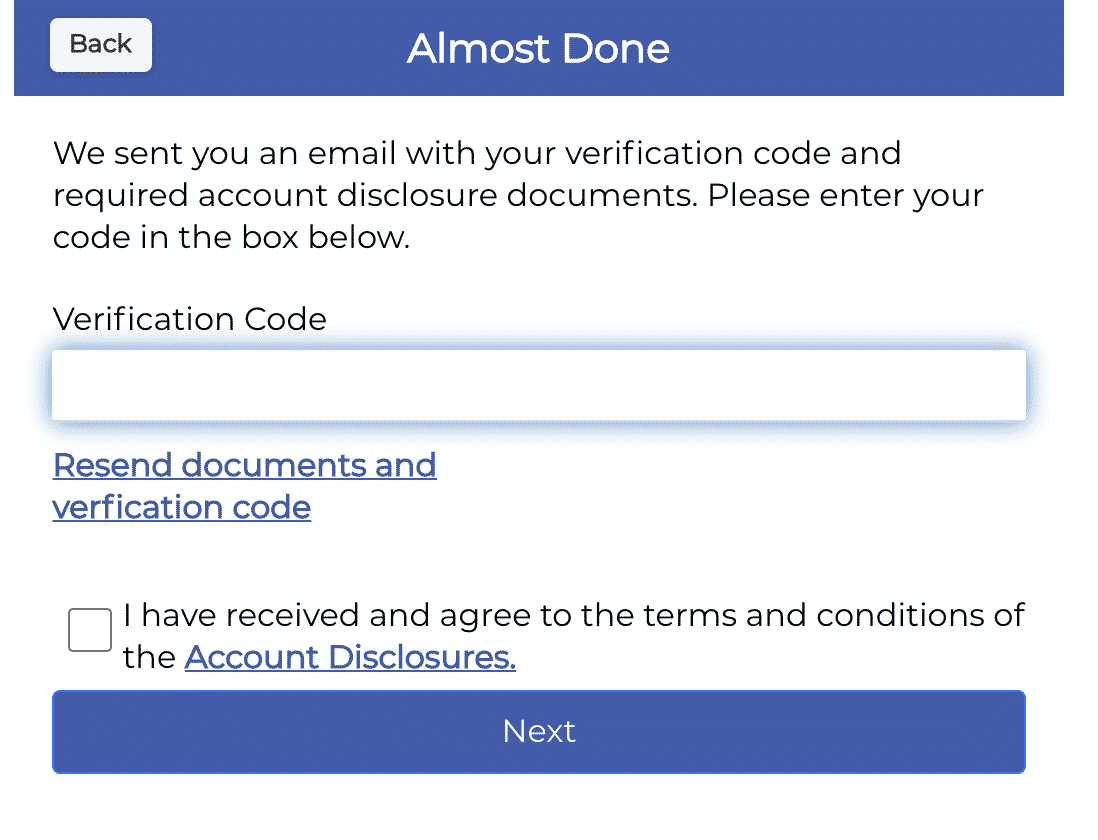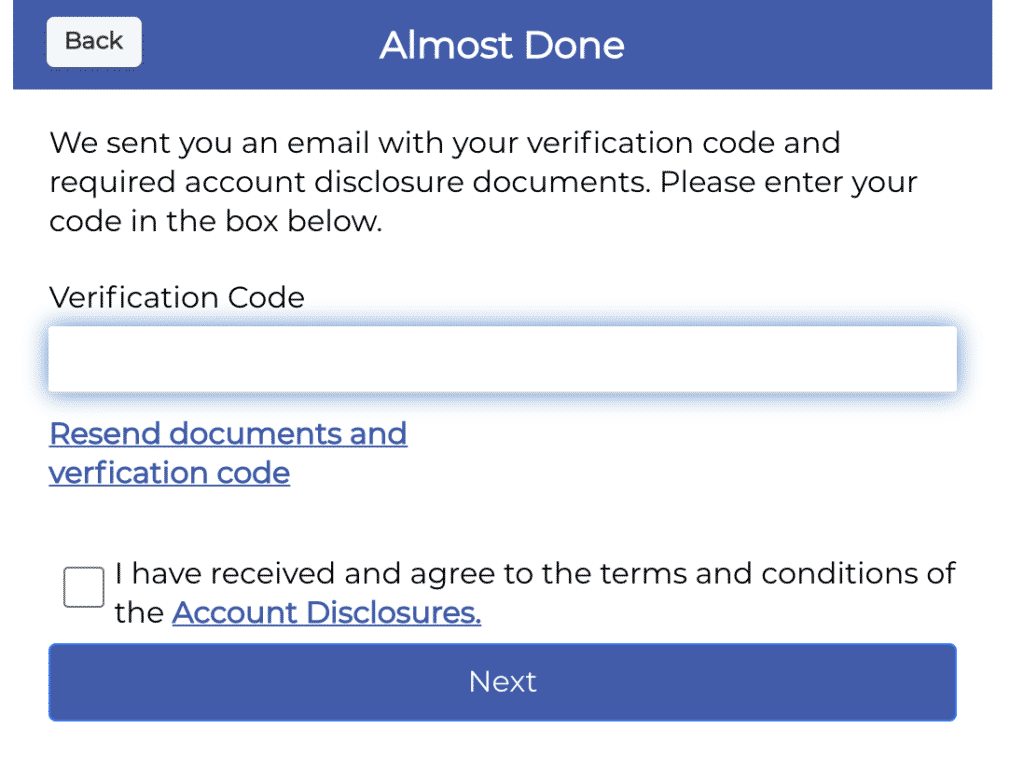 After you apply, you'll receive this message that says someone will contact you to finish the application. 

This is probably the most annoying part of the application because you have to wait to speak to someone from Workers Credit Union. They'll generally call you within 1 or 2 business days. I don't know why they make you speak to someone because the person that calls you doesn't do anything other than tell you they need you to upload some documents. They'll then send you an email with a link for you to upload your documents. 
You'll need to upload four items for Workers Credit Union to open your account. These include the following:
Driver's license
2nd Form of ID: Copy of Social Security Card or back and front of signed credit/debit card
Proof of Address – Ex. Utility Bill, bank statement, car registration, etc (something showing your name and current address)
Funding Instructions: Routing number and Account number 
It's important to note that Workers Credit Union will not open your account until you speak to someone on the phone and get them to send you this email so you can upload your documents. When my wife opened this account, she didn't answer their phone call and her account was eventually automatically rejected. We had to call in to override this rejection and get her account approved.  
Additional 5% Interest Savings Accounts  
Workers Credit Union works best when you combine it with other 3-6% interest savings accounts from other banks. Each of these accounts works similarly where you can earn a high-interest rate on up to $1,000 or $2,000. If you have a spouse or partner, these accounts work even better because you can each open an account, doubling the amount of high-interest savings you can earn.
In total, my wife and I each have 10 of these types of accounts. Between all of our accounts, we have $29,000 earning 3-6% interest. That money generates about $1,300 of interest each year, which is really good for an emergency fund.  
For a general overview of my emergency fund strategy, check out this post: Where To Get 5% Interest Savings Accounts. It's a great starting point that will walk you through all of the different mega-high-yield savings accounts options currently available. 
For in-depth info about each mega-high-yield savings account, check out the following posts: