Over the past year and a half, my wife and I have accumulated hundreds of thousands of points and miles from the strategic opening and use of credit cards. These points and miles have served us well, allowing us to do a ton of traveling over the past year that we otherwise wouldn't have been able to do. I've got a sort of grand plan to do 12 trips over the course of 2018 while also working a full-time job, and so far, I'm on track to do that – all thanks to credit card points.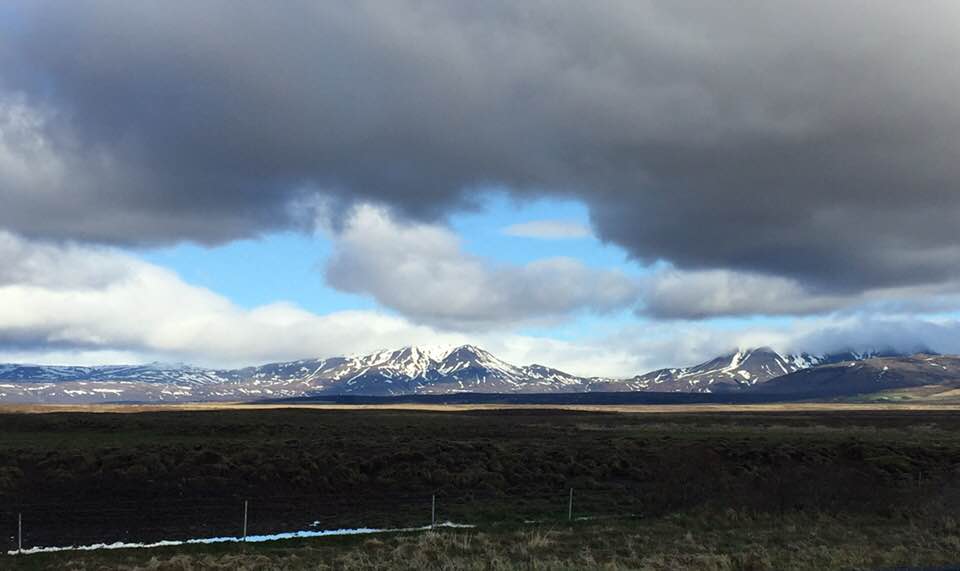 Looking back, I still find it hard to believe that up until 2017, I'd completely avoided this whole credit card and travel hacking world – it's now such a part of my life that I can't even imagine a time where I wasn't doing this. I still remember back in 2016 when everyone was jumping on the Chase Sapphire Reserve for the 100,000 point bonus and I refused to do it, even when people explained to me why it made sense.
The thing that held me back was fear. I didn't really understand how travel hacking worked. The explanations were way too complicated for me to understand. And I didn't understand what you were supposed to do with the card after you were done with it. What would have really helped me out is if someone just showed me what they did and basically let me copy them – a roadmap, essentially.
This post is an attempt to give you that roadmap by showing you the exact credit cards my wife and I have been getting over the past two years. My plan is to keep updating this list so that anyone reading this can look over what I'm doing and get an idea about what cards might work out for them. I'll also try to share why I got each card, since there's usually a logical reason for each card I get. You don't need to copy me exactly (and the way I do things isn't necessarily the best way for you to do things), but it's at least something that you can learn from and maybe use as an example. 
One thing to note is that the world of credit cards changes incredibly fast. Some of the cards I've gotten no longer exist. Others don't offer the same signup bonus that they offered previously. Still, I think this list will help you, especially if you're following along in real-time.
And, as my offer to you, if you ever have any questions about credit cards and which ones you should get, just hit me up – I'll do my best to share whatever knowledge I have. 
So with that said, let's take a look at my credit cards for the past two years and see what's been going on.
What's In My Wallet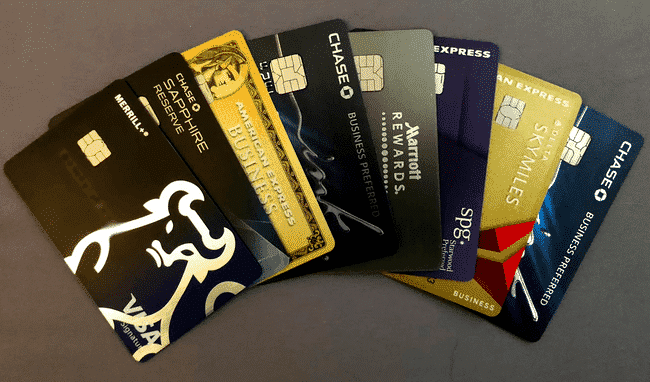 Below is a list of all of the recent cards I've held, along with the month and year I opened the card, the signup bonus I got with the card, the annual fee for the card, and what the current status of the card is (i.e., open, closed, or product changed). I've created the same chart for my wife as well.
Hopefully, this list will give you a nice concrete example that you can look at when doing your own credit card strategy. 
List Last Updated: 10/27/2018
My Cards
Card
Date Opened/
Date Closed
Bonus
MERRILL+ Visa Signature
Feb 2017
Still Open
50,000 Bank of America Points
Mar 2017
Still Open
50,000 Ultimate Rewards Points
American Express Starwood Preferred Guest®
Apr 2017
Still Open
35,000 SPG Points
Chase Sapphire Reserve®
May 2017
Still Open
50,000 Ultimate Rewards Points
July 2017
Still Open
80,000 Ultimate Rewards Points
Sept 2017
Still Open
60,000 Southwest Rapid Rewards Points
American Express Starwood Preferred Guest® Business
Oct 2017
Still Open
35,000 SPG Points
Dec 2017
Still Open
60,000 Delta SkyMiles
Feb 2018
Still Open
80,000 Ultimate Rewards Points
Feb 2018
Still Open
75,000 AAdvantage Miles
Mar 2018
Still Open
70,000 Delta Skymiles
Mar 2018
Still Open
75,000 Marriott Points
Apr 2018
Still Open
50,000 Membership Rewards Points + $1,500 of GSuite Credit (GSuite credit no longer available)
June 2018
Still Open
75,000 AAdvantage Miles
July 2018
Still Open
60,000 AAdvantage Miles
My Wife's Cards
Card
Date Opened/
Date Closed
Bonus
May 2017
Still Open
2 Free Nights
Sept 2017
Still Open
60,000 Rapid Rewards Points
Sept 2017
Still Open
60,000 Rapid Rewards Points
Dec 2017
Still Open
80,000 Ultimate Rewards Points + 20,000 Points Referral
June 2018
Still Open
75,000 American Airlines Miles
June 2017
Still Open
125,000 Hilton Honors Points
Oct 2017
Still Open
80,000 Ultimate Rewards Points + 20,000 Points Referral
Overview Of These Cards
Before we get deeper into the specifics of each card, I need to provide a bit of an overview about these cards and my general strategy. You'll notice that my first four credit cards were all personal cards, and since then, I've only grabbed business cards.
I've gone with this strategy for two reasons:
In order to leave me with the option of getting more Chase cards due to Chase's 5/24 rule; and
In order to reduce new cards appearing on my credit report.
I've written posts about the 5/24 rule and about the advantages of business cards, so make sure to check out both of those posts if you want more in-depth information. As a brief recap, Chase's 5/24 rule is a rule that Chase has which limits you to getting 5 total credit cards from any company over a 24 month period. It's important to keep this rule in mind if you're looking to optimize your credit card opening strategy.
As for business cards, they have a nice advantage in that, in general, they do not appear on your personal credit report, essentially making them invisible credit cards. This makes them very valuable, as they allow you to get more credit cards without impacting your 5/24 status, or really, impacting your credit report at all. Remember, if you earn any money outside of your day job, you are a business and are eligible to get business cards (and if you don't earn money outside of your day job, what are you waiting for!?).
In terms of when I open up new cards, my general goal is to always have a minimum spend requirement to work on. As a result, I tend to open up a new card each time I hit a minimum spend requirement on a prior card. I also open up new cards whenever I have a big purchase that I know is coming up. This typically means I open up one new card about every three months. I think this is pretty reasonable for most people to do.
Why I Got These Cards
Now that you've got a little background, here's some general insight into why I got some of these cards:
The Chase Sapphire Reserve and Chase Sapphire Preferred both made sense for me because they had valuable signup bonuses. Chase Ultimate Rewards Points are the best point currency you can get, so its always worth getting as many Chase points as possible. At the time I got these two cards, the One Sapphire Rule was not in effect. Today, it's still possible to get both cards, but you'll need to open them both on the same day. Check out my post I wrote a while back about the One Sapphire Rule and what it means for you.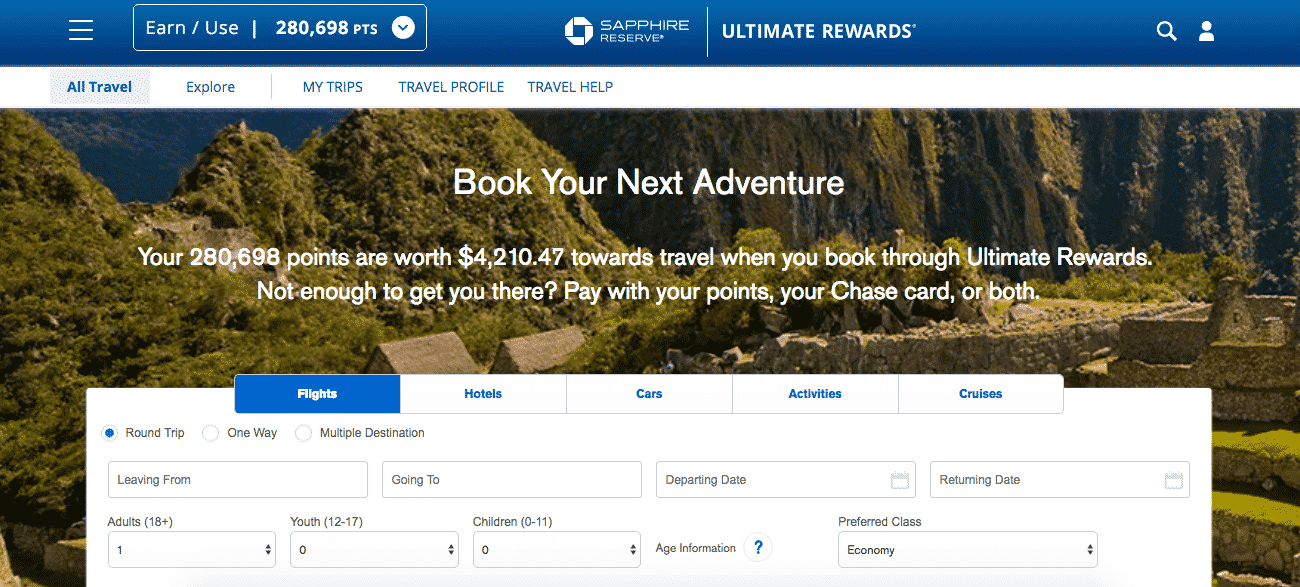 The AmEx SPG cards were both worthwhile because they had an all-time high signup bonus at the time. SPG and Marriott finally completed their points merger earlier this year, so the SPG cards don't exist in the same form anymore. 

The Chase Ink Preferred (CIP) card is the best business credit card you can get (and possibly the best card you can sign up for right now). You'll notice that I opened two of them. I got my first CIP by applying for it using my Social Security number as my business ID. I then got a second CIP a few months later by applying for the card using an EIN number as my business ID. Everyone can do this same thing to get two Chase Ink Preferred cards. Even better, you can refer yourself for the second Chase Ink Preferred card, which means you'll get 100,000 total Chase Ultimate Rewards Points as the signup bonus on your second CIP (you'll get 20,000 Chase points for referring yourself, plus 80,000 Chase points as the standard signup bonus).

I got both Delta business cards because they were offering all-time high signup offers at the time. Delta miles never expire, plus I live in a Delta hub, so they make sense for me to have. In general, if the Delta Gold Business card is offering 60,000 Delta miles, then it's worth snagging. If the Delta Platinum Business Card is offering 70,000 Delta miles, then that's worth grabbing.

The American Express Business Gold Rewards Card is my first foray into American Express Membership Rewards points. This is a transferable currency like Chase Ultimate Rewards Points. What really appealed to me about this card, however, was the $1,500 GSuite credit. I prepaid the $1,500, and my plan is to see if I can get a refund on it next year. If it works, the signup bonus on this card will basically be 50,000 points plus 1,500 dollars.

The CitiBusiness® / AAdvantage® Platinum Select® World Mastercard® is a special card, and at the moment, is basically the only card that you can truly churn these days. The normal rule for Citi cards is that you can only earn a signup bonus for a card once every 24 months. However, Citi randomly sends out mailers with a signup offer that doesn't contain this restriction. As a result, it's possible for most people to close out their old business card, reopen a new one using the code from the special mailer, and earn the signup bonus again. I'm currently churning my second CitiBusiness® / AAdvantage® Platinum Select® World Mastercard®. Whether this loophole will continue to exist remains to be seen. (don't tell Citi about it!)
For my wife, the reasoning for what we did was a little simpler.
She got the Hyatt Credit Card because we were going to New York and I wanted to use her signup bonus for the Park Hyatt New York.
We had her snag two Southwest Credit Cards in order to earn the Southwest Companion Pass. It's probably the best perk we've ever gotten from cards.
We grabbed a Chase Ink Preferred for her because we wanted to get more Ultimate Rewards Points.
She recently opened up the CitiBusiness® / AAdvantage® Platinum Select® World Mastercard® because she's buying a practice and needs business cards to separate her expenses. We'll be getting more business cards for her once we figure out what her monthly business expenses will be and how much she can put on cards (dental practices have crazy overhead, so it's a travel hacker's dream to own a dental practice).
We also just grabbed her a Hilton Honors American Express Business Card, just because we have some spend we need to hit and they had an enhanced signup bonus.
Closing Thoughts And Strategy
I hope this post was helpful to you. At a minimum, it can give you a little insight into how I do things on the credit card front. 
A question I get from a lot of people is where to start with credit cards. That's a tough question to answer since there are a lot of ways you can go and a lot of different needs people have. Still, there is an answer that I think can help.
For most people, the best ways to get started are to either go for the Chase Sapphire Preferred or Chase Sapphire Reserve, or attempt to get both of them at the same time. Chase limits you to getting one Sapphire card per person, so if you'll either have to decide on one of them or do a strategy called the "double dip" and get both of them at the same time (this basically requires applying for one card, then applying for the second card using an incognito browser). You can read more about the Chase Sapphire brand of cards and the "double dip" strategy in this post.
The other option is to get the Chase Ink Preferred card, which is the credit card that is currently offering the best signup bonus. You'll need some sort of business if you want to get this card, but most of you reading this probably have a business of some sort, and if you don't, it's not hard to start up something that is technically a business (remember, if you earn any money outside of your day job, you have a business). 
So that's my list of credit cards. If you find this post helpful and want to support the site, feel free to use any referral links where I have them.  Before using any referral link, always make sure that it's offering the highest signup bonus you can get (sometimes referral links offer worse signup bonuses compared to the public offer, other times it's higher than the public offer). If you're not sure, ask me!
I'll continue to keep updating this list as I add new cards to my lineup. And again, if you have any questions about this, feel free to shoot me a message on my contact page. I'm always happy to help out however I can.