Ever since I discovered the world of credit card points and travel hacking, I've been obsessed with learning everything I can about this hobby. With a little bit of knowledge, it's possible to accumulate hundreds of thousands of points and miles just by opening up new cards and putting your normal, everyday spending on them. Even a fairly casual credit card user should be able to earn at least 1 free flight per year with what I think is very minimal work.
The secret weapon in the points and miles game has got to be business credit cards. Most people know what personal credit cards are, but it seems like fewer people are aware of business credit cards and what they can do for your travel hacking adventures. If you're looking to optimize your spending and travel for free, you absolutely need to be taking advantage of business credit cards.
To demonstrate the importance of business cards, you can just look at my own credit card history. Over the past 12 months, I've opened up 4 personal credit cards. In that same time period, I've opened up 7 business credit cards (with more to come in the future). I don't do this just for the heck of it – I opt for business cards when I can because of how advantageous they are for what I'm trying to do (which is to accumulate as many points and miles as I can so that I can travel for free).
Today's post is going to serve as a guide as to what business credit cards are, why you should be signing up for them, and how you can qualify for one. Business credit cards might sound intimidating at first, but really, they aren't, and most people reading this should be able to get business credit cards without any problem.
Read this post, learn more about how business cards work, and you'll be racking up points and miles in no time.
What Is A Business Credit Card?
In the credit card world, there are basically two types of cards – personal cards and business cards.
A personal card is exactly what it sounds like – it's a personal credit card that you can get for yourself if you have a decent enough credit score. Like any credit card, it appears on your credit report, so anyone that pulls your credit report will be able to see that account. Most of you reading this probably have at least one personal credit card in your wallet.
A business credit card, by contrast, is a credit card that (surprise, surprise) is made for people who have businesses. The typical reason someone might get a business credit card is to help track their expenses and to keep their personal spending separate from their business spending. It's much easier to track your business expenses when you're putting them all on one card. At the end of the year, all you have to do is pull up what you spent on that card, and you know exactly what your expenses are for the year.
It's important to note that, while business credit cards are for people with businesses, you don't actually have to use those cards just for business expenses. It's perfectly fine to mix personal spending on a business card and indeed if you're getting business cards for travel hacking purposes, you'll most likely have to put some personal charges on your business cards in order to hit the minimum spend requirements. That's totally fine to do.
Advantages of Business Credit Cards
Now that we know what business cards are, the question then becomes, why do we want to get them? It comes down to one big reason – business credit cards, in general, do not appear on your credit report. American Express, Chase, and Citi, for example, all do not report business credit cards to credit reporting agencies.
Since these companies do not report business cards to credit reporting agencies, in essence, when you get a business card, it's like you're getting an invisible card. You get all of the benefits of a new card and the signup bonus that comes along with it, but risk no impact on your credit score other than the temporary hard inquiry you might get. The only downside that can come with a business credit card is if you fail to pay your bill, which is obviously something that you're not going to do anyway if you're reading this blog.
Getting a new credit card, but not having it reported on your credit report is extremely beneficial for a variety of reasons. These include:
1. A business credit card won't impact your 5/24 status. The number one rule that any travel hacker should know is the 5/24 rule, which essentially states that if you have 5 or more new credit card accounts from any company in a 24-month period, you will not be eligible for new Chase credit cards. For those of you that don't know, Chase credit cards are widely considered to be the best credit cards to get and are the ones that you should start your credit card journey with. 
The advantage of getting business cards, then, is that since they don't appear on your credit report, you can continue to get new Chase credit cards even when you have more than 5 credit cards in a 24-month period. If you look at my own credit card history, I'm currently sitting on 11 new cards in the past 12 months, yet my credit report only shows 4 new credit card accounts during that same time span. This gives me a big advantage as I plan out my credit cards in the coming months. 
Note that with respect to 5/24 status, it's important to know that while a Chase business card won't count towards your 5/24 status, you are not eligible to get a Chase business card if you're over 5/24. Keep that in mind as you plan out your strategy.
2. Business credit cards have almost no impact on your credit report. One of the reasons a lot of people don't get into travel hacking is because they're afraid that opening up new credit cards will mess up their credit. I felt the same way before I got into this world. It's the reason I resisted travel hacking for so long – I thought for sure that opening up new cards meant my credit score would plummet (pro-tip: I was wrong, opening up new cards doesn't mess up your credit – in fact, my credit score has basically stayed the same during these past 12 months).
If you're the type of person that's scared that opening up new credit cards will mess up your credit, then business credit cards are a perfect way for you to still earn points and miles. You'll get the card, but nothing will appear on your credit report. When you apply for a business card, the only thing that might show up on your credit report is a hard inquiry, which only has a temporary impact on your credit score and no impact at all after 1 year.
3. Business credit cards give you more opportunities to earn signup bonuses. The other reason you should be looking at business cards is that they give you more cards that you can open to earn signup bonuses. For example, most personal cards have a business version of the same card. By getting both the personal and business version of a card, you can essentially double up your signup bonuses. As an example, last year, I signed up for the American Express SPG card (this card no longer exists) and the American Express SPG Business Card (this card also no longer exists). Since I got both cards, I was able to earn more points than I otherwise might have if I opted only to get personal cards.
How To Get A Business Credit Card
The main objection I get from a lot of people about business credit cards is the belief that they can't get one because they don't have a "real" business. The first thing to realize is that most people underestimate themselves. If you earn ANY income outside of your day job (which the vast majority of people do in some fashion), then you have a business. In other words, unless 100% of your income comes in the form of a W-2 from an employer, you have a business in some fashion – even if you don't think you have one. 
A lot of people make the mistake of thinking that a business is some official thing. They think that businesses are supposed to be some sort of big company with a bunch of employees. In fact, most businesses aren't like that – they're small businesses or side businesses run by regular people like you and me.
To qualify for a business credit card, the only thing you need to do is earn some sort of income outside of your day job. So what are some examples of real, 100% legitimate businesses? Just as an example, the following would qualify as real businesses: 
Renting out a room on Airbnb
Dog sitting (either on Rover or just doing it on your own)
Walking dogs (either through Wag or just walking dogs on your own) 
Babysitting 
Selling stuff you find on eBay 
Doing Uber, Lyft, Postmates, DoorDash, Uber Eats, Caviar, or any other rideshare type app
ANY work where you have to pay self-employment tax
It might not seem like a business to you, but if you're getting paid and it's not an employer paying you, then you're a sole proprietor – essentially a business of you. I think almost everyone probably earns some sort of income outside of their day job, and if you don't, you definitely can.
Another way to think about it is this way. If you pay self-employment taxes (i.e. you pay social security and Medicare taxes on your earnings), then the government has explicitly decided that you are a business. You're literally paying the taxes a business pays. 
I'm not going to go into the exact specifics of how to apply for a business card in this post, but in general, when you apply for a business card, you'll need to provide some info about your business. For example, here's what the application screen looks like for the Chase Ink Preferred card.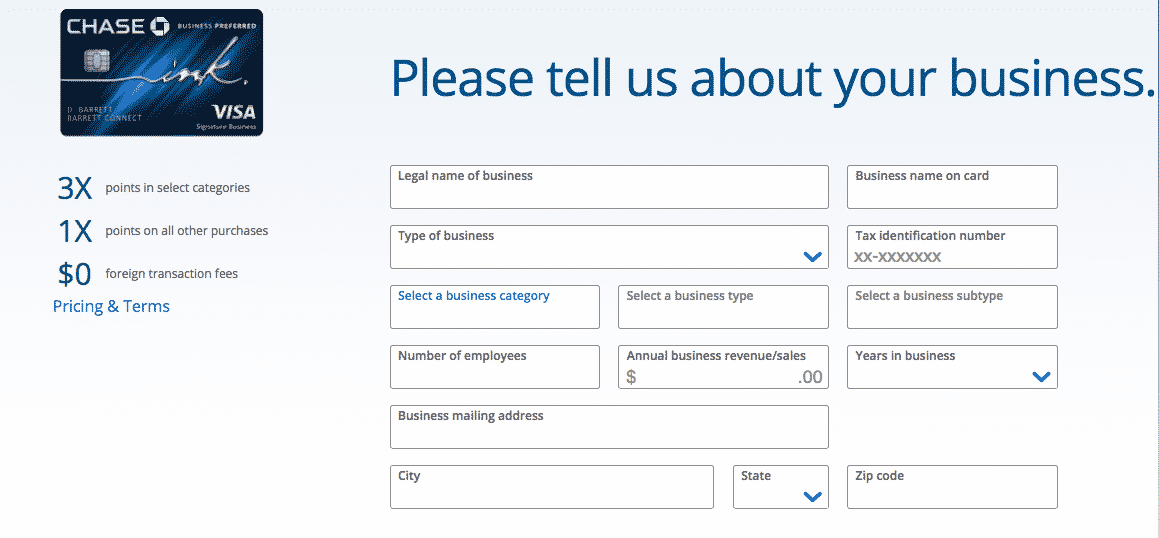 When filling this form out, there are some important things to remember. 
Under Legal Name of Business, put your full name. Unless you have actual paperwork showing that you have a business with a different name (like an LLC or a corporation), then your business name is just your full name. 
For Business Name on Card, put your name.
Under Tax Identification Number, put your social security number. If you want, you can get an EIN fro the IRS website in a few minutes. It's up to you whether you want to do that, but using your social security number is perfectly fine.
For Type of Business, Business Type, and Business Subtype, search and see what fits closest to the type of business you are doing. This doesn't have to be exact, so don't worry too much about this.
For Annual Business Revenue, you can estimate this if necessary. I typically recommend putting a number that is more than zero. Ideally, at least $1,000 will make it easier for you. Most people doing Uber, Lyft, or anything like that can make that much in a year, so it's fair to put that as an expected or anticipated annual business revenue.
For Years in Business, it's usually best to have this be at least 1. 
Again, remember, businesses are not just corporations. If you've done anything to earn income outside of your W-2 job, you can legitimately say that you are a business. When I apply for business cards, I typically apply using my Airbnb business, which generates somewhere between $7,000 and $15,000 per year. I've applied for other business cards using my Rover business, my Wag business, or my Postmates/DoorDash/Uber Eats income, all of which only generate about $1,000 to $3,000 of income each year.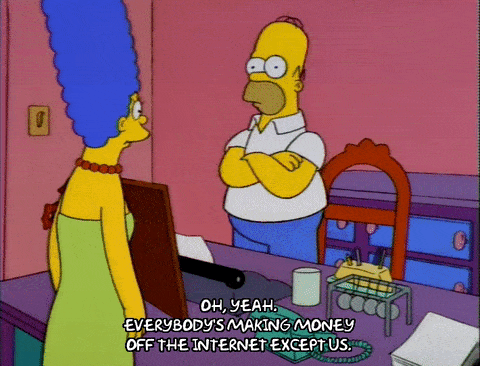 The Best Business Credit Cards
In general, most people should start with one of the Chase business credit cards. I recommend picking one of these three business credit cards to start with:
Chase Ink Preferred. The Chase Ink Preferred offers the highest signup bonus at 100,000 Chase Ultimate Rewards points. The downside is that it has a very high minimum spend of $15,000 in three months, which makes it out of reach for most people. If you happen to have a lot of spending that you need to do, then I'd get this card – but make sure you have the ability to hit the minimum spend requirement.
Chase Ink Cash. The Chase Ink Cash has a signup bonus of 50,000 Chase Ultimate Rewards points. This card has no annual fee and gives 5x back on purchases made at office supply stores and on internet, cable and phone services. It also gives 2x back on gas stations and restaurants.
Chase Ink Unlimited. The Chase Ink Unlimited also has a signup bonus of 50,000 Chase Ultimate Rewards points. This card also has no annual fee and gives 1.5x back on all purchases. This is the card I'd recommend if you're looking for a daily card that you don't have to think about too much. My wife uses this card for her business since it gives her the most return on her spending.
Takeaways
For pretty much anyone who is into travel hacking, business credit cards are something that you should be taking advantage of. If you're a regular reader of this blog, you probably already have some side hustle going on. Remember that you are a business when you do that – a business of you. So use that to your advantage to get business credit cards as you need them. You'll be amazed at just how many points you can accumulate when you start taking advantage of these products.
Travel hacking is definitely something that you need to take the time to understand, so be sure to do your due diligence before jumping into this world. I have a few posts that are good starting points:
Make sure that you know how you're going to hit the minimum spend on any particular card. It's best to time opening new cards with when you're making major purchases. Weddings are a great example of when you should be opening up a ton of cards. Or think about when you're going to buy a new phone or a new computer.
If you're going to pay for something, you might as well get something in return too. Now get out there and start traveling with all of your points!