I've always been wary when it comes to credit cards. Even though I've never been shy about trying out new fintech apps or opening up new bank accounts, for some reason, credit cards have always scared me. Maybe it's the fact that a credit card goes on your credit report. Signing up for a new card just seems so … permanent.
My fear of opening up new credit cards probably comes from the fact that my history with credit cards isn't very robust. I got my first card back in 2006 during my sophomore year of college – a Citi mtvU Visa Card which gave me extra points when I used it at bars and restaurants. The card seemed pretty good and it served as my daily use card throughout my 20s. In 2012, Citi changed the card over to a Citi Forward Card, which was the card that I was using all the way through the beginning of this year. The only other card I've gotten during that time is a Target Red Card that I accidentally got when I was actually trying to get the Target Debit Card.
Because of this fear of credit cards, I've pretty much missed out on the whole travel hacking craze. If this is a new concept to you, basically, a lot of credit card companies offer lucrative signup bonuses if you open up certain credit cards. People who are knowledgeable about travel hacking can pretty much fly around the world for free just by strategically opening up new cards every year. That's often thousands of dollars a year that people can make just by opening up new credit cards. Headlines like the one below aren't that uncommon to see.

For the last 10 years, I've adamantly refused to do any travel hacking. Looking back, it seems a bit strange that I was so afraid to get into this world. I make money in a ton of weird ways. Travel hacking seems like it would be a natural fit, so why would I be so against it?
A part of it has to do with a simple lack of knowledge. I just didn't know that travel hacking was a thing until recently. The other part was fear. Travel hacking seemed confusing to me.  For example:
It wasn't quite clear to me how new cards affected my credit score. Wouldn't my credit score drop if I kept opening up new cards?
There are a ton of cards out there. Which ones was I supposed to open?
How am I supposed to meet the minimum spend on all of these cards?
What about those annual fees?
What do I do with the card once I'm done with it?
And seriously, won't opening up all of these new cards wreck my credit score?
Even though a lot of people make travel hacking seem really simple, it's actually not that straightforward. There's a lot that you need to know if you want to do it right.
The great thing about the internet is that you can become an expert in pretty much anything if you're willing to take the time to learn how to do it. Before this year, I knew absolutely nothing about travel hacking. Today, I'd like to think that I've graduated to something beyond amateur travel hacker status.
I'm planning to talk a little bit more about what I've learned about travel hacking as I continue to get into this world, but for now, here's the story of my first foray into travel hacking. My goal here is to help you figure out travel hacking, not from the point of view of some super travel hacker expert, but from the point of view of a regular dude just trying to figure out how all of this works.
And take it from this amateur travel hacker – you can become an expert travel hacker too if you're willing to put in the work.
Missing Out On A Lot Of Points
For the most part, travel hacking is a bit of a niche area, but sometimes, cards get so big that even regular people get into the travel hacking game. In late 2016, Chase offered 100,000 ultimate rewards points for folks that opened up a Chase Sapphire Reserve card. Even my less savvy friends jumped on this offer – most likely because it was advertised all over Facebook by big bloggers. My friends urged me to sign up for it too and I refused. The whole thing seemed too weird to me. I didn't understand what the whole travel hacking thing was about and didn't want to risk messing with my credit score.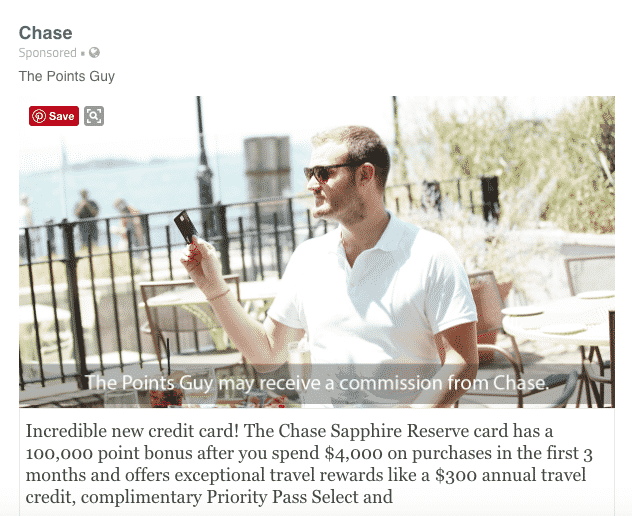 In retrospect, I should have signed up for the card. Now, I'm kicking myself! But oh well. Live and learn.
My biggest missed opportunity was definitely in the form of my wedding. I've learned a lot from planning a wedding, and one thing I know is that weddings are expensive! If you're going to be paying for all of that stuff, it makes sense to get a little bit of return on your spend. With an average wedding costing in the neighborhood of $30,000, many people could open up 7 or more new credit cards and get thousands of dollars back in the form of hotels and travel.
My wife's engagement ring was another missed opportunity. I bought it at the beginning of 2016 and threw the whole cost of it on my Citi Forward Card, which I then promptly paid in full. Sure, my card gave me 1% back on my purchase. But had I taken advantage of credit card signup offers, I probably could've easily gotten back $1,000 or $2,000 worth of travel.
So if you're getting married anytime soon, you need to be signing up for multiple credit cards! Don't let all that spent money go to waste!
My First Experience With Travel Hacking
In February of 2017, I decided to take the plunge and try my hand at travel hacking my first flights. Since I was new to this world, I had a few things I was worried about. First, I wanted something pretty simple and easy to figure out. Second, I didn't want to pay any annual fees. (I've since learned that annual fees shouldn't be a dealbreaker).
The card that hit all of these points was the Merrill+ Visa Signature Credit Card. At the time, that card offered 50,000 bonus points if you spent $3,000 within the first three months, which translated to about $1,000 worth of plane tickets. And the best part was that the card had no annual fee, making it seem low risk in my eyes. Since I already had to pay for a bunch of wedding expenses, the card seemed like a no-brainer to me.
In terms of redeeming the points, the process was super easy. I spent the $3,000 pretty much immediately by paying a couple of wedding bills with the card. A few days later, the 50,000 bonus points appeared in my account – even before my statement period had ended.
Using the points was a pretty simple process. One thing to note is that the Merrill Lynch travel center has a few quirky rules. Basically, any flight that's $500 or less costs a flat 25,000 points. My goal was to get as close to a $500 ticket as possib le. Since my wife and I were looking to go to Puerto Rico for our honeymoon, this worked out perfectly for us. Flights to Puerto Rico from Minneapolis clocked in at about $497 roundtrip. We basically were getting the maximum return on our points.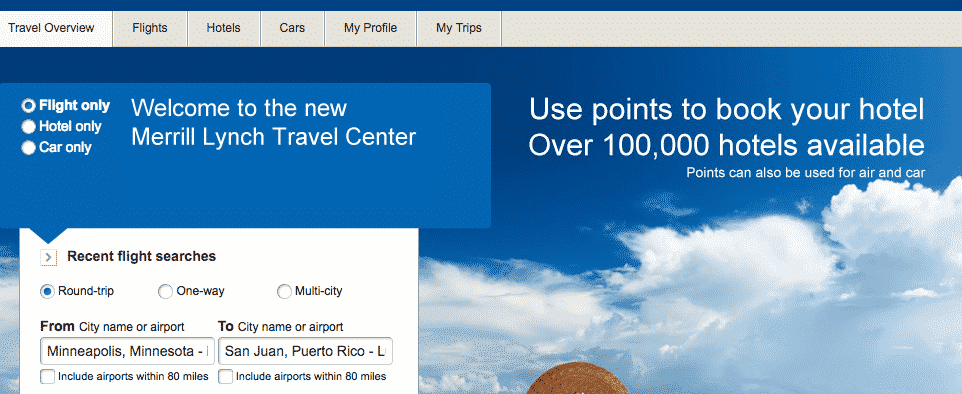 A few clicks of the mouse and that was it. Our honeymoon flights were booked -totally free! It seemed like the perfect beginner card for a new travel hacker like me. And since there was no annual fee, I didn't have to worry about what I was going to do with the card later.
One thing to note – I didn't optimize my travel hacking strategy to the fullest.  Most people would say that if you're starting out as a brand new travel hacker, your first five cards should ideally be from Chase.  The reason for this has to do with a special rule known as the 5/24 rule. Basically, Chase won't let you open up new cards if you've opened up 5 or more credit cards from any company in the past 24 months. Since Chase is well known for having some of the best signup bonuses, it's often recommended to go for Chase Cards first before going for other cards. If I could go back in time, I'd probably have done that instead – but that's a lesson for another day.
Things To Know If You're Skeptical About Travel Hacking
I think most people who are responsible with their credit cards stand to benefit from travel hacking. Even just a few cards per year would lead to thousands of dollars in free travel.
Here are some things that I've learned as I've started getting into the world of travel hacking:
1. Meeting Minimum Spends
The key with any new card is meeting the minimum spend requirements. Before you open up a new card, make sure that the minimum spend is something that you can realistically hit.
Of course, you don't want to be opening up new cards only to spend more than you normally do. That's why weddings are a great spot to really go all out with travel hacking. Your engagement ring or wedding dress is going to be expensive no matter how you slice it. And paying for everything else that comes with a wedding will be expensive too.  You might as well get something in return for spending all of that money.
Most of the time, it's thousands of dollars you're getting back in travel and hotels. Don't miss out on it!
2. Don't Fear The Annual Fee
Annual fees have always seemed crazy to me. Why would I pay for the benefit of spending money on a credit card?
The key with fees is to remember that you should be getting more back than what the card costs. If you're getting back $500 or $1,000 in travel and paying $95 for the card, it's like you're paying $95 to get $500 or $1,000. That's a good deal for you.
3. Travel Hacking Won't Mess Up Your Credit Score
I always figured that travel hacking would screw up my credit score a ton. Turns out that opening up new cards might lead to minor dips, but only in the short term. Even though I've opened up 4 new credit cards in the past 5 months, my credit score still hovers at around 800.
Sure, opening up new cards will lower the average age of your credit. But opening up new cards also leads to more available credit, which means a lower credit utilization rate (a lower utilization rate is good for your credit score). It sort of balances out over the long run.
Closing cards was the one thing I was worried about.  But I realized one thing:
4. You Don't Necessarily Have To Cancel Annual Fee Cards
I used to think that if I got a card with an annual fee, my only option was to either keep the card or close it. However, many cards also let you downgrade them to no-annual-fee cards, which means you don't have to worry about the decision to keep or close the card if you no longer want it.
Travel Hacking Doesn't Have To Be Scary
Travel hacking can be intimidating if you're new to it. I know it was for me and it's the reason why I held off on doing it for so long. But it doesn't have to be scary. If you know what you're doing, you're going to come out ahead – you just need to take a little bit of time to understand how it all works.
I've had a ton of fun figuring out this whole travel hacking thing and I'm going to be sharing what I've learned with all of you as I figure it out. It's pretty addictive figuring out ways to optimize your spend in order to get free flights and I can definitely see why people spend so much time thinking about it.
Related: If you like travel hacking, you'll definitely want to think about optimizing the interest rates on your emergency fund with 5% interest savings accounts. I let fear hold me back from getting into travel hacking and it's something I regret.  Don't let fear hold you back from maximizing the return on your cash.