I've been getting really into the world of credit cards and travel hacking over the past few months. For people like me, opening up new cards is an easy way to optimize my spending and snag some free flights in the process.
If you've got a good handle on your finances, adding even just a little bit of travel hacking into the equation is a nice way to get a little bit of return on your spend. Once you get into this world, it's easy to see why so many people write about this stuff.  It's stupidly addictive!
For years, I've resisted travel hacking because I was too scared to do it. At first, I just thought it was just too good to be true. I'm definitely not skeptical by nature, but the logistics of traveling around the world for free by opening up new cards didn't make much sense to me. It seemed like there must be a catch.
Even when I figured out that travel hacking was a legit thing, I was still too scared to do it. The entire process was overwhelming and I had no idea where to start. There's definitely a lot of information out there for anyone who wants to start travel hacking. It's just often hard to synthesize everything you've read into useful and coherent information, especially when you're a newbie.
Since I've been absorbing a ton of information over the past few months, I figured it'd make sense to share this information with you as I learn it. My goal is to use these travel hacking posts as a way to teach the basics that everyone should know if they want to start getting into the world of travel hacking, but don't know where to begin.
Today, I'm here to talk to you about the Chase 5/24 Rule. For pretty much anyone starting out with travel hacking, the Chase 5/24 Rule should be the first thing you learn about. This rule will pretty much guide all of your decisions about which cards to open.
If you're looking to get started with the world of travel hacking, you need to start with this post first.
What Is The Chase 5/24 Rule?
As a quick bit of background for anyone who's super new to the world of travel hacking, basically, every credit card belongs to a different sponsoring bank. You're probably familiar with most of these companies. For example, Citi has its own family of credit cards. American Express has another. In general, the best signup bonuses tend to come from the Chase family of credit cards. If we want to get the most bang for our buck, we ideally want to aim to get as many Chase cards as possible.
Unfortunately, Chase limits the number of cards you can get depending on how many cards you've recently opened. This limitation on our ability to get Chase cards comes from a rule known as the Chase 5/24 Rule.
In short, this rule makes it so that you cannot open up a new Chase credit card if you've opened up five (5) or more credit cards within the past 24 months from any company. The "any" company part is important. If you've opened up five (5) American Express cards in the past 24 months, for example, you won't be able to get most Chase cards until you're under that 5/24 threshold.
If you're doing some soft travel hacking and don't think you'll open up more than 5 credit cards in a 24 month period, then you don't have to worry about this rule. Instead, just pick any cards you want with the best signup bonuses.
One of the easiest cards to start out with – and the card I recommend 99% of people start out with – is the Chase Sapphire Preferred since the annual fee is waived in the first year and you can downgrade the card so that you never pay the annual fee. In essence, it's basically a no-fee, no-risk card that even the most cowardly travel hacker wannabe could start out with.
For people who want to dive headfirst into travel hacking (like me), the Chase 5/24 Rule will be a major consideration that guides your card selection process. Most cards require you to meet a certain minimum spend within 3 months. If you opened up a new card every 3 months, you'd be looking at a total of five new cards sometime during your second year of travel hacking. At that point, you'd be unable to get any more Chase Cards until you're back under 5/24.
Thus, it's important to start off with the right cards so that you can maximize your travel hacking returns.
Which Cards Does The Chase 5/24 Rule Affect?
Of course, like with anything, the Chase 5/24 Rule has some nuances. Not every card is affected by the rule to the same degree. There are three categories of cards to think about when it comes to the Chase 5/24 Rule:
Cards that ARE affected by the Chase 5/24 Rule;
Cards that ARE NOT affected by the Chase 5/24 Rule; and
Cards that DON'T COUNT towards the Chase 5/24 Rule, but that you can't get if you're over 5/24
The first category of cards is pretty simple. These are cards that are just straight up affected by the Chase 5/24 Rule. Nothing special here. If you're over 5/24 (i.e. you've opened up more than five cards from any company in the past 24 months), you're almost certainly not going to be able to get these cards.
The second category consists of cards that, for whatever reason, are not affected by the Chase 5/24 Rule. This means that even if you're above 5/24, you can still get these Chase Cards. Again, fairly straightforward.
Finally, the third category of cards are cards that you can get if you're under 5/24, but that DO NOT count towards your 5/24 amount. All of these cards are business cards, which means that while they look at your credit when you apply for them, they don't actually appear on your credit report like a normal personal card. The key thing to remember with these Chase business cards is that if you're over 5/24, you won't be able to get these cards. Thus, what you want to do is get one of these cards while you're below 5/24. That way, you'll be able to get the card and it won't harm your ability to get other Chase cards.
Below is a general breakdown of the worthwhile Chase cards that fall into each of these three categories.
Category 1: Cards Affected By Chase 5/24 Rule:
United MileagePlus Explorer
Marriott Rewards Premier
Category 2: Cards Not Affected By Chase 5/24 Rule:
IHG Rewards Club Select
Ritz Carleton Rewards
British Airways Visa Signature
Category 3: Cards That Don't Count Towards 5/24, But That You Cannot Get If You're Over 5/24:
United MileagePlus Explorer Business
Southwest Premier Business
Mariott Rewards Premier Business
I will note that I haven't included every Chase card in the above list because there are certain cards that I don't think you should apply for. For example, you probably shouldn't apply for a Chase Freedom or Chase Freedom Unlimited unless you're in a situation where you don't plan to go over 5/24 or you think you'll have trouble meeting minimum spend requirements for other 5/24 cards. The reason for this is that the signup bonuses for the Freedom and Freedom Unlimited aren't all that great, so if you're looking to maximize your 5/24 slots, you'll get more value by going for the Chase Sapphire Preferred or Reserve and then downgrading to the Freedom or Freedom Unlimited.
You definitely should avoid applying for cards like the Disney or Amazon cards. Those cards don't provide much of a benefit and aren't worth messing up your 5/24 status.
Chase 5/24 Rule Strategy
Looking at the above categories of cards can be intimidating, so let's break it down a little bit more. Ideally, we want our first five cards to be Chase cards. That way, we'll still be able to snag cards from other credit card companies later down the line.
The exception to this is if you see some really good signup bonus that doesn't come around all that often. In that situation, you might want to consider snagging the non-Chase card if it looks like a particularly good deal.
For most people, I recommend starting out with the Chase Sapphire Preferred as your first card. There are two things going for it that make it the perfect first card. First, the annual fee is waived the first year, so you don't have to worry about any upfront costs. Second, you can downgrade the card to a Chase Freedom or Freedom Unlimited in order to avoid paying the annual fee in the second year.
In essence, this basically makes the Chase Sapphire Preferred the equivalent of a no-annual-fee card. It's easy enough to just get your signup bonus, use the points within a year, and then downgrade the card to avoid the fee.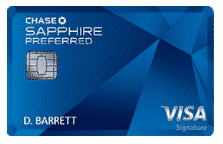 Afer the Chase Sapphire Preferred, there are a number of ways to go.  Here's the suggested order I recommend:
Chase Sapphire Preferred
Southwest Rapid Rewards Plus
Southwest Rapid Rewards Premier
Chase Sapphire Reserve
Chase Ink Preferred
United MileagePlus Explorer
Marriot Rewards Premier
A few things to note about this order:
Southwest Cards  – The two Southwest cards allow you to earn the Southwest Companion Pass, which is sort of the holy grail to travel hackers.  Getting the Companion Pass requires you to earn 110,000 Southwest points in one year, which you can do by getting signup bonuses of between 50,000 and 60,000 points for each card and then spending enough to hit the 110,000 points.  Once you do that, you've basically got yourself at least 1 year and potentially two years of BOGO flights.  If you don't get a lot of value from the Companion Pass, then move those two cards to the bottom of the chart or consider not getting them at all.
Chase Business Cards – The Chase Ink Preferred is a business card, so you want to make sure that you get that card while you're still under 5/24.  I usually recommend people open it as their fourth or fifth card.  In order to get a business card, you technically have to have a business, but that pretty much includes anything.  If you're reading this blog and have been side hustling using the sharing economy, then guess what, you've got a business and can get a business credit card!  It's also important to note that Chase generally only lets you have one business card with them at a time.  I recommend the Chase Ink Preferred as your Chase business card since it generally has the best signup bonus and you can downgrade it to a no-fee card later.
How To Get To 6/24 – It's possible to get over 5/24 by applying for two cards on the same day.  Thus, you could technically get yourself to 6/24 with a little bit of luck.  To do this, make sure you apply for the last two cards on the same day and try to apply for the second card while in incognito mode in your browser.  You should apply for the card you want more first, just in case you get rejected on the second card.
By the time you're done with all of this, you should have a total of seven (7) Chase cards.  You'd technically be at 6/24 at that point (6 personal credit cards plus 1 business credit card).
Once you get over 5/24, it's up to you what you want to do.  I'm for sure planning to target the Chase Hyatt and the IHG Rewards Club Select in the future.  I'm not so sure if I'll go for the Ritz Carleton or the British Airways cards due to the annual fees on them.
Final Thoughts
Looking back, I wish I had known this rule from day one.  I'm still happy with the cards I've opened up, but it would have been nice to give myself a little bit more room to snag all of the Chase cards.
I also wish I hadn't been as intimidated by annual fees.  It's worth reminding yourself that, if you're getting more than the fee, you're making a net profit.  Plus, most cards give you the option to downgrade the card to a no-fee card, which essentially means you can get the signup bonus and either pay the fee for only 1 year or never pay a fee at all.  The Chase Sapphire Preferred is a great example of this.   It's essentially really a no-fee card when you think about it.  (The Chase Sapphire Reserve, Chase Ink Preferred, and United MileagePlus Explorer also allow you to downgrade to a no-fee version).
Obviously, there's a lot more to travel hacking, but I think this is a great starting point for anyone who's trying to start travel hacking.  Follow this order of cards and you should set yourself up for some lucrative travel hacking for years to come.
For further reading, check out the beginning of my travel hacking adventures.
If you're the type of person who's interested in maximizing their travel hacking, you might also be the type of person interested in maxing out the interest rate on your cash savings.  Check out my posts on how you can get a 5% interest savings account: