When I was in college, I picked up a copy of The Automatic Millionaire by David Bach. His book is still one of my favorite money books and probably the first book I recommend to anyone beginning to learn about personal finance.
When I first read Bach's book, I too, wanted to become an Automatic Millionaire! One chapter in his book talked about setting up an IRA or a Roth IRA. I was a 19-year-old kid at the time, so I didn't have a clue what that meant. All I knew was that it was something good! After reading The Automatic Millionaire, I hopped onto E*Trade, opened up a Roth IRA, and transferred $100 into my Roth IRA account.
And then, I was stuck.  I remember The Automatic Millionaire talking about investing in mutual funds, but I didn't really know what that meant or how to put my money into that type of investment.
After tinkering around on E*Trade and trying to figure out how to put my 100 bucks to work, I ended up finding a cheap stock for a bookstore company you might remember called Borders. Back then, Border's share price was around $3 per share. I thought for sure that Borders was too big to fail! Well, we all know what happened there.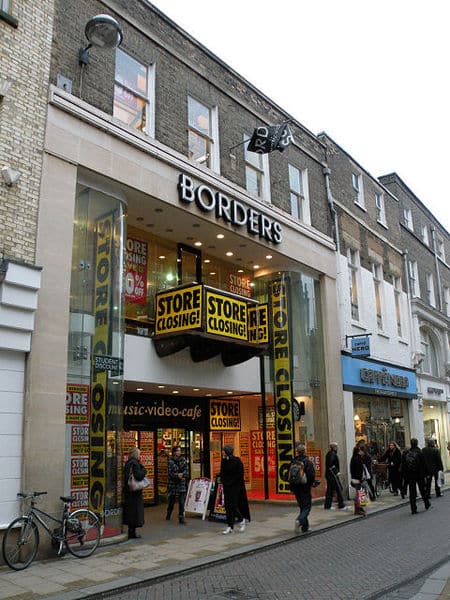 I never did figure out the Roth IRA thing while I was in college. Eventually, I even forgot that I had opened one. And I didn't put another dime into any sort of investment vehicle until I was around 27 years old.
When I tried my hand at opening a retirement account, I thought it would be like opening a bank account. The way I visualized it, you put money into your retirement account and then left it to grow over time.
But that's not at all what it was like! You couldn't just put money into a retirement account. You also had to know where to put your money once it was in the account.  
This is where robo advisors come into play. I'm a huge fan of robo advisors because of how easy they are to set up and how much they open up the world of investing to your average joe who knows nothing about investing.
For those of you that don't know, robo advisors are automated investment platforms that invest your money for you in an appropriate allocation based on your age and risk tolerance. Examples of popular robo advisors include services like Betterment, Wealthfront, or M1 Finance. 
All of these services are great and do one thing very well. They take away the biggest problem facing any new investor – simply getting started.
Not Everyone Is Into Money
I know, I find it hard to believe! But it's true. Not everyone is a money nerd.
If you're into personal finance, then investing seems really simple. Open up a retirement account, pick a Total Stock Market Index Fund with low expense ratios, and consistently invest money over time.
But the actual process of getting started isn't all that simple if you have no idea what you're doing! Tell a regular person to do the above and they'll have no idea what you're talking about or how to go about doing that.
Here's what I mean.  Let's look at your typical E*Trade brokerage order screen: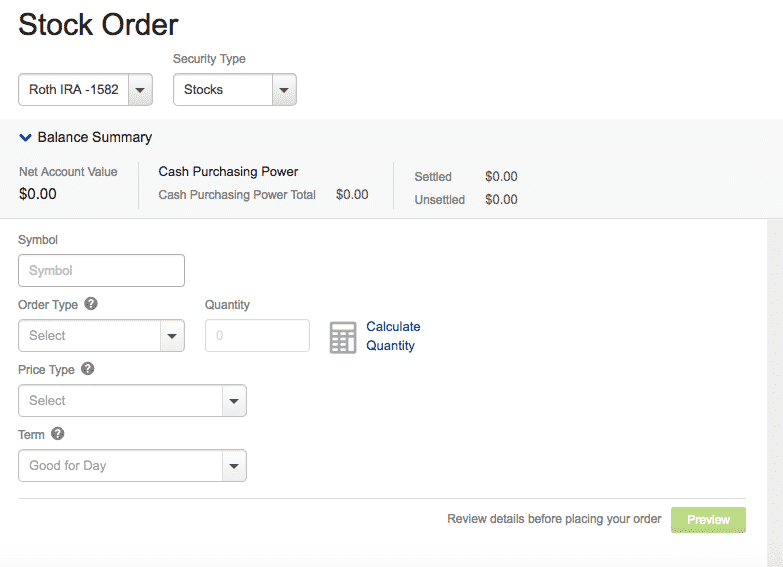 This entire thing looks pretty intimidating if you have no background in investing. Look at all the drop-down boxes! And I have to enter in all sorts of weird information that I don't understand. To a newbie starting out – and we were all newbies once – this might as well be a different language.
If you make something too complicated, many people will quit before they get started. That's exactly what happened to me when I was in college and trying to start up my first retirement account. I never got started because the entire process was too complicated.
The Impact Of Friction
The main thing stopping most people from doing any particular task is the amount of friction between doing nothing vs. getting started. The more perceived work it takes to do something, the less likely we are to start doing it, and the more likely we'll look for easier alternatives.
An example I always use to demonstrate the problem of "friction" is the ridership of city bus systems vs. train or subway systems. Compare the two modes of mass transit. A train is much easier for a regular person to use when compared to a bus. Trains have easily recognizable stations. Their schedules are more obvious. You can pay for the ride before you board. Most importantly, trains are on tracks. You know exactly where you're going when you hop on a train. These are all things that are comforting to a new rider.
In contrast, look at your average bus system. Buses take a bit more work to figure out. Stops sometimes appear to be randomly placed (often just a pole at an intersection). You don't always know the bus schedule. And unless you have a bus pass, you need to plan on how you'll pay for the ride before you hop on the bus. But the most frightening thing is not knowing where a particular bus is going. Buses aren't on tracks. To a new bus rider, hopping on a bus can be a scary experience.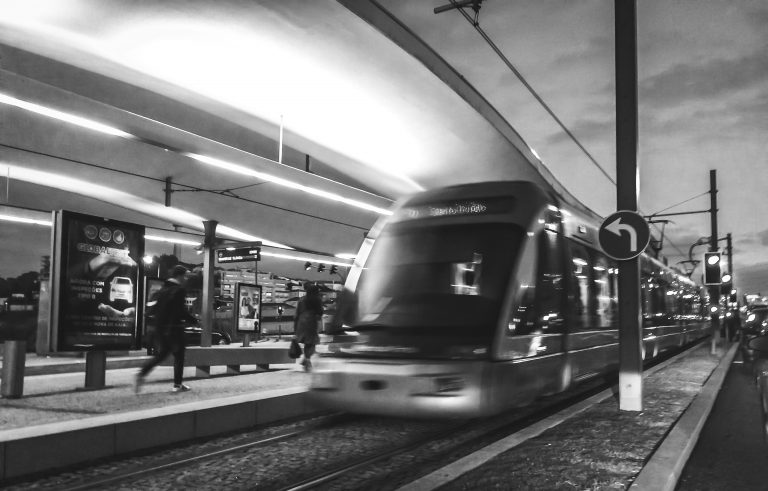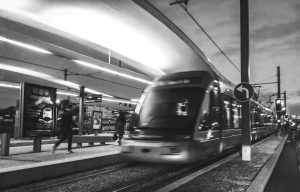 I'd wager that every person who rides a bus is also willing to ride a train or subway. But not everyone that rides a train is willing to use a bus. A train will attract more people simply because it's easier to use. There's less friction for your average joe to overcome.
Robo Advisors Remove A Ton Of Friction From The Investing Process
The biggest benefit of a robo advisor is their ability to remove friction from the investing process. You don't have to know what you're doing. All you need to do is open up an account and put money in.
If we had a spectrum of the easiest ways to use your money, it'd probably look something like this: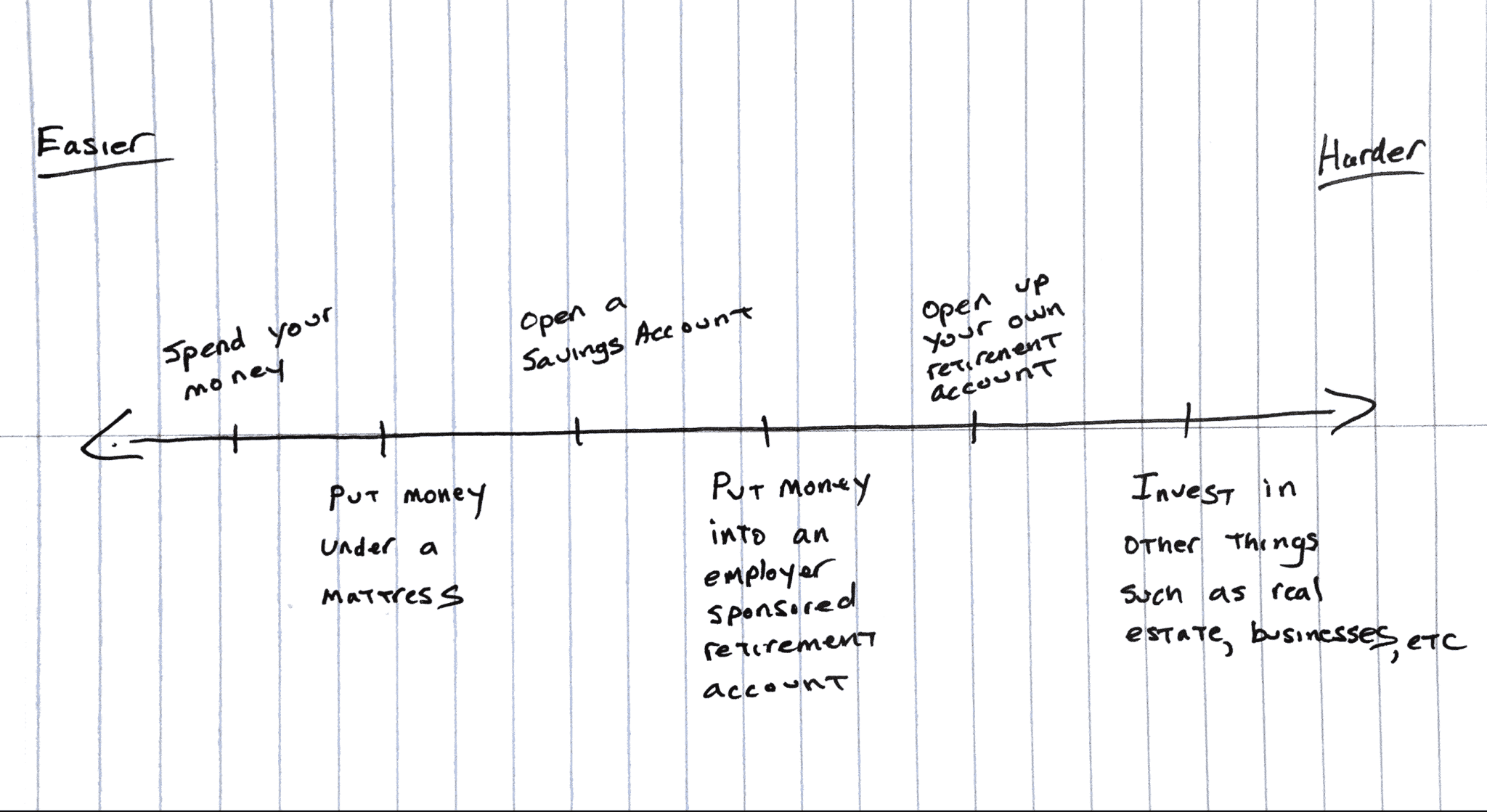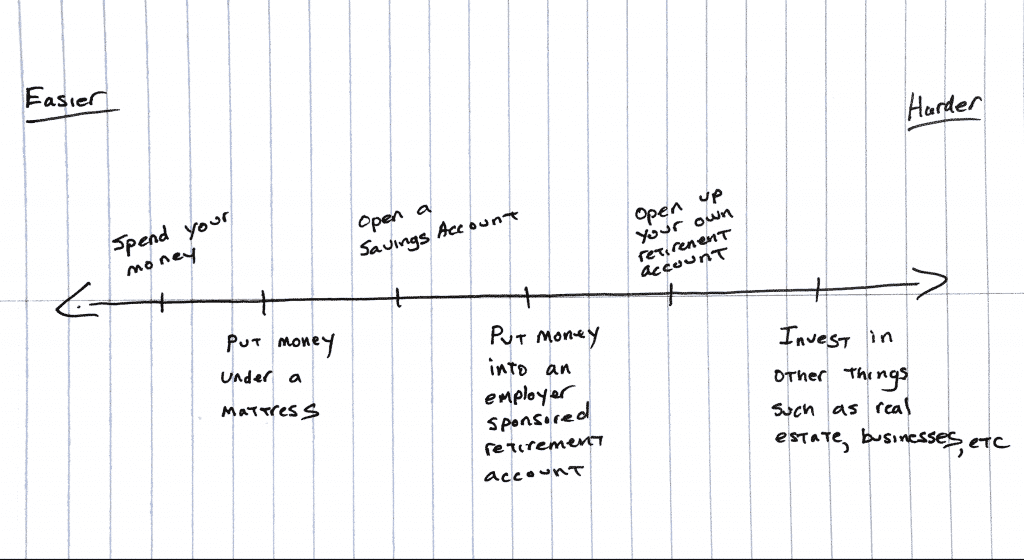 Some takeaways:
Spending your money falls to the left of the spectrum and is the easiest way to use your money. The friction in using your money in this manner is low. Anyone can do it!
Putting money away takes a little bit more work. But opening up a savings account isn't particularly difficult. All you need to do is set one up at basically any bank and throw some money into it.  You don't have to do much thinking beyond that.
Putting money into an employer-sponsored retirement plan, such as a 401(k), also isn't too difficult.   A lot of employers automatically take a certain percentage of your paycheck and invest it into a default investment option unless you opt-out. This is exactly what happened to me in my first year of work.
Investing outside of work is when the friction really ramps up. You can see how confusing investing can look if you know absolutely nothing about it. Robo advisors remove this friction.
And this is the ultimate benefit that makes robo advisors worthwhile. For the person who knows nothing about investing, it suddenly becomes as easy as putting money into a savings account. Investing suddenly slides to the left of the difficulty spectrum. It's the equivalent of taking a train versus taking a bus. Fewer barriers to entry mean more people take that initial first step of investing their money. That's worthwhile in my book.