Update: Unfortunately, Lili has introduced a new free plan and monthly subscription plan. The free plan gives you a basic bank account but doesn't do the automatic tax saving for you, which is the primary reason I recommended Lili to side hustlers, gig economy workers, and independent contractors. You can still get these features, but it'll cost you $9 per month. As a result, I no longer recommend Lili and am switching over to Indi (which is a similar neobank geared towards side hustlers, gig workers, and independent contractors).
A while back, I stumbled onto a new fintech bank called Lili, a free business checking account specifically designed for freelancers and gig workers. I'm always keeping an eye out for new fintech apps and Lili was an intriguing one – it did everything I needed a bank to do and seemed perfect for me to use as a business checking account for my side hustle income. In this Lili Bank review, I'm going to go over everything you need to know about Lili and explain why Lili is my preferred business checking account for freelancers and gig workers.
At the outset, you might wonder why you even need another bank account. One of the most important things you can do if you're a freelancer or gig worker is to open a separate business bank account. The money you earn from your freelancing or gig work should go directly into this account, rather than getting intermingled with your personal bank accounts.
Remember, you're essentially running your own business when you're doing this type of work, so it's much better to keep your personal accounts and business accounts separate. At a minimum, it'll make it much easier for you to keep track of your income and expenses, and pay your yearly and/or quarterly taxes. 
Lili has been the main checking account I've used for all my gig and freelance work for two years and I've been very happy with my experience. If you're looking for a business checking account for your freelance or gig work, then Lili is a bank you should definitely check out. I'll go into more detail in this post about what Lili is and what I think are its best features.
What Is Lili Bank? 
Lili advertises itself as a free, digital bank account built for freelancers. Beyond freelancers, Lili is also good for gig workers, independent contractors, side hustlers, and solopreneurs.
Lili is a digital bank, which means you do all of your banking via their mobile app. They have a partnership with Choice Financial Group, so your funds are stored with them and are FDIC insured for up to $250,000. That means you can rest easy knowing the money in your Lili account is safe and secure. 
The most important thing about Lili is that it's a 100% free bank account with no monthly fees and no minimum balance requirement. Lili also has no overdraft fees, and interestingly enough, no foreign transaction fees either. ATM withdrawals are free if you use a partner ATM (there are over 38,000 partner ATMs in the US, so you shouldn't have trouble finding an ATM if you need it).
Signing up for Lili is extremely easy. You complete the entire signup process via your phone and it takes 3 minutes or less to complete. Approval is typically instant and once approved, you'll be able to fund your account via ACH transfer. You'll also receive a debit card in the mail, along with additional information to help you get the most from the Lili app.
Beyond this, Lili has all of the basic things you would expect from a mobile-first bank. The app is intuitive and easy to use. You can also deposit checks via your phone, although you are limited to $2,500 per day and up to $6,000 per month. These limits shouldn't be a problem for most people, but they are something to consider if you're someone who has to deposit checks regularly. 
It is also possible to deposit cash into your Lili account by doing so at certain retail locations (Walmart, Walgreens, CVS, etc). However, you have to pay fees to deposit cash, so Lili is not a bank account you should use if you are someone who needs to do cash deposits.  
One thing that's worth noting is that Lili is an app-only bank. There's no website interface, so you can only access your account by using the app. I think that they should consider adding a website interface as well, as I know I often prefer going to the website when I'm on my computer.
Another thing to note is that Lili is a business bank account designed for sole proprietors, rather than businesses with employees or a partnership. If you're looking for a bank for a business that's more than just you, you'll want to use a different bank.
Lili Bank's Best Features
What drew me to Lili are the various features it offers that make it different from other banks. Here are some of the features that Lili has that I find useful.   
1. Automatic Tax Savings
Lili's best feature (and the thing that differentiates it from most other banks) is its automatic tax savings feature. Too often, freelancers and gig workers forget that, as independent contractors, we're responsible for paying taxes on our income. Remember, as independent contractors, we don't have an employer to take out taxes for us. 
Lili's tax savings feature saves a percentage of every deposit into a separate tax bucket. You'll still have access to this money if you need it, but Lili will show your tax bucket as separate from your overall balance. Here's a look at what my tax bucket looks like: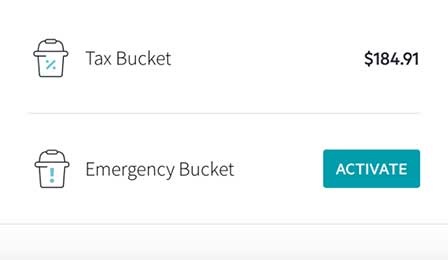 You can either manually set the percentage that you save from each deposit or you can tell Lili what you expect to make and the app will give you a suggested percentage that you should save. I set my Lili account to save 1/3 of everything I earn, but the amount you need to save may differ depending on what you make.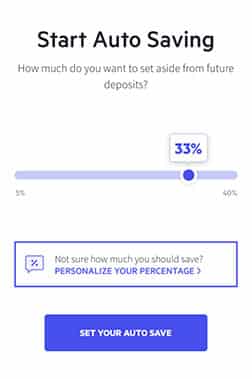 The tax savings feature is an extremely useful feature that, by itself, makes Lili a worthwhile bank to use for freelancers and gig workers. I only know of one other bank that has this same feature, so there aren't many banks out there that can do this.
2. Get Paid Up To 2 Days Early
Many fintech banks now allow you to receive your direct deposits up to 2 days early. Lili is no different. I've found that when I receive payments, they post either the same day or by the next day at the latest. This isn't that big a deal to me, but I do appreciate being able to get my payments earlier.
3. Income And Expense Tracking
Another great feature that Lili offers is its income and expense tracking tools. I found the income tracking data particularly useful. In the work section of the app, you'll find a bar graph with a month-by-month breakdown of all of the income you've earned. The app also shows you all of the income you've earned for the current year, as well as your average monthly earnings for the year. This gives me a nice, quick look into what my income has been each month.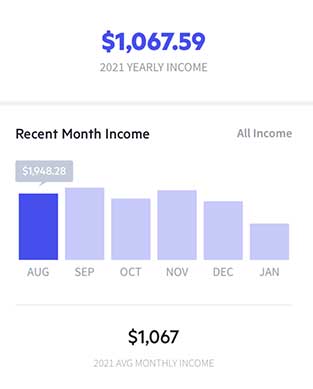 You can also download expense reports using the Lili app. These expense reports show you your income for the period selected, as well as all of your expenses broken down by category. Whenever you pay for something using your Lili account, you'll be able to classify the expense into different categories, so this is how Lili keeps track of this information.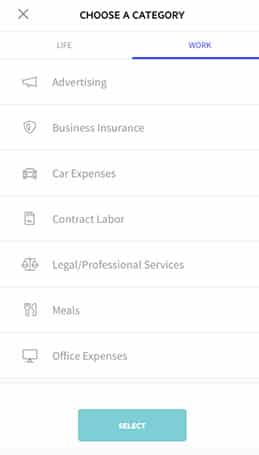 Expense tracking isn't that useful of a tool for me personally because it only really works if you pay your business expenses directly out of your bank account. I use a dedicated business credit card for all of my business expenses, so Lili can't track each expense associated with my side hustles. I generally recommend using a business credit card to pay for your business expenses, mainly because credit cards come with more protections and allow you to earn points and miles.
That said, if you're someone who doesn't use credit cards or would prefer to pay for expenses using the Lili debit card, then the expense tracking features that Lili offers will be useful to you.
4. Emergency Bucket Savings
Lili recently added the emergency bucket, which allows you to automatically set aside money for a rainy day. The app allows you to set how much you want to save per day, starting as low as $1.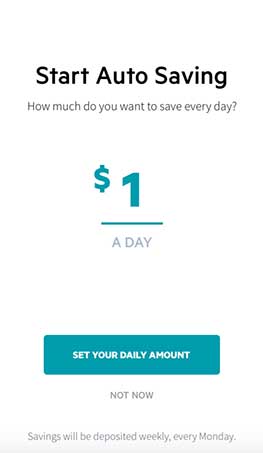 Like the tax bucket, money in your emergency bucket is kept separate from the overall balance in your Lili account. When you need the money from your emergency bucket, you can simply withdraw it back to your available balance. 
I don't think the emergency bucket is that useful since money in your buckets doesn't earn interest. I save my emergency fund using my 5% interest bank account strategy or I use high-yield savings accounts like Ally Bank. With Ally, I can automate regular savings, so there's not much of a need for me to use Lili's emergency bucket feature.
Of course, if you prefer keeping everything in one account, then it can make sense to save your emergency bucket in Lili. 
How I Use My Lili Bank Account
I link Lili with every gig economy app that I use. All of my earnings from these apps go directly into my Lili account. Each time I get paid, Lili automatically saves 33% of my earnings and sets it aside in my tax bucket. This is much better than my previous system, where I had to remember to set aside money on my own.
Every month or two, I like to take everything out of my tax bucket and send it over to an Ally savings account that I've specifically earmarked for taxes. I opt to do this because the money in my Lili tax bucket doesn't earn any interest, so I'd rather put it in a place where it can earn at least a little bit of interest. 
In addition to gig work, I also use Lili as my bank account when I pay myself for the work I do on this blog. All of my blog revenue goes into a business checking account that I have for this blog. Each month, I look at what I have left after paying expenses, then I pay myself a "paycheck" based on what's remaining. This paycheck that I pay myself goes to my Lili account, which then saves 33% of it for taxes. 
I only use Lili for business purposes, so whenever I do need money, I send it over to my personal checking account, Typically, at the beginning of each month, I transfer over a set amount from Lili to my personal checking account. This is the money that I use to pay bills and other day-to-day expenses. 
My system might sound more complicated than it is, but it's pretty simple when you're doing it. Basically, money flows from my Lili account to my personal account, which I then use to pay my day-to-day living expenses.
Final Thoughts On Lili Bank
So far, I've been very happy with my experience using Lili. It's a free bank account with no minimum balance requirement, so that already makes Lili a good bank in my book. 
What makes Lili a real winner, however, is the automatic tax savings feature. Remembering to set aside money for taxes has always been a pain point of mine, as I'm sure it is for others. Being able to automatically save for taxes makes things so much easier for me and helps keep me much more organized.
At the moment, I only know of two other banking apps that help freelancers and gig workers automatically save for taxes. The first is Indi, which is a bank account with features similar to Indi. I tried out Indi and thought it was a fine bank account, but I ultimately decided that I preferred Lili because it has slightly better features and a better app interface. It also seems like Lili is doing a lot more to improve their app and add new features while Indi seems to be a bit stagnant.
The second is Catch, which is an app that links to your bank account and monitors incoming deposits. Each time you get a new deposit, Catch will let you know and ask you if you want to save some of it into a separate tax account with Catch. This is particularly useful if you don't want to switch banks. Before I switched over to Lili, I used Catch in combination with another bank account called Chime. This worked out fine for me, but I've found it simpler to have everything with one bank instead of having to deal with two apps. Plus, the income tracking tools that Lili has are very useful, which my last bank account did not have. 
There aren't a lot of business bank accounts out there that are so easy to open and that have the feature set that Lili offers. That's why I think Lili is an excellent banking option for any freelancer, gig worker, side hustler, or solopreneur.  
Additional Notes
One commenter pointed out that Lili limits the withdrawals you can make in a month. This is true. At the moment, it appears you're only able to withdraw $500 per transaction and $1,000 per month via the Lili app.
The way around this issue is to do your withdrawal via your primary checking account. For example, if you need to withdraw a large amount of money out of your Lili account, you would initiate the transfer via your primary checking account. I "pay" myself a monthly paycheck each month out of my Lili app. At the beginning of each month, I withdraw what I need via my Ally personal checking account. So, I go into my Ally account, initiate an ACH withdrawal, and pull as much money as I need without issue.
On another note, I think Lili is an account geared more towards freelancers, solopreneurs, and gig workers, rather than traditional businesses. If you're looking for a business checking account geared more towards a traditional business, I'd recommend checking out Novo.
I hope you found this Lili Bank review helpful. If you have any questions, please feel free to leave them in the comments below.