How far does Grubhub deliver? If you're a customer, you might want to know this information because you want to order from a restaurant that's far away. Or if you're like me, you might be doing a restaurant secret shop that requires you to order from a specific restaurant location Or maybe you're a Grubhub delivery driver and you want to know how far Grubhub delivers to understand how far you might have to travel to complete your deliveries. 
This post will answer those questions for you. Let's get into it.
Grubhub Delivery Radius 
Grubhub utilizes a delivery radius for all of the restaurants on its platform. The restaurant can choose how far to set the delivery radius. In theory, a restaurant can set its delivery radius as far as 70 miles. In practice though, most restaurants will likely limit their delivery radius to something much smaller – probably 5 to 10 miles. 
Grubhub has an FAQ that gives some good insight into how restaurants on Grubhub can set their delivery radius. If you're curious about it, it's work checking out. 
How Far Does Grubhub Deliver If You're A Customer 
If you're a customer, the only way you'll be able to tell if a restaurant delivers to your location is to search on the Grubhub app for available restaurants. You'll find that if the restaurant doesn't deliver to your location, it won't appear in your searches. For the most part, you'll usually be limited to restaurants within 5 or 10 miles of your location.
If you search for a chain restaurant in the Grubhub app, it'll always show you the closest location. Sometimes, however, you might have a reason you need to order from a location that isn't the closest one to you. I do a lot of restaurant secret shopping, which helps me get free food. If it's a delivery secret shop, I usually have to order from a specific location that might not necessarily be the closest one to me. 
To change the restaurant location, I first go to the restaurant I want, then click change location.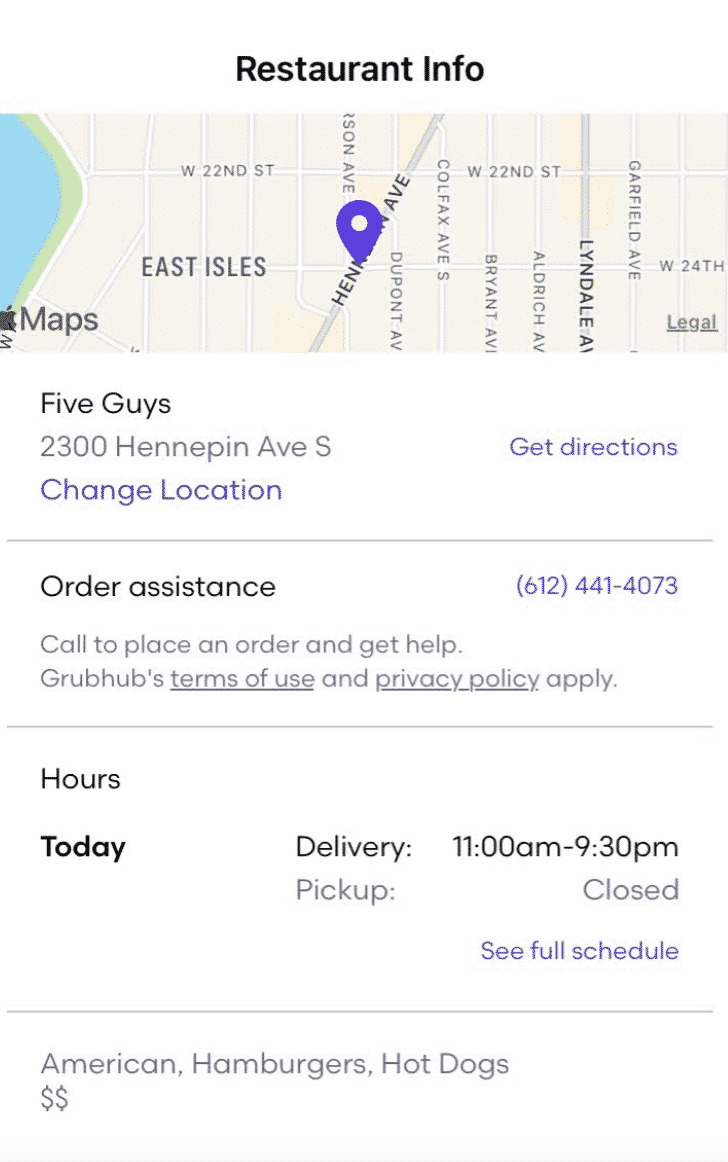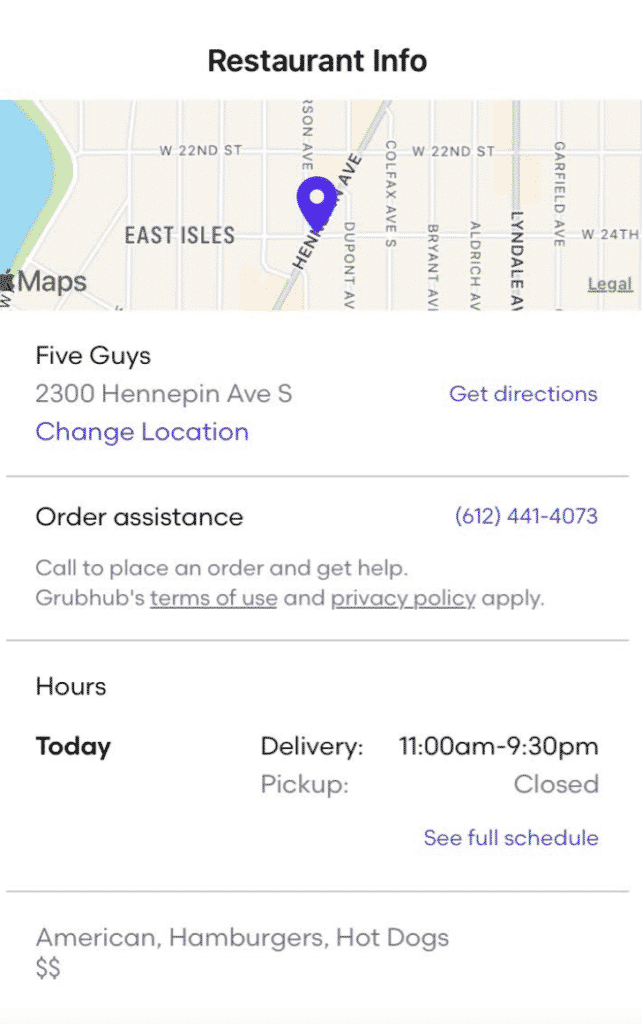 From there, Grubhub will show me all the locations for that restaurant chain that will deliver to my address. In this situation, you can see that the farthest location that Grubhub will allow me to order from is about 6 miles away.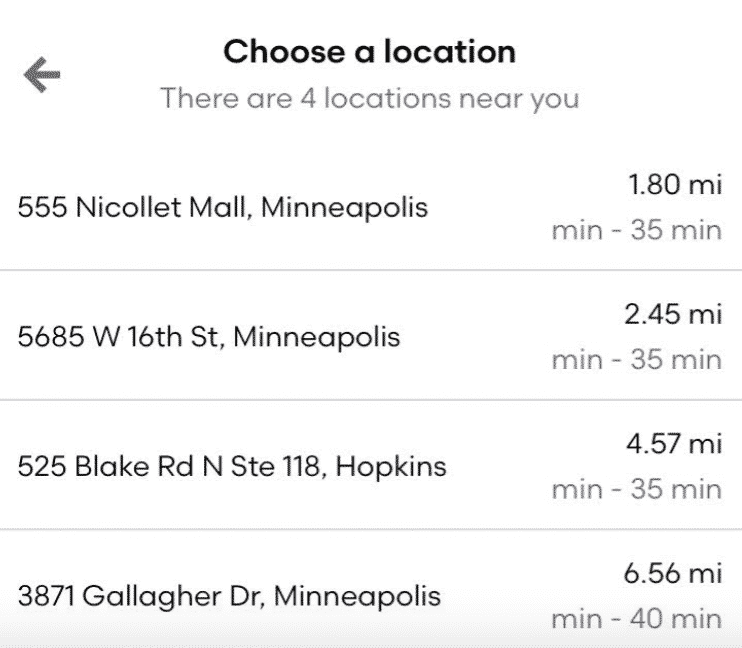 There are two things to note if you order from a restaurant that isn't very close to you. The first is that you'll pay a higher delivery fee. The closer the restaurant is to your location, the lower the delivery fee is (if it's close enough, there might be no delivery fee at all). 
The second thing to know is that if you pick a restaurant that's farther away from you, it's going to take longer to get your food delivered to you. Not only does your food have to travel a farther distance, but it can be more difficult to find a delivery driver that's willing to pick up your order and deliver it to you.
One extreme scenario I had was a few months ago when I placed an order at a restaurant about 12 miles away from my house. Depending on where you live, 12 miles might not seem that far, but I live in a fairly dense city, so 12 miles is really far away in my circumstances. It ended up taking nearly 2 hours for my order to arrive at my house. The vast majority of the time was waiting for a Grubhub delivery driver to accept my delivery request.
That's not to say it'll always take a long time to get your order if the restaurant is far away, but it's something for you to know. 
How Far Does Grubhub Deliver If You're A Grubhub Delivery Driver 
Grubhub assigns delivery drivers to a specific city, so if you're delivering for Grubhub, you can expect delivery requests throughout your city. The app doesn't limit how far you might go for a delivery request, so you can expect to see delivery requests that go really far away. 
The good thing is that Grubhub shows you the restaurant and the delivery location before you accept the order. That allows you to see if the order makes sense before you accept it. I've received some ridiculous delivery requests that would take way too long to complete, but since I can see where the delivery is going, it's easy enough for me to reject the order and wait for another one.
If you're a Grubhub delivery driver, I recommend being strategic with the orders you accept. While a delivery going far away might pay more, try to think about whether it's worth it considering how much longer it'll take for you to complete it. You'll often find that shorter orders that pay less are more profitable. 
For more information and strategies for delivering with Grubhub, check out my post: Grubhub Delivery Driver – What It's Like Delivering For Grubhub.
Final Thoughts 
Of the big three delivery apps (DoorDash, Uber Eats, and Grubhub), I'd say Grubhub delivers the farthest. If you're looking for a restaurant that's not that close to your location, you might want to use Grubhub before you use the other apps. 
At the same time, from a delivery driver standpoint, Grubhub also tends to have the longest deliveries. On the plus side, you are usually paid well for these long deliveries, but you have to think about whether it's worth it given how long they might take to complete.