A little-known strategy you can use to reduce your food budget is to take advantage of secret shopper apps. I started secret shopping years ago, and over the years, I've completed hundreds of secret shops and have received thousands of dollars worth of free food. 
The basic premise behind secret shopping is simple. Businesses want to be sure they are providing a good customer service experience to their customers. To do this, they contract with secret shopping companies to have secret shoppers go to those businesses and pose as customers. Secret shoppers then answer some questions detailing their experience. 
The best secret shops, in my opinion, are restaurant secret shops. These shops typically involve going to a restaurant, ordering a certain amount of food, and then filling out a survey evaluating your experience. In return, you'll get a small payment and reimbursement for your purchase. Most of the time, the reimbursement should fully cover the cost of your meal, allowing you to eat for free.
Secret shopping can be confusing if you've never done it before. That's because there are a lot of different apps and websites out there, and figuring out which secret shopper apps are legit can be difficult.
Fortunately, I have a lot of experience with these secret shopper apps – I've used just about all of them. In this post, we're going to go over what I think are the best secret shopper apps you can use to get free food.
Best Secret Shopper Apps 
If you search online, you'll find dozens of different secret shopping companies. Some are better than others. Below are the best secret shopper apps I've used.
1. Marketforce 
Marketforce is one the larger players in the secret shopping world, with secret shops that are consistent and generally easy to complete. The restaurant secret shops they offer are primarily individual secret shops at fast-casual restaurant chains. You'll typically earn a small payment for each shop – usually $5 to $12 – plus a reimbursement for your meal.
Here's an example of a typical month of payments and reimbursements I had with Marketforce: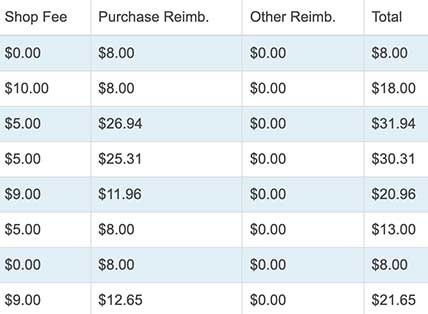 To sign up for Marketforce, simply visit the Marketforce website and sign up to be a secret shopper. It should only take you a few minutes. Note that there are two secret shopping options on Marketforce. You'll want to sign up for the mystery shopper option (the other option is merchandising and theater secret shopping, which I've never done). 
The restaurants on Marketforce aren't going to be fancy, but it is a nice way to get a free lunch or dinner for yourself. Some of the secret shops are delivery shops too, which means you can get food delivered to your house for free (for delivery shops, be sure to take a picture of your food before you eat it). I live in an area that has a lot of Marketforce gigs, so I'm typically able to get 5 or more free meals each month. 
Payouts are once per month, so you'll receive your payments and reimbursements for each shop in the following month.
2. BestMark 
BestMark is another established name in the secret shopping industry. The restaurants on BestMark are typically sit-down restaurants, with many of them high-end restaurants. In normal times, I would typically do 1 or 2 secret shops per month via BestMark.
The secret shops with BestMark are usually more involved compared to Marketforce, but still not too difficult, especially once you've done a few of them and know what you need to look out for.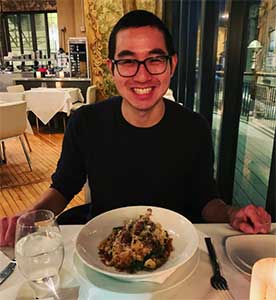 One plus with BestMark is that they pay out reimbursements twice per month. This can be helpful since you won't have to wait more than two weeks to get reimbursed for your meal. Since 2019, I've received about $2,300 of free food from BestMark. That's a lot of free food from this one company!
3. A Closer Look 
A Closer Look is an excellent secret shopping platform that you can use to get free meals. They work with a lot of high-end restaurants, so it's a great way to get free meals at good restaurants you might not otherwise visit. 
Of all the secret shopping apps and websites, A Closer Look is probably the most involved when it comes to their shop requirements. Every shop requires you to take several photos and the surveys require you to write a narrative for each section that is 5 to 8 sentences long. Some of the shops require you to make a phone call to the restaurant and record the conversation. Even now, after years of doing secret shops, I still carefully review the directions for any shop I do on A Closer Look.
That being said, the secret shops are usually good enough to make the extra work I need to do worth it.
4. Second To None 
Second to None has quickly become one of my favorite secret shopper websites because of the wide variety of food shops they have in my area. Over the past year, in particular, I've been able to get a lot of food delivery secret shops. These types of shops are often my favorite because they're easy to complete and I don't even have to leave my house. 
I can typically get two to six secret shops per month in my area, so it's a nice, consistent way to get free food.
5. PrestoShopper
PrestoShopper is sort of a weird secret shopping platform. It does have a few secret shops that you complete directly on the app, but most of the shops are with different companies. Essentially, PrestoShopper acts as an aggregator for these different secret shopper companies. 
You'll need to individually sign up with each secret shopper company, but PrestoShopper gives you one place to see all of the different secret shops around you. Be warned, however. The PrestoShopper app is very clunky and the secret shopper companies that work with PrestoShopper also have dated clunky interfaces.
When you open the app, you'll see a map that shows all of the available secret shops around you. If the shop makes sense, you can click it, then sign up to be a secret shopper on the respective company's website. If you're already signed up, you'll be able to log in and accept the assignment.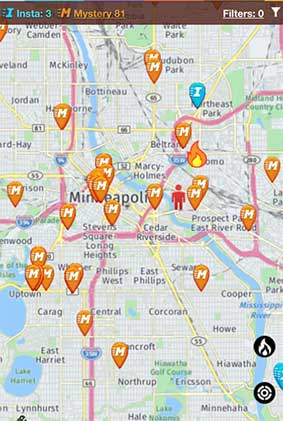 I used to get a lot of restaurant secret shops via a few companies that were on PrestoShopper but as you can imagine, things slowed down dramatically with the onset of the pandemic. That being said, I still like to check PrestoShopper regularly to see if there are any good shops I can complete. The companies I did particularly well with were SeeLevel, Ann Michaels and Associates, and Reality Based Reports. 
6. Field Agent 
Field Agent is more of an auditing app rather than a secret shopper app, but it does offer some opportunities for you to get free food or drinks. Specifically, Field Agent has gigs that are called "Buy and Try" shops. For these shops, you'll purchase an item from a store, try the item, and answer a short survey. Field Agent will reimburse you for the shop and you'll usually make a few bucks as well.
The best "Buy and Try" gigs are ones where you can buy beer or hard seltzer. I've completed a lot of shops where I was able to get cases of beer or hard seltzer for free. I don't think there's anything better than free beer!
Tips You Can Use With Secret Shopper Apps
Secret shopping isn't difficult, but it can feel overwhelming if you've never done it before. That's because most secret shop assignments specify that if you don't do it correctly, you won't get paid or reimbursed for your shop. That can be devastating if it happens, which is why it's really important to go into each secret shop with a clear understanding of what you need to do. 
Here are a few tips that should be universally applicable to any secret shop you complete: 
Read Instructions Carefully. If you're doing a particular secret shop for the first time, be sure to carefully read the instructions so you know what you need to do. Pay careful attention to what you need to order, which employees you need to identify, and what photos you need to take. The goal is to avoid messing up on anything that you can't fix later.
Take Photos Immediately. Photos are something that you cannot fix later if you mess up. Most restaurant secret shops will require you to take a photo of the food before you touch it. My suggestion is to preemptively snap photos of anything you order. Even if you don't need the photo, it'll give you more comfort to know that you have the photo if you need it (plus, it'll help you remember some of the great free meals you had). And don't forget to always snap a photo of your receipt too before you throw it away.
Identify Employees And Write Down Any Names Or Descriptions On Your Phone. A lot of restaurant secret shops will ask you to describe certain employees – usually your server, the host, and possibly the manager. While this information can be addressed later if you do forget about it, it's usually best to quickly write down a description of relevant employees. Whenever I walk into a restaurant, I'll jot down a general description of the host, server, and manager using an app like Evernote or Bear. That way, when I'm filling out the survey later, I can reference the information I saved.
Use Secret Shopping Apps While You Travel. One lesser-known strategy with secret shopping apps is that you can use them while you travel. This is a great way to eat for free even when you're in another city. Before I go on any trip, I'll often check each of the secret shopping websites to see if there are any good secret shops I can do in the area I'll be in. By doing this, I've been able to get free drinks, eat at nice restaurants, and get quick lunches for myself – even when I'm traveling.
Check Your Secret Shopper Apps Regularly. Some secret shopping companies will send you emails letting you know that there are available shops, but most of the time, you'll need to check on your own. As a result, if you want to get secret shops, you need to get in the habit of regularly checking your apps and websites to see if anything is available. I usually check once or twice per day. When I see shops that look interesting, I'll schedule them immediately. 
If You're A Two-Person Household, Sign Up Both People To Be Secret Shoppers. Most secret shopper apps will only let you shop a specific location once per month or once every few months. This necessarily limits how much free food you can get. If you're a two-person household, however, you can both sign up to be secret shoppers. By doing this, you'll effectively double the number of secret shops you can complete (and it means more free food for you).
Final Thoughts 
I've been secret shopping for a long time now and I'm still amazed at how much free food I'm able to get most months. The average household spends over $3,000 per year on restaurants. Even completing a few secret shops per month can make a big dent in what you might otherwise spend on restaurants, leaving you with more money you can use for other things.