**Lili has ended their referral program for the time being. I have no idea when the referral will be back, but I'll remove this when it does come back.
Lili is a free online business checking account geared towards freelancers and sole proprietors. It's a bank account that I personally use for my own freelance and gig economy work – everything I earn from my side hustles goes directly into my Lili bank account. Even better, Lili is offering new users a $100 bonus if you open a free Lili account using a referral link and meet certain requirements. Here are the steps to follow to earn your $100 Lili referral bonus:
Open a free Lili business checking account using a referral link (here's my referral link). 
Have a direct deposit of at least $250 within 45 days of opening your account. 
Lili will deposit $100 into your Lili business checking account within five business days.
There are a lot of reasons why I think Lili is an excellent business checking account. I've written a full, in-depth review of Lili in a previous post (Lili Bank Review: A Free Business Bank Account For Freelancers And Gig Workers). Briefly, here are some of the reasons why I think Lili is a good account to open (and an especially good one to open to at least earn the signup bonus).
No Fees. The most important thing to know is that Lili has no account fees. This includes no minimum balance requirement, no monthly fees, no overdraft fees, and interestingly, no foreign transaction fees either. ATM withdrawals are also free if you use one of 38,000 ATMs they have around the country. 
An Excellent App. Lili is a mobile-first bank account, which means you do everything in the account using your phone. For some, this could be a downside. Personally, I use my phone for just about everything, and the Lili app is excellent. 
Automatic Tax Savings. Without a doubt, Lili's best feature has to be its automatic tax savings feature. When you're self-employed, you're responsible for saving for and paying your own taxes. Most people often forget about this and then find themselves scrambling come tax time. Lili helps you avoid this problem by automatically setting aside a percentage of your income into a separate account. I have it set up so that whenever I get paid, 1/3 of my income automatically gets set aside. When tax time comes around, I'm never scrambling anymore. 
Lili Referral Bonus – Step By Step Directions
With that brief bit of background out of the way, let's get into the step-by-step directions to earn your Lili referral bonus. Here's what you need to do:
1. Open A Free Lili Account Using A Referral Link. The first thing you'll need to do is open a free Lili bank account using a referral link. Here's my Lili referral link if you'd like to support this blog. If you use my referral link, it should automatically input the referral code for you. Just in case though, make sure that during the signup process, my referral code is in the referral code section (my referral code is 505thY). The entire signup process should take you less than 5 minutes.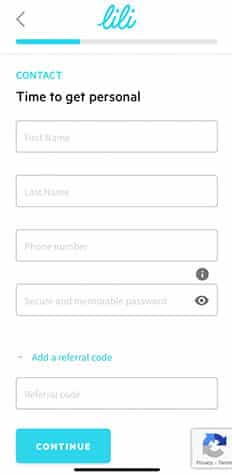 It's important to note that since Lili is a business checking account, you'll need to have some sort of business to be eligible to open an account. You don't need to create a business entity, however – you can use Lili if you're a sole proprietor. When you're signing up, Lili will ask you what industry you're in. Pick whatever is closest to your industry. In this case, I have a rental property, so I picked Real Estate.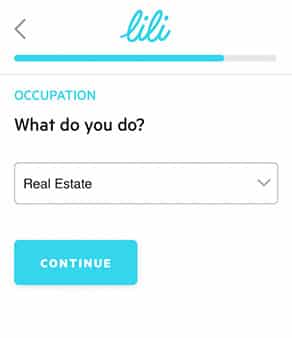 If you don't think you have a business, it's worth thinking about that more carefully. More likely than not, you probably do have a business of some sort. If you earn any income outside of your W-2 job, you are a sole proprietor and do indeed have a business. Delivering for DoorDash, Uber Eats, or Grubhub, selling things on eBay or Facebook Marketplace. These are all businesses that make you a sole proprietor. It's very likely anyone reading this would qualify or can qualify for a Lili business checking account.  
The last thing you'll need to do is pick which plan you want. Lili has both a free plan and a premium plan that comes with a monthly fee. I recommend you go with the free plan.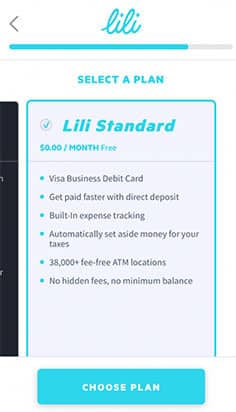 2. Complete A Direct Deposit Of $250 Or More Within 45 Days Of Opening Your Account. After you've opened your Lili account, the next thing you'll need to do is complete a direct deposit of $250 or more within 45 days of opening your account. 
Unfortunately, I'm not sure what transactions trigger the direct deposit requirement. If you can do a real direct deposit, that's likely going to be your best bet. Otherwise, you can try doing some ACH transfers and see if any trigger. The bonus posts quickly, so you'll know if you met the direct deposit requirement right away.
3. Your Bonus Will Post Within Five Business Days. The terms state that your bonus should post within 5 business days after you meet the direct deposit requirement. If you're not using a real direct deposit, I recommend trying a bunch of different transfers to see if any trigger them. 
Refer Friends And Family To Earn More Money
When you open your Lili account, you'll also get a referral link that you can use to refer other people. The person you refer has to follow the same steps – open an account with a referral link and complete a direct deposit of $250 or more. 
You can find your Lili referral link in the Lili app, either on the main page of the app or in the menu section of the app.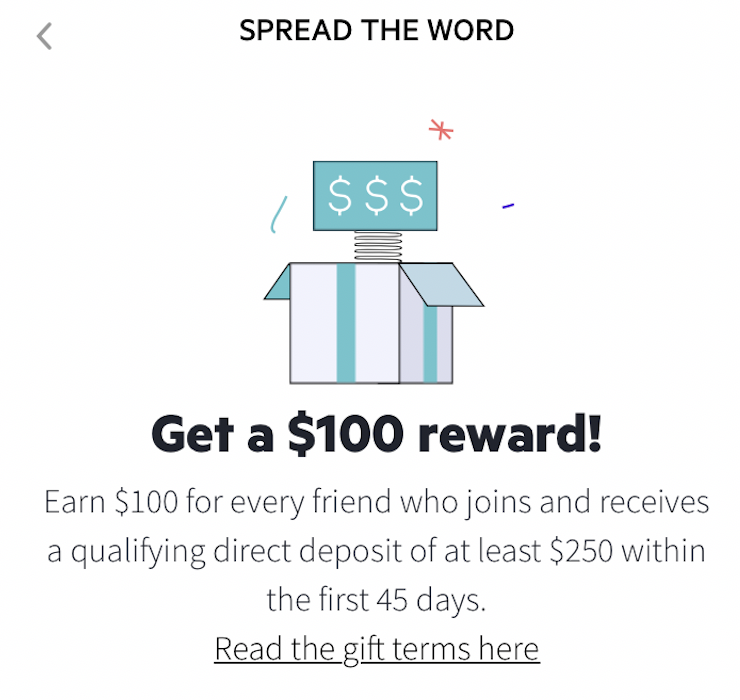 The terms state that you can earn up to $1,000 in referral bonuses, so under the current promotion, you should be able to refer 10 people. I'm not sure whether Lili counts the referral bonus you earn for signing up as part of the $1,000 limit (I have a hunch that they do count that as part of the $1,000 limit). 
Final Thoughts
Lili is a business checking account that I personally use for all of my gig economy and freelance work. It helps me keep my business finances organized.
The automatic tax-saving feature, in particular, is a game-changer for me. Before I had a Lili account, I had to manually set aside money towards taxes. As you can probably imagine, I often forgot to do this, which meant I sometimes had to scramble at the end of the year. Now I never have any problems.
I hope this post was helpful. Lili is an easy referral bonus that's worth taking advantage of, especially if you're in the market for a new business checking account.
Feel free to shoot me a message or leave a comment if you have any questions.