It's pretty easy to become complacent when it comes to our paychecks. We collect them every two weeks and just assume that whatever amount is on that check is the amount we need to survive. It's funny how your expenses always seem to match up to whatever amount is on your paycheck.
I think of this as what I would call "paycheck complacency." First, we arbitrarily begin with some number on our paycheck that we often (perhaps unwittingly) choose. Second, we get used to that amount. Third, we assume that's the amount we need in order to live.
Here's the thing – you might think you need it all, but the reality is, you probably don't. I say to you, mess around with your savings rate! Experiment with it. Tinker with the amounts you see on your paychecks. See if the size of your paycheck really matters or if you only think it matters.
Arbitrarily Picking A Paycheck Size
Let me explain what I mean about arbitrarily picking the size of your paycheck with an example from my own life.
I previously wrote about how I took a $50,000 pay cut earlier this year, yet still found myself saving pretty much the same amount of money as I was saving in my old job. This was rather surprising to me. I had assumed that a $50,000 pay cut would mean a corresponding decrease in the amount that I was able to save. What happened exactly?
When I started my new job, I did as most people do. I met with the HR person and filled out my employment forms, including my retirement plan forms. My employer requires us to contribute 11.5% of our salary to a defined contribution pension plan (5.5% from the employee, 6% from the employer). So no choice for me there. Part of my paycheck was already decided for me with that decision.
But, my employer also allows us to contribute to a 457(b). Since I am horrible at doing math in my head and since I wanted time to make sure I could adjust to the size of my new paychecks, I just picked a random number to save. 10% sounded good to me – a nice, round number. As luck would have it, the amount I had randomly decided to save also meant I was saving about the same amount as in my old job.
But most importantly, with the somewhat arbitrary decision to save 10% into my 457(b), I had decided how big my paycheck would be. This amount was my new baseline. My random decision to save 10% into a 457(b) meant that my brain now thought that the number on my paycheck was what I needed to live.
Does any of this sound familiar to you?
My Recent Bout Of Paycheck Complacency
I found that the amount I was seeing in my paycheck was plenty for me. I still had enough money to both pay my bills and keep a good cushion in my checking account.
And then like most people, I just stopped doing anything. My paychecks came in, the money went where it needed to go, and I was living totally fine. While I didn't explicitly say it, in my mind, the numbers that were on my paychecks were what I thought I probably needed to live.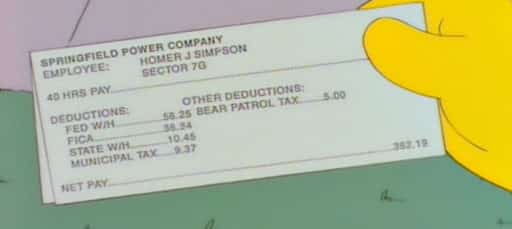 After I realized that the amount I was saving was almost the same as in my previous job, I went ahead and calculated how much more I would need to save in order to equal what I was on pace to save in my last job. It turns out I only needed to increase my 457(b) contributions by 2.5%.
When I increased my savings rate by 2.5%, I wasn't quite sure what my next paycheck would look like.  It turns out that upping my savings rate increased my 457(b) contributions by $71.80 per paycheck while reducing my actual paycheck by only $27.41.
Of course, this is because my savings are going in pre-tax. I understood this in an abstract sense, but I really didn't realize how little my paycheck would change with that increase in savings. That extra $71.80 per paycheck comes out to an extra $1,866.80 saved over the course of a year. That's a pretty decent chunk of change saved pre-tax. Meanwhile, did I really need that extra $27.41 in my paycheck? My paychecks still looked basically the same to me. I barely noticed a difference.
Pushing Myself In Order To Avoid Paycheck Complacency
After looking at my most recent paycheck, I realized that I still needed to do a little tinkering with my savings rate. The new amount in my paycheck wasn't at a point where I really needed all of it. It certainly didn't feel particularly painful to see my paycheck with $27 less in it. If saving an extra 2.5% was no issue for me, I figured I'd just up my savings rate a little bit more
I'm now putting away 16% of my income into a 457(b). Couple that with what's going into my pension plan and that means 27.5% of my pretax income is going into tax-deferred retirement savings. I'm not maxing out my 457(b) quite yet, but I am on pace to put away more than $18,000 per year into tax-deferred, work retirement plans.
If that percentage was just picked randomly as a savings percentage, many people might think that's too much to handle. But just by avoiding paycheck complacency, I was able to slowly ratchet up my pretax retirement savings. I'm still tinkering with my paychecks, testing myself, seeing whether I really need the number that's on the paycheck. Your brain will tell you that you need all of it. I think you should see if that's really true.
Suggestions To Avoid Paycheck Complacency
Increase Your Retirement Contributions By Just A Little. Do it!  Even just a percent or two. Test yourself. See if the smaller paycheck really makes a difference. Increasing your employee contributions by a few percentage points will only reduce your actual paycheck by a fairly small amount. Most people won't even notice it. But the difference in your investing life can be huge.
Always Push Yourself. Saving should probably hurt at least a little. You want to feel a bit of a pinch. Remember, your income isn't guaranteed. Live on less and you'll be prepared to ride out any storms that come your way.
If You're Maxing Out Your Employee Contributions Already, Try Saving Some Of Your Money Elsewhere. Your employer probably lets you split up your paycheck to different bank accounts. If you're already maxing out your employee retirement contributions, why not see if you can take a little bit out of your paycheck and put it somewhere else. Save it for a rainy day, use it to invest, or do something else with it. Just test yourself and see if you really need all of that number on your paycheck. You'll probably find out that you don't.