*Unfortunately, Qapital, like many other Fintech apps, has switched to a monthly fee model that ranges from $3 to $12 per month. I'm leaving this post as is, but because of this change, I can no longer recommend Qapital.
My goal here at the Financial Panther is to help you improve your financial life, and one easy way to do this is by taking advantage of all the new FinTech apps out there.  The only problem with the world of FinTech is that there are a ton of apps.  It's sometimes hard to figure out what's useful and what isn't.  Luckily for you, I happen to be a pretty big FinTech geek and I go through dozens of apps every year.  Why wade through all the apps when I can do it for you?
About a year and a half ago, I found an amazing app called Qapital.  If you're the type of person who likes apps that help you save your spare change, then this is the app for you.
To be sure, the Qapital app isn't the only app that can help you save your spare change.  There are definitely other apps out there that have this feature. But the reason I find Qapital superior to those other apps is because it's 100% free. There's no cost to set up an account, no monthly fees, and no transaction costs.  It's the only round-up app I know that is totally free.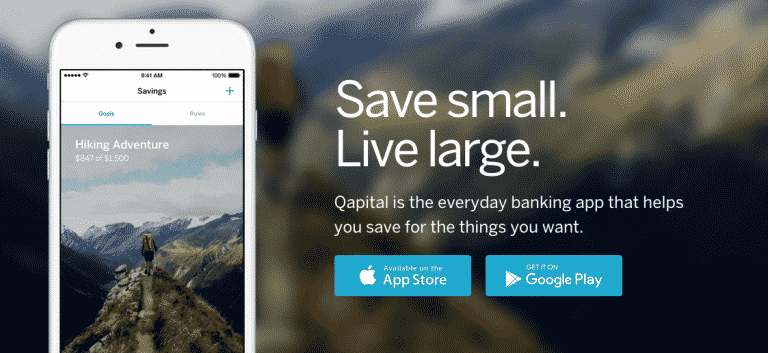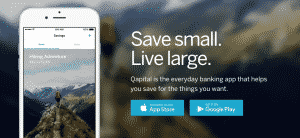 Saving isn't easy.  The key to making it easier is to take away the friction that comes with it.  And automating your savings is the one fool proof way to remove all of this friction.  But, while saving something is always good, I also think it's good to push yourself just a little bit more.  It's easy to fall into paycheck complacency, where you start thinking that you need all of the money that you bring in when in reality, you probably don't.
Qapital is one of the apps I use to help me push myself to save just a little bit more.
What Is Qapital?
Qapital is a savings app that helps you automate your savings towards your specific goals.  I like to think of it as a technology company built on top of a savings account.  When you put money into your Qapital account, it gets divided up into separate buckets.  You can create a bucket for your spare change and create another bucket for yearly bills you know you have to pay.  Or create buckets for whatever goals you have.  And the great thing about the Qapital app is that any money you put into your Qapital account is FDIC insured.  You can rest easy knowing your money is safe.
Here's a video from Qapital if you want a quick explanation of how the Qapital App works:
What makes Qapital a really awesome app is how easy it makes it to automate your savings.  All you have to do is open up the Qapital app on your phone, set up a new goal with a few taps of your finger, and then set up whatever automated savings rule you want for that goal.  It literally takes less then a minute to set up a savings goal.
For example, let's say you want to use the Qapital app to save for an insurance bill which you know comes due every year. You can use Qapital to save for this bill just like any other savings account.  Set up a goal and label it "insurance bill." Then, tell Qapital to save a certain amount every month.  By the time your bill comes due, you've got a chunk of cash earmarked specifically for that purpose.
Or, if you want to get fancy, you can have Qapital save money for you based on certain, more advanced rules.  For example, take a look at the "spend less" rule.  If you pick this rule, Qapital will monitor your budget in certain categories that you pick, and if you come in under budget in that category, Qapital will save the excess for you into your Qapital account.  That's a pretty good way to make sure you're not wasting that surplus!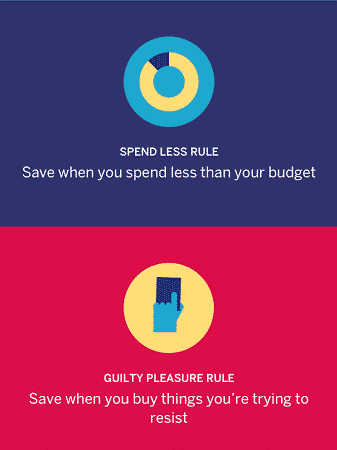 The guilty pleasure rule is another interesting rule.  If you find yourself buying Starbucks too often, set the guilty pleasure rule to charge yourself an extra $5 every time you buy a coffee from Starbucks.  Throw that extra money into a fund to remind yourself how much money you've spent on coffee.  It's an easy way to motivate yourself into changing your behaviors for the better.
There are a ton of other rules that you can create too.  The app can connect to IFTTT, so you can literally set up any rule you want.  It's totally customizable!  Explore the app and see what rules work for you.
The Best Thing About The Qapital App – A Free Round-Up Feature!
The absolute best feature of Qapital – and the one I use the most – is the round-up rule.  If you activate this rule, Qapital will monitor all of your credit card transactions and round up each transaction to the nearest dollar.
So for example, say you buy a soda for $1.25.  Qapital will round up the transaction to $2.  Then, Qapital withdraws the remaining 75 cents from your bank account.  It's basically the digital equivalent of the spare change jar that we all used to keep in our bedrooms.
This type of micro-saving won't make you rich by any means.  But it's a great way to put some of your money to good use.  You'll be surpised at how much spare change you can accumulate over the course of a year.  And you won't even notice it getting saved away.
And Did I Mention That The Qapital App Is 100% free?
Seriously, totally free.  There are a lot of apps out there that can round-up your transactions and help you save your spare change.  But all of these apps have monthly fees or transaction costs that eat into your savings.  When you're just saving small amounts like this, you can't afford to pay fees in order to have a technology company help you save your own money.  Why pay to get this feature when the Qapital app can give it to you totally free.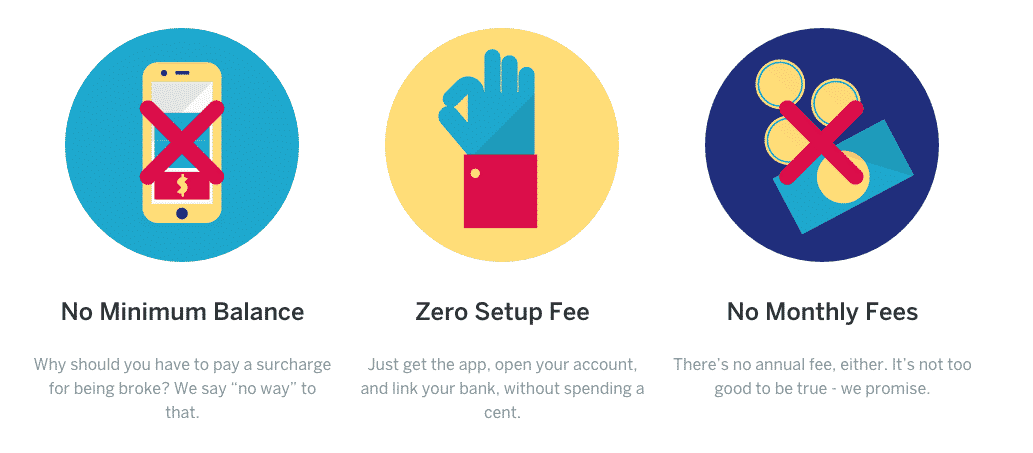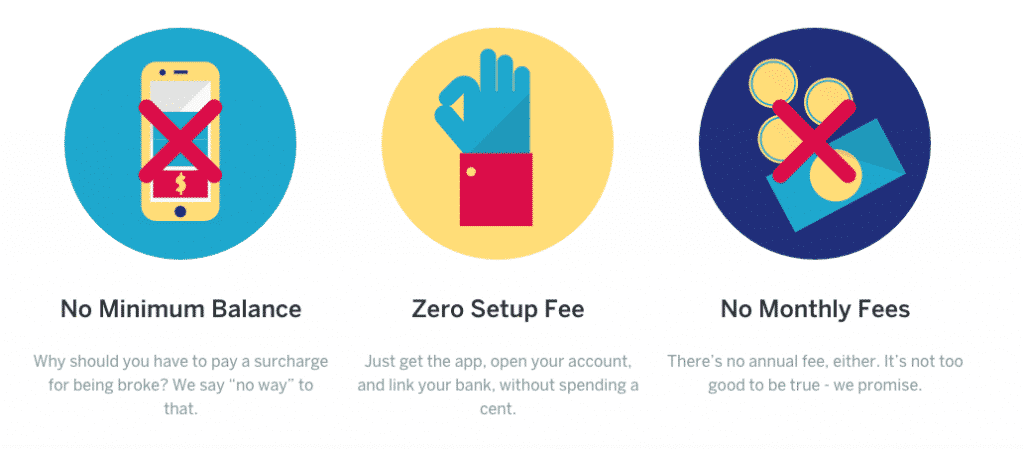 If you're curious, take a look at Qapital's fee schedule.  You'll notice a lot of zeroes there!  That's definitely something I like to see when it comes to banking fees.
How I Use The Qapital App To Save Spare Change.
I try to keep things simple, so I only have two rules activated in my Qapital account – the "round-up" rule and the "set it and forget it" rule.
With the round-up rule, Qapital rounds up every transaction I make and saves away the spare change for me.  Below is a screenshot of my spare change bucket, which I've labeled "A Rainy Day."  I also picked that nice picture of raindrops to go with the goal.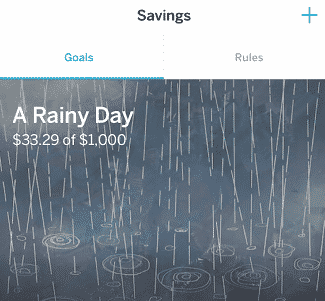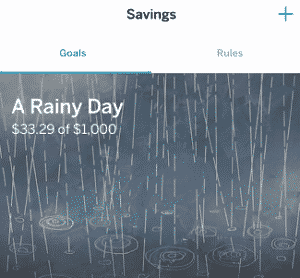 Every time I make a transaction, Qapital rounds up my transaction to the nearest dollar and throws the spare change into this fund.  I'll note that my account earns barely any interest.  As a result, every couple of months, I withdraw all of my spare change and throw it into an emergency fund that I keep in a high yield savings account.  The great thing is that I bolster up my emergency fund using my spare change, and I don't even realize I'm doing it.
I also have a number of rules I set up for some of my services where I have to pay a yearly subscription.  For example, my Amazon prime subscription comes with a yearly fee.  I set up a goal labeled Amazon prime subscription and every month, I move $8.25 into that account.  By the time my Amazon prime subscription is due, I've already got that money set aside, ready to roll.
If you're thinking of longer term savings, such as saving for a house or a car, I'd probably recommend using a high yield savings account at a place like Ally or Capital One 360.  That's what I personally do.  You might as well get your 1% of interest.
But if you're looking for an app that can help you save your spare change or an app that makes it really easy to save for short term goals, then I think Qapital is the perfect solution.
Related: For your emergency fund, I recommend putting it into a 5% interest savings account with Netspend and Insight.  Click here to read my step-by-step guide on how to get 5% interest on your emergency fund.
Conclusion
Qapital is an app that I really like a lot.  I'm always surprised that it doesn't get mentioned as much as some of the other big apps.  In my opinion, it doesn't make much sense to pay money in order to save your spare change.  The fees will just eat up any returns that your spare change could earn anyway.
That's why Qapital is so great.  It's the only app I know that is completely free and allows you to round up your transactions.  Plus, you can use it to save for any other short term goals you might have.  I wouldn't use it as my primary savings account simply because it's not earning any interest, but when you're saving small amounts, the amount of interest doesn't really matter.  What matters is that you're saving at all.
It takes 10 minutes or less to set up an account, and I highly recommend you try it out.  If this review was helpful to you, download the Qapital app using this link and we both get 5 bucks!
Yeah, you won't get rich off that five bucks.  But start using Qapital as a digital spare change jar and you might be surprised at how much more you save each year without even realizing it.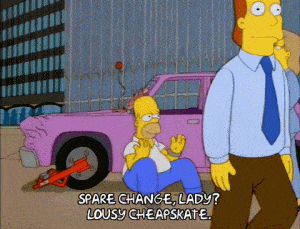 Related: Check out my other FinTech reviews as well.  I previously reviewed a great bill pay app called Prism, that I also highly recommend.